Alvin Perry Thurston
(1886-1963)
Alvin Perry Thurston was born on Nov. 6, 1886 in Mount Pleasant, Westmoreland County, PA, the son of Charles and Emma (Minerd) Thurston.
In September 1906, at the age of 20, Alvin married Pearl A. Hay (June 17, 1888-1963), daughter of John and Susan (Lape) Hay.
They produced no children.
Alvin was a glass worker. They resided at 100 Bridgeport Street in Mount Pleasant and attended the Trinity Lutheran Church.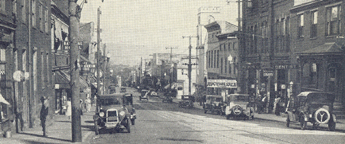 Old view of Mount Pleasant's Upper Main Street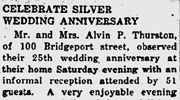 Mount Pleasant Journal, 1931
In September 1931, for their silver wedding anniversary, the Thurstons threw an 'informal reception' at their home. "A very enjoyable evening was spent," said the Mount Pleasant Journal, "followed by a delicious lunch served at a late hour. The guests were received as they entered by Mr. and Mrs. Thurston. The rooms were attractively decorated with Autumn leaves and flowers."
Pearl suffered a fractured left hip in 1959 and was rendered an invalid for the balance of her life.
On May 21, 1963, Alvin became stricken with a cerebral hemorrhage and was rushed to Frick Community Hospital in town. There, four hours later, he died. He was buried at Mount Pleasant Cemetery.
Pearl outlived her husband by less than a month. Rendered a widow, without any close relatives, she went into emotional shock and became completely blind. She was admitted to the Frick hospital and died there at the age of 74 on June 12, 1963.
Copyright © 2001, 2005, 2009, 2018 Mark A. Miner