Emma (Minerd) Thurston
(1857-1919)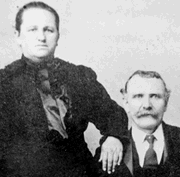 Emma and Charles Thurston
Emma C. (Minerd) Thurston was born in 1857, the daughter of Eli and Mary Ann (Baer) Minerd. Her husband was a longtime coal miner who once survived a near-fatal mining accident.
At a young age, Emma moved with her parents to the coke oven town of Bridgeport, near Mount Pleasant, Westmoreland County, PA.
Emma married Charles W. Thurston (April 26, 1852-1943), a native of Gouveneur, St. Lawrence County, NY, and the son of William and Barbara Ruby "Barbry" Thurston. He had migrated to Western Pennsylvania as a young man, with his parents remaining behind in New York.
The Thurstons' 10 children were Annie M. Thurston, Nellie Haney, Myrtle McVay, Margaret Cramer, Jessie Piper, Alvin Perry Thurston, Homer Boyd Thurston, Viola Sullen, Ruby Faith Davis and James "Loren" Thurston. Sadly, it's thought that daughter Annie died at a young age.
In 1880, while residing at Bridgeport, the Thurstons lived just three doors away from Emma's first cousin, Daniel Martin Younkin. Years later, Daniel would help organize the 1918 Minerd-Miner Reunion in Rockwood, Somerset County, PA.
Charles worked as a "company man" in a coal mine. In May 1904, his foot was injured and his chest bruised by falling slate at the Mullen Mine, Westmoreland County. The injury was reported in the year's Report of the Pennsylvania Department of Mines, on file today in the archives and library of the Senator John Heinz Pittsburgh Regional History Center.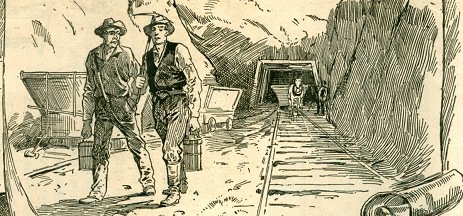 Westmoreland County coal laborers emerging from the mouth of the mine, 1891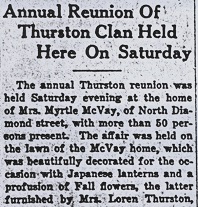 Mount Pleasant Journal, 1931
Fortunately, Charles recovered, and lived to a ripe old age.
Emma suffered with diabetes and in late 1918 it began to cause her great difficulty. Unable to recover, she died on March 24, 1919 at home on Cemetery Avenue in Mount Pleasant. She was just 63 years of age. Her son James was serving in France with the 110th Support Company, and likely did not get home for the funeral. The obituary was published in the Mount Pleasant and Connellsville newspapers. Burial was in the Alverton Cemetery. On her death certificate, Charles listed the maiden name of his wife's mother as "Anna Baer."
In his later years, Charles resided on North Diamond Street in Mount Pleasant, near his wife's widowed sister, Martha "Mattie" (Minerd) Stairs. When the federal census was taken in 1930, he made his home with married son Loren.
The Thurstons held a reunion of the clan at the home of daughter Myrtle McVay on North Diamond Street in Mount Pleasant. More than 50 relatives attended. The McVays' lawn "was beautifully decorated for the occasion with Japanese lanterns and a profusion of Fall flowers," reported the Mount Pleasant Journal. "Lunch was served the assembled guests on the lawn."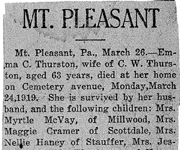 Emma's obituary, 1919
In August 1932, the family held another reunion at the McVays'. "A picnic dinner was served on tables under the trees on the lawn," said the Connellsville Daily Courier. Attendees included Mr. and Mrs. Alvin Thurston, Earl Stairs, Miss Pearl Stairs, Edward Stairs, Mrs. J.M. Miller, Miss Helen Connors, Mrs. Myrtle McVey, Dick McVey, Miss Annie McVey, Billy Hanson, Mr. and Mrs. Frank Piper and children Mary Jane, Bob and Catherine and Harry Hay of Mount Pleasant; Mrs. Mary Ann Faith, Mr. and Mrs. John Miller and children Jack, Paul and Helen of Hecla, PA; Mr. and Mrs. Fay Dills, Mrs. J.C. Cramer and Nelda Jeanne, Junior, Grace, Dorothy and Ruby Cramer and Mr. and Mrs. George Cramer and son Harold of Scottdale, PA; Mr. and Mrs. R.W. Faith and children Emma Jean and Jimmie of Dallas, TX; Mr. and Mrs. Homer Thurston and son J.M. of Renton, PA; Mr. and Mrs. Otis Poole of Ruffsdale, PA; Mr. and Mrs. Earl Piper and children Dorothy Jane and Franklin of Wilkinsburg, PA; Mrs. Frank Sullen and daughter June of Youngwood, PA; Mrs. Frank Haney, Homer Haney and Mr. and Mrs. Frank Queer and daughter Fay of Bridgeport, PA.
After more than two decades as a widower, Charles' health declined due to hardening of the arteries. He was admitted to Frick Memorial Hospital. He passed away as a patient on April 22, 1943, at age 90. The Daily Courier said his death was due to "the infirmities of old age." The funeral was conducted by Emma's nephew, Rev. William Mullen Minerd.
Charles and Emma are buried at Alverton Cemetery near Mount Pleasant.
Copyright © 2000-2001, 2006, 2009-2011, 2016 Mark A. Miner
Coal mine sketch from Frank Leslie's Illustrated Newspaper, April 18, 1891