Melsinia 'Mellie' (Warner) Payne
(1877-1955)

Mellie Payne
Melsinia "Mellie" (Warner) Payne was born on Aug. 26, 1876 in Arcola, Douglas County, IL, the daughter of Benjamin and Nancy Jane (Bateson) Warner.
She and her sister Cordelia "Cordie" Roberts were twins.
Mellie entered into the union of marriage with James Edward Payne (1869-1950) in about 1896, when she was age 20 and he 27. They were seven years apart in age, and James was a native of Indiana.
The Paynes are thought not to have reproduced.
They appear to have lived in Douglas County for all of their adult lives. When the federal census was enumerated in 1910, Mellie and James lived in Camargo, Douglas County, where he was employed as a tax collector.
Then when her father died in 1914, she was named in the obituary as a resident of Carthage.
In 1930, with James now working as an insurance agent, their home was on Houghton Street in Tuscola, Douglas County.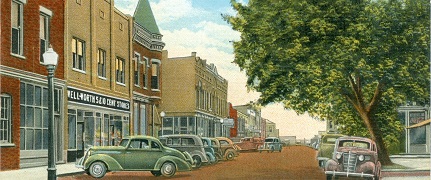 Sale Street in Tuscola, looking west, 1930s
The 1940 census shows the couple residing on East North Central Street in Tuscola, with 71-year-old James now retired.
James died on Feb. 23, 1950, at the age of 79.
Mellie lived for another five years. She passed away on June 23, 1955. They rest together in the Oak Ridge Cemetery in Camargo, Douglas County.
Copyright © 2006-2007, 2012, 2015, 2018 Mark A. Miner