Home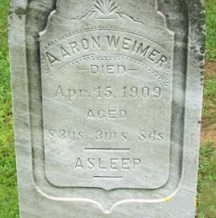 Addison Cemetery. Courtesy Caine Luckey
Aaron Weimer was born on Jan. 7, 1826 in Somerset County, PA, the son of Michael and Sarah "Sally" (Younkin) King Sr.
He was a farmer and resided circa 1858 in Listonburg, Somerset County.
Aaron married Elizabeth Clark (1826-1890), a native of Addison, Somerset County. While she could not write, she was a talented spinster and seamstress.
The Weimers were the parents of four known offspring -- Joseph Weimer, Mary Herrington, Martha "Mattie" Weimer and Lavinia W. "Vennie" Latham.
The federal census enumerations of 1860 and 1870 shows the family living in Lower Turkeyfoot, with Aaron earning a living as a tanner. During those years, Elizabeth's widowed mother Catharine Clark lived in the household.
Aaron was considered "one of the best known men in Somerset county," reported the Meyersdale Republican. For many years, he and daughter Mattie "conducted the famous 'Weimer Cottage' at Harnedsville, famous among summer boarders." The beautiful residence was located on the banks of the Casselman River near the road from Listonburg to Confluence and "was patronized by some of the best families of Pittsburgh and other cities."
The family is believed to have attended church at the Harnedsville Chapel, considered a "union" church because it hosted services for several Protestant denominations -- Lutheran, Baptist and Methodist. Aaron's name is on a list of members circa 1871, along with William Hanna, Harrison Younkin, J.J. Daniels, Alex Hanna, Harriet Colborn, Harrison Kemp, John Goller, Mollie Kretchman, George Beitzel and J.P. Humbert.
In 1880, census records show the Weimers in Harnedsville, with Aaron continuing his work as a tanner, and Elizabeth's widowed mother residing in the dwelling.
Sadly, Elizabeth passed into eternity at the age of 66 on Aug. 6, 1890. Aaron outlived his bride by 19 years.
The 1900 U.S. Census lists the 74-year-old Aaron at the head of his household which now included 31-year-old daughter Mattie as well as orphaned granddaughters Bertha Harrington (age 20) and Lavana Latham (16). His occupation that year was farming.
In later years, he made his home in Confluence. Afflicted with lesions of his heart valves, added to a severe cold, he died at the age of 83 on April 15, 1909. He was buried in Addison Cemetery. Daughter Mattie was the informant for his Pennsylvania death certificate. An obituary in the Meyersdale Republican referred to him as "Harry" and not "Aaron." [Find-a-Grave]
~ Son Joseph Weimer ~
Son Joseph Weimer (1851- ? ) was born in about 1851 in Somerset County.
~ Daughter Mary (Weimer) Harrington ~
Daughter Mary Weimer (1854-1886) was born on Aug. 31, 1854. She married Charles L. Harrington (1855- ? ), also spelled "Herrington." They were the parents of a daughter, Bertha Herrington, and perhaps others. In the 1870s or early 1880s, Mary was the federal postmaster serving the town of Harnedsville. The federal census enumeration of 1880 shows the couple living in nearby Falls City (Ohio Pyle), Fayette County, with Charles employed there as a railroad clerk. Grief blanketed the family when Mary died on Feb. 3, 1886, at the age of only 31. She was laid to rest in Addison Cemetery. [Find-a-Grave] Charles' fate after that has not yet been discovered.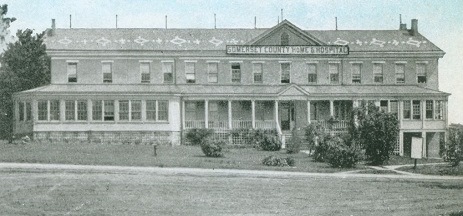 Somerset County Home and Hospital, where Bertha Harrington died in 1951
Granddaughter Bertha Harrington (1881-1951) was born on Sept. 6, 1881 in Harnedsville. She never married. At the age of 20, in 1900, she lived with her mother's parents in Harnedsville. Later, after their deaths, she shared a home with her unmarried aunt Mattie Weimer. Bertha is known to have spent three weeks in Pittsburgh's Mercy Hospital in the early summer of 1914. Then again in March 1920, she was reported to be "very sick from a complication of diseases," said the Meyersdale Republican. After her beloved aunt's death in 1928, Bertha may have been brought especially low by the loss. Three years later, in September 1931, she decided to end her life. She placed a revolver against her breast and pulled the trigger. The bullet ripped through her torso and exited without striking the heart. She was admitted to the local Frantz Hospital, where, the Republican reported, she was "getting along well." She remained in Harnedsville, performing housework, for most of the balance of her years. Toward the end, she was admitted to the Somerset County Home. She was burdened with chronic heart disease and endocarditis and died there, at age 69, on July 8, 1951. Burial was in Addison Cemetery, with Louisa Whipkey of Somerset providing key details for the death certificate.
~ Daughter Martha "Mattie" Weimer ~
Daughter Martha "Mattie" Weimer (1858-1928) was born on Aug. 12, 1858 in Listonburg, Somerset County. She never married. In 1880, at the age of 23, she dwelled with her parents. Her nieces Bertha Herrington and Lavana Latham also were in the household for decades, and Mattie was priased for having "showed every kindness that any mother could show to the orphaned nieces committed to her care." For many years, she and her father "conducted the famous 'Weimer Cottage' at Harnedsville, famous among summer boarders," said the Meyersdale Republican. After her father's death in 1909, she continued to live in Harnedsville. In 1910, she sued the Connellsville and State Line Railway Company for damages when the company claimed a right-of-way over local properties for constructing a new rail line. Then in 1912, when Meyersdale celebrated its Old Home Week, she and Bertha attended. She continued to operate the boarding house and, in July 1915, the Republican reported that she was "painting her house, barn and other buildings and is preparing for summer boarders." Mattie also was considered as a "well and favorably known" member of the Harnedsville Christian Church. When local soldiers returned home from World War I, Mattie and Bertha went to Connellsville to attend a homecoming celebration. Sadly, in August 1927, while feeding one of her chickens, she was pecked at her ankle, and the wound became infected. Already suffering from diabetes, she was diagnosed with blood poisoning and gangrene of the lower limb. It was feared that amputation would be needed. She was treated by Dr. H.P. Meyers of Confluence, and a story in a February 1928 edition of the Republican indicated that her health was improving. "To make Miss Weimer's affliction still worse," said the article, "her niece, Miss Bertha Herrington, who lives with her, has been an invalid for a number of years." But a cure was not to be had. In all, Mattie suffered for nine months until the Angel of Death spirited her away at the age of 69 on May 24, 1928. Her niece Bertha Herrington signed the Pennsylvania death certificate. Rev. Frank L. Stuck officiated at her funeral service, with burial in Addison Cemetery. Her pallbearers were James Marsh, Herman P. Dull, L.R. Goller, Grant Pyle, Edwin McClintock and Edward Holiday.
~ Daughter Lavinia W. "Vennie" (Weimer) Atwood ~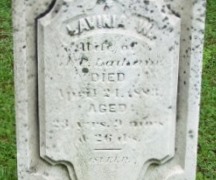 Lavinia's grave, Addison Cemetery.
Courtesy Caine Luckey
Daughter Lavinia W. "Vennie" Weimer (1859-1883) was born on June 29, 1859 in or around Listonburg, Somerset County. At the age of 19, in 1880, she was unmarried and lived at home with her parents. She eventually was joined in wedlock with Atwood P. Latham (April 21, 1861-1927), a native of Wheeling, Ohio County, WV and the son of Abner Oilvie and Felicia (Sturgis) Latham, now living in Addison, Somerset County. During their all-too-brief marriage, the Lathams bore one known daughter, Laura "Lavana" Latham. Evidence suggests that Lavinia had a difficult pregnancy with her daughter and died a short time after childbirth, on April 24, 1883, at the age of 23 years, nine months and 26 days. The young mother's remains were placed into eternal repose in Addison Cemetery in Somerset County. [Find-a-Grave] A single inscription at the botom of the face of her grave marker reads "Asleep." Two other offspring may have been involved with this family, Lavana Lanion and Florence Smith, both of whom lived in Oklahoma in 1928.
The grieving, widowed Atwood left Somerset County and is thought to have moved to Washington, DC, where he became a physician and practiced for a decade. Four of those years were spent as a surgeon in the employment of a railroad. In April 1891, he made his way to Kansas and boarded with Mr. Black in the town of Oakland, where he established a medical practice. Later in the 1890s, he went to Louisville, KY, where he pursued an education at the Southwestern Homeopathic Medical College and obtained a degree in April 1900. He established a home and a medical practice in Elizabethtown, Hardin County, KY. He married three more times during his long life -- to Elizabeth Rose Ann Kinney on Aug. 31, 1891, who in turn died in Columbus, IN on May 1, 1894; Ellen E. Dick ( ? - ? ), married in Baltimore in 1894 and divorced in 1897; Nannie M. (?), married in 1896 and divorced in 1918; and Mary Birdie Stewart ( ? - ? ), married on Jan. 15, 1919. He served in the U.S. Armed Forces during the Spanish American War. As a patient in the Bush-Bandeed Sanatorium, he passed away at the age of 66 on Oct. 26, 1927. His remains are in endless sleep in Elizabethtown City Cemetery. [Find-a-Grave] Today, the University of Louisville School of Medicine awards an annual Atwood P. Latham Memorial Prize for excellence in anatomy.
Granddaughter Laura Lavana Latham (1883-1903) was born on July 13, 1883, with her mother dying soon after childbirth. She was taken into the home of her mother's parents in Harnedsville and was there in 1900 at the age of 16. She was considered an invalid and passed away on Feb. 2, 1903, at the age of 19 years, six months and 20 days. Burial was in Addison Cemetery.
Copyright © 2014, 2019, 2022
Research for this page graciously shared by the late Donna (Younkin) Logan, Sylvester Everhart Jr., Linda Marker, Marian (Smith) Posey, Laurel Posey, Loretta (Adams) Kelldorf and Kay Lynn Younkin.