Home

Michael Weimer Jr.
(1828-1911)
Michael Weimer Jr. was born on March 18, 1828 in Somerset County, PA, the son of Michael and Sarah "Sally" (Younkin) Weimer Sr.
At the age of 25, on June 2, 1853, Michael entered into marriage with 17-year-old Anna McMillen (1836-1884).
The couple bore these six known children, and perhaps others -- Samantha Wright Harmon, Samuel Weimer, Rachel Weimer, William Weimer, Larissa Weimer and John Kirkwood Weimer.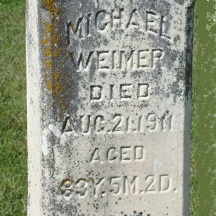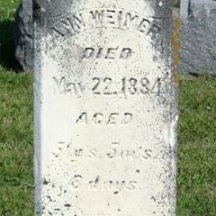 The Weimers' graves, Union Township Cemetery, Defiance, Iowa.


Courtesy the late Phyllis Ann (Wilwerding) Heller, Find-a-Grave
When the federal census enumeration was made in 1860, the Weimers resided in Upper Turkeyfoot Township, with Michael earning a living as a blacksmith and Anna as a seamstress.
Then during the early 1860s, the family made the decision to migrate to Iowa. They had arrived there by the time daughter Larissa was born in about 1864 and were in Cerro Gordo County, IA when son John was born in 1868.
The 1870 census shows Michael and Anna on a farm in Springdale, Cedar County, IA. That year, 19-year-old Joseph Weimer lived under their roof, and the census-taker spelled the family surname as "Whymer." When their daughter Samantha was married in their home in 1874, the residence was located in Cedar County, about four miles north of West Liberty, Muscatine County.
During the 1870s, they pulled up stakes again and relocated within Iowa to Harlan Township, Shelby County. The U.S. Census of 1880 shows that only two of the sons remained at home, and that farm laborer John Van Metre boarded in the household.
Sadly, Anna died at the age of 51 on May 22, 1884. Her remains were placed into repose in Union Township Cemetery.
The widowed Michael went to live with his married daughter Samantha Harmon in Defiance, Union District, Shelby County. He was spirited away by death in Defiance on Aug. 21, 1911. [Find-a-Grave]
~ Daughter Samantha Jane (Weimer) Wright Hannan ~
Daughter Samantha Jane Weimer (1854-1939) was born on April 19, 1854 in Confluence, Somerset County, PA. She was about age 10 when accompanying her parents as pioneers in a move to Iowa.
She was married twice. On March 5, 1874, at the age of 19, she wed Civil War veteran Lyman Wright (1846-1887). The ceremony was conducted by Rev. Rankin at the home of Samantha's parents near Springdale, about four miles north of West Liberty. Among the attendees were Charles A. Purvis, L.J. Watson and Frank R. Wright.
They bore two daughters, Blanche McBride and Bessie Wright. Samantha was assisted in the birth of daughter Blanche by midwife Mary Cherry.
Lyman stood 5 feet, 5 inches tall, had brown eyes and brown hair and weighed 140 lbs. He had been a farmer before the war.
During the first year of the war, Lyman had enlisted for a term of three months and was placed in the the 1st Iowa Infantry, Company C. He received his honorable discharge in St. Louis in August 1861. He re-enlisted in the Army Aug. 15, 1862 at Muscatine and assigned to the 35th Iowa Infantry, Company D. In December 1863, the regiment was stationed at Pocahontas, TN. He became ill with diarrhea and, while lifting a barrel of rations into a railroad car in early December 1863, tore the spermatic cord of his right testicle. He was sent on Dec. 14 to a regimental hospital, where he spent two weeks, and then was sent in January 1864 was dispatched to the Army General Hospital in Memphis, located in the Overton Hotel. On Feb. 17, 1864, his testicles badly swollen and enflamed, he received medical care on the steamer R.C. Wood and then admitted to a hospital at Jefferson Barracks, MO and Alexander Barracks in St. Louis.
Lyman returned to his unit in March 1864. In about July 1864, he was transferred to the 15th Veteran Reserve Corps, Company E. His final rank was corporal. He was mustered out of the army at Cairo, IL on July 14, 1865.
Upon his return home, Lyman was sufficiently debilitated that he abandoned farming and earned a living for two-and-a-half years as a teamster in West Liberty. He then returned to the occupation of farming in the area until April 1877 when they relocated to a farm in nearby Shelby County. He is known to have performed threshing and farm work with S.J. Weimer.
Sadness blanketed the family when daughter Bessie died at the age of about nine in 1887.
Sadly, suffering from "malignant anthrax" and typhoid fever, Lyman died on Oct. 4, 1887. He was age 45 years, eight months of age at death. Undertaker H.J. Brain prepared the body for burial and handled the interment in Defiance.
His passing led the way for Samantha to petition to receive a military widow's pension, which she was awarded in April 1888. [Widow Appl. #371.128 - Cert. #974.830]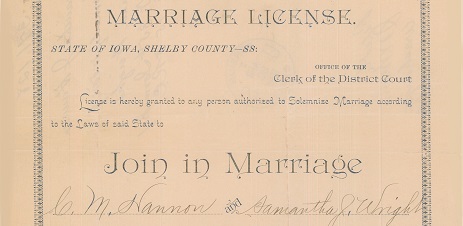 Samantha's 2nd marriage, to Charles Hannan, 1891.

National Archives
Then on Dec. 10, 1891, at the age of 35, Samantha wedded her second husband, 35-year-old agent Charles Manford Hannan (April 1, 1856-1932), son of Thomas J. and Mary Elizabeth (Harris) Hannan of Dalas City, IL. Rev. L.H. Cook, pastor of the Methodist Episcopal Church, officiated at the ceremony held in Defiance, Union Township, Shelby County.
Charles apparently was married before and brought a daughter to the second union, Lilie L. Hannan.
Samantha and Charles then produced a daughter of their own, Daisy B. Hannan.
The mixed family was counted together in the 1900 census, dwelling in Defiance. They eventually moved to Dunlap, Crawford County, IA.
Charles passed away in Dunlap on Feb. 27, 1932, burdened with hardening of the arteries, chronic enlarged heart and circulatory failure. Burial was in Defiance.
Widowed again, Samantha re-applied to receive a veteran's pension for her first husband. It was awarded on Nov. 7, 1932, at a rate of $40 per month.
Having borne chronic heart disease for several years, she wss treated at the end by Dr. W.W. Walvoord. Sadly, Samantha died in Dunlap on April 21, 1939, at the age of 85. Interment of the remains was in Defiance. Daughter Daisy, age 45, applied to the Veterans Administration for reimbursement of funeral expenses.
Daughter Blanche Wright (1878-1965) was born on Dec. 3, 1878/1879 in Iowa. Midwife Mary Cherry assisted in the birth. At the age of 24, Blanche wedded (?) McBride ( ? - ? ).
Daughter Daisy Beatrice Hannan (1894-1977) was born in Feb. 1894 in Iowa. She was joined in marriage with J.R. Hunter. Her home in 1939 was in Dunlap.
Stepdaughter Lilie L. Hannan (1880- ? ) was born in Nov. 1880 in Iowa.
~ Son Samuel Weimer ~
Son Samuel Weimer (1855- ? ) was born in about 1855 in Somerset County, PA.
~ Daughter Rachel Weimer ~
Daughter Rachel Weimer (1857- ? ) was born in about 1857 in Somerset County, PA.
~ Son William Weimer ~
Son William Weimer (1860- ? ) was born in about Feb. 1860 in Somerset County, PA.
He migrated to Iowa with his parents as a young boy. At the age of 20, unmarried in 1880, he lived at home in Harlan Township, Shelby County.
~ Daughter Larissa Weimer ~
Daughter Larissa Weimer (1864) was born in about 1864 in Iowa.
~ Son John Kirkwood Weimer ~
Son John Kirkwood Weimer (1868-1927) was born on Oct. 3, 1868 in Cerro Gordo County, IA. He grew up in Cedar and Shelby Counties.
On Valentine's Day 1892, in nuptials held in Harlan, Shelby County, the 23-year-old John was joined in the bonds of wedlock with Theodosia Equilla "Doshia" Weigart (Feb. 8, 1876-1940), the daughter of John J. and Elizabeth Elmira (Snyder) Weigart.
The couple went on to produce a family of 10 children -- Hazel Idolia Blanchard, Merle Jay Weimer, Georgia Erickson, Ona Luella Petersen Ramey, Jack Oris Weimer, Ethalyn A. Peterson, Russell Orman Weimer, Lou Verne Christiansen, Gaillard Weimer and Clarice Peterson.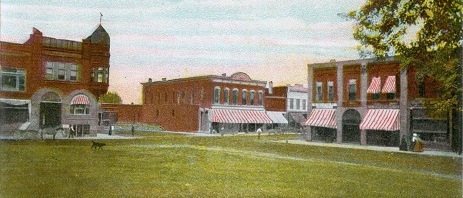 Northeast corner of the public square in Harlan, Iowa, early 1900s
The family dwelled in Denver in the 1890s at the births of their son Merle and daughter Georgia. They eventually settled in Harlan, Shelby County, IA, where in 1910 John supported the family through his work as a cement works foreman.
At the age of 58, in 1927, John succumbed to death in Council Bluffs, Pottawattamie County, IA. His remains were transported for burial to Harlan Cemetery.
Theodosia outlived her husband by a baker's dozen years. Her home in 1940 was on Spring Street in Harlan. She died in Harlan on Aug. 2, 1940, with a brief death notice appearing in the Des Moines Tribune.
Daughter Hazel Idolia Weimer (1894- ? ) was born in about 1894. On March 15, 1913, in Marion, IA, the 19-year-old Hazel wedded 24-year-old baker Tony R. Blanchard ( ? - ? ), son of H.S. and Clara (Tombleson) Blanchard. Rev. A.T. Bishop presided at the wedding.
Son Merle Jay Weimer Sr. (1895-1991) was born on Sept. 9, 1895 in Denver, CO. He grew up in Harlan where he became a laborer. At the age of 26, on St. Patrick's Day 1923, at Council Bluffs, IA, he married 21-year-old Clara Jacobsen of Harlan. Justice of the peace A.F. Hollis officiated. Their known offspring were Merle J. Weimer Jr. and Darrell W. Weimer. Census records for 1940 show Merle Sr. owning a hamburger shop in Harlan, with Clara assisting as a cook. In about Sept. 1941, he became employed with J.H. Frederickson Transfer in Harlan. Then by 1944, he had relocated to Pasadena, CA. Circa 1962, he lived in Pasadena and traveled to Harlan, IA to attend the funeral of his brother-in-law Harlan Petersen. They made a home in Big Bear Lake, CA in 1965 and in Oct. 1965 again returned to Harlan to attend a family reunion at Potter's Park. Merle reputedly died in San Bernardino, San Bernardino County, CA on Nov. 15, 1991.
Daughter Georgia Weimer (1898-1981) was born on Jan. 15, 1898 in Denver, CO. At the age of about 19, on March 28, 1917, she married 29-year-old farmer Carl E. Erickson (Dec. 7, 1888-1986), son of Enoch H. and Mathilda (Olson) Erickson. Rev. G.T. Roberts, of the Methodist Episcopal Church, is believed to have presided. They were the parents of Norman Erickson. Circa 1937, son Norman was with the U.S. Navy, stationed at Honolulu and witnessed the arrival of famed aviatrix Amelia Earhart at Pearl Harbor. Georgia was employed with the Farmers Mutual Co-op Telephone Company office in Harlan in the 1950s. In the spring of 1959, they spent seven weeks visiting their son and siblings in California. The couple celebrated their 45th wedding anniversary in March 1962 at a reception in the Federal Savings and Loan Building. Georgia passed into eternity on Aug. 26, 1981. Carl lived for another five years and succumbed to death on March 20, 1986.
Daughter Ona Luella Weimer (1899-1943) was born on Aug. 29, 1899 in Defiance, Shelby County, IA. At the age of 22, on Oct. 17, 1920, at Harlan, IA, she wedded masonry worker Edwin G. Petersen ( ? - ? ), son of Peter L. and Mary (Damsgaard) Petersen. Methodist Episcopal Church pastor Rev. G.T. Roberts led the nuptials. Fifteen years later, on Aug. 8, 1935, she married a second time to George William Ramey (Jan. 13, 1890-1960), a native of Templeton, IA and the son of Philander and Christena (Brach) Ramey. The couple bore three children -- Darlene Joann Carr, Bonnie Lou Schutt and Sid Ramey. Carl earned a living over the years as a plumber. Sadly, Ona passed away June 6, 1943. George lived as a widower for another nearly 17 years. At the age of 70, George died in Myrtue Memorial Hospital on May 30, 1960. Harold C. Pauley and his wife provided music at the funeral, with Ole Olsen, George Erickson, Lloyd Benning, George Petsche, Henry Petersen and Lynden Chrstiansen serving as pallbearers. An obituary was printed in the Harlan Tribune.
Son Jack Oris Weimer (1901-1972) was born on Sept. 24, 1901 in Harlan, Shelby County, IA. Circa 1920-1922, he worked for the Lohrville Bakery but then resigned to begin work for Bon Ton Bakery at Oberlin, KS. He and his wife resided in 1956 in Klamath Falls, OR and owned a ranch house in Langell Valley. They made news in February 1957 when a fire destroyed their home, and his wife jumped to safety through a window. Jack died in Klamath Falls at the age of 71 on Nov. 19, 1972. They rest in Mount Laki Cemetery in Los River, Klamath County.

Above: World War II destroyer USS Brownson.

Naval History and Heritage Command.

Below: the Brownson's sinking in New Guinea, claiming Jack Peterson's life.

Attack! Battle of New Britain, U.S. Office of War Information, 1944.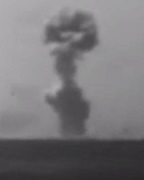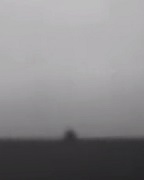 Daughter Ethalyn Ann Weimer (1903-1992) was born on Oct. 19, 1903 in Irwin, Shelby County, IA. Circa 1920-1922, she and her brother Jack worked for the Lohrville Bakery but then both resigned. On May 12, 1922, in Harlan, she was united in wedlock with Harlan Peterson (Sept. 16, 1896-1962), son of Peter and Anna (Christiansen) Peterson. They became the parents of Virginia Dobbert and Jack Peterson. During World War I, Harlan served with the U.S. Navy. He returned to Harlan after the war and the couple spent the balance of their lives in the community. They were members of the First Methodist Church. Tragedy struck the family during World War II when son Jack, a seaman second class in the Navy, served on the destroyer USS Brownson. In an attack by Japanese dive bombers near Cape Gloucester, New Britain, New Guinea, the ship was sunk with the loss of 108 crewmen the day after Christmas 1943. The sinking was captured on film and made part of the wartime documentary Attack! Battle of New Britain, produced by the U.S. Office of War Information and directed by Frank Capra. Very active socially, Harlan belonged to the Veterans of Foreign Wars, Helmer Reyelt Post of the American Legion, World War I Veterans, Parian lodge of the Masons, Odd Fellows, Zenobia Rebekah Lodge, Adelphia Council and Mt. Zion Commandery of the Knights Templar and the Abu Bu Bekr Shrine in Sioux City. Harlan passed away "very suddenly at his home" at the age of 65 in Feb. 1962, reported the Harlan News-Advertiser. Burial was in Harlan Cemetery, with Rev. Roy W. Pfaff preaching. Serving as pallbearers were Mel White, Bob Nelson, Gene Briley, Earl Baldwin, Wayne Bauerle and Clede Reynolds. Ethalyn outlived her husband by nearly three decades. She died on Jan. 21, 1992.
Granddaughter Virginia Peterson ( ? - ? ) served in the Navy during World War II. She married Clarence Roy Dobbert (1920-2005) and died in Arizona on May 17, 2010
Son Russell Orman Weimer (1906-1992?) was born in (?). He married Fern Anderson (Sept. 29, 1910-2005), a native of Four Acres, OK. The couple's presumed daughter was Barbara Dehlinger. Their home in 1948 was in Green River, WY and in the 1950s in Riddle, OR. Russell is believed to have owned a grocery store in Riddle in 1955 and then in 1960 acquired a tavern. Interested in politics, he was a member of Riddle city council circa 1952-1961 and was elected mayor in 1954. But after only a month in his mayoral term, he resigned, complaining to the press about the "constant stream of people with petty complaints" who interrupted his daily work at the store. In August 1955, they are known to have traveled to Ashland, OR to see Shakespeare plays. Evidence suggests that Russell died in 1992 with burial in Oberlin Cemetery in Decatur County, KS. Ferns followed him into death in Oberlin on Aug. 10, 2005. Her obituary was printed in the Salina (KS) Journal.
Daughter Lou Verne Weimer (1909-1989) was born on April 17, 1909. At the age of 25, on Dec. 7, 1933, she was joined in holy matrimony with farmer Lynden Christiansen (1906-1986), son of Andrew and Esther (Tobias) Christiansen and a native of Walnut, IA. The wedding was officiated by Rev. S. Grant Lewis in the Methodist Episcopal Church parsonage. They made a longtime home in Harlan and produced these children -- John Christiansen and Mrs. Jerry Summers. Lynden owned the Farmers Market for many years before selling it to Orville Andersen in 1961. She worked in the 1960s at Harlan National Bank. She died on April 1, 1989, with burial in Harlan Cemetery.
Son Gaillard Weimer (1911-1988) was born on June 21, 1911 in Harlan, Shelby County, IA. As a young man, he relocated to Southern California and made a home in Monrovia at 132 West Olive Street. At the age of 33, on Christmas Eve 1944, he was married to Helene Margaret Duryee ( ? - ? ), daughter of James C. Duryee. Their wedding was held at the First Christian Church of Monrovia, CA, officiated by Rev. Stanley N. Blood. They bore three sons. Their address in 1945 was 212 East Foothill Boulevard in Monrovia near Pasadena. Circa 1956, they dwelled in West Cabina, CA. Clues hint that he died in Los Angeles on Nov. 8, 1988.
Daughter Clarice Weimer (1915-1996) was born on Jan. 29, 1915 in Harlan, Shelby County, IA. On Feb. 20, 1935, at the age of 20, she married Henry H. Peterson ( ? - ? ). Their wedding was held in the parsonage of the local Methodist Church. They produced a family of four children -- Monna Juhl, Judy Sanders, Roger Peterson and Dorothy O'Grady. The Petersons spent their working lives on the Weimer family farm. In their spare time, they enjoyed bowling in local leagues in Harlan. She also was a member of the Zenobia Rebekah Lodge and the Friendly Neighbor Club. Clarice and Henry retired from farming in 1984 at which time they relocated from the farm into the town of Harlan. Sadly, Henry died on April 22, 1994. Clarice lived as his widow for two years until she too succumbed to death on Oct. 17, 1996 while a patient in the Immanuel Medical Center in Omaha, NE. Funeral services were led by Rev. Jon Benson of the Immanuel Lutheran Church, with interment in Harlan Cemetery. Pallbearers included Jeff Juhl, Terry Peterson, Tim Hanson, Jerry Juhl, Kevin Peterson and Randy Kay, while honorary bearers were Susan Mills, Cynthia Johnston, Melanie Herrick and Holly Peterson. An obituary noted that she was survived by 11 grandchildren and 10 great-grandchildren.
Copyright © 2014, 2019, 2022
Research for this page graciously shared by the late Donna (Younkin) Logan, Sylvester Everhart Jr., Linda Marker, Marian (Smith) Posey, Laurel Posey, Loretta (Adams) Kelldorf and Kay Lynn Younkin.