Arthur Earskin White
(1884-1935)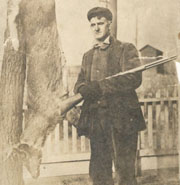 Arthur E. White
Arthur Earskin White was born in 1884 in or near Pittsburgh, Allegheny County, PA, the son of George H. and Helen "Ella" (Daugherty) White. He is one of a large number of cousins to lose their lives in the coal, coke and steel workplace.
After leaving home, Arthur found work in the coal fields of Western Pennsylvania as a master mechanic, superintendent and assistant superintendent. He played on and managed a baseball team in Hopwood, and later managed a team at the Clyde Mine. Over the years, he also labored on the railroad and as an electrician. He is seen here, posed with a favorite gun and the deer he shot with it.
He is said to have served as president of the United Mine Workers of America local union No. 688, the second person to hold that office, but the details need to be confirmed.
Arthur married Roberta "Berdie" Estlick (or "Estlech" or "Estick") (1894- ? ). She apparently brought a daughter to the marriage, Florence Harden.
The Whites went on to have 11 known children -- Leona White, Alfaretta Hackney, Arthur H. "Pete" White, Donald H. White, Gwendolyn F. Price Crossland, Holbert J. White, Eileen B. Hess, Harold K. White, Ronald L. White, Dorothy Bergamasco Jackson and George White.
News coverage, 1935

Circa 1920, they lived at the Revere Coke Works near Uniontown, Fayette County, where Arthur was a machinist in the coke plant.

The 1930 census shows the family making their home in Luzerne Township, Fayette County, with Arthur continuing his skill as a coal mine machinist. Given his work with coal barges, he also was considered a "river man." By 1935, they had moved to a new home in house no. 55 at the Clyde No. 1 mine across the river from Brownsville, Fayette County. Owned by the Clyde Coal Company of Pittsburgh, the mine was located along the Pittsburgh, Virginia & Charleston Railroad in and around East Bethlehem, Fredericktown and Jacksontown, Washington County. Coal extracted from the mine was conveyed directly to a tipple along the Monongahela River for shipment.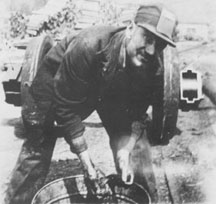 Arthur White at the Clyde Mine shortly before he was killed there

Tragically, on Thanksgiving Day 1935, Arthur was found badly injured, with a fractured skull, after falling into a coal barge while working at W.J. Rainey Inc.'s Clyde Mine in Fredericktown, Washington County, PA. He died a day later at Brownsville General Hospital, at the age of 57. The deputy coroner for Fayette County ruled that death was due to a shock from the fracture, "caused by falling and striking head on side of barge while at work - accidental."

A newspaper article claimed that just prior to his death, Earskin had drawn his first pay in more than a year due to debts he owed to the company store. His remains were laid to rest in the Hopwood Cemetery, near the final resting place as his grandparents and great grandparents.

Further heartache blanketed the family two years later on the first day of November 1937, when 27-year-old unmarried daughter Leona Beatrice White suffered a perforated gastric ulcer in Fairmont, WV and died there.

The federal census of 1940 lists Birdie heading a household of seven children and a daughter in law in East Bethlehem, Washington County, PA, ranging in age from 5 to 22. That year, son Arthur provided income for the family as a coal mine watchman, and his brother Donald as a coal miner.

Circa 1965, Berdie made her home in Morgantown Street in Uniontown, Fayette County.

~ Daughter Leona Beatrice White ~

Daughter Leona Beatrice White (1910-1937) was born on Sept. 17, 1910.

She never married.

Leona moved to Fairmont, Marion County, WV, making her home at 232 Jefferson Street.

She suffered from a perforated gastric ulcer, and died following surgery in Fairmont at the age of 27 on Nov. 1, 1937. Her remains were returned to Hopwood for burial, with Rev. J.D. Stillwagon officiating at the funeral. Leona's mother signed the official West Virginia certificate of death, and an obituary was printed in the Uniontown Morning Herald.

~ Daughter Florence (Harden) Fullem ~

Daughter Florence Elaine Harden (1912-1995) was born on Dec. 19, 1912 in Republic, Fayette County, the daughter of Roberta Estlick and coal miner Fred Harden (April 22, 1882-1952), a.k.a. "Harding."

She bore a son, Ronald Lewis White.

On Feb. 19, 1937, when she was 25 years of age, Florence married 24-year-old Alfred Ewing Fullem (1912- ? ), son of Charles E. and Louise Christine (Whyel) Fullem. The ceremony was held in Morgantown, Monongalia County, WV, performed by Rev. J.C. Hoffman of the Morgantown Methodist Episcopal Church. In reporting on the happy news, the Uniontown Morning Herald said "The bride chose an ensemble of rust with accessories to match. The bridal dinner was served that evening in the home of the bridegroom's brother-in-law and sister, Mr. and Mrs. R.M. Patterson, Hopwood.... Seated at the bridal table were Mrs. Louise Fullem, Mr. and Mrs. Homer Fullem and sons, Bobby and Ronnie; Mr. and Mrs. R.M. Patterson and daughters, Mary Louise and Betty" At the time of marriage, Alfred was employed at the J.F. Hogsett Mill, a flour milling operation

They produced a son, Charles Fullem.

The Fullem family resided in Hopwood near Uniontown circa 1937. When her sister Leona White died in Fairmont, WV in November 1937, the body was shipped to the Fullem residence for funeral services prior to burial at the Hopwood Cemetery.

The federal census of 1940 shows the Fullems making their home along Coolspring Road, with Alfred continuing his work as a laborer in a feed mill.

Florence's address in late 1946 was 133 Whyel Street.

On Oct. 27, 1952, Florence's birth father Fred Harding died at the residence of Wilbur Hibbs of Strum Station in Smithfield, Fayette County, at the age of 70. An obituary in the Morning Herald said he was survived by "one daughter: Mrs. Florence Fullem of Hopwood and one step-daughter: Mrs. Albert Hackney of Uniontown."

She entered eternity on Aug. 30, 1995.

Son Ronald Lewis White ( ? - ? ) joined the U.S. Navy. In December 1946, he was assigned as a fireman second class on the USS Leyte aircraft carrier which, said the Uniontown Morning Herald, "has completed a good will tour of the ports of Valparaiso, Chile; and Callao, Peru; and is now finishing her shakedown cruise in the Caribbean Sea. The highlight of the cruise was at Valparaiso, Chile; where the Leyte, the battleship USS Wisconsin, and three destroyers, took part in the inaugural ceremonies of Chile's new president, Gabrial Gonzalez Videla. From there the force proceeded to Callao, Pereu, for a four day visit, and then to the Canal Zone; where the Wisconsin and a destroyer went to La Guaira, Venezuela, while the Leyte with a new destroyer escort went to complete her shakedown cruise."

Son Charles Fullem (1938- ? ) was born in about 1938, most likely in Hopwood. He graduated from North Union Township High School in 1955 and obtained a job at the Clairton works of United States Steel Corporation. On Sept. 28, 1958, when he was age 20, he was wedded to Arlene McClelland ( ? - ? ), daughter of Vernon and Pauline McClelland of Uniontown. The ceremony was held in the Central Christian Church, with Rev. Earl P. Confer officiating. At the time, Arlene worked at Don W. Dayton Insurance Company. The Uniontown Morning Herald published an article and portrait of Arlene in announcing the engagement and then printed a photo of the couple after the wedding was held. The couple is believed to have had at least four sons -- Charles Vernon Fullem, David Ewing Fullem, Daniel Fullem and Douglas Fullem.

~ Alfretta (White) Hackney ~

Daughter Alfretta White (1913-1978) was born in about 1913 in Fayette County.

She wed Clark Hackney ( ? - ? ) and lived in Uniontown. She is thought to have been a member of the Central Christian Church of Uniontown and a volunteer leader with some of its activities. Her address circa 1947 was 224 Morgantown Street in Uniontown.

She died in 1978 at the age of about 65.

~ Son Arthur H. "Pete" White ~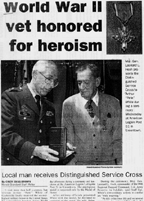 Pete White's honor
Son Arthur "Pete" White (1918-2002) was born in about 1918 in Fayette County.
Unmarried at the age of 22, in 1940, he lived with his widowed mother and younger siblings in East Bethlehem, Washington County, and worked as a coal mine watchman.
He was joined in holy wedlock with Helen ( ? - ? ).
He served in the US Army 77th Infantry and saw heavy battle action on Okinawa, and many years later, in 1996, received a Distinguished Service Cross for heroism.
He retired from the Clyde Mine in Fredericktown, and spent his final years in Clarksville.
He passed away on July 12, 2002 and is interred in the mausoleum at the Greene County Cemetery.
~ Son Donald H. White ~
Son Donald White (1919-1998) was born in about 1919 in Fayette County.
He married Lillian (1917- ? ) and went on to have four children.
Initially, as shown in the 1940 federal census, the young couple lived under the roof of Donald's widowed mother in East Bethlehem, Washington County, PA. Donald helped support the family that year as a coal miner.
He retired from the Clyde Mine and died in 1998.
~ Daughter Gwendolyn (White) Price Crossland~
Daughter Gwendolyn White (1921-1990s) was born in about 1921 in Fayette County.
Gwendolyn was twice married. On Christmas Day 1939, when she was age 18, she was joined in wedlock with her first husband, Edgar William Price Sr. (Aug. 18, 1914-1960), son of Ernest C. and Adelaide (Lewis) Price. Their marriage license was filed in Fayette County.
The Prices had one known son, Edgar William Price Jr.
Edgar earned a living as a laborer. Their postal address in 1960 was 193 Derrick Avenue in Uniontown.
Suffering from a bleeding peptic ulcer, Edgar was admitted to Uniontown Hospital, remaining until his death three weeks later on Jan. 4, 1960. His remains were interred in Oak Grove Cemetery in Uniontown. Edgar's brother Donald and family traveled from Chagrin Falls, OH to attend the funeral.
Later, she was wedded to Maurice C. Crossland (Oct. 20, 1915-1993), son of Charles Crossland of Evans Street in Uniontown. He had been married before, circa 1939, to Henrietta Hartwick of Masontown. During World War II, he served as a seaman second class with the U.S. navy in Sampson, NY. Gwendolyn and Maurice dwelled at 105 Lawn Avenue in Uniontown. She enjoyed collecting vintage Mustang automobiles, and he was an officer of the local Elks Club. He owned a contracting business as well as Dingle's Tavern at 240 East Fayette Street in Uniontown and the Mobil Oil service station in Hopwood, later known circa 1974 as C&C Mobil Gas & Oil.
The Crosslands produced one son of their own, Maurice Crossland, Jr.
Gwendolyn and Maurice apparently separated by the early 1970s. Maurice remained in Uniontown and succumbed on March 15, 1993.
She passed into eternity in the 1990s.
Son Edgar William Price Jr. (1942- ? ) was born in about 1942. He served in the U.S. Navy during the Vietnam War era. Circa November 1960, he reported for duty at the Navy Command School at San Diego for radioman training, and was pictured in the Uniontown Morning Herald. Later, he was transferred to the Taiwan Defense Command in Formosa, and received a leave of absence in January 1960 to return to Uniontown for his father's funeral. In 1965, he began working for the U.S. Department of State. Circa May 1973, he was employed in the Foreign Service office in Washington, DC, after having recently concluded a tour of duty in Africa, Asia and France, and then in June 1973 returned to Asia for a six-month assignment. Circa March 1974, he received a transfer to the American consulate in Rio De Janiero and in June 1977 was moved to the embassy in Jakarta, Indonesia.
Son Maurice Crossland Jr. (1963- ? ) was born in about 1963.
~ Son Holbert J. White Sr. ~
Son Holbert J. White Sr. (1921-2015) was born on Oct. 26, 1921 in Simpson, Fayette County, PA. As a boy, he moved with his family when his father needed to find work. He graduated from East Bethlehem High School in Washington County in 1937.
When he was a boy, he visited with his great-aunts Annie Hopwood and Mollie Daugherty in the town of Hopwood. They showed him Civil War memorabilia and took him around town to meet other relatives still living there.
At the age of 23, on April 11, 1945, he married Elaine Castana (or "Castane") ( ? - ? ). The nuptials were celebrated in Fayette County.
Holbert and Elaine went on to produce three children -- Holbert J. White Jr., Gary White and Lee A. White.
Holbert served in the U.S. Coast Guard during World War II, and served in the battles of Saipan, Tinian and Manila Bay. His ship was torpedoed by a Japanese submarine during the battle of Leyte Gulf.
Following in his father's line of work, he was an electrician at the Clyde Mine of Republic Steel, employed there for 45 years. He was entrepreneurial and a partner in the Ross and White Television Repair business in Clarksville. He enjoyed golfing and was a founder of Black Diamond Golf League. A story in the Washington (PA) Observer-Reporter noted that he "scored the first hole-in-one at Carmichaels Golf Club."
In his final years, Holbert was admitted to the West Hills Health and Rehabilitation facility in Coraopolis, near Pittsburgh. He died there at the age of 93 on March 6, 2015. At his passing, he was survived by eight grandchildren and eight great-grandchildren. Burial was in Greene County Memorial Park.
Son Holbert J. "Bucky" White Jr. married Diana and is a longtime educator. He taught special education and coached wrestling at University High School in Morgantown, Monongalia County, WV from 1972 to 1976. He left teaching in the mid-1970s to work on the Alaska Oil Pipeline, and then returned to work for several years as an administrator in the Central Greene School District. He later was employed at the Clyde Mine in Fredericktown (1981 to 1983) and owned the Sears Catalog Store in Waynesburg from 1985 to 1998. He current owns the Subway Restaurant and Plaza in Waynesburg, which he opened in 1990. He runs a 1,000-acre beef cattle farm near the Greene County Airport. For three decades, he was a wrestling official with the Pennsylvania Interscholastic Athletic Association (PIAA) and has been very active as a high school referee.
Son Gary S. White married Debbie. He began teaching at Carmichaels High School in 1971 and was head wrestling coach there for two decades. He taught advanced placement history courses at Carmichaels and other Greene County schools via "distance learning." He retired in 2007.
Granddaughter Stacey Elaine White and her husband Matthew T. Welker are lawyers who have their own patent law boutique practice -- White-Welker & Welker Law Firm -- in Clear Spring, MD.
Son Lee A. White as a boy delivered newspapers with one of his stops at the home of famed Clarksville resident Joseph "Jock" Yablonski, a high profile candidate for the presidency of the United Mine Workers of America. When Yablonski and his wife and daughter were murdered at home in 1969, by killers hired by A.W. "Tony" Boyle, their bodies were undiscovered while newspapers were delivered to their door by young Lee. He married Ronita and they live in Waynesburg, with one son, James White. Lee has worked as an engineer for Sperry Rand and Unisys Corporation in Philadelphia, and more recently in software development for Highmark, Giant Eagle, Weirton Steel, Bayer USA and West Virginia University. For the past 13 years he has served as lead engineer in product development for Pittsburgh software company Ventyx Corporation. Lee was head wrestling coach at Carmichaels Junior High School for three years. Ronita taught school in Philadelphia at Towmencin Head Start. Upon returning to Greene County, she owned the "My Friends House" pre-school in Waynesburg and was director of the Warrior Trail pre-school and kindergarten at Waynesburg College. She currently is a software engineer at Digicom Inc. in Southpointe, near Canonsburg, Washington County, PA.
Grandson James White is a champion golfer at Greene County Country Club.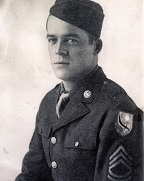 William Porter Hess Sr.
~ Daughter Eileen B. (White) Lewis Hess ~
Daughter Eileen B. White (1924-1983) was born in about 1924 in Fayette County.
She was married twice during her lifetime. Her first husband was Robert "Spike" Lewis ( ? - ? ).
Later, she was wedded to William Porter Hess Sr. (Oct. 6, 1916-2006), son of Thomas C. and Alma Teresa (Withrow) Hess of East Millsboro, Washington County. He was divorced from Thelma Blackburn and brought a daughter to the marriage, Dorothy Jean Hess.
Eileen and William made their home in Clarksville and had six children -- William Porter Hess Jr., Lois Jean Kennedy, Janice Manen, Terri Wescott, Leianne David and Jennifer Giannoutsos.
William served in the U.S. Armed Forces during World War II and was stationed in North Africa and the European Theatre. He labored at the Clyde Mine of Republic Steel Corporation for 43 years, and retired in 1981 as outside maintenance foreman. They were members of the Pitt Gas Missionary Church, with William serving as Sunday school superintendent, board member and treasurer. Later, he attended Clarksville Missionary Church. He belonged to the Hanson Cole American Legion Post 391 of Fredericktown and, in his free time, restored antique cars and enjoyed gardening. Said a newspaper, "He was mechanically inclined and devoted his entire life to serving his church community and its ministries throughout the years."
Eileen is believed to have been an active leader with the Washington, Fayette and Greene Tri-County Council of the American Legion Auxiliary.
At her death on July 31, 1983, Eileen was survived by 11 grandchildren.
William survived his wife by 23 years. He married again, on Oct. 6, 1984, to Nellie M. (Lorence) Rohrer Leichliter. She had been married previously and brought these offspring to the marriage -- Charles W. Leichliter, David N. Lichliter, Diane Krall, Valerie Decker and Dorothy Jean Rohrer.
At the age of 89 on June 28, 2006, William passed away at home in Clarksville. Rev. Domenick Sgro officiated at the funeral service, followed by burial with full military rites in Greene County Memorial Park. The family requested that any memorial donations be furnished to the Pitt Gas Missionary Church. His survivors included 10 grandchildren, four great grandchildren, one great great grandchild, 10 step grandchildren and three step great grandchildren.
Stepdaughter Dorothy Jean Hess was twice married and widowed, first to (?) Pollock and second to (?) Kennedy.
Son William Porter Hess Jr. ( ? - ? ) married Lisa. They dwell in Millsboro.
Daughter Lois Jean Hess married (?) Kennedy. Her home has been in Ravenna, OH.
Daughter Janice Hess attended Bethlehem-Center High School and studied at George Mason University. She married Carlos Manen. She resides in Virginia and has been a volunteer with the Daughters of the American Revolution and a docent at its Memorial Constitution Hall, providing tours for holiday open houses. In 2017, she was named a docent at the Society of the Cincinnati, an organization comprised of direct descendants of the officers of George Washington's Continental Army, with its headquarters, library and museum at the Anderson House in Washington, D.C.
Daughter Terri hess was wedded to Reggie Wescott. They reside in Clearwater, FL.
Daughter Leianne Hess was joined in matrimony with George David. Their home is in Houston, Washington County.
Daughter Jennifer Hess was united in wedlock with Theo Giannoutsos. Their residence is in Finleyville, PA.
Stepson Charles W. Leichliter married Sharon and live in Diamond, OH.
Stepson David N. Leichliter was wed to Barbara and reside in Carmichaels, Greene County.
Stepdaughter Diane Krall makes her home in Crucible, Greene County.
Stepdaughter Valerie Decker and her spouse Dennis dwell in Indiana, PA.
~ Son Harold K. "Jack" White ~
Son Harold K. "Jack" White (1926- ? ) was born in about 1926 in Fayette County.
He was joined in matrimony with Genevie Carr (1933-2011), the daughter of William and Agnes Carr.
The Whites remained together for 60 years and had two children, Kenneth White and Jackie Harper.
During his working career, Harold labored at the Clyde Mine and also worked for Ford Motor Company in Ohio. During World War II, he served with the military police in Italy, and following the war was on duty during the Nazi war crime trials in Nuremburg, Germany. (Another cousin, David Olson, was at Nuremburg as a military guard of the prison cell of Nazi war criminal Herman Goering.)
Genevie "worked as a nursing assistant at Akron General Medical Center for more than 20 years," reported the Washington (PA) Observer Reporter. "Upon returning to Clarksville in 1994, she served as a clerk for elections for Jefferson Township."
Genevie passed away at the age of 78 on Feb. 26, 2011, "surrounded by family" at Washington Hospital. She was laid to rest in Greene County Memorial Park.
~ Son Ronald White ~
Son Ronald White (1929- ? ) was born in about 1929 in Fayette County.
~ Son George Melvin White ~
Son George Melvin White (1930-1982) was born in 1920.
He married Julia (Blasko) Yelenik ( ? - ? ). She had been married previously and brought a daughter to the marriage, Cynthia Yelenik.
George and Julia produced two children of their own -- Lisa Skoglund and George Melvin White Jr.
He served in the U.S. Air Force during the Korean War. They resided in Crucible, PA.
George died on Sept. 20, 1982, of pneumonia having suffered from Lou Gehrig's Disease -- "Amiotrophic Lateral Sclerosis (ALS)." He rests for eternity in the Greene County Cemetery.
Son George Melvin White Jr. (1963-2004) was born in 1963. He married Karen Leonard and had two children. They resided at Rices Landing, PA. George was a cook for the prison system at Greene County Correctional Institution and at the Pennsylvania Correctional Institution Fayette in Fayette County. He died of melanoma on Sept. 24, 2004, at the age of 41, with burial at St. Mary's Church in Crucible.
Daughter Lisa White married John W. Skoglund. They have two children and reside in Fairfax, VA. John and Lisa are employed the U.S. State Department and from 1999 to 2006 lived in Manila, Philippines; Warsaw, Poland; and Bangkok, Thailand.
Step-daughter Cynthia Yelenik (1949-1987) was born in 1949. She married Galen Maurice "Jake" Lehman and had two children. Cynthia was employed as an educator most of her life, teaching high school English literature in the Redland School District in Harrisburg, Dauphin County, PA. She also helped counsel abused women. Tragically, she was murdered in her home during a burglary on Jan. 19, 1987.
~ Daughter Dorothy (White) Jackson ~
Daughter Dorothy White (1935-living) was born in 1935, the year her father was killed.
Dorothy was married twice.
Her first husband was (?) Bergamasco.
Later, she wed (?) Jackson.
In 2015, her home was in Atlantic City, NJ.
Copyright © 2008-2011, 2015, 2017 Mark A. Miner