Layton 'Late' White
(1852-1917)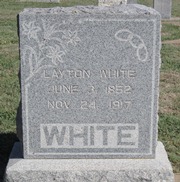 Layton "Late" White was born on June 3, 1852 near Cardington, Morrow County, OH, the son of Luther and Mahala (Minor) White.
As a teenager, he fell in love with a sweetheart, Sylvia Larkin, of Cardington. When she died soonafter, he vowed to remain true. He never married, but was said to be "frugal, honest and upright. He had those sterling qualities that frontier life coupled with Christianity develops."
In 1869, Layton and his parents migrated from Ohio to Missouri to become pioneers settlers of the town of Haseville.
After 15 years in Missouri, in 1884, with their mother deathly ill, they moved again to Isabel, Barber County, KS, when Layton was 32.
Layton was profiled in a landmark White history written by Jeannette "Blanche" (Clark) Tarter, Edith Marguerite (Peterie) Hoyt and Verda (White) Richey, which was reprinted in part in the book Isabel, Kansas, 1887-1987, The 1st 100 Years:
He proved up on the claim where the town of Isabel now stands. In 1887, the Santa Fe Railroad extended its line west and went through his farm. His name appears on all abstracts of lots in the town, as he was the original owner of the townsite. In exchange, he became owner of the 160 acres to the southeast. Before the coming of the railroad, he and his brother sometimes "freighted" to Harper for supplies. While on the trips, they picked up and sold the bleached buffalo bones left on the prairie by the earlier fur traders. A few years later, he often made trips to Cairo, Kansas, where he got flour for Isabel…. He made the race for a homestead when the Cherokee Strip was opened 16 September 1893, and succeeded in staking out a claim.

Automobiles in Isabel, early 1900s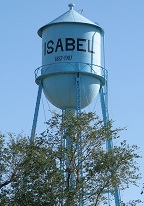 Layton began making payments for his new real estate, which today is officially the town of Isabel. He purchased the tract from the federal government, at the General Land Office in Larned, Kansas. The tract he bought comprised 159.53 acres in the south half of the northwest quarter of Section 5, Township 30 and Range 11 West. He agreed to pay $1.25 per acre for this land, for a total of $199.41. He made regular payments in 1885, 1886 and 1887 until his debt obligations were fulfilled. He also purchased a 160-acre tract from D.N. and Emilie Heizer for $2,000, in as the southeast quarter of the same section, township and range.
His home was on the property adjacent and to the south of the Isabel Methodist Church.
Though not an artist, Layton once opened a photography studio under the name of "Mathis and White" in Isabel as a favor to a friend.
He and his nephew, Otis White, spent three years in New Mexico, from 1915 to 1917, where Layton owned a farm.
Layton died on Nov. 24, 1917 at the St. Francis Hospital in Wichita, KS, at the age of 65. He was buried in the White family plot at Isabel. Among the mourners who drove to Isabel to attend the funeral, reported the Barber County Index, were Mr. and Mrs. W.R. Forsyth, Mrs. John Luallen and Mrs. Carrie Roby.
Copyright © 2000, 2011, 2015 Mark A. Miner