Home

J. Blanche (Clark) Tarter
(1880-1978)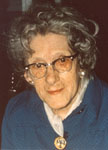 Jeanette "Blanche" (Clark) Tarter was born on Oct. 16, 1880 near Laredo, Grundy County, MO, the daughter of George "William" and Helen (White) Clark. Her family history research and writing efforts, done well into her 90s, provide a rare, vivid and irreplaceable view of this pioneer branch of our family, and prove that one person can make a difference.
On Dec. 14, 1904, at the age of 24, Blanche married 26-year-old Laban Moore Tarter (1878-1969) in St. Joseph, Buchanan County, MO. The groom was a college senior at the time.
Laban was born on Sept. 16, 1878 in Farmington, IL, the son of Frederick Moore and Mary Anne (Oliver) Tarter. When death took Laban's mother when he was just one year of age, Laban and his father migrated from Illinois to Missouri. "They lived for a time near Farmersville, and for a time at Chillicothe," said James Everett Ford's 1908 book, History of Grundy County. "[Laban] worked on a farm, and at whatever work he could get, earning his way through school. For four years, he made his home with Dr. R.C. Norton."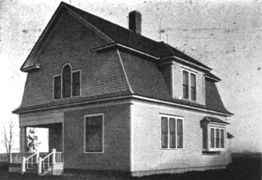 One of Blanche and Laban's two "modern homes," circa 1908, as published in the History of Grundy County
Laban was a 1905 graduate of the University of Missouri, having studied agriculture and electrical engineering. He was tall, and of medium build, with blue eyes and brown hair. Blanche described him as "a man of honor and integrity, so kind and so generous, devoted to his family, fond of reading and writing poetry."
The Tarters had two sons -- Rodney Clark Tarter and William "Paul" Tarter.
After marriage, Blanche and Laban resided on her father's farm near Laredo for three years. They purchased the farm outright in about 1907, and moved to the property, "building a beautiful home," said the 1908 History. They "belong to the Methodist church."
In fact, Blanche and Laban built two "modern farm homes" near Trenton, Grundy County, before moving in 1916 to Chillicothe, Livingston, MO. There, Laban was a salesman for the International Correspondence Schools.
During the First World War, Laban was required to register for the military draft. He stated to the registrar that their address as 1206 West Jackson in Chillicothe, and that he remained an employee of International Correspondence Schools, headquartered in Scranton, PA.
They moved further into urban life when relocating back to Kansas City in 1923, where they joined the Linwood United Methodist Church. Later still, Laban became an insurance broker.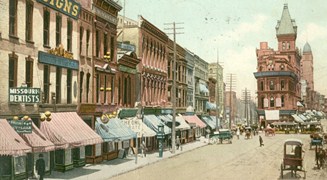 Kansas City's Main Street of the early 1900s
~ An Initial Interest in Family Roots ~
One day in November 1949, Blanche opened a letter from an unfamiliar name and address, Verda (White) Richey of Canton, Ohio. In the opening sentence, Verda wrote:
At the suggestion of Mrs. Philp, I am presuming to write to you, asking whether you would care to give me some information, or direct me to the proper source from which to obtain it. As a non-profit hobby, geneologies have becoming very interesting and challenging. To one not interested, such a personal can be a very big "bore," and please do not allow me to be such. But in the course of "digging for ancestors," the ones preceding our great grandfather, Peter White's family are fairly well known. But when the families left Morrow County , Ohio in the middle of the 1880's and scattered over the west and mid-west, the family intercourse ceased.
Verda went on to explain that she had been orphaned at a young age and was raised in Missouri by her grand-uncle and aunt Peter and Tena White. She said that this Uncle Peter and Blanche's grandfather Luther White were brothers, and lived near each other in Ohio and Missouri. She noted that she had often heard about Blanche's family growing up: "Blanche and Mabel Bailey visited at Uncle Peter's: Lester & Layton were closer to Uncle Peter than some of his own brothers. In fact, I visited -- when young -- in Isabel, Kansas, when Blanche Petrie [sic] was first married. The occassional [sic] horse-and-buggy-trips my uncle & his wife made to see Luther & Mahala were important events, but I was never taken so missed knowing the Clark's except by hear-say."
Moving to Ohio in about 1910, Verda wrote that she met another of her White uncles (John), who imparted into her imagination much "family lore." Verda caught the genealogy bug and began doing her own research. She visited White and Fluckey family graves in the Cardington Cemetery and went inside the old farm homestead of Luther White's parents, Noah and Frances "Fanny" White. Some years later, she decided to try to collect as much information as possible, and began writing to distant cousins. Among them, Mabel (Bailey) Philp sent back the names of Luther and Mahala White's family and their descendants. Verda's letter to Blanche Tarter thus contained three follow-on questions: 1.) what was the maiden name of Noah White's wife Frances? 2.) what was Mahala White's maiden name? and 3.) were there any known names of Luther's siblings other than Mary Ann Pringle, Allen White and Mariah Patterson Purvis?
In concluding the letter, Verda wrote:
Now surely Luther White's family kept a family record in the middle pages of the big parlor bible -- as everyone else did. If so, who would have access to them? The Pringles had the farm last, so probably had the Peter Sr. & Noah White records. Their adopted daughter probably did not keep them & they are lost forever. If you are able to give me some data, I shall be very grateful.
Blanche Tarter's immediate reaction is unknown. Unfortunately, there are no further letters between the two in our archive for a span of 21 years.
~ Digging Deeper into Genealogical Research ~
In 1961, the Tarters moved to Raytown, a suburb of Kansas City. They remained there for eight years until Laban's death.
Laban passed away in Baptist Memorial Hospital in Kansas City on April 23, 1969.
After her husband's death, Blanche became more deeply immersed in genealogy. In January 1970, she and Verda exchanged more letters, focusing on the ancient White family's alleged origins in the Isle of Wight. Verda offered up a number of theories advanced by other researchers and apparently sent family papers to Blanche for study.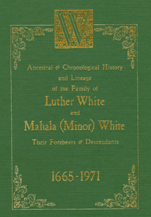 Working from her Raytown home, Blanche collaborated with her cousins Edith Marguerite (Peterie) Hoyt and Verda (White) Richey to co-publish a landmark book in 1971 about the Whites. She entitled it Ancestral and Chronological History and Lineage of the Family of Luther White and Mahala (Minor) White, Their Forbears and Descendants, 1665-1971. Copies are known to be deposited in the Morrow County (OH) Historical Society in Mt. Gilead, Ohio; the Somerset (PA) Historical and Genealogical Society; and the California Genealogical Society; among others.
She also published another small booklet, Ancestral and Chronological History and Lineage of George William Clark, with assistance and guidance from her son Paul. An August 1974 letter from Paul advised that the booklet finally was "now at the printer's." The print run was very small, perhaps 36 copies in all. An original copy is on file today at the Grundy County Genealogical Society at the Jewett Norris Library in Trenton, MO.
Blanche changed her focus once these publications were completed, desiring to know more about her Minor roots. She embarked throughout the 1970s on an intensive letter writing campaign, with her son Paul and cousin Alba (McGirk) Kristensen Peck, and many others, using correspondence from afar to explore courthouses, historical societies and other sources in Ohio and Pennsylvania. Paul himself did research on weekends, in libraries in Oakland/San Francisco, and on occasional business trips to regions of interest to the family, including in Columbus and Mt. Gilead, Ohio, in July 1974.
She and Verda renewed their letter-writing and exchanged messages off and on through the 1970s. By 1974 they began focusing on the genealogical origins of Blanche's great-grandparents, Daniel Miner Sr. and Margaret "Peggy" Fluckey. At first they theorized that he was of the English family of Miner-Minor from Connecticut, as that clan had been in America since the 1600s and published several family history books. But Daniel's name was never found among them.
During these years of discovery, as Blanche entered her 90s in 1970, she began to lose her eyesight. But with her mind active, and her curiosity highly aroused, she relied on her sons Paul and Rodney to help keep her Daniel Miner quest going. Adding her own notes to one Verda letter of September 1975, she scribbled to Paul: "Do you think I should follow this up & how?"
In looking through an old family photo album in the early 1970s, Blanche commented on her great-grandparents, and great-aunts and uncles:
Daniel looks like such a kind benevolent old man. Aunt Lib the fussy one. I have a very faint shadowy remembrance of seeing Uncle Eli. I suppose it was the time that Jack and Floy Sellers remember. A tall slender man with blue eyes and a brown silky beard. I have no idea from whence he came nor whether he went nor when it was.
Blanche enjoyed her correspondence, which was a distraction from her increasing blindness, but also was very frustrated with dead ends. In a letter dated March 11, 1974, Verda wrote: "Congratulations on your successes in family searches. It all means W-O-R-K. Your writing is good even though you cannot read newsprint." In a 1976 letter, Marguerite Cockley said: "I do agree with you that Pennsylvania kept very poor records in the early days. Many professional genealogists throw up there [sic] hands when asked to do research here. It is so time consuming and so often produces so little. But we must work with what we have."
Institutions and Researchers Contacted in the Quest to Find Daniel Miner Sr.
Stonington (CT) Historical Society, Roger Williams Jr., 1976
Morrow County (OH) Historical Society, Idelma (Rigdon) Silver, 1973
Genealogist Rosalie (Lucas) Hartinger, Dayton, Ohio, 1975
Mary Deaver, Crooksville, Ohio, 1975
Somerset (PA) Historical and Genealogical Society, Marguerite (Lepley) Cockley, 1974
Washington County (MD) Historical Society, Rachael S. Schwartz, 1976
Genealogist Helen L. Harriss, Pittsburgh, PA, 1976
Washington & Jefferson College, Dr. Raymond Bell, 1976
Historian Rev. H. Austin Cooper, Burkettsville, Maryland, 1976
Researcher Mrs. Walter McClintock, New Lexington, Ohio, 1976
Perry County, Ohio Clerk of Courts, Ned Watts, 1975
Preston County (WV) Historical Society, Janice (Cale) Sisler, 1976
Brownsville (Ohio) Cemetery Association, Lucile Hupp, 1978
Mt. Gilead (Ohio) Independent Register, 1974
Fairfield County (Ohio) Recorder of Deeds, Rex M. Zollinger, 1975
Ohio Auditor of State, Thomas J. Voldness, 1975
Piqua (Ohio) Daily Call, Louise M. Fogt, 1975
Sandusky (OH) Historical Societyj
Ohio State Library, Columbus, Alice D. Paulin, 1975
Ohio Vital Statistics
Ohio Historical Society, Columbus
Vacationing at her niece's home in Connecticut in the summer of 1975, Verda offered to drive to towns of Blanche's suggestion in order to work in the old records firsthand. They theorized that Daniel might have been part of a military unit from Connecticut that ended up in Pennsylvania. On an unsuccessful trip to the Pequot Library in South Fairfield, CT, Verda was advised by the librarian to try the Connecticut state archives in Hartford. In June 1976, again in Connecticut, Verda wrote to Blanche: "I often wonder how you and your search for your gr. grandfather has progressed. If you had any lead at all, I might be able to do some more research for you; you know there were too many Minor branches and none named who emigrated westward."
On his mother's behalf, Paul sent Verda some information about Daniel Miner, and said "Mother would be the happiest 95-year old in the world if you could establish a connection between Daniel Miner and one of the families in Connecticut." In her last known reply to Paul, Verda concluded: "I feel sure that the Miner you want went with the Susquehannah Company from Connecticut to Pennsylvania with those of 'The New Connecticut': Finding him is the problem. Hoping for success."
~ A Slight Miner Family Breakthrough ~
In the summer of 1974, Blanche finally began to crack through history's frustrating barriers. She wrote to the Somerset (PA) Historical and Genealogical Society, with her letter forwarded to Society archivist Marguerite (Lepley) Cockley. In her reply of Aug. 2, 1974, Marguerite provided some leads that have proven to be accurate, and while not confirmed at the time, gave Blanche her first real clues. Marguerite said: "Have not found very much to report. Jacob Miner was a taxpayer in Turkeyfoot Township in 1793. Daniel Miner or Minor may be a son or the above or a brother. There was a Martin Miner in a Somerset County Company Civil War years. So the family was here."
Blanche sent a delighted reply: "You will never know how happy you have made me by repeating the name of Jacob Miner as a citizen of Somerset Co. Turkeyfoot Twhip. [sic] Pa. It is the first clue I have had to anyone who might be the father of my g. grandfather, Daniel Miner."
In all, Blanche and Marguerite exchanged dozens of letters. In her Raytown home, eagerly awaiting replies, Blanche understandably was impatient from time to time. In a letter in 1974, Marguerite wrote: "I know it's hard to be patient at 93½ -- you need to know, now. And there are so many like you. I've answered nine letters today -- and it's after midnight now."
More convinced than ever (correctly) that Daniel Miner had come from Somerset County, PA, Blanche notified her other correspondents. They began to try to connect the English Miner-Minor clan of Connecticut with our German Minerd-Miner group, to establish when or how they migrated from Connecticut to Pennsylvania. But they never found this link, as it does not exist, and Daniel's origins and migration pattern were far different. But because Daniel's extended family lacked basic reading and writing skills, and left meager if any written records, Blanche and her network of researchers were digging for a scant paper trail.
At about the same time, Blanche's cousin Alba (McGirk) Peck, in California, began writing independently to Marguerite, also seeking the Daniel Miner paper trail. So their conversation began to take on a three-way dynamic.
Later that year, in November 1974, Marguerite Cockley again sent a research summary to Blanche. Without realizing it with precision, the letter shows that they were ever more closely circling around the names of Daniel's brother and nephews.
I have not forgotten you, nor my promise to check Wills and Deeds at the Somerset Court House... There was a John Miner and a Jacob Miner who received tracts of land in Turkeyfoot Twp.... There was also an estate paper for Jacob Miner and wife Catherine... which shows a John married to Hannah, Jacob m. Rachael, Joel m. Kate and Charles m. Adeline.... Now, our society has had an inquiry from Mrs. Alba McGirk Peck.... Do you know her? I stopped in Bedford Court House and Library 3 weeks ago and looked for Miner(or) name. Was not a productive search.
And in mid-November 1975, noting the first snowfall of the season, Marguerite wrote correctly about a hunch she had: "I think that Daniel and Burket Miner may have been sons of Jacob. Burket Minor married Francis Skinner and appears to have gone to what is now West Virginia. Since your Daniel Minor shows up in Perry County, Ohio where so many people from Turkeyfoot settled, it is very likely that he went there with them..."
Blanche had a way of engaging her correspondents with such earnestness and interest that she became a pied piper. A 1976 letter from Marguerite started with: "I will drop you a few lines to let you know that I am still thinking of our search. It's almost as if I were hunting for one of my own."
By May 1976, Marguerite had found one of the vital facts that finally -- though only a suspicion to her and Blanche -- established the connection. She wrote of having located an early land record where "D.F. Miner" and "Frederick Miner" had bought land in Perry County, Ohio. In reality, "D.F. Miner" was a clerk's sloppy shorthand for the joint purchase of 160 acres in 1812 by "Daniel and Frederick Miner," establishing that there was a relationship between the two men.
In August 1976, in the last known letter Marguerite sent to Blanche, she wrote: "I have all my friends looking for any early Miners they can find... I feel certain that your Daniel Minor is the one in Turkeyfoot Twp. in 1800. But where did he come from? Wouldn't we like to know?
~ Final Years ~
Blanche died in a rest home on Feb. 8, 1978, at the age of 98, almost certain, but never assured, that her great-grandfather, Daniel Minor Sr., was the son of Western Pennsylvania pioneers Jacob and Maria (Nein) Minerd Sr. While her hunch has proven correct, this fact was not established for another two decades.
Her son Paul, intrigued with the search, and in loving memory of his mother, continued corresponding with historical institutions back east, hoping to complete her work.
In 1988, the founder of this website visited with Marguerite Cockley in her home in Meyersdale, PA. She shared what she had learned about Daniel Miner and Blanche Tarter and suggested that this needed additional attention. In the early 1990s, Minerd.com's founder and cousin Eugene Podraza traveled to Perry and Morrow Counties in Ohio to learn more about Daniel's story.
Then, in 1996, Blanche's elderly son donated some of her papers to the Minerd-Miner-Minor Archives, and after the founder of this website made another visit to Perry County, Ohio, finding a row of burials in an old cemetery that confirmed the connection.
For more information on this branch, please click here to visit Jay H. Garner's website, which is searchable for individual names.
Copyright © 2000, 2004, 2007, 2009, 2011, 2018 Mark A. Miner