Otis White
Otis White was born on July 8, 1879 near Haseville, Linn County, MO, the son of Lester and Susan (McCarty) White.
At the age of five, Otis moved with his parents and grandparents to Isabel, Barber County, KS. He grew to manhood there, and as an adult, he was tall and stout in his build, with blue eyes and brown hair.
On Jan. 15, 1902, the 23-year-old Otis wed 22-year-old Emma Christina "Tina" Miller (1878-1965). She was born on Nov. 19, 1878, in Illinois.
They had one son, Harry White.
A farmer, Otis and his uncle Layton White spent three years in New Mexico, from 1915 to 1918.
At the age of 39, in September 1918, Otis registered for the military draft during World War I. The registrar recorded that Otis was a self-employed farmer, was married to "Tennie" White, and lived at R.D. 2, Isabel.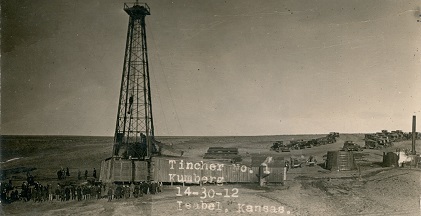 Tincher No. 1 oil well in Isabel, early 1900s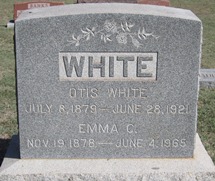 Isabel Cemetery
When the federal census was taken in 1920, Otis, Tina and Harry lived together in Kingman Township in nearby Kingman County, KS.
Three years after returning to Isabel, at age 42, Otis suffered a stroke while shelling corn. He died within a few months, on June 28, 1921, "after losing control of his left side and becoming completely blind." A search for his newspaper obituary in the Barber County Index was not successful.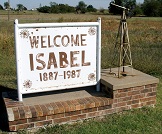 Sign at the town entrance
Tina survived her husband by more than four decades.
She later moved to Pratt, KS, where she died on June 4, 1965. She is buried beside her husband at Isabel.
~ Son Harry White ~
Son Harry White (1902- ? ) was born on Dec. 21, 1902.
He married Bernice Robbins ( ? - ? ).
They had no children.
In 1930, when Harry was age 27, he is believed to have been paying a debt to society while incarcerated in prison in Jefferson, Cole County, MO. This needs to be confirmed.
Copyright © 2000, 2011, 2016 Mark A. Miner