Charles Younkin
(1845-1921)
Wenatchee Cemetery
Courtesy Teresa Sandum
Charles Younkin was born in April 1845 in or near Kingwood, Somerset County, PA, the son of John M. and Laura (Minerd) Younkin. He was a pioneer settler of Washington State. No photographs of him are known, but will be added here when discovered.
While a young man in Somerset County, Charles married Sarah Artest (1851-1906), the daughter of Elijah and Margarette (Dillinger) Artest.
They did not reproduce. However, in about 1888, they adopted a son, Alfred Arthur Younkin, known as "Alf" or "A.A." The identity of the child's parents is unknown.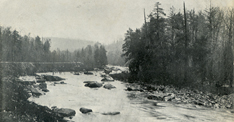 Picturesque Casselman River
When the federal census enumeration was made in 1870, the Younkins were listed together, both age 23, near the Somerfield post office. His occupation was given as "laborer" and hers' as "keeping house."
The Younkins moved sometime during the decade of the 1870s into nearby Casselman, Somerset County, where Charles worked as a railroad laborer and coal miner.
Circa 1876, when the location of their dwelling was identified in Beers' Atlas of Somerset County, they dwelled near the corner of St. Paul Street and Elm Lane, with the house facing St. John. The residence was a block from the tracks of the Pittsburgh & Connellsville Railroad and the Casselman River just beyond.
Seen here is a picturesque view of the Casselman River in the vicinity of the town of Casselman where they lived.
In 1880, the census-taker recorded them living in Casselman. Making their home in the Younkin household were Charles' widowed 73-year-old father John and their five-year-old niece, Annie Moan, daughter of Charles' sister Josephine (Younkin) Moan.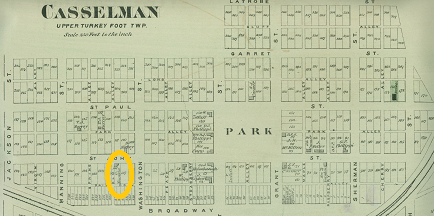 Location of Charles and Sarah's home, 1875 Atlas of Somerset County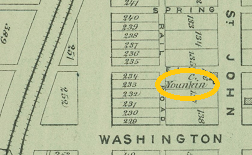 Younkin property at St. John & Elm, Casselman
In the late 1890s and early 1900s, Charles became more deeply involved with community activities. In February 1896, he was elected to the Casselman town council. Then, in 1899-1900, Charles served on the Casselman School Board with his niece's husband, James Rhoads. The complete list of board members also includes C.A. Youler, J.A. Kiphart, B.W. Witt and J.W. Dwire.
United States census records for 1900 show that the Younkins remained in Casselman, raising their young son, with Charles earning a living as a day laborer. That listing erroneously shows their ages to be 66, and having been married for 50 years, when in fact Charles was closer to 55 and Sarah 49.
Sadly, on April 25, 1906, afflicted with a large, cancerous fibroid tumor in her stomach, Sarah died at age 55 in Casselman. She is buried at the Mt. Union Cemetery. For almost a century, her grave was unmarked.

Charles' name on a school
board list in Casselman
The federal census of 1910 shows Charles making his home with his older brother, William Shedrick Younkin, in Black Township, near Rockwood. Charles, age 65, erroneously was marked as being age 56. The census-taker showed him as widowed and as employed as a coal miner. That year, Charles' son Alfred was laboring on a farm in North Dakota, and would push onward to Washington State, where he then sent for Charles to join him there.
In 1914, Charles "retired" from his many years of labor and moved to the lush fruit growing community of Wenatchee, Chelan County, WA. How or why they identified Wenatchee as a destination point is unknown, other than its potential seemed to be very attractive.
Census records for 1920 list Charles, or "Charley" as he was shown, making his home with his son and family along County Road in Sunnyslope, Chelon County, WA. Charles had no occupation, but his son Alfred worked as a farmer. Alfred and Lillian's seven-month-old son Leland Younkin was in the household that year as well.

The flat, open vista of orchard lands of Wenatchee
Seven years after his move to Washington, Charles died at Birch Flat near Wenatchee on Oct. 12, 1921. He is buried in the Wenatchee Cemetery. His official Washington death certificate lists his father as "Jacob" Younkin rather than "John."
A.A. eventually founded an apple sorting and packing business in Wenatchee with his wife Lillian that remained in family ownership until the late 1970s. They often sent crates of apples as Christmas presents to Younkin relatives back home in Somerset County.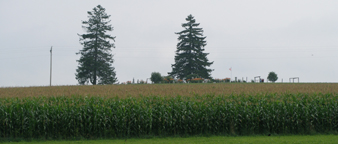 Mt. Union Cemetery, framed by tall pines and rows of corn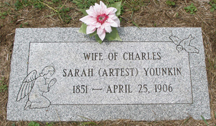 Mt. Union Cemetery
~ Legacies ~
A.A.'s granddaughter Diana (Younkin) Egan, interested in preserving the family's heritage, was the chief organizer of the 1996-97-98 and 2000 Younkin Reunion-West in Turner, OR, drawing scores of people and establishing a committee and fund for future events. In 1998, the founder of this website was privileged to attend the Oregon reunion and to be a guest speaker. Sadly, Diana passed away in 2006, at the age of 58.
In the 2000s, Younkin cousins Clark Brocht and Linda Marker, who also are volunteers with the Mt. Union Church placed a marker in the vicinity of Sarah's grave. The marker is seen here, as photographed in July 2007 during the Younkin Reunion weekend.
This biography is adapted from one that originally appeared in the article, "Whispers of the Silence and the Slow Time," in the April-May-June 1996 edition of the Younkin Family News Bulletin.
Copyright © 1996, 2000, 2004-2005, 2007, 2009, 2012, 2014-2015 Mark A. Miner