Elizabeth (Younkin) Wable
(1883-1917)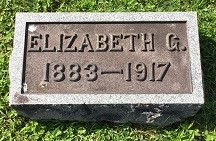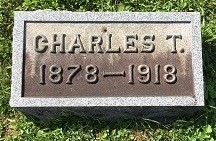 Rockwood Odd Fellows Cemetery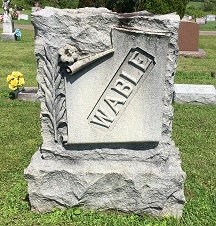 Rockwood IOOF Cemetery
Georgia "Elizabeth" (Younkin) Wable was born on May 2, 1883 near Rockwood, Somerset County, PA, the daughter of William "Shedrick" and Caroline (Cupp) Younkin. Both Elizabeth and her husband died young, leaving two daughters as orphans.
In about 1902, when Lizzie was age 19, she married 24-year-old Charles T. Wable (1878-1918), son of Hiram Wable of Rockwood.
They produced two daughters, Fern Vough and Ruby Barron in addition to an unnamed son who died in infancy.
The Wables resided on West Broadway in Rockwood. Charles was employed as a carpenter, and a local newspaper once said that Lizzie was "a devoted member" of the United Evangelical Church in Rockwood.
In the year 1910, when the federal census was taken, Lizzie and Charles and their daughters were enumerated in Rockwood, and were next door neighbors to Lizzie's sister and brother in law, Edith and George A. Miller.
Charles was interested in politics. In the fall of 1913, he ran for the elected position of auditor of Rockwood Borough on the Republican ticket, with his name printed in a list of candidates in the Meyersdale Republican.
Grief blanketed the Wables during Elizabeth's pregnancy in 1914. She fell and was injured, as was the fetus. The baby boy died at birth on Oct. 20, 1914 and was not named. His tender remains were placed into eternal repose in the Wable family plot in the International Odd Fellows Cemetery in Rockwood.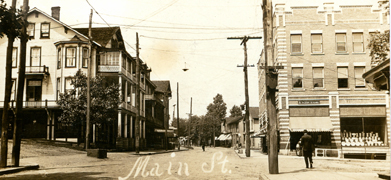 Rockwood's Main Street, early 1900s

Obituary, 1917
Adding to the young family's troubles, as with her sister Edith Miller, Lizzie suffered from "liver trouble" and in 1917 became exceedingly ill. After three months of suffering, she died on Feb. 1, 1917, just shy of her 34th birthday. Her funeral was conducted at her church by Rev. G.W. Hetrick. She was buried at Rockwood IOOF Cemetery.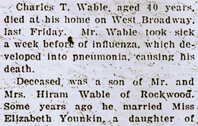 Somerset County Leader, 1918
A year later, at the age of 40, Charles caught the flu, which developed into a fatal case of pneumonia. He died shortly afterward, in mid-October 1918. His funeral was conducted by Rev. W.A. McClellan of the Rockwood Reformed Church. He also was buried at the Odd Fellows Cemetery, and an obituary was published in the Somerset County Leader.
After the untimely deaths of Lizzie and Charles, their daughters went to reside with aunts and uncles, where they were raised to adulthood. One of their guardians was said to have been their uncle, William "Billy" Wable.
In about 1923, at the death of their grandfather William "Shedrick" Younkin, Fern and Ruby each inherited $48.74 in the division of the estate's assets.
~ Daughter Ferne V. (Wable) Vough ~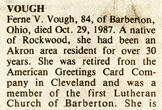 Obituary, 1987
Daughter Ferne V. Wable (1903-1987) was born on April 1, 1903.
After her parents' deaths, she made her home in Rockwood in 1920 with her uncle and aunt, Z. Edward and Nora Miller, when she was age 16. Thus she would have grown up with her cousins George, Florence and Oren Miller.
Sometime in the 1920s, Fern relocated to Akron, Summit County, OH, where obtained a job as a bookkeeper with one of the city's famed rubber companies. She may have been drawn to Akron by another uncle and aunt, Mr. and Mrs. John P. Wilt, who resided there.
When the United States Census was made in 1930, the 27-year-old Ferne boarded in the Akron home of widow Elizabeth M. Welsh, an immigrant from Ireland. She earned a living that year by working as a bookkeeper for a rubber factory.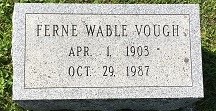 Rockwood IOOF Cemetery
Ferne worked for the American Greetings Card Company in Cleveland. She made her home in Barberton, Summit County, OH, where she was a member of the First Lutheran Church of Barberton.
At some point, she married John Vough ( ? - ? ). The date and place of the wedding is not yet known. They were in Barberton in October 1967 and made news in the gossip columns of the Somerset Daily American when visiting in friends and relations in Rockwood.
Ferne passed away on Oct. 29, 1987, at the age of 84. Her remains were returned to Rockwood for burial in the Wable plot at the Odd Fellows Cemetery.
~ Daughter Ruby Evelyn (Wable) Barron ~
Daughter Ruby Evelyn Wable (1908-1959) was born on Oct. 6, 1908 in Rockwood and was just age 10 when she was orphaned. She was taken into the Rockwood dwelling of her aunt and uncle, Edith and George A. Miller, as shown in the 1920 census, when she was age 11.
In early 1930, at the age of 21, Ruby was employed as a servant in the home of George Knee and his unmarried sister Annie Knee.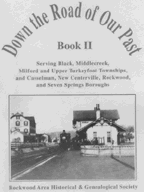 Book picturing Ruby
Later in 1930, on Oct. 18, Ruby married Sheldon Maurice Barron (1901- ? ), the son of Norman H. Barron and Margaret (Barclay) Shultz. She was age 22, and he 29, at the time of marriage. Their nuptials were performed by Rev. H.M. Petrea at Schellsburg, PA.
Sheldon was a coal miner, likely in or around Schellsburg, Somerset County, where their wedding took place. Later, they made their home on a farm near Somerset, possibly near the landmark Oak Hurst Tea Room.
The Barrons had three known sons -- Donald Barron, Dale Barron and George Barron -- all living as of 1987. They moved to near Somerset in about 1929 and remained there for the rest of their known lives.
Ruby was stricken with colon cancer in 1958 which spread throughout her body. She died on Dec. 13, 1959, at the age of 51. She was laid to rest in the Lavansville Cemetery.
Ruby is pictured in the book, Down the Road of Our Past, Book II, published by the Rockwood Area Historical and Genealogical Society.
The rest of their fates are unknown.
Copyright © 2001, 2003, 2010, 2014, 2019 Mark A. Miner