Sarah 'Gertrude'
(Younkin) Weaver
(1876-1924)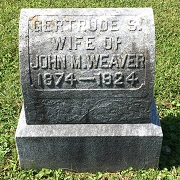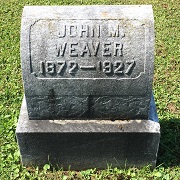 Rockwood IOOF Cemetery
Sarah "Gertrude" (Younkin) Weaver was born on Nov. 29, 1876 in Mount Pleasant, Westmoreland County, PA the daughter of Daniel M. and Elmira (Zimmerman) Younkin.
Her husband was one of many of our cousins to be killed in railroad accidents.
As a girl, Gertrude moved with her parents to Rockwood, Somerset County, PA.
On Christmas Day 1893, when she was age 17, Gertrude married 21-year-old John Martin Weaver (1872-1927), born in Holsopple but a native of Rockwood and the son of Charles F. and Lydia Weaver. The ceremony was performed in Rockwood, Somerset County, PA by justice of the peace D.W. Will. As Gertrude was age legally underage at the time, both of her parents had to sign their consents for the marriage.
John and Gertrude went on to produce four sons – Harry M. Weaver, George Emery Weaver, Frank C. Weaver and Herbert M. Weaver.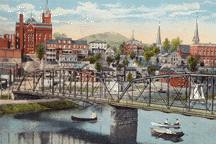 Cumberland, Maryland
The Weavers first resided in Rockwood, where John was a carpenter and a brakeman on the railroad.
During the decade of the 1910s, they moved to Cumberland, Allegany County, MD, where John secured work as a freight conductor on the Baltimore & Ohio Railroad.
Sadly, Gertrude suffered a stroke at age 49 and succumbed on July 11, 1924. Her funeral was held at the Rockwood Evangelical Church, and she was buried at the Rockwood IOOF Cemetery. Her untimely death left John to raise their four sons alone.
Seen here is the famed "Narrows" gap near Cumberland with a criss-crossing network of railroad tracks, which John would have seen on almost a daily basis.
Adding to the tragedy, John only outlived his wife by four years.
He was killed in a grisly death on Oct. 7, 1927, at the age of 54. While at work as a conductor, in Summit Township, Somerset County, he was "struck by the engine of passenger train No. 13," said the Meyersdale Republican. "His body was badly mangled, the neck and both arms being broken." The coroner reported that "Struck by passing train. Head crushed. Both arms double fracture. Left leg fractured. Also neck broken (accidental)."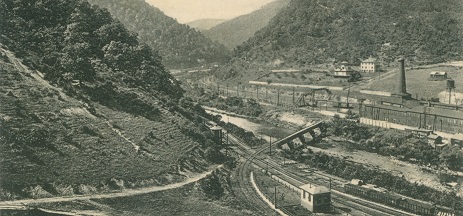 Cumberland's "Narrows" gap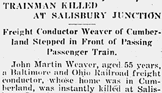 Meyersdale Republican
The Republican article went into more detail, saying:
No one witnessed the accident. It is believed, however, that Weaver, who was a member of the crew of a special coal train, which was waiting at Salisbury Junction for No. 13 to pass, before it continued on the way to Cumberland, left his train to go to the dispatcher's office. The noise of his own train apparently prevented him from hearing the approach of No. 13.
John was buried beside his wife at Rockwood.
~ Son Harry M. Weaver ~
Son Harry M. Weaver (1892- ? ) was born on Oct. 12, 1892 (or 1893 or 1895) in Rockwood. He learned the butcher's trade as a young man. He was of medium height and stout build, with blue eyes and brown hair.
At the age of 18, Harry was united in marriage with 18-year-old Marie Straser (1894- ? ), daughter of John and Annie Straser of Rockwood. Because both groom and bride legally were underage, their parents had to provide their consents in writing. The nuptials were held on June 14, 1912 by Rev. John J. Brady at the St. Phillip and James Rectory.
Their two known children were Harry J. Weaver and Gertrude A. Weaver.
The couple relocated to Cumberland, Allegany County, MD where Harry established ownership of a grocery. Their home in June 1917 was at 39 Paca Street. That year, in June, he was required to register for the military draft during World War I. Their children were born in Pennsylvania in 1923 and 1924.
By 1930, the Weavers had migrated into Baltimore, with Harry managing another grocery store. They lived there on Brighton Street.
They are buried in Maryland.
Son Harry J. Weaver (1923- ? ) was born in about 1923 in Pennsylvania. At the age of 17, he helped his father as a clerk in a Baltimore grocery store.
Daughter Gertrude A. Weaver (1924- ? ) was born in 1924 in Pennsylvania.
~ Son George Emery Weaver ~
Son George Emery Weaver (1896-1971) was born on Dec. 28, 1896 in Rockwood. He relocated to Cumberland as a boy.
During World War I, he served as a corporal in the U.S. Marine Corps. After the war, he was a house carpenter in and around Cumberland. Later, he joined Potomac Edison Company and retired from the position.
He married Thelma Stein (1898-1965) in about 1921, when he was 24 and she 23. A native of Cumberland, she was the daughter of Thomas O. and Anne T. (Farrell) Stein.
They had two daughters, Dorothy Smouse and Gertrude E. Makowski.
The family were members of the Mapleside Methodist Church. When George's father tragically was killed in a railroad accident in 1927, George signed the death certificate, and at the time was living at 19 Browning Street in Cumberland.
In 1930, they dwelled next door to George's married brother Frank and family along West First Street in Cumberland. By 1965, they had moved to 1300 Kentucky Avenue.
Thelma became ill in 1958 and endured her debility for seven years. At the age of 67, she died in Cumberland's Memorial Hospital on Sept. 22, 1965. An obituary was printed in the Cumberland Evening Times. Funeral services were conducted by Rev. Louis W. Piel of the family church, with interment following in Sunset Memorial Park.
George survived his wife by five years. As his health failed, he was admitted to the Goodwill Mennonite Nursing Home in Grantsville, MD. He passed away there Jan. 8, 1971. The Cumberland Evening Times ran an obituary. [Find-a-Grave]
Daughter Dorothy Weaver (1922- ? ) was born in 1922 in Cumberland. She married Jack Smouse ( ? - ? ). In 1965-1971, they lived in Jensen Beach, FL.
Daughter Gertrude Weaver ( ? - ? ) married (?) Makowski ( ? - ? ). In 1965, her home was in New Castle, DE and in 1971 in Wilmington, DE.
~ Son Frank C. Weaver ~
Son Frank C. Weaver (1899-1956) was born in about 1899.
Frank was married twice. His first bride was Mary H. Dawson (1898- ? ), daughter of Samuel and Inez B. Dawson of Cumberland.
The couple produced one known son, Chester M. Weaver.
When the federal census was enumerated in 1920, the Weavers and Dawsons lived under one roof along Cumberland's Springdale Street. Frank earned a living as an electric welder with the Baltimore and Ohio Railroad, while Mary worked as a stenographer for a wholesale candy company. He was a member of the Brotherhood of Boilermakers and the Benevolent and Protective Order of Elks.
Sadly, the Weavers' marriage ended during the 1920s. By 1930, Frank had remarried to Sarah B. Barnes (?) (1907- ? ), daughter of Margaret Barnes. Sarah apparently had been married once before and brought a daughter to the marriage, Nina L. Weaver.
Evidence suggests that the second marriage produced a son, Robert D. Weaver.
Over several decades, the family lived in a house at 122 West First Street in Cumberland, with Frank continuing his work as a railroad welder. Frank remained in Cumberland through 1940 when he was named in the Cumberland Evening Times obituary of his brother Herbert.
In failing health at the age of 56, Frank died on Jan. 11, 1956. An obituary was published in the Cumberland News. His remains were placed into eternal repose in the Rockwood IOOF Cemetery.
Son Chester M. Weaver (1918- ? ) was born in about 1918.
Son Robert D. Weaver ( ? - ? ) was born in (?). He lived at home with his parents in 1956.
Stepdaughter Nina L. Weaver (1921- ? ) was born in about 1921. In 1941, she received her bachelor of science degree from Frostburg State College. She was listed in the 1941-1942 edition of Who's Who Among Students in American Universities and Colleges.
~ Son John "Herbert" Weaver ~
Son John "Herbert" Weaver (1904-1940) was born in about 1904. As a boy, he moved to Cumberland with his parents and brothers.
At the age of 16, in 1910, he was employed as a clerk in a local billiards parlor.
He married Louise Thomas ( ? - ? ), perhaps also known as "Dolly." They had no children.
They resided in Cumberland, where he went to work for a grocery as had his elder brother Harry. Eventually they relocated to Baltimore, where apparently worked with or for his brother at an Atlantic & Pacific Store, better known as "A. & P."
Herbert died at the age of 37 on July 14, 1940, in Baltimore City Hospital. Funeral arrangements were handled by Stein's Funeral Home. An obituary was published in the Cumberland Evening Times, which referred to him as a "former resident of Cumberland."
~ More ~
In October 1934, Gertrude's elderly father was interviewed during a Sunday visit by distant cousins Otto Roosevelt Younkin and Charles Arthur Younkin, who were gathering family history notes in connection with the Younkin clan's new national home-coming reunion. The discussion provided them with valuable genealogy insights that otherwise would have been lost. In March 1937, Charles wrote this in a letter to Otto: "Since you were here to see me have had more sad news, the death of ... Mr. Shaffer who was married to Gertrude, daughter of our old now dead friend Daniel Younkin of Rockwood, Pa." Charles may have been confused, since Gertrude was not married to a Shaffer, and since her Shaffer brother in law lived for another decade. Click to see this letter, dated March 7, 1937.
Copyright © 2002, 2006, 2015, 2019 Mark A. Miner