Thaddeus Younkin
Thaddeus A. "Thad" Younkin was born on Jan. 15, 1851 in Upper Turkeyfoot Township, Somerset County, the son of Charles L. and Nancy (Henry) Younken.
Circa 1870, at age 19, he resided with his parents in Wind Ridge, Greene County, PA. For the span of his young adult life, Thaddeus had endured his father's occasional drinking binges and acts of brutal violence. In mid-September 1872, after the father came home from a fair in nearby Jacksontown (Jacktown), and again became abusive toward the mother, Thaddeus raised his rifle and shot his father in the head, killing him instantly.
Local newspapers in Waynesburg and Washington printed sensational stories about the event, noting that Thaddeus "is a young man about 21 or 22 years of age, sober, quiet, honest and industrious, respected by all who know him." He turned himself into the authorities, and was held for trial, under the prospect of execution by hanging. The Waynesburg Messenger said that "There are a great many conflicting rumors afloat in regard to this terrible affair; and we would advise the public to suspect judgment in the case, until all the facts are elicited by legal investigation."
The trial was held in Waynesburg in December of that year. The Republican reported:
The case was ably conducted on both sides, but the State labored at great disadvantage throughout the whole trial. It was the whole Younken family against the Commonwealth, and the Commonwealth, unassisted against Thaddeus Yonken [sic]. G.W. Inghram, Esq., the States Attorney, deserves great credit for the able manner in which he conducted the case, grouping in the dark, as he was compelled to, for evidence.
After deliberation, the jury returned a verdict of "not guilty." The editor of the Republican was shocked at the outcome, and expressed his rage in print. The editor's comments were reprinted in the New Year's Day 1873 edition of the neighboring Washington Reporter:
Of the jury we have nothing to say; their verdict is between their conscience and their God; but of murders and murderers in Greene county, we propose to give a scrap of history. In the past thirty-five years there have been seven deliberate murders committed in this county. Three of these were the killing of parents by sons; two parracides and one matricide. Not one of the three were punished by the law in any way, and one of them was never brought even to trial, though all of them are to-day, we believe, citizens of the county. Of the whole seven but two suffered any penalty for their crimes -- one being sentenced to the penitentiary for one year, but pardoned before his time expired; the other, Preston, sentenced to the penitentiary for ten years, and he, in all probability, will not serve half the sentence. Is there any other county in the State that can present such an abominable criminal record? We say emphatically, No! That there were but comparatively few of those who heard the evidence, or were made acquainted with the facts in the case, that favored the hanging of Thaddeus Younken, yet, we believe the number was much smaller of those who thought he should go scot free. The law, the evidence, justice and society, all demand that he should be punished, to some extent at least. This would have satisfied justice and had a good moral effect upon the community.
In about 1877, when he was age 26, Thaddeus married 18-year-old Nancy Jane (?) (1852- ? ), a native of Pennsylvania, West Virginia or Ohio. (Sources differ.) They had two children, John W. Younkin and Grover Cleveland Younkin.
Thaddeus and family left the area and became pioneer settlers of Wichita, Sedgwick County, Kansas. They had a photographic portrait made of their son Grover, seen here and taken at the Vogenitz Studio in Wichita, located at 105 North Main Street.
When the federal census was enumerated in 1910, Thaddeus, Nancy and their two adult sons made their home together, along with a three-year-old grandson Gaylord F. Younkin. Thaddeus' occupation in 1910 was as a gardener of vegetables. In 1920, their home was on East Ninth Street in Wichita, with Thaddeus listed in the census as a farmer - "own place."
By 1930, Thaddeus and Nancy were retired and lived alone in their own home, but their adult sons and grandchildren were neighbors in adjacent dwellings.
Nancy passed away in 1930, at the age of 78. Her remains were laid to rest in the Wichita Park Cemetery and Mausoleum.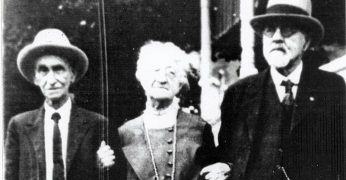 Reunion of siblings Thaddeus, Nancy and Jefferson
Thaddeus survived his wife by five years. In November 1935, he and his son Grover traveled to Washington, Washington County, PA to visit with relatives they had not seen in years. They stayed at the home of a niece, Mrs. John Wiley of 1140 Arch Street, and arranged for a visit with Thaddeus' brother Jefferson Younken as well as Charles Arthur "Charleroi Charley" Younkin, organizer of the National Younkin Home-Coming Reunion and publisher of the Younkin Family News Bulletin. (See Charley's letter about the upcoming visit, dated Nov. 7, 1934.)
A year after the reunion in Pennsylvania, Thaddeus died in Wichita on Nov. 2, 1935, at the age of 84, and reposes with Nancy in Wichita. News of Thaddeus' death reached his distant relatives back in Western Pennsylvania, among them Charleroi Charley" Younkin, who in turn wrote to another cousin mentioning Thaddeus's demise, dated Dec. 30, 1935.
~ Son John W. Younkin ~
Son John W. Younkin (1878- ? ) was born in 1878 in Greene County, PA. He migrated to Wichita with his parents in the early 1880s.
He was married and had at least one son, Gaylord F. Younkin (1907- ? ).
Yet in 1910, a federal census-taker marked him as married but living without his wife in his parents' household with his young son.
By 1930, John was widowed and had three children under his roof -- son Gaylord (age 23) as well as daughters Edith E. Younkin (born 1917)and Hazel M. Younkin (born 1922). That year, he worked as a laborer for the city water company.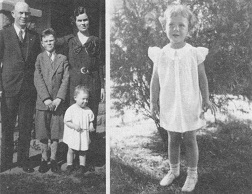 Grover, Verna and family, 1935
~ Son Grover Cleveland Younkin ~
Son Grover Cleveland Younkin (1893-1960) was born on April 17, 1893 in Wichita. He was named for the popular president of the United States, Grover Cleveland.
As an adult, Grover resided in Wichita at 1824 East Ninth Street. Circa 1920-1930, he was a city postman.
He married Verna L. Parr (1902-1993), daughter of George Parr of Illinois. They had two children -- Paul E. Younkin and Ruth Evelyn Wamsley.
Grover was an eyewitness to a grocery store robbery and murder in Wichita in October 1915 which landed his name in local newspapers.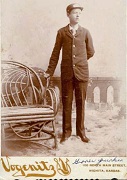 Grover C. Younkin
In 1937-1940, Grover was interested and active with the Kansas Younkin Reunions held at Junction City, which attracted more than 100 attendees annually. (See a Clay County newspaper article about the event.) At the 1938 reunion, Dr. Noble Younkin of the family of Jacob J. "Dorcas Jake" Younkin attended and gave a "fine descriptive talk" about the family coat of arms. In 1939, Grover served as state president of the Kansas Younkin association, and announced that "Families will bring picnic baskets, stocked with food, for the dinner at noon.... Any family related to the pioneer Younkins who came to the United States in Colonial times and who were among the pioneer residents of Kansas will be welcome at the reunion and no invitation is required. A number of those present will come in from Colorado, Iowa, Missouri, and Nebraska."
Serving as the Kansas Younkin group's general secretary was Mamie (Younkin) Prather of Dodge City and as recording secretary was John K. Younkin of Great Bend, KS. Grover wrote to the Pennsylvania Younkin reunion leadership in a letter dated May 12, 1940, inviting them to the May 25 affair to be held in the new municipal building in Junction City. "Good program promised," he wrote, but we will be happy to have you on it. Can you be with us? Please answer soon."
He also carried on an active correspondence with his second cousin Charles Arthur "Charleroi Charley" Younkin, of Pennsylvania, and in turn Charley wrote this to another cousin (Nov. 22, 1936): "The Kansas Younkins have at last had a meeting, Cousin Grover of Wichita had a gathering in his home during Diamond Jubilee of Kansas. Mrs. Mamie Prather, John K. Younkin brother of friend Chas. F. of Great Bend and several others were present from reports of Mrs. Prather and Grover they both seem very much enthused over the outcome. Grover being very much interested, has written me of two or three proposed trips among the different Younkins of his state. (See also the letter from the Kansas reunion corresponding secretary John K. Younkin, dated August 1935, sending greetings to the eastern cousins of the National Younkin Home-Coming Reunion in Pennsylvania.)

Kansas Younkin Reunion headline, inaugural issue of the Younkin Family News Bulletin, Christmas 1937. Below: the Kansas reunion, at Wakefield, 1937.

He remained in Wichita for the rest of his life and died there on Dec. 14, 1960. He is interred in Wichita Park Cemetery and Mausoleum.
Verna lived for another three-plus decades. She passed away on Feb. 10, 1993, age 91. The family was pictured in the October 1991 edition of the Younkin Family News Bulletin.
Son Paul E. Younkin ( ? - ? )
Daughter Ruth Evelyn Younkin (1933- ? ) was born in about 1933 in Wichita. She was wedded to (?) Wamsley.
Copyright © 2013-2016 Mark A. Miner
Research for this page graciously shared by Carl Hoge, Carolyn Carman and the late Donna (Younkin) Logan