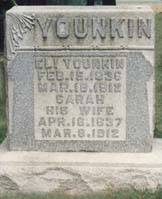 Eli Younkin was born in 1836 near Kingwood, Somerset County, PA, the eldest son of John M. and Laura (Minerd) Younkin.
Born and reared in Lower Turkeyfoot Twp., Somerset County, Eli married Mary Ann Rose ( ? -1865), the daughter of Silvester and Sophia (Smith) Rose. They had three daughters, Amanda Hechler, Harriet C. "Hattie" Romesburg Turney and Christina Nedrow.
The Younkin-Minerd clan had a close relationship with the Roses over the years. Mary Ann's sister Matilda married Eli's cousin Henry A. Miner; Mary Ann's brother Andrew "Jackson" Rose married Eli's cousin Susanna Minerd; and Mary Ann's brother Charles married Eli's cousin Catherine Minerd.
During the Civil War the Younkins moved to Illinois, perhaps after the birth of their third daughter. They likely moved for the benefit of Mary Ann, whose health was poor. In January 1865, Mary Ann's brother Charles Rose and his family also moved from Pennsylvania to Illinois, where they resided for a few years near the Younkins in the town of Ashton, Lee County.
Sadly, Mary Ann's health did not improve, and she died sometime in 1865. Her brother Charles later wrote: "I was present and saw her die."
Mary Ann was buried at Franklin Grove, Lee County, as recorded in family notes. In 1993, volunteers at the Dixon Public Library near Franklin Grove searched newspapers, local histories and cemetery papers but found no record of her death or burial. An effort will be made to search records of Ashton.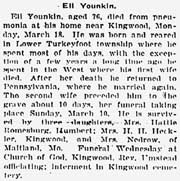 Eli and their daughters soon returned to Kingwood. After about four years as a widower, on May 2, 1869, he married his second wife, Sarah Leichliter (1837-1912), the daughter of Samuel and Mary Ann (McNair) Leichliter (or "Lichliter").
Little of their adult years is known, except that they lived in Smith Hollow south of Kingwood between Humbert Road and what is now Route 281. They are said to have lived "below Pete," who may have been Milton Bruce "Pete" Younkin of Kingwood, or Peter Bruce Younkin, also of Upper Turkeyfoot.
When the federal census was taken in 1880, the Younkins lived in Upper Turkeyfoot, with Eli marked as a farmer. Sarah's 82-year-old aunt, Margaret Lichliter, lived under their roof that year. Cousin Freeman Younkin was a next-door neighbor.
In 1881, they bade farewell to their married daughter Christina Nedrow, her husband John and their young children Josephine and Harry, who ventured westward to Nebraska to begin new lives as pioneers. The Nedrows later migrated to Kansas, back to Nebraska, and finally settled for good in Missouri. It's not known if the Younkins ever saw Christina or her family again.
After their unmarried daughter Amanda gave birth to a baby boy, Beacher, the Younkins helped to raise the lad to adulthood. As shown in the 1900 federal census of Somerset County, the boy's surname was listed as "Engelka" although he later went by "Younkin."
Among the Younkins' neighbors were family and friends: Freeman Younkin (son of Rev. Herman Younkin), Harrison Brougher, Wesley D. Younkin (son of Jacob C. Younkin), Samuel Tressler and Simon Liston. On the last day of February 1898, they received word that their neighbor Freeman Younkin, a local justice of the peace, had been killed when run over by a moving train in Casselman. Later, Freeman's widow Belinda came to Eli's home for a visit and discussed a large and long overdue debt that the deceased spouse had owed to her. Eli later recounted their conversation in sworn testimony in Somerset.
I am a distant relative of Freeman Younkin, and I know his widow, Belinda Younkin. I had a conversation with her since Freeman's death about her claim at my house. She said if she gets her $1200 and interest, she would be satisfied. She said if she had to do it again, she would have left the place be sold and took her share in money. She did not say how he owed her this $1200, or if he owed her anything else, but she said he owed her $1200, and interest.
Eli and Sarah faced heartache over the years with the untimely deaths of some of their offspring. In 1901, son in law Benjamin Romesburg was killed when a stone hurled by an explosion crushed his skull during excavation for the Ursina Coal and Coke Company store. Then, seven years later, they would have received word from Missouri of the passing of their 30-year-old granddaughter Josephine (Nedrow) Nute, now the mother of three, whom they had known in Somerset County as an infant but perhaps had not seen since.
In a twist of fate, Eli and Sarah died just 10 days apart. She passed away on March 8, 1912, at the age of 75, and he died of a lung abscess on March 18, 1912, at the age of 76. They are buried at the Church of God Cemetery in Kingwood, and their large headstone has been a destination on the Younkin Reunion tours of the 1990s and early 2000s.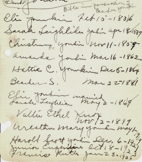 Eli and Sarah's old family Bible was passed down to their grandson Beacher, who lived in Kingwood. In the 1930s, the National Younkin Home-Coming Reunions were held at the Kingwood I.O.O.F. Picnic Grove, just a mile or so from where Eli and Sarah lived and where they are buried. In about 1934, reunion president Otto Roosevelt Younkin personally examined the Bible, and copied its birth, marriage and death entries by hand, seen here. Click here to view the Bible pages at a larger size. Beacher's name was included on a July 1935 list of local relatives who were sent an invitation that year by reunion secretary Charles Arthur Younkin -- click to see Beacher's name on the handwritten list.
The Younkins were further remembered in handwritten and typed notes prepared by Otto Younkin in the 1930s. (Click to see the first set of pages and second set of pages.) They also were mentioned in an exchange of letters in September 1936 between Otto and Edith Susan Lichliter of Salisbury, Somerset County, who was a great grand-niece of Sarah's. Click here to see the original letter.
This biography is adapted from one that originally appeared in the article, "Whispers of the Silence and the Slow Time," in the April, May, June 1996 edition of the Younkin Family News Bulletin.
Copyright © 1996, 2000, 2002, 2005-2007, 2009 Mark A. Miner