Home

Eli S. Younkin (1828-1858) and
Susanna (Dumbauld) Kreger
(1835-1915)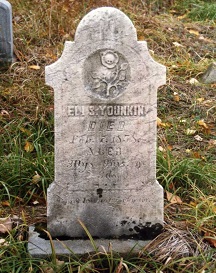 Eli's grave, Delilah Younkin Cemetery
Eli S. Younkin and Susanna Dumbauld were cousins who married each other.
Eli was born on May 15, 1828 in Turkeyfoot Township, the son of Jacob and Sarah Salome (Weimer) Younkin Jr.
Susanna was born on Dec. 3, 1835 in Turkeyfoot Township, the daughter of Jonathan Cable and Elizabeth (Dull) Dumbauld.
Very little known about Eli, except that he suffered from epilepsy in adulthood. He is known to occasionally have had spasms or fits, witnessed by family members.
The couple resided in Milford Township, Somerset County, and together produced a brood of three daughters -- Isabella Arabelle "Belle" Younkin, Sarah Ellen Brougher and Mary Elizabeth Gearhart.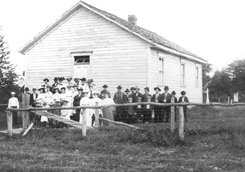 Old Bethel Church, Hexebarger - enlarge
Susan and her parents ares among a number of Younkin cousins mentioned by name as founding members of the Old Bethel Church of God in Hexebarger near Kingwood. In a history of the church penned in the 1880s or early 1890s, Harrison Grant King wrote that as a result of preaching, tent-meetings and evangelism by visiting preachers, a Christian spiritual interest "sprang up with the result that a Church of God was organized, with Fred Dull, Jonathan Dumbauld, wife and daughter Susan and son George, Fred Kreger and wife, William Spencer, James King, Christopher King and wife Rachael, Josiah Gross, William Younkin, Rebeca King and Sarah King, with perhaps a few others, constituted the charter members of the first Church of God in Somerset Co."
Tragedy rocked the family in the dead of winter 1858, when Eli was stricken with another epileptic fit while Susanna was in the ninth month of pregnancy with their daughter Mary Elizabeth. Sadly, he succumbed, exhausted, at the age of 29 on Feb. 7, 1858. His remains were laid to rest in the Delilah Younkin Cemetery in Hexebarger near Kingwood, leaving her as a single mother of three.
The cause of his death may have been lost to history, but his sister in law Delilah (Faidley) Younkin disclosed the facts during an interview she once gave to a government investigator in connection with a Civil War pension claim for her husband, and Eli's brother, Frederick J. Younkin. Susanna's father was named administrator of the estate.

Susan Younkin named the 1906 History of Bedford and Somerset Counties


Susanna and 2nd husband Jacob Kreger
Now alone with three mouths to feed, Susanna petitioned the Orphans Court of Somerset County for a legal guardian to look after her children's welfare.
An inventory of the estate identified these items -- a clock, six pictures, a looking gladd, lot of tine ware, smoothing iron, crocks and bucket, cober [?], chest, cooking stove, stand, two beds, six chains, table, slate, tub, spinning wheel, tray, kettle, 66 lbs. of bacon, 10 bushels of wheat and four bushels of oats. Other items found in the inventory were two bags, three bushels of rye, a lot of oats and stray, lot of hay, hoe, barrel of salt, one bee, five bushels of potatoes, a dozen chickens, one hog, lot of apple butter and crocks, four cows, two heifers, 12 head of sheep, a bay mare, barrels, watch, coffee mill, three chair and one-half basket.
A sale from the inventory was conducted to generate funds to be used to settle debts. The list of buyers is lengthy, but includes the following extended Younkin relatives -- John Minerd (one fork and plow), Garrison N. Smith (sled), Jacob J. Younkin (rifle gun), Henry Minerd (17 lbs. of flich [?]), William Younkin (meat tub), Charles Minerd (wheat straw), Isaac Younkin (three hogs), Jonathan Dumbauld (ham), George Firestone (bushels of wheat and a barrel of salt), Charles Rose (hand saw), Jacob J. Rush (one mare) and Frederick F. Younkin (Timothy seed and harrow).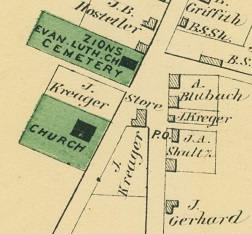 Kingwood map showing the Kregers' home and
store, 1876 Beers' Atlas of Somerset County
Using proceeds from the sale, Susanna's father paid a number of debts the deceased had accrued. Among others, payments were made were to cousins by marriage Levi Lichleiter, Garrison N. Smith ($3 for crying a sale) and to the deceased's brother "Weasel Jake" Younkin (a $50 IOU), among others. Rev. Harmon Younkin, Josiah Gross and William Younkin were paid to appraise the property.
After seven years as a widow, the 30-year-old Susanna married again, to one-legged Civil War veteran Jacob Kreger (1839-1922), son of German immigrant Henry Kreger. The ceremony was held on Jan. 12, 1865, by the hand of Rev. Benjamin F. Walker, after Jacob had returned home from the Civil War. Among those attending the ceremony were Susanna's sister in law and her husband, Christianna and Perry Schrock.
Jacob stood 5 feet, 9 inches tall, weighed 130 lbs., and had a fair complexion, blue eyes and brown hair. During the war, Jacob served in the U.S. Army as a member of the 142nd Pennsylvania Volunteer Infantry, enlisting on Aug. 12, 1862. Many of Jacob's relatives and friends also were part of the 142nd Pennsylvania.
At the fierce, bloody battle of Fredericksburg on Dec. 13, 1862, a slaughter at the hands of Confederate forces, Jacob was wounded in the right thigh, with the minié ball shattering the bone. He was rushed to the U.S. Army Stanton Hospital in Washington, DC, where the limb was amputated below the hip. After treatment, his health was sufficiently good that he was honorably discharged five months later on April 22, 1863, and he returned home to Kingwood.
On April 28, 1863, at the age of 24, the one-legged Jacob began to receive a federal pension [App. #20467 - Cert. #14686].
Susanna and Jacob produced four more children of their own, among them Charles S. Kreger, Oliver Kreger, Calvin Augustus Kreger and Domer Kreger.

Attack on Fredericksburg, December 1862, a battle in which Jacob lost a leg.
Courtesy The Civil War in the United States.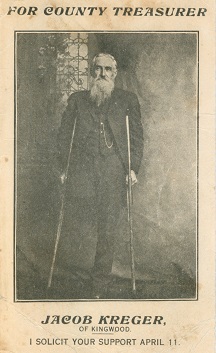 With a leg missing, Jacob used a crutch
The names and birthdates of the children were recorded in a family Bible. No longer able to labor as a farmer, Jacob was a longtime merchant in Kingwood, and lived right across the street from his store, at the point where today's Route 281 branches into Coke Oven Hollow Road. Circa 1876, Susanna was a charter member of the Kingwood Church of God.
The federal government sent him a prosthetic leg to wear, made by B. Frank Palmer, but he couldn't stand to wear it. When examined by military surgeons in October 1886, Jacob complained that the amputation was "so near the hip joint that I can't wear an artificial limb & have a good deal of pain in stump." He petitioned the government for an increase in his pension, and his friends John A. Shultz and Elias Griffith provided supporting testimony in writing of his suffering.
In 1882, when the Waterman & Watkins book History of Bedford, Somerset and Fulton Counties was in preparation, Jacob served on a committee to help raise funds and secure information for the narrative. A related story in the Somerset Herald encouraged others to help "by active co-operation and united aid, to insure the success of the enterprise, and to furnish such data, early reminiscences, etc., to the historians as they may possess, to the end that it may be complete in every detail." The Herald went on to ask
Could the people who have made our county what it is to-day, who have passed to their final reward, again revisit the scenes of their early labors, how great would be their desire that their names be embalmed in history that they be not forgotten? The erection of tablet to the memory of those departed and in commemeration of those living is almost as old as the human race, dating back to our certain knowledge to the erection of the pyramids of Egypt, which shows that pervading the breast of man is a fine sentiment that is never entirely obliterated. The greater the intelligence, the more the refinement of the people, the more considerate they are of each other's feelings and the more tenderly are their memories cherished, which is shown forth to the world by recording them in history. If we as a people wish our history recorded, and we have a very interesting one,... let us step forward and offer the necessary financial assistance to the publishing house of Waterman, Watkins & Co., as they call on us individually.
Deeply interested in politics and public service, Jacob was elected justice of the peace of Upper Turkeyfoot Township and served in the role in 1891. Other township officers that year were school directors Irvin Younkin and John F. Younkin, who were Susan's cousins and the sons of Rev. Herman and Susanna (Faidley) Younkin of Paddytown.


Very rare letterhead for Jacob's store in Kingwood, circa 1895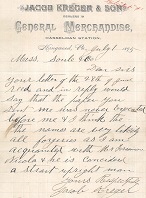 Jacob's 1895 letter

Controversy arose in the 1890s in connection with a Civil War pension being paid to Susanna's cousin-by-marriage Freeman Nicklow, married to Ellen "Nellie" Firestone. Thinking himself eligible for a raise in payments, Nicklow procured testimony from others to the effect that he was too injured to earn support by manual labor. He then attempted to submit paperwork to the Bureau of Pensions for an increase, purportedly witnessed by several local men in Jacob's office in Kingwood. Officials found the documents suspicious, and when asked, Jacob wrote a letter on his Kreger & Son letterhead, saying the paper had not been written in his presence and that he believed it to be a forgery. Nicklow was prosecuted on criminal charges by the District Attorney for the Western District of Pennsylvania, and at trial in Pittsburgh in 1896, Nicklow pleaded "nolo contendere," Latin for "I will not contest it." Black's Law Dictionary says the term "has a similar legal effect as pleading guilty." The matter was briefly covered in the Pittsburgh Daily Post. Freeman was sentenced to pay a $5 fine and spend four months in Somerset County Jail.

In 1905, he was a candidate for the office of treasurer for the County of Somerset and was elected by 1908. Then in 1911, as one of 14 candidates for the treasurer position, he came in second in the election to Alex Markle, with Markle pulling nearly twice the votes as Jacob.

Sadly, Susanna suffered a stroke in 1905, and while she lived for another decade, "her health declined slowly," reported a newspaper. "She spent the past two years in a wheel chair [until her death].... When the end approached she was able to say with Paul: 'I have fought the good fight, I have finished the course, I have kept the faith'."

She died on Jan. 20, 1915, at the age of 79. Her remains were interred in the Church of God Cemetery, with her former pastor, Rev. J.W. Umstead, officiating. An obituary in a local newspaper noted that she was survived by 34 grandchildren and 15 great-grandchildren.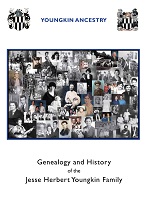 Mark Terry Youngkin's book

Jacob lived for another seven years.

Circa 1920, their longtime house of worship, the Kingwood Church of God, received an extensive renovation, including a two-story addition and a vestibule with a bell tower. New stained glass windows were installed, and Jacob made a donation to dedicate one of the double-windows. Susanna's daughter Ellen Brougher, who had died in 1912, also was memoralized with a window of her own.

When he was 83 years of age, Jacob suffered a stroke and died on May 26, 1922. The Meyersdale Republican eulogized him as:
... a retired merchant and farmer [who] had been failing for several years from the infirmities of age. He served his country in the Civil War and lost a leg in the battle of Gettysburg. Owing to the lim being off at the hip, he was obliged to go on crutches... He was buried on Monday. The two sons in the West were not here to attend the funeral. He was laid to rest in Church of God cemetery, by the side of his wife. Rev. Shimp, pastor of the Church of God at Kingwood, in which Mr. Kregar had worshipped all his life, conducted the funeral services. Jacob Kregar was an honest and upright man, kind to the poor, and a useful citizen. He was a staunch Republican and was twice a candidate for County Treasurer. He served his township for a number of years as Justice of the Peace. By his death Somerset County has lost one of its grandest old men, but his soul goes marching on and his influence here will be felt long after his grave is sodded over.
At his death, his real property was assessed at $11,000 in value.
Almost a century later, named as "E.S. Younkin," Eli was cited in a 2020 masterwork of authorship by Mark Terry Youngkin, of the family of John Harrison and Eliza Jane (Coble) Youngkin, entitlMinerd.com content and research are cited on 17 different pages. The 456-page volume is solely distributed in Portable Document Format (PDF) from the digital library called the Internet Archive in San Francisco, CA, which contains the latest book version. View/download the web-optimized version of Youngkin Ancestry on DropBox [60MB in size] or the full, high-resolution version on the Internet Archive [360MB].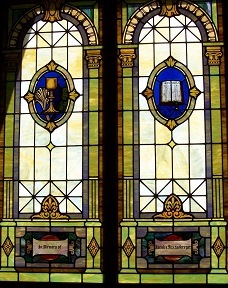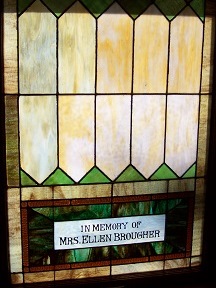 Kingwood Church of God windows memorializing Jacob and Susan Kreger and Susan's daughter Sarah Ellen (Younkin) Brougher. Courtesy Linda Marker

~ Daughter Isabelle Arabella "Belle" Younkin ~
Daughter Isabella Arabella "Belle" Younkin ( ? - ? )
~ Daughter Sarah Ellen (Younkin) Brougher ~
Daughter Sarah Ellen Younkin (1856-1912) was born on Oct. 16, 1856.
She was united in marriage with Jacob S. Brougher (1853-1906), son of Jacob and Mary (Schrock) Brougher.
Their children were Alvin Hudson Brougher, Amelia Melissa Mills, Arthur C. Brougher, Charles Oliver Brougher and Zelda Alta Younkin.
They were longtime farmers of Upper Turkeyfoot Township.
Sadly, at the age of 52, Jacob suffered an accident and three months later he died of complications. Burial was in Kingwood, with John Nicholson of Casselman signing the death certificate.
Sarah only outlived her husband by six years. Stricken with chronic kidney disease and paralysis, she died at age 56 on Nov. 4, 1912.
Daughter Zelda Alta Brougher (1897-1979) married a distant cousin, Earl David Younkin (1890-1972), son of Benton and Elizabeth " Minerva" (Witt) Younkin and grandson of David and Maria (Culver) Younkin. See their bio for more.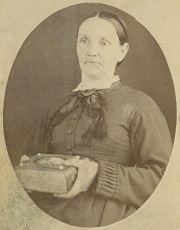 Mary Elizabeth Gerhart
~ Daughter Mary Elizabeth (Younkin) Gerhart ~
Daughter Mary Elizabeth Younkin (1858-1910) was born on Feb. 19, 1858, 12 days after the death of her father. Thus she grew up never knowing him but apparently counting Jacob Kreger as her father figure.
In the late 1870s, she married William Gearhart (1854-1923), also spelled "Gerhard," son of Jacob and Catherine (Brougher) Gerhardt. The family resided near Kingwood, where Jacob labored as a carpenter.
They produced nine known children, all sons but one -- Harry E. Gerhart, Orval F. Gerhard, Ira Clark Gerhard, Charles S. Gerhardt, Frank Flowers Gerhart, Elmer Harry Gerhard, Maude Estella Countryman, John R. Gerhard and Oran R. Gerhard.
Suffering from hardening of the arteries, she suffered a stroke of paralysis and died at the age of 52 on April 27, 1910.
In later years, William relocated to Confluence, continuing his carpentry.
He married again to Mary Elizabeth's cousin, Almira Trimpey (1869-1939), daughter of John S. and Nancy (Younkin) Trimpey. The couple purchased components of a home via a Sears Roebuck catalog, and William was in the midst of constructing it in the summer of 1923 when tragedy struck. Stricken with an obstruction of his intestines, William died five days after the attack at the age of 68 on July 29, 1923. His remains were lowered into repose in the Kingwood IOOF Cemetery.
The house was said to have been completed by David Shultz, and later was owned by a cousin, Hick and Dorothy Younkin. Some years later, some of their adult children believed that Mary Elizabeth's maiden name was "Kreger" and not "Younkin."
Son Harry E. Gerhart (1878- ? ) was born in about 1878 in Kingwood. He was deceased by 1946.
Son Orval F. Gerhard (1879- ? ) was born in about 1879 in Kingwood. He was deceased by 1946.
Son Ira Clark Gebhard (1881-1952) was born on May 7, 1881. Following his father's footsteps, he learned the trade of carpentry and was a house builder. He was married and is thought to have had a son, Russell C. Gerhard. In the early 1950s, the Gebhards lived in the Homewood section of Pittsburgh at 713 Hale Street. Ira was burdened with hardening of the arteries and was felled by a stroke, at the age of 71, on Aug. 31, 1952. His remains were buried in Homewood Cemetery.
Son Charles S. Gerhardt (1883-1959) was born in April 1883 in Kingwood. He married Daisy Pearl Mosteller (1888-1947), the daughter of Josiah and Alize (Schmidt) Mosteller. Their two known children were Lynetta Cale and Kenneth D. Gerhardt. By 1946, the family had moved to Drexel Hill, Delaware County, PA, maintaining a home in the Drexel Court Apartments. Burdened by cervix cancer, Daisy underwent surgery and bled profusely into her periton4eal cavity. She died at the age of 58 on June 20, 1947. Her body was transported back to Kingwood to rest for eternity. Charles outlived her by a dozen years, dying in 1959. They rest in the IOOF Cemetery in Kingwood.
Son Frank Flowers Gerhart (1885-1948) was born on Oct. 16, 1885 in Kingwood. He married Lila ( ? - ? ). He lived in Casselman, Somerset County in the 1920s and signed his father's official Pennsylvania certificate of death. Later, he and his wife relocated to Snyder County, PA, with their address Main Street in the borough of Middleburg. He was a longtime carpenter. Frank spent the final decade of his life enduring kidney and heart disease. He died at the age of 63 on Nov. 27, 1948, in Middleburg. His remains were returned to Somerset County for interment in the Odd Fellows Cemetery in Kingwood. [Find-a-Grave]
Son Elmer Harry Gerhard (1887- ? ) was born on april 15, 1887 in Kingwood. Circa 1946-1949, he lived in Connellsville and was named in the Connellsville Daily Courier obituary of his sister Maude Countryman.
Daughter Maude Estella Gerhard (1889-1949) was born on Jan. 17, 1889 in Kingwood. She was united in matrimony with Roy Countryman (1886-1947). The couple produced two children. They made their home in Somerset. In early September 1949, Maude suffered a heart attack and was admitted to Somerset Community Hospital. She died there 16 days later, at the age of 60, on Sept. 18, 1949. Interment was in the IOOF Cemetery in Kingwood, following funeral services at the Kingwood Church of God, led by Rev. C.A. Shilke of Lavansville and Rev. J.L. Hull. [Find-a-Grave]
Son John R. Gerhard (1896- 1946) was born on Aug. 19, 1896 in Kingwood. He was married to Alda Hostetler ( ? - ? ) and had a daughter Leona Watkins and a son Edward Gerhard. In about 1920, they moved into the town of Somerset. John first obtained work with the Schell Hardware Company in Somerset. Then, for 23 years, John was employed as a driver for Somerset Bus Company. Their home in the mid-1940s was at 442 West Patriot Street. He was a member of the Odd Fellows lodge in Kingwood. On the fateful Saturday evening of July 30, 1946, while walking on a Somerset sidewalk, he collapsed from an embolism and died. The Meyersdale Republican reported that "made his last run to Johnstown last Friday evening. He was to have worked Saturday, but, not feeling well in the morning, decided to remain at home and fix the porch roof. He had been under treatment of his physician for several years, but continued to work regularly, often making extra runs to Rockwood or Pittsburgh. Saturday evening he visited his doctor and later was met by his son, Edward, who was talking to him when he fell to the street." An obituary in the Connellsville Daily Courier noted that he was a "life-long resident of Somerset county." Burial was in Somerset County Memorial Park, officiated by a distant Younkin cousin, Rev. William Mullen Minerd.
Granddaughter Leona Gerhard wed Elmer Watkins
Son Oran R. Gerhard (1902-1961) was born on Oct. 22, 1902 in Kingwood. He was wedded to Dora Sanner (1907-1998), a native of Casselman and the daughter of Jacob and Sarah (Pritts) Sanner. They produced two known sons, Oran "Russell" Gerhard and James Gerhard. They were longtime members of the Church of the Brethren. Circa 1946, their home was in East McKeesport, near Pittsburgh. Later, they moved to Ligonier Township, Westmoreland County, PA, where Oran was employed as superintendent of administration at Westinghouse Electric Corporation. He died on Dec. 30, 1961, at the age of 59, of a heart attack. His remains were brought back to Somerset County for burial in the Odd Fellows Cemetery in Kingwood. Dora lived as a widow for another 37 years. As her health failed, she was admitted to the Siemon's Lakeview Manor Estate, where she succumbed at the age of 91 on Oct. 5, 1998. Burial was with her husband in Kingwood, with a distant Younkin cousin, Rev. Jay Christner, officiating at the funeral. An obituary was published in the Somerset Daily American. [Find-a-Grave]
~ Susanna's Son Domer E. Kreger ~
Son Domer E. Kreger (1866-1951) was born on April 19, 1866.
He was united in wedlock with De Elda D. (?) (1888-1953).
They produced four known sons, Dr. Glenn S. Kreger. Earl J. Kreger, Dwight L. Kreger and Dr. Joe "Russell" Kreger.
The Kregers lived in Listie, Somerset County in 1915-1922. Upon his father's death in 1922, Domer was appointed executor of the estate. He later migrated to Oklahoma as did his brothers Milton and Calvin. They put down roots for good in Kay County, OK, and earned a living as farmers.
Their home in 1930 was in Carlisle, Kay County. Later they moved to Tonkawa.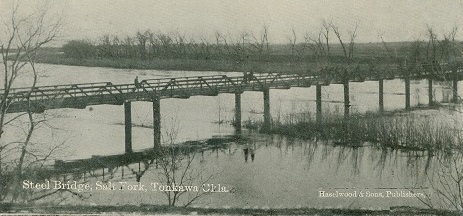 Bridge over the Salk Fork in Tonkawa, Oklahoma

>

Domer, De Elda and son Glenn traveled to Monessen, PA in June 1936 to attend the funeral of sister-in-law Emma Jane Kreger. The family again returned to Somerset County to visit in the summer of 1946. In their honor, a picnic was held at the cottage of Oscar M. Brougher at Whipkey Dam, and covered on the pages of the Somerset Daily American.

He died on May 3, 1951, with burial in the Tonkawa IOOF Cemetery. De Elda survived him by two years and passed on April 18, 1953. [Find-a-Grave]

Son Earl J. Kreger (1911- ? ) was born in about 1911. He was united in matrimony with Iris Lucille ( ? - ? ). They were the parents of Luzetta E. Kreger and Milton Glen Kreger. Circa 1940, they lived on a farm in Carlisle, Kay County, OK. In 1963, he served as chairman of the Agriculture and Soil Conservation Committee.

Son Dwight L. Kreger (1914-1965) was born in about 1914. He spent his life in Tonkawa, OK. Dwight entered into marriage with (?). Their brood of offspring included John William Kreger and Jim Kreger. On the fateful day of April 23, 1965, Dwight was fatally injured "when the tractor he was driving ran into a ditch and flipped him under its wheels on a county road southwest of Tonkawa," reported the Tulsa World. "Kreger died in a Ponca City hospital" at the age of 51.

Son Dr. Glenn S. Kreger (1910- ? ) was born in about 1910 in Pennsylvania. He attended medical school in Philadelphia in 1930. With his cousin Oliver J. Kreger Jr., Glenn spent the summer of 1930 at his parents' home near Tonkawa, OK. Glenn was joined in wedlock with Kansas native Gladys L. (1919- ? ). Their trio of known sons included Joe R. Kreger, Ken R. Kreger and Ron M. Kreger. He remained in Tonkawa at least into 1963. He is believed to have died in Tonkawa in March 1990, with a notice of his passing printed in the Oklahoma City Daily Oklahoman.
Grandson Joe R. Kreger (1940- ? ) was born in about 1940.
Grandson Ken R. Kreger (1942- ? ) was born in about 1942.
Grandson Ron M. Kreger (1947- ? ) was born in about 1947.
Son Dr. Joe "Russell" Kreger (1918- ? ) was born in about 1918. He lived in Tonkawa, OK in 1963. During the 1960s, he served as Kay County medical examiner.
~ Susanna's Son Milton G. Kreger ~
Son Milton G. Kreger (1868-1937) was born on Oct. 5, 1868 in Kingwood, Somerset County, PA.
Milton was an 1894 graduate of Oberlin College in Ohio. He was a lifelong bachelor.
Upon college graduation, Milton moved to Junction City, KS and went into business. Then in 1899 he migrated to Oklahoma and settled in Tonkawa. He remained there for good. Said the Tonkawa News, "He was very promineint in the mercantile business. He was an extensive landowner in this community." He is known to have made buying trips to St. Louis, Chicago and New York seeking to buy and sell merchandise for his store.
On the eve of the Great Depression, in July 1929, he and other local men stayed up all night to form a plan to re-oroganize and re-open the local Bank of Commerce. He also was active with the Tonkawa Chamber of Commerce.

In 1930, Milton made news in the gossip columns of the Blackwell Journal-Tribune when hosting a visit from former Kingwood neighbor D.F. Schultz. He made a visit back to Kingwood in the summer of 1934. Then in October 1934, back home, he was rushed by ambulance to Oklahoma City to undergo surgery at St. Anthony Hospital. Having recovered by the following spring of 1935, he returned to Kingwood with B. Dumbauld and Russell Kreger to spend the summer. He returned by the fall and leased the Tonkawa Tool Company on South Main Street to furnish oilfield equipment repair services.

His final two years were spent residing in the farm home of his brother Domer, suffering from a complication of diseases.

Milton succumbed on Aug. 13, 1937, with burial in Tonkawa IOOF Cemetery. An obituary in the Tonkawa News called him "a pioneer of this vicinity." The funeral service was held in the First Presbyterian Church, led by Rev. L.C. Ilsley.

~ Susanna's Son Charles S. "Barney" Kreger ~

Son Charles S. "Barney" Kreger (1870-1939) was born on Dec. 16, 1870.

In nuptials held in Pinkerton, Somerset County in 1899, he married Edith Meese ( ? - ? ).

Together, they bore two children -- Pauline F. Brougher and Jacob G. Kreger.

In young manhood, Charles ran general stores in the towns of Listie and Reading Mines. Circa 1920, they lived in the parsonage of a church in Kingwood.

Charles is known in 1920 to have purchased a special quilt for his daughter at the Kingwood Picnic, fashioned by women of the Kingwood Church of God's Missionary Society. The quilt included the sewn names of 180 members or friends, all from Kingwood, with each sewer paying a dime as a fundraiser. He bid $100 for the quilt and, when giving it to Pauline, told her to put it away for safekeeping in her hope chest. Some 62 years later, on Feb. 26, 1982, Pauline and the quilt were pictured in the Somerset Daily American. She told city editor Mary Ream that she believed the pattern to be Irish Chain, comprised of blue gingham and white patches of fabric handstitched onto a background of white. It had only yellowed a bit over the years, and was restored to its original color when washed.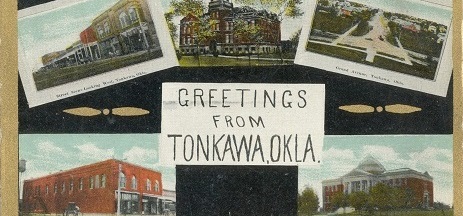 Home of Charles Kreger and his brothers Calvin, Domer and Milton
As did his brothers, Charles in 1921 migrated to Oklahoma. He invested in property near Tonkawa in Kay County, located in the northwest quarter of Section 9, Township 25 North, Range 1 East of the Indian Meridian.
But Edith refused to relocate, and stayed in Kingwood. In January 1924, he sued Edith for divorce. News of the legal action was published in the Blackwell Daily Tribune, which said that she "refused to come to Oklahoma with him and that he has been obliged to care for the children and do his own housework. Asks for divorce and custody of minor children." The request was amended in March 1924 that he was to have custody of their son and Edith of their daughter.
The divorce never went through, and Charles eventually returned to his wife in Kingwood, where they apparently reconciled to some extent.
After 25 years in the occupation, Charles retired from farming in May 1938.
He suffered a heart attack in May 1939 and died six months later on Nov. 13, 1939, at age 68. Burial was in the Kingwood IOOF Cemetery. Rev. J.I. Kalp and Rev. E.D. Starr jointly led the funeral service. An obituary was printed in the Tonkawa News, which said that "The above account will be read with sadness by the many friends of 'Barney' who lived in this community a number of years before moving back to Pennsylvania several years ago and has a host of friends here." His brothers Domer and Calvin and nephew George all traveled to Pennsylvania to attend the funeral. An obituary also was printed in the Somerset Daily American. Edith placed a card of appreciation in the local newspaper, saying "I wish to thank my many friends and neighbors for their kindnesses upon the death of my husband, Charles S. Kreger. I also desire to thank those who loaned cars and sent floral tributes."
Daughter Pauline F. Kreger (1900-1990) was born on Dec. 6, 1900 in Upper Turkeyfoot Township. In childhood, she moved when her father ran general stores in the towns of Listie and Reading Mines. She is known to have studied for one summer at the California (PA) Normal School, perhaps preparing for a career as a teacher. Pauline was twice-wed. Her first spouse was Willis "Jack" Brougher ( ? -1946), son of Charles A. and Minnie Belle (Romesburg) Brougher. The only son born in this union was Ray Keech Brougher. They made a residence in Kingwood. Willis liked to hunt and, with a party of 18 other hunters, went on a trip in December 1923 to Fairview Camp in Rocky Ridge, Huntington County, PA, and bagging a total of six deer. He earned income by repairing wristwatches, clocks and guns. The family was plunged into grief on the fateful, tragic day of May 11, 1946. Willis was thrown from his horse while en route to the home of neighbor W.L. Bungard to plant potatoes. Said the Connellsville Daily Courier:
He was riding one horse and leading another. It is supposed that the horse became frightened or slipped and plunged, throwing the rider to the ground. The horse then trampled upon his head. A deputy coroner said death was caused by a crushed skull and a burst blood vessel.
Faiview Church of the Brethren near Kingwood, PA

The funeral service was held in the Fairview Church of the Brethren, Kingwood, by the hand of Rev. M.H. Blough and Rev. E.C. Hall. Burial was in the church cemetery. In an editorial, the Daily Courier said that "Death takes no pains to select the time or place where one must answer his call... We do not think of the horse as comparable to the motor car as a death dealer. Nor is it. Yet every once in a while we read of someone meeting an untimely end through this disappearing form of power... Actually death lurks at every turn, waiting to nab the unwary." Now widowed, Pauline then learned how to drive, and with their teenage son Ray assumed operation of the farm. Later, she was joined in matrimony with her late husband's first cousin, Ross A. Brougher ( ? - ? ). He had been marriied previously to Mabel Meyers ( ? - ? ), daughter of Charles E. and Mary (Sanner) Meyers. Thus he brought a stepson into the union, Orville Floyd Brougher and a foster daughter Marie Arlene (Maust) Landis Freuh in addition to daughter Thelma Lena Brougher who had died some years earlier of pneumonia on Oct. 2, 1932. Ross was superintendent of Sunday School in the Fairview Church of the Brethren. Circa 1950, he served as a court-appointed receiver for the insolvent Somerset Memorial Park Inc. and in 1951 as an Upper Turkeyfoot Township school director. Pauline held memberships in the Kingwood Grange, Queen Victoria lodge of the Rebekahs and the Willing Workers Sunday School class in the Kingwood Church of God. She liked to fashion quilts, crochet and read. Sadly, she endured the death of stepson Orville in 1997. Pauline died in Somerset Hospital at the age of 89 on New Year's Day 1990. Her obituary was printed in the Somerset Daily American. Rev. James Monticue officiated the funeral service, with interment following in Fairview Church of the Brethren Cemetery.
Grandson Ray Keech Brougher ( ? - ? ) was born on (?). He was a 1948 graduate of Somerset High School. During the Korean War, he joined the U.S. Army and was stationed at Camp Atterbury, IN. On June 27, 1951, in nuptials held in her hometown of Denton, MD, he entered into marriage with Emily Ann Hurd ( ? - ? ), daughter of J. Merritt Hurd. News of the wedding was printed in the Somerset Daily American. Emily was a 1950 alumna of Caroline High School and, at the time of marriage, worked as an operator for the Diamond State Telephone Company.
Step-grandson Orville Floyd Brougher (1921-1997) was born on April 17, 1921 in Upper Turkeyfoot Township. He grew up on his parents' farm. He wed Elizabeth Knepper ( ? - ? ), daughter of Roy W. Knepper. The nuptials were held on Decoration Day 1941 in Greensburg, by the hand of Orville's uncle, Rev. M.J. Brougher. Their honeymoon consisted of a five-week driving trip to 15 states, including attending the annual conference of the United Brethren Church in LaVerne, CA. Happily their union endured for a remarkable 55 years. Together, the pair bore five daughters -- Linda Beachley, LaVonne Sanner, Jane Pritts, Mabel Walker and Diane Miller. The Broughers were longtime farmers near Kingwood. Orville also earned a living for 17 years as a school bus contractor for the Rockwood Area Schools and owned and operated Brougher Fruit Market in Kingwood. They held a membership in the Geiger Church of the Brethren. On a very cold evening circa 1992, the Broughers hosted a visit in their home from the founder of this website and graciously shared information about the old Fairview Church of the Brethren which had stood on the site of the Christian Church in Turkeyfoot. At the age of 75, Orville passed away in Somerset Hospital on Jan. 6, 1997. An obituary in the Somerset Daily American noted that his survivors included a dozen grandchildren and four great-grandchildren. Sharing duties at the funeral service were Rev. Gerald Deffenbaugh and son-in-law Rev. Ronald Beachley.

Step-great-granddaughter Linda Brougher married Rev. Ronald Beachley. Their home in 1997 was in Davidsville, PA.

Step-great-granddaughter LaVonne Brougher wed Kenneth L. Sanner ( ? - ? ), son of John Henry and Violet (Minerd) Sanner of the family of Rev. William Mullen and Violet Pearl (Johnson) Minerd. See the Minerd biography for more.

Step-great-granddaughter Jane Brougher was joined in wedlock with Richard Pritts. The couple put down roots in Telford, PA.

Step-great-granddaughter Mabel Brougher entered into marriage with James Walker. Circa 1997, they dwelled near Kingwood.

Step-great-granddaughter Diane Brougher was united in matrimony with Barry Miller. The pair settled in Waynesboro, PA.
Step-foster-granddaughter Marie Arlene Maust ( ? - ? ) was twice-married, first to (?) Landis and then to (?) Freuh. Her home in 1997 was in Asheville, NC.
Son Jacob G. Kreger (1906-1978) was born on Sept. 3, 1906 in Somerset County. He relocated to Oklahoma with his father in 1921, at the age of 15, where they lived in Eddy in 1922. When his mother refused to accompany them, he became in the middle of a tug-of-war and eventually first steps in a divorce. In 1924, the father was awarded legal custody of Jacob. In time the family reconciled to some extent and reunited in Kingwood. Jacob entered into marriage with Etta Bittner ( ? - ? ). They did not reproduce. During World War II, he served in the U.S. Armed Forces. For many years they were members of the Kingwood Church of God. Their final home was in Addison. Death enveloped him at the age of 72, in Somerset Community Hospital, on Sept. 19, 1978. Rev. Paul Tobias led the funeral service, with burial in the Kingwood Odd Fellows Cemetery. An obituary appeared in the Somerset Daily American.
~ Susanna's Son Calvin Augustus "C.A." Kreger ~
Son Calvin Augustus Kreger (1873-1960) was born on May 10, 1873.
He initially lived in Kimmelton, Somerset County and later joined his brother Milton and Domer in Oklahoma. He resided in Tonkawa, Kay County, OK.
Calvin was married to Maggie M. Kimmel (1878-1955), also known as "Martha."
Their only known sons were Jacob George Kreger and Edwin Domer Kreger.
Calvin, and his brother Oliver, invested in oil and gas rights in real estate in or near Newkirk, OK. The tracts were located in SE 33-26-2W and SE 4-25-2W. Oliver transferred his interest in these rights to Calvin, Edith and Domer Kreger at year-end 1939, as reported in the Newkirk Herald Journal.
The Kregers' home in 1950-1954 was in Tonkawa, Kay County.
Sadly, Maggie died on Aug. 17, 1955.
Calvin passed five years later on March 18, 1960 and is buried in Tonkawa Odd Fellows Cemetery. [Find-a-Grave]
Son Edwin "Domer" Kreger (1901-1939) was born on March 20, 1901. He married Mary Ellen Marker (Sept. 20, 1899-1994), daughter of Daniel M. and Laura (Sanner) Marker of Kingwood. They were the parents of Alta Kreger, Charles R. Kreger, Pauline Good and Martha Jean Lemmon. They lived on a farm in the Markleton area and were members of the Kingwood Church of God, with Mary Ellen active in its Willing Workers Sunday School class. The family was plunged into anxiety in 1937 when the 36-year-old Domer was diagnosed with liver cancer. He endured and suffered for about two years until relieved of his pain by the Angel of Death, at the age of 38, on April 8, 1939. Elizabeth Grove of Somerset signed the Pennsylvania death certificate. Interment of the remains was in the Kingwood IOOF Cemetery. Mary Ellen survived as a widow for another 55 years and during that time dwelled in Pittsburgh before returning to Somerset. She died in Somerset Hospital on May 24, 1994, at the age of 94. Rev. James L. Monticue officiated at her funeral service. She was placed into eternal repose in the Kingwood IOOF Cemetery, and an obituary was published by the Somerset Daily American.
Grandson Charles R. Kreger ( ? - ? ) was born on (?). He wedded a cousin, Olive Mae "Ollie" Bungard, daughter of Weldon Lloyd and Ada Savanna (Dumbauld) Bungard of the family of

Jonathan Cable and Elizabeth (Dull) Dumbauld

. See the Kreger bio for more on this couple.
Granddaughter Pauline Kreger was united in matrimony with James D. Good. Circa 1999, the couple made a home in Manor, PA.
Son Jacob George Kreger (1913- ? ) was born in about 1913 in Pennsylvania. 
~ Susanna's Son Dr. Oliver Judson Kreger ~
Son Dr. Oliver Judson Kreger (1875-1954) was born on Dec. 23, 1875.
He began his working career as a teacher, obtaining his education at the California State Teachers College, today's California University of Pennsylvania. He taught school for two years, including at Dwire in Upper Turkeyfoot Township, and then decided to pursue the medical field. He attended the University of Pennsylvania school of medicine and graduated in 1902 in a ceremony held in the Academy of Music.
In about 1911, Oliver married Emma Jane Meyer (Aug. 10, 1885-1936), a native of Rostraver Township, Westmoreland County, and the daughter of Hiram and Elizabeth (Foulks) Myer. News of their marriage license was printed in the Pittsburgh Daily Post. The Valley Independent newspaper once called them "a pioneer medical family of Monessen."
The couple produced two children, Elizabeth Houy and Dr. Oliver Judson Kreger Jr.
Oliver served on the medical staff of the Charleroi-Monessen Hospital and managed the Pennsylvania Department of Health's tubeerculosis clinic in Monessen. He held memberships in the Westmoreland County, Pennsylvania and American Medical Associations. In 1933, he was appointed to the Pennsylvania Alumni Committee of his medical alma mater.
Emma was a longtime educator, teaching in the Monessen schools and later becoming principal of Jefferson School. She also was vice president of the Woman's Club of Monessen in 1926.Sadly, burdened with hypertension and chronic kidney disease, Emma Jane died in Monessen at the age of 51 on June 23, 1936. Burial was in Grandview Cemetery.
Oliver outlived his bride by 18 years. While on a mid-winter vacation in St. Petersburg, FL on Feb. 1954, Oliver was stricken by a heart attack and died there. His remains were transported back to Monessen to rest in Grandview Cemetery. A prominent obituary was published in the Pittsburgh Sun-Telegraph.
Daughter Elizabeth Kreger ( ? - ? ) was born on (?). Circa 1937, when named in the Oklahoma newspaper obituary of her uncle Milton G. Kreger, she lived in Monessen. Elizabeth married William R. Houy ( ? -1994), a native of Homestead near Monessen and the son of Peter and Josephine Houy. They did not reproduce and spent their lives in Monessen. William passed away at the age of 78 on Nov. 28, 1994. The Pittsburgh Post-Gazette printed a death notice. His remains were placed into eternal repose in Monessen's Grandview Cemetery.
Son Dr. Oliver Judson Kreger Jr. (1914-1988) was born in 1914. In 1930, he is known to have spent the summer at the home of his uncle Domer Kreger in Tonkawa, OK. From there he went to Wichita, KS and to St. Louis, reported the Tonkawa News, to "join his parents for an outing in the mountains." He attended Pennsylvania State University and in December 1934 was named first assistant manager for the Nittany Lions varsity football team. At the age of about 31, in 1945, he joined his father's medical practice. His home in 1956 was on McKee Avenue, Monessen, and they stayed in the city for the balance of their lives. He made news in January 1956 when his DeSoto automobile was stolen by two teenagers who eventually were apprehended by state police after a skidding accident on the Pennsylvania Turnpike near Somerset. Oliver died on Feb. 21, 1988. A brief notice of his death was printed in the Pittsburgh Post-Gazette.
Granddaughter Karen Lee Kreger dwelled in Monroeville, PA in 1988.
Grandson Thomas E. Kreger relocated to New Jersey. His residence in 1988 was in Hewitt, NJ.
Copyright © 2016-2017, 2019-2020, 2023 Mark A. Miner
Research for this page graciously shared by the late Olive (Rowan) Duff, the late Donna (Younkin) Logan and Linda Marker.