Albert Philip McCabe
A Memoir by Aimee Louise McCabe-Walker

Also see Aimee's memoirs of her mother and grandparents and a memoir of Albert P. McCabe by grandson Erin S. Cleary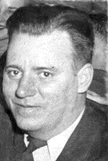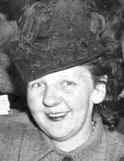 Albert and Elizabeth McCabe
Albert Philip McCabe was born in Uniontown, Pennsylvania, November 20, 1910. He passed away June 27, 1987. Son of Homer and Blanche Minerd-McCabe.
Husband of Elizabeth Irene Bryan. Father of Aimee Louise McCabe, John Philip McCabe, Linda Lucille McCabe and Michael Mawrey McCabe.
Al McCabe began his career as a Communications Officer in 1939. He worked for the War Department Message Center, Army Radio Station in Washington, D.C. He had a Radio Telegraph Operator License, Number T-21-2 issued March 11, 1935.
His engineering experience dates back prior to World II when he was engaged in early warning radars at the Naval Research Laboratory. He held important positions in the guided missile field for the Boeing Airplane Company, Northrop Aircraft Corporation and Raytheon Manufacturing Corporation.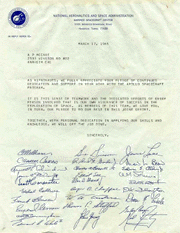 Letter signed by Apollo astronauts
He also worked for TRW Systems. His particular specialization was in the field of guidance and control of spacecraft and missiles. He was a physicist and a mathematician. He had a great mind.
Al McCabe was a well-known engineer. He was the sole inventor of the missile error scorer, now known as the Global Positioning System. He presented it as a patent in 1955. It is not known what became of the patent nor the outcome of the patent. I have an original draft of the patent in which he had red penciled in a co-inventor's name. Hugo E. Stark. It is believed he sold the patent rights because he did not have the money to pursue the project.
He was also the Chief Engineer for the Apollo Spacecraft program in 1965. The National Aeronautics and Space Administration, Manned Spacecraft Center, Houston, Texas, sent him a letter of appreciation signed by all Astronauts involved with program. The letter is dated March 17, 1965. (Click enlarge.
He was a Lifetime, senior member of IEEE, Geoscience Electronics Group, Quantum Electronics, and the Information Theory Group. He was also a member of the American Association for the Advancement of Science.
He passed away June 27, 1987 in Redondo Beach, California. He is dearly missed and we will always love him.
Copyright © 1997 Aimee L. Walker-McCabe. Republished with permission.