Grandmother Blanche
Minerd-McCabe

A Memoir by Aimee Louise McCabe-Walker
Also see Aimee's memoir of her parents

Blanche McCabe
Cousin Aimee McCabe-Walker has written a touching memoir about a grandmother she loved but barely knew. Aimee grew up in the Pacific Northwest with her parents, Albert and Elizabeth (Bryan) McCabe, while her grandparents, Homer and Blanche (Minerd) McCabe, resided thousands of miles away in Western Pennsylvania. Permanently living apart from loved ones was increasingly common for families after World War II, and is an important story typifying a newer element in the long American experience. Aimee's father played a key role in the engineering design of rocket navigation systems for NASA's Apollo space program.
Aimee graciously hosted our 1998 and 1999 reunion webpages and lent valuable technical expertise in the construction of Minerd.com.
Regarding my grandmother, Blanche Minerd-McCabe, I can only write what I heard about her from my parents, basically because I only met her once when I was 11 years old. My father moved us to Seattle when I was three years old so I never got to know my grandparents.
We drove from Seattle, Washington to Uniontown, Pennsylvania when I was 11. It took us seven days to get there.
I remember Grandmother McCabe (Blanche) was a very short person. At night, before she went to bed, she would take her hair down and brush it. She would let me brush her hair. It was very long and hung down to her knees. It was brown and very pretty. She seemed to be a very happy person. One night there was thunder and lightning. We, my sister and brothers, were frightened by it. She came in and got into bed with us and assured us that it was all right and not to be afraid.
We stayed there only one or two nights as we also went to visit my Mother's sister, Ruth, her brother Ralph and her father. Aunt Ruth lived in Arlington, VA. Her brother Ralph also lived in Arlington. Their father, William Wilson Bryan lived in Washington, DC, where I was born. My mother, Elizabeth Irene Bryan-McCabe, was 5th generation in Washington, DC.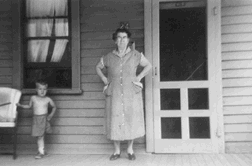 Blanche and a grandson on her porch
I remember my father speaking about his mother in a very positive manner. She was always waiting for her family to return home. She was a very good mother, and also a very good cook. My father missed her and was very sad when she departed from this earth.
Father took my mother to meet her in 1936. Mother spoke of her being so very happy to meet her and being welcomed into the family warmly. All of the relatives came to meet her. My mother was tall and very thin, and they commented on how thin she was.
At the time there was no indoor plumbing in their house. My parents paid to have indoor plumbing and a bathroom installed.
My sister and brothers missed out on knowing our grandparents. It would have been nice to have been able to get to know them. My father had to go where the work was. He is the only immediate family member to have left Pennsylvania that I know of.
I wish I had more memories of my grandmother and grandfather McCabe. We lived so far away and had very little contact with them.
Copyright © 2002 Aimee Louise Walker-McCabe. Published with permission.