Annabelle Nabors Buchanan:
A Survivor's Story of Childhood Tragedy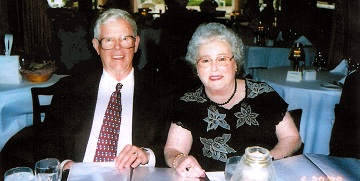 Author Annabelle Nabors Buchanan and her husband Fred
In my late sixties, I am finishing a story that happened long ago.
Memories have a way of emerging when we least expect. We may think we have shielded ourselves very well from those memories that hurt. However, history has a way of repeating itself that bring back all those memories that were so long ago buried.
I have been able through the information released in recent years to understand more the disease that conquered my father.
Sometimes I think one should only live in the present. The past can be a heavy burden to carry with you. Even so, it is the past that formed the person we become throughout our lifetime.
Copyright © 1984 Annabelle Nabors Buchanan
Republished on Minerd.com with permission. Reproduction forbidden without written consent of Minerd.com.