Annabelle Nabors Buchanan


Chapter 5
:

Washington D.C., June 1942
I do not remember a thing about the train ride to Washington, D.C. Only the arrival at Union Station is vivid in my memory. It was a whole different world. I felt so lost and frightened. People were bustling about, going in all directions. Most of them were in uniform. There were Navy, Army and Marines, and even they were different. Some were officers and some enlisted. The tears were so close to the surface. I sat on my suitcase for a few minutes to collect my thoughts. I decided the first thing to do was catch a taxi.
It was just dusk and the lights were coming on in the city. The air was still very warm and humid. There was a big rush for cabs, so I grabbed the first one available. There was a military older officer already in the cab, so we shared. I told the driver "Y.W.C.A., please." The older gentleman looked at me and said "My dear, are you alone in the city?" I replied yes and he told me to be very careful. Looking back, I must have looked as frightened as I felt.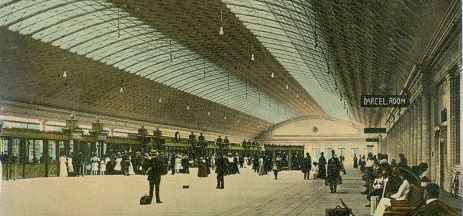 Union Station, Washington, DC
When we arrived at the Y.W.C.A., it was almost dark, and the city was alive the activity everywhere. The building was located at 14th and K streets, not too far from the White House.
I took my luggage and went into the lobby. It was crowded again with people. Finally, the lady at the desk motioned to me. She said all they had available was a temporary room which belonged to two girls on vacation. That was fine with me. When they showed me the room, I was just relieved to have a place to stay.
Once alone, I cried very hard and felt abandoned and so scared. It seemed to me my aunt and uncle had been very cruel. I longed to be in Alfred in my bed. After a shower, I crawled into bed and put my wallet under the pillow, as my aunt had said to do. The tears would not stop until I fell asleep. Sleep was interrupted during the night by the sound of fire engines. I learned the fire station was just next door. I had never heard the sounds of the city before, and I hated the noise.
The next morning, the sunshine was so bright and friendly. After a shower, and clean clothes, I decided to try again. The lady at the desk sent me to a small room where they helped girls find a room.
It was empty except for one girl waiting for help also. She was friendly and we introduced ourselves. Her name was Clara Herzog and she had just arrived that morning from Butte, Montana by bus. Her clothes had been lost enroute and she was wearing a warm looking black dress. Immediately I felt sorry for her, and no longer thought of my fears. She was my age, and had just graduated, also. She had a job to start shortly with OSS, now commonly known as the CIA
By the time the "Y" register lady returned to her desk, Clara and I were friends. The lady told me the room I occupied for the night was available if I could find a roommate. It seemed the girls were not coming back. Clara and I looked at each other and decided that would be fine. All our problems were solved. We were both so happy. We paid our rent, $20.00 each for the month. Then we went to the room. I really looked at it for the first time. The night before, it did not mean as much to me. Now it was home. There were Maple twin beds, a Maple desk, and dressers, two arm chairs, and our own private bath.
We had a fun tour of the "Y". There was a large lounge on the main floor where we could entertain guests, or another lounge in the basement with ping pong, or other forms of recreation. There was also a kitchen where we could pack lunches for work or a picnic. The community laundry room was also down there with huge drying machines, nothing like we have today.
There was also a roof garden lounge. It was furnished with a piano and radio music. There were many times a service man sat at the piano and we had a sing-along. Many times, there were dances on the roof. It was more than we could have wished for.
After Clara and I were settled, we found Hecht Department Store, and because she had less money, I offered to buy her a dress until her luggage arrived.
We went back to the room so she could change clothes. Then we were off to Glen Echo Park, an amusement park. We had a great time, and even went on rides with a couple of sailors. Service men were everywhere.
Clara was a very happy person by nature. We went out to all the fun places. She told me about her boyfriend from back home who was in the Anny. Her father had worked in the copper mines in Montana and was killed by an explosion when she was small. Her mother had raised Clara and her sister, which was very hard. I had the impression that Clara had been a bit wild in high school, because she smoked, and her life style was so different than mine had been in high school.
After listening to her talk about her boyfriend, and seeing her write letters to him, I decided to keep a promise I had made to myself. That was to contact George Springer, so I wrote to him in Pennsylvania. I had no idea of what had happened to him, but I still remembered him from the short time I had spent in high school in Pennsylvania.
My job started after two weeks of leisure. I was very excited and looking forward to paychecks by that time.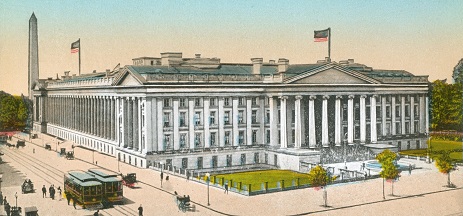 Treasury Building in Washington, DC where Annabelle worked in 1942
My job at the Treasury Department went very well. There were so many girls like me. All working for the War effort. My duties at first were just typing records of War Bond pledges. There were several girls in a typing pool. Dorothy Kimmel was a close friend at the office. She lived with her parents in Washington, D.C.
She and I were both promoted to typing large statistical charts about 16" x 20". The figures represented War Bonds sold to U.S. citizens from all over the country. Since there were so many of us, we were rightly called "Government Girls."
The mornings in Washington were so lovely. Most of the time, I walked to work through several parks, and past the White House. During the War, we were not permitted to enter that beautiful building. Marine guards were always on duty at the front gate.
When the temperature reached 98 degrees, we were sent home from work, because there was no air conditioning. We ate lots of salt pills which were in a dispenser in the halls. Now we know they are not good for us.
On one such day, I was walking near the Carlton Hotel, and I noticed a crowd gathering. Natural curiosity pulled me to the crowd. Before I knew it, I was near the ropes at the front of the hotel. Many well-known movie stars were there for promoting the War Bond effort. Hedy Lamarr, Mickey Rooney, Dinah Shore and Ralph Bellamy were all standing at the entrance to the hotel. Ralph Bellamy was so handsome and had the bluest eyes I had ever seen. On the screen, he had never appealed to me before that day.
Another time, it was my good luck to see President Roosevelt in his limousine drive right past me, when I stood at a comer waiting to cross the street. The traffic had been stopped in all directions. The top of the car was down and he was sitting in the back seat talking with another gentleman.
There was another lady at the office by the name of Pearl Stovall, who was older than Dorothy and I. She was married to a Navy Captain. She took Dorothy and me under her wing like a mother hen.
In our free time, Dorothy and I talked about boys, our budget and clothes. We always planned what we would wear the next day. We alternated between dress up and casual. On dress-up days we wore dresses and heels, (many times black dresses). We thought they were sexy. On the casual days, we wore dirndl skirts and peasant blouses with hirachie shoes. On the casual days, we took our sack lunches and ran over to the Washington Monument. We climbed to the top and viewed the city while eating. Other times, we went down to the bank of the Patomic River. One pay day, she and I went to Lerners store and bought fur coats alike. We put them on lay-away. We were so proud when they were paid in full and we could take the coats home.
Those were glorious free days. I dated many different fellows, but the memory of some is more vivid than others.
On dates, we saw all the historical places, danced in all the many clubs. The movies were so great. During the intermissions, there were stage shows with all the "Big Bands". I saw Tommy Dorsey, when he had Helen O'Connell sing "Green Eyes," Jimmey Dorsey, and Xavier Cugat were a few.
Since the summers were so hot and humid, and silk stockings were almost impossible to buy, we used leg make-up. It came in different shades. After applying it, usually a girlfriend would paint the seam up the back just as the hosiery had in those days. The only problem was that on some very hot days, the make-up would run and be uneven.
Maxine Tucker, a girl from my graduating class at Alfred, also came to work at the Treasury. She had a room in a private residence, but we often went together to movies, etc.
In late July of that summer, I received an answer to my letter to George Springer. He was stationed on a battleship named "Tasker H. Bliss" or (President Cleveland). His home port was Norfolk, Virginia. He said he would come to see me.
It was not long after that when I was doing the laundry one day and the phone rang; it was George. He was in the lobby of the "Y." I hurriedly put on a dress freshly laundered and went down.
He looked very handsome in a sailor uniform and had really grown up since we had last seen each other. We renewed an old flame. He promised to see me each time he had "liberty" from the ship.
I was not ready to give up my new-found freedom, and still dated fellows between his visits. I loved to dance and George did not know how.
One beautiful day, Maxine and I were paddle-boating on the Tidal Basin. We had agreed, there would be no fellows. Sure enough, a couple Marines paddled near us with a different idea. I told them not to get on our boat. Just as one of them stepped on the edge, I paddled away and he fell in the water, uniform and all. Of course, I felt sorry, and that was how I met Johnny Roman. He was a nice guy from Rome, N. Y. He took me out several times, but I told him there was no chance for a serious relationship. He said "O.K." He proposed so many times, and finally he said for me to call him if I wanted to see him.
One Sunday, I was free and lonesome. It had been a while since George had been in port. So, I called Johnny at Quantico Marine Barracks. He said he would be there.
In the meantime, another fellow called that I enjoyed more. So, when Johnny came, I ushered him to the basement lounge. Then the other fellow was placed in the main floor lounge. Somehow, I managed to go between the two lounges for a while. Then Charlie, the fellow in the Main Lounge and I headed for a dance hall. I am not really proud of that escapade. I later found out Johnny took the wrong elevator and got trapped in the girls residence dorm. So, maybe that did not end up so badly.
Once on a holiday from work, Dorothy Kimmel and I decided to go to the gypsy part of D.C. We wanted to get our fortune told. There were rows of them up and down a street. We had tea leaves read, palm reading, the works. Of course, we loved to hear the romantic things they told us.
When we told Pearl Stovall, the next day, she about had a fit. "You did what?" Don't you know they could have taken you into white slavery?'' Of course, that was a one-time thing.
About that time, the matron at the "Y'' called me into her office. Her name was Miss Dixon and she was like a mother to us girls. She said that there was a single room available, and thought it would be better for me to move away from Clara. She was unhappy because Clara was drinking quite a bit, and she would give her a single room also. Clara and I had not been as close since George started to come into my life.
Clara cried when I moved, and we were still friends, but eventually she left the "Y."
In about September, George came into port, and we went to Pennsylvania for the weekend. We saw my sisters and Grandma Nabors. I also renewed friendship with his cousins, Jean and Audrey. I learned that his mother died when he was born. He had also been raised by his grandmother until she died. He then went to live with his Uncle Jake and Aunt Cass. He had six brothers and sisters older that I had never known.
I do not even remember hearing anything about my parents on that visit. I was too involved with my own life. It was so wonderful to be back in all the familiar places of my childhood.
Fall went into winter with such a whirlwind of good times. George came often to Washington. We went everywhere and did everything. Many times, I would come in from work, and he would be sitting in the lounge waiting for me. He neither smoked or drank. In all the times we were out I never saw him have a drink. He was a big tease, and we laughed a lot.
Suddenly there was no word from him for many weeks. I often went to a hamburger place below the "Y." I met an old football friend of his named Nick Bubonvich. He was attending Georgetown University. We worried together about the war and what had happened to our friend.
Finally, in December there was a phone call. He was home in Pennsylvania and wanted me to come there. It turned out that his battleship had been blown up off the coast of Africa. He had swam through burning oil to safety and was rescued.
I was determined to go; but office leave was hard to get. So, I told my boss a lie. I told her that my grandmother was very ill. That just did not work, so then I broke down and told the truth. She immediately said "yes" to my request. They would never turn down something for a service man.
I went home on the Greyhound bus. George met me at the station, and insisted that I stay with his aunt and uncle. Snow covered the ground and we had a wonderful time. I celebrated my 19th birthday and Christmas with them. He gave me a ring, but no date was set. He was so concerned about coming back crippled from the war.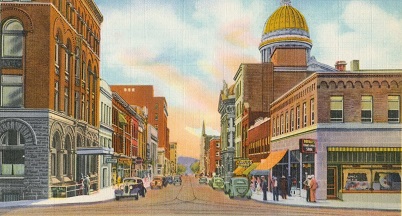 Greensburg, PA, near the domed courthouse
We took the street car to Greensburg and visited my sister Ruth and Nanny. Then we went to see Grandmother Nabors and Lottie. They were all so happy to see me. However, I do not recall seeing my mother on that visit.
After his leave, he was assigned to the Carrier Essex for training. His port then was Philadelphia. His visits to Washington were more frequent, but we knew it would not be for long.
In January 1943, I made plans to move into an apartment with a married girl from the office by the name of Elwanda Setar and Maxine Tucker. Elwanda was married to a Navy Lt., Jr. grade.
We had found a lovely place in Chevy Chase, the best part of Washington. It was in a private residence, a brick home, and we had the whole top floor. There was a small kitchen, with dinette, living room and bedroom with bath. The price was $90.00 per month. Since there were three of us, we organized so the one who cooked for a week also slept on the couch. The other two occupied the bedroom. The furnishings were lovely. The living room couch was covered in a gold brocade material, there was a cherry-wood secretary desk, two arm chairs with end tables. The bedroom had a lovely double bed and two dressers.
We had a kitty that each of us contributed a certain amount each month. That paid for linen laundry, and food.
After living at the "Y'', it was my idea that no fellows were allowed in the apartment after 11:00 p.m., and that included Elwanda's husband. When he was in town, they went to a hotel. We were very compatible, and there were no serious disagreements. There was just once that Maxine came in after 11:00 p.m. and brought her date upstairs. Elwanda and I were in bed and heard noises in the living room. I marched in there in just my nightie. They had both been drinking, so I ordered him out. He left with no argument. Nothing was said the next day about it. Maxine knew our agreement, and did not feel bad.
One time, Maxine asked if I would go on a blind date with she and her date. I agreed, so the fellows came to pick us up. Rusty was the name of my date. He was a real character, and from the beginning I knew it would not be a memorable evening. He kept trying to tickle me and that went over like a lead balloon. Maxine' s fellow kept flirting with me. We took the trolley downtown and when we got there, Maxine said she needed to go to the restroom. We went into the Greyhound Bus station. The boys were to wait for us. Maxine told me she did not want to spend the evening with Rusty and her fellow obviously preferred me. It certainly made no difference to me, so we left by a back door and left the two soldiers in the bus terminal. We went to a movie and returned home about 11:00 p.m. Elwanda was waiting for us, and had been worried about us. The soldiers had phoned several times because they did not know what had happened to us.
Another time, the three of us went downtown to a movie. During the war, we had to wait in the lobby for long lengths of time, due to the crowds. After standing there for quite a while, I remarked that I was ready to leave. A voice behind me said, "I'll go with you." It was a Marine Captain, and very handsome, at that. So, he and I left. He took me to several night clubs. One had the "Cole Trio." That was Nat King Cole in his very early days. I had my first cocktail that evening. I really did not know one from another, so when I looked at the menu, I chose the prettiest name, a "Pink Lady." After that we danced until early a.m.
Elwanda and Maxine had waited up for me, and were relieved to see me. It was Elwanda and my turn to sleep in the bedroom. The next morning, I could not get my hand open. Inside was a gooey marshmallow. It was a token from the night before. I did not encourage any serious relationships, so bid the Captain good-bye for future dates.
George only came to the apartment a few times. Then he received his orders and reported to the carrier "Yorktown." His ship was sent to the Pacific because at that time most of the Carrier forces were there. I do not know how to explain it, but my feelings for George had faded somewhat, and at one point I offered his ring back, but he refused to accept it.
Aunt Carrie and Uncle Harry came to visit us at the apartment. They stayed at a hotel nearby, but spent the days with us. They liked our apartment, and were very proud of my achievements. We covered all the historical places of interest with them. Uncle Harry took pictures of us girls. It was very important for me that they approve.
In the spring of 1943, I took the train and went home to Alfred for a few days.
It was so good to see my room and once again walk on the campus. My first contact was Hannah Saunders. She mentioned that she had a date for Saturday night, and suggested that I go with George Kamakaris, and she would be with Malcom Crump. That sounded good, so I told my aunt that I would stay with Hannah for the night. We had a great time. One of the boys had a car, and we went to Hornell, the nearest big town. I joined them in having a few drinks. They were very surprised by that. Little did we know that Hannah would someday marry Mal. George was a Greek boy and in high school, he always seemed older, more like a man. He surprised me by being a lot of fun.
On the train ride back to D. C., I sat with a sailor. He had already traveled from San Francisco, an eight-hour trip. He was on his way to Pensacola, Florida to be stationed there. I felt sorry for him because he said he felt so dirty. He was to have a lay-over in D. C., so I offered if he wanted to come to the apartment for breakfast and shower, he was welcome. Of course, he accepted, and all went well. He was a very nice fellow. When he left, we shook hands, and he thanked me. He sent me several postcards from Florida, and eventually, I lost track of him.
Again, the girls were horrified, when they came home from work, and I told them of the kind deed. In today's world that would not be possible. What a shame.
In November 1943, Elwanda's husband was placed in a location where she could join him. So, again I had to make a decision. Maxine and I did not know anyone we cared to bring in for a roommate to share the apartment. I really had a desire to do more for our country. I decided to join the WAVES on my 20th birthday. Of course, because I was not 21 years, Aunt Carrie and Uncle Harty had to give consent. After asking if that was really what I wanted, they signed the papers.
My sister Ruth came to Washington to spend Christmas with me that year. We had a wonderful time. She was 17 years old and fascinated by the city. I took her out and to all the clubs. The only problem, was an ice storm had hit the city and after taking the trolley home; we had a very difficult time walking to the apartment. It was one step forward, two back until we reached the apartment. I promised her that I would divide my pretty dresses between her and Lottie when I joined the service.
She left after Christmas and then it was time to be sworn into the Navy.
Return to Table of Contents - Next: Chapter VI: My Navy Life