John Minard Sr.'s Family Tree
Branching into the Offspring of Son Solomon Minard Sr. and Grandson Nathan W. Minard
This very old hand-drawn family tree chart shows the lineage of John Minard Sr. (1766-1867) of Harrison County, OH, branching into the offspring of his son Solomon Minard Sr. and grandson Nathan W. Minard, who was a pioneer settler of Iowa, Missouri and Kansas.
The artist was "C. Furnas" of 824 Fillmore in Topeka, KS, as signed in the lower right hand corner. The relationship of Furnas to the Minards is unknown, but he was living in Topeka circa 1912, as listed in the Topeka City Directory.
We are posting this for anyone who wants to study it and compare it to their own notes. Click to see an enlarged via in a PDF format.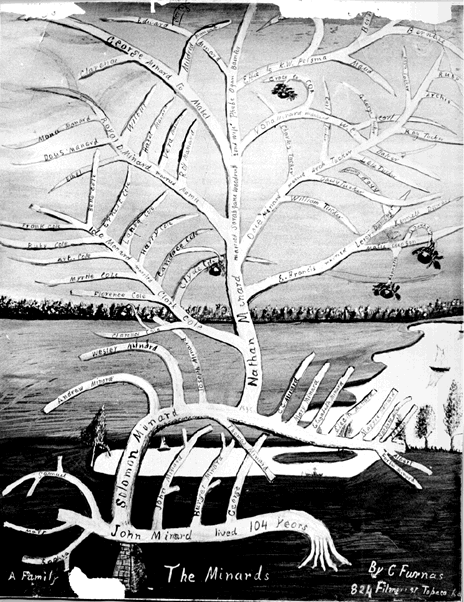 Copyright © 2001, 2003, 2010 Mark A. Miner