Solomon Minard Sr.
(1807-1857)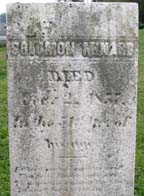 Jelloway Cemetery
Solomon Minard Sr. was born in 1807 in Pennsylvania, the son of John and Mary Magdalena (Kohl) Minard Sr. He migrated to Ohio as a boy, growing up on a farm in Scio, Harrison County.
Solomon was a twice-married carpenter who had a role in the construction of a college chapel in Ohio, among many other projects. His grave marker, dating to 1857, still stands though its legibility is fading with time and the elements.
On Aug. 4, 1829, at age 22, Solomon married Rachel Little ( ? -1840s), daughter of Adam and Mary Little, pioneer settlers of Harrison County.
The Littles were natives of Garrett County, MD, across the state line from where Solomon's parents had lived in Western Pennsylvania. Rachel's adult brother Joseph Little remained in Maryland and later raised one of Solomon's sons.
Solomon's known children to both his wives were Wesley M. Minard, Andrew Minard, Thomas G. Minard, Nathan W. Minard, Clenon C. Minard, Solomon Minard Jr., Elizabeth J. Shook, Electa "Licty" Ann Walker, Margaret J. Smale, Mary L. Minard, Joseph L. Minard, James Forbes Minard, Albert Everett Minard, Barbara Ellen Rose and Jason Chaledian Minard. We're still sorting out which children belong to which wife.

Marriage license from Harrison County
Descendants of Solomon and Rachel have a beautifully hand-drawn family tree chart of this family, starting with Solomon's father, and including known siblings Sophia, Samuel, John Jr., Burget and George. Click here to view an enlarged version of the tree.
Early in adult life, Solomon apparently resided in Goshen Township in nearby Tuscarawas County, and was active in the founding of the Bethlehem Methodist Episcopal Church. Their "meetings had been held in vacant cabins," states the 1884 book, The History of Tuscarawas County, Ohio, published by Warner, Beers & Co. The book lists Solomon's name among other pioneering members including Isaac and Jacob Walters, John Everhart, sister in law Mrs. Elizabeth Smith and Frederick Rummell.
Solomon purchased 20 acres of land in Harrison County in 1837 from his brother-and-sister in law, Robert and Elizabeth (Little) Smith. Solomon later sold the tract in 1843 to James Forbes Jr. The Smiths raised Solomon's daughter, Mary.
Solomon is known to have been a witness to the 1839 wedding of his brother, Samuel to Susannah Hueston, which took place in Harrison County. Solomon also is mentioned in the 1921 book, History of Carroll and Harrison Counties, Ohio.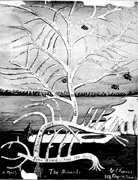 Minard family tree
The family is thought to have lived in Harrison County, OH at the time son Nathan was born in 1836. They were there were there at the time of the federal census of 1840.
Tragically, Rachel died sometime in the early 1840s. She left behind her husband and a large number of younger children. The cause of her untimely passing seems lost to history, but if learned, will be reported here.
After Rachel's death, two of her offspring were sent to live with aunts and uncles in other states and counties. Daughter Mary L. Minard went to live with an uncle and aunt, Robert and Elizabeth (Little) Smith, in Warren Township, Tuscarawas County, OH. Joseph apparently moved to Selbysport, Allegany County, in northern Maryland along the Pennsylvania border, into the home of another uncle and aunt, Joseph and Ann (Coddington) Little.
On May 7, 1845, in Tuscarawas County, OH, Solomon was married again, to Rebecca Metzler (1825- ? ), who was significantly younger.
Solomon was a talented worker with wood, and trained his sons in the craft. He was considered as a "joiner" or carpenter. There was a difference between the two occupations, according to the book, Jefferson and Monticello: Biography of a Builder, by Jack McLaughlin:
In the eighteenth century, a distinction was made between the crafts of carpentry and joinery. Carpenters engaged in house construction; joined worked on a smaller scale on furniture, paneling, and decorative details. In the language of a popular handbook, "Joynery is an Art … whereby several Pieces of Wood are so fitted and joined together by straight Lines, Miters, or any Bevel, that they shall seem one entire piece." The distinction was complicated by the fact that there were also housejoiners who cut the mortise and tenon joints and assembled the timber framing for house construction.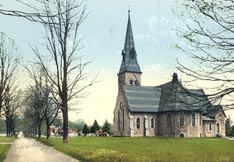 Rebuilt Rosse Hall, left, and the Church of the Holy Spirit
In about 1844-1845, during the building of the Rosse Chapel at Kenyon College in Gambier, Knox County, Solomon moved there to work. He labored as a joiner on the fine interior finishes of the woodwork. According to George Franklin Smythe's book, Kenyon College: Its First Century, the building was 100 feet in length, 66 feet wide, with a 40-feet deep chancel and a 10-foot square tower. The church's layout "was similar to that generally found in Episcopal churches at that period. There was no chancel, or recess, but a large area at the western end of the room was railed off; and here, within the enclosure, the Holy Table, the desk, and the pulpit were placed."
Yet the structure had its flaws, and "five or six years later the flat ceiling was found to be inadequately supported, and had to be propped with long timbers, whole tree trunks with the bark on... Rosse Chapel was not an attractive place of worship, having been finished off within but with little regard for the beauty of holiness." The building burned in 1897, and was rebuilt, though the chapel was moved to a much grander structure, which today is known as the Church of the Holy Spirit. Today Rosse Hall houses the Department of Music, including a 660-seat auditorium, 15 practice rooms, the choral library and faculty offices.
In 1850, when the federal census was taken, Solomon and Rebecca were residing in Goshen Township, Tuscarawas County. Among their next door neighbors were Solomon's former brother/sister in-law, Robert and Elizabeth (Little) Smith.

Solomon and Rebecca's farm near Jelloway, Knox County, Ohio, circa 2005
While in Goshen, Solomon was a member of the Methodist Episcopal church. According to the 1884 book The History of Tuscarawas County, Ohio:
...a building known as the Rehobeth Church, was erected [in 1850] near the north line of Lot 2, about a mile southwest of the present structure, the land for the church being the donation of Ransom Newton. Earlier meetings had been held in vacant cabins, and among the early members were ... Solomon Minard... This structure was used until Bethlehem Church was built [in 1877].
In 1856, when Solomon's father wrote a will, he directed that Solomon receive $80 in cash payments within five years of the father's death. However, the father did not die until 1867, after Solomon himself had died, and it is not known if his heirs ever received the inheritance.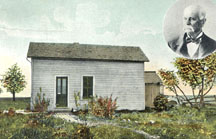 Home of Daniel D. Emmett, Mt. Vernon
At some point, Solomon purchased 40 acres of farmland near Jelloway in Knox County in the northeast quarter of Section 7, Township 8 and Range 11. The tract was considered part of the unappropriated lands in the "Military District" of Knox County. It is located about 15 miles to the northeast of the county seat, Mt. Vernon.
Solomon was a contemporary of one of Mt. Vernon's most celebrated citizens -- Daniel Decatur Emmett (1815-1904), author of the famous Civil War song, Dixie. Perhaps Solomon and Emmett even knew each other in dealings in the village. Dixie became the official anthem of the Confederate Army, and generally of the Southern states. After the Civil War ended, President Abraham Lincoln asked that the song be played for him, saying: "I thought 'Dixie' one of the best tunes I ever heard." Emmett is buried in Mound View Cemetery in Mt. Vernon, where many of Solomon's descendants also rest for eternity.
Sadly, shortly after their youngest daughter Barbara Ellen was born, Solomon passed away on Dec. 2, 1857 in Knox County. He was only age 51. He was buried at the Jelloway Methodist Episcopal Church Cemetery. The text on his grave marker -- still legible when photographed in August 2005 -- reads as follows:
SOLOMON MINARD
DIED
Dec. 2, 1857
In the 51st year of
his age
His farmland was ordered to be sold to pay debts of the estate. The tract contained four acres of wheat and four acres of rye in addition to plantings of corn, potatoes and buckwheat. As the estate was settled, Rebecca was allowed to keep 25 of the 40 acres of land as her dowry and as a homestead for the children. She also was allowed to retain two spinning wheels, one parlor stove, one cook stove, the family Bible, one cow, four sheep, all wearing apparel and clothing, four beds and bedding, "all necessary for the use of family, all cooking utensils," one table, chairs and dinnerware.

Researcher Eugene Podraza (arrow) stands at Solomon's grave at the gently
rolling Jelloway Cemetery, photographed in August 2005
A legal advertisement, naming all of Solomon's heirs, was published in the Mt. Vernon Republican. The original today is found in Solomon's estate papers in the Knox County courthouse in Mt. Vernon.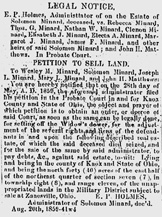 Legal ad naming Solomon's heirs
At the time of his death, Solomon had seven children under the age of 16, with the other older children living in Knox County, except Wesley and Solomon Jr., who had migrated to Henry County, IL; Mary, who resided in Tuscarawas County; and Joseph, unknown.
As a young widow, Rebecca migrated to the midwest with her young children, settling in Fairfield, Jefferson County, IA. She was there when the federal census was taken in 1870. At the time, she was working as a housekeeper for a Georgia-born farmer named Bartlett Travis, age 72. Also residing in the household were her daughter Ellen Miner (age 12) and 22-year-old Iowan Belle Johnson, a housekeeper.
Many of her children and stepchildren also lived in Iowa or Missouri at one time or another -- Andrew, Nathan, Solomon Jr., Electa Walker, James 'Forbes', Jason and Barbara Ellen Rose.
Her fate after that is unknown. It is possible that she returned to Ohio, where her youngest daughter Barbara Ellen returned in adulthood.
W. Flora Shepherd's 1979 volume, Family Records of Maxley and Hilliard, Cole and Hathaway contains information about the Minards that rings true with many but not all of the facts we have gathered. It records that Solomon and Rachel had 13 children. It also says that Solomon's father was born in 1790 and lived to age 104, passing away in 1894, which is partially true. (He actually was born in 1766 and died in 1867 at age 101.) The book said the Minards are of the Dunkard faith (a German form of Baptist), and that their family origin "was originally Von Minard-Minarde-Minard. Originating in France, they left, going into Germany."
Great-great granddaughter Mary Jane (Armstrong) Henney of the Ohio Genealogical Society performed a tremendous amount of research on this line.
Copyright © 2001-2005, 2010, 2015 Mark A. Miner
Lincoln quote from Abraham Lincoln: The War Years, Vol. 4, by Carl Sandburg. Sketch of Mt. Vernon from Historical Collections of Ohio (1888) by Henry Howe.