Home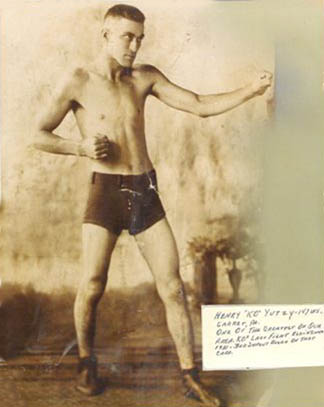 Henry "K.O." Yutzy was a well-known boxer based in Cumberland, Allegany County, MD. In 1920, he married Edith Minerd of Dunbar, Fayette County, PA, the daughter of James W. and Minerva (Bodkin) Minerd. "K.O." was an employee of the Baltimore & Ohio Railroad, and a boxer "remembered by boxing fans as 'the best slambang fighter' Cumberland ever had," according to an article in the Cumberland News. "K.O." began his career at age 14 as a circus boxer in Garrett, Somerset County, PA. Shortly afterward, his contract was purchased by a boxing promoter. Said the News, Henry was:
...active in the ring from 1926 to 1936 and his best fighting weight was 143 pounds. He liked to fight so much that he never asked, nor concerned himself about the win-loss record or little else about his opponent. He was game to the core and the rougher the fight got the better he seemed to like it.... His most prized triumph was scored here in the National Guard armory the night he knocked out Johnny Carey of Erie, Pa.,... The knockout came in the first round.
He "was so popular in Youngstown, Ohio," said the News, "that he appeared in 11 shows there." In older age, "K.O." was honored with a life membership at the annual dinner of The Has Beens, Inc., at the Shrine Club in Cumberland.
Copyright © 2004 Mark A. Miner