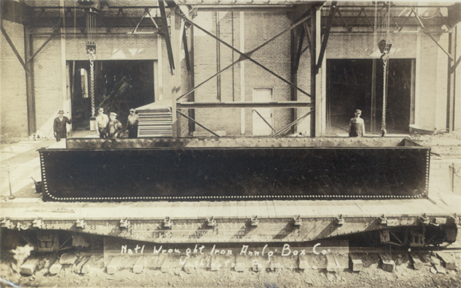 Standing at far right in April 1926, Norton Miner Bedillion proudly shows off his industrial handiwork -- a 16-ton wrought iron container that he and co-workers B. Donley and Jim Hamrak riveted as employees of the National Wrought Iron Annealing Box Company of Washington, PA.
According to notes on the back of the photograph, the box was "40 wide, 48 deep and 32 feet long. Bottom and Ends 1 1/4 thick. 2-sided plates 1 3/4 thick. 4 x 4 x 3/4 angles on sides. 1 1/8 x 5 rivets corners rivets 1 1/8 x 6 1/4." Note the flatbed conveyor and rails on which the box sits.
Nort retired from National Annealing Box in 1953, after a career there of nearly 50 years.
Copyright © 2005 Mark A. Miner