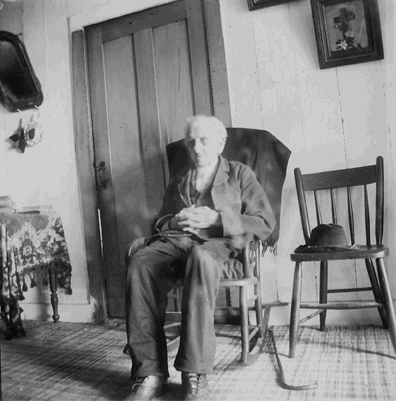 When Indiana farmer John Minerd Jr. died in March 1898, at the age of 97, a newspaper said he was "probably the oldest man in Allen county, if not in the state." He and his wife Barbara (Shaeffer) Minerd were pioneer settlers of western Ohio and eastern Indiana. German was spoken in their home until their children were old enough to attend school. At his death, John had 56 grandchildren and 60-plus great-grandchildren. Their farm, on the Indiana-Ohio state line, has been handed down through five consecutive generations of descendants named Minerd, and currently is owned by a great-great grandson.
John's lengthy obituary in the Monroeville (IN) Weekly Breeze provides fascinating insights into the experiences of his long life. Several excerpts are quoted here:
We doubt if there are many now living who will have the privilege of seeing the number of years that the departed did, although none will be compelled to toil and labor in the forests in order to gain a livelihood as he did. Those pioneer days are past with them, and those like father Minerd are rapidly laying their armor down and soon the last one will be called hence, as there are but few to be called, especially in this section.
It was interesting for the younger generation to sit and listen to the fire place and log cabin incidents as related by father Minerd and it was wonderful for one of his age to note how active he was up to only a few days before his death. His mind was bright and intelligent and could relate those historical facts to the last.
Copyright © 2002 Mark A. Miner