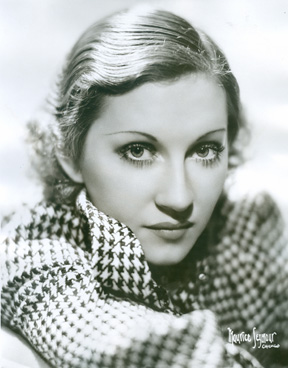 Deane Janis, a singer and Columbia Records star, was the wife of vaudeville performer and ukulele pioneer Bobby "Uke" Henshaw. She was a redheaded beauty from Omaha who appeared with the Hal Kemp Orchestra in the early 1930s, a band that was noted for its signature sound featuring full clarinet tones and muted trumpets.
Deane appeared as a singer/performer in three films during the later '30s -- Roof Tops of Manhattan (1935, directed by Joseph Henabery), Behind the Mike (Universal, 1937, portraying a singer, directed by Sidney Salkow) and All-American Sweetheart (1937, portraying a singer, directed by Lambert Hillyer). Among her more popular recorded songs with Kemp were "Boulevard of Broken Dreams" and "Remember My Forgotten Man" (1933). She also was the vocalist circa 1933-1935 for the Camel Caravan Radio Show, sponsored by Camel Cigarettes, on CBS-Radio. Click to hear her sing in a Roof Tops clip on YouTube.
Deane is mentioned in the books, On the Air: The Encyclopedia of Old Time Radio, by John Dunning and The Big Band Almanac by Leo Walker. Her husband "Uke" was featured as our "Photo of the Month" in December 2008.