Home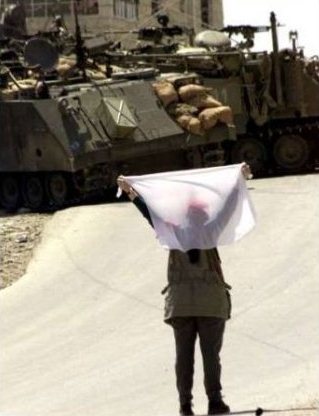 In this holiday season of joy and peace, we are reminded that all is not at peace throughout the world, and that many members of our family put their lives on the line for their beliefs. This stunning 2002 Reuters photograph by Nayef Hashlamoun, taken at the entrance to the Palestinian town of Doura in Hebron, on the West Bank, shows Kathleen Kern of the Christian Peacemaker Teams (CPT). Placing her personal safety at risk, she holds up a white scarf to attract the attention of Israeli armed personnel carriers, hoping to protect the rights of a Palestinian woman after Israeli soldiers unlawfully had entered the woman's home.

CPT is a faith-based organization that supports Palestinian-led, nonviolent, grassroots resistance to the Israeli occupation. By collaborating with local Israeli and Palestinian peacemakers and educating people in their home communities, CPT helps create a space for justice and peace. Among their regular activities are accompanying Palestinian children walking to and from school; accompanying Palestinian shepherds and farmers to fields where they have often been assaulted by settlers; and monitoring treatment of Palestinians at Israeli military checkpoints and roadblocks.
Kathleen currently serves on the CPT staff support team as editor of CPTNet, providing daily news updates, reports, reflections, prayer requests and action alerts. She also recently authored a new book, Because the Angels, a novel about an Iraqi militant group's kidnapping related to a human rights organization worker. Since 1993, Kathleen has served on other CPT assignments in Haiti; Washington DC; Chiapas, Mexico; Colombia; and the Democratic Republic of Congo. She is the daughter and stepdaughter of Dr. G. Richard Kern and his wife Sharon (Sheldon) Kern of Findlay, OH, of the family of Dorothy (Stoner) Sheldon.
Minerd.com wishes you and your family a blessed, peaceful Christmas/Hanukkah season.

VisitPittsburgh.com is the promotional sponsor of this page.
Photo used with consent of Nayef Hashlamoun. Copyright © 2011 Mark A. Miner