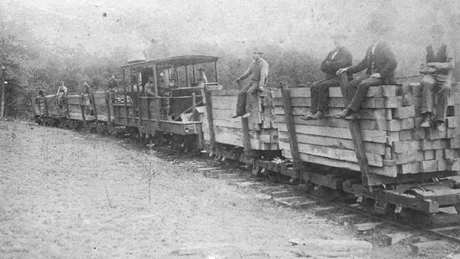 Though logging still provides employment in pockets of America, its heyday in Western Pennsylvania was in the late 1800s and early 1900s. The industry was supported by a labyrinth of small railroads zigzagging through the region's heavily wooded mountains. This photograph shows Civil War veteran David Harbaugh seated at far right, on a stack of cut lumber with his arms crossed, though his facial features are virtually unrecognizable. The image also appears in the 1973 book, 'Stemwinders' in the Laurel Highlands by Benjamin F.G. Kline. The book's caption states:
A train of the Laurel Hill Lumber Company enroute to Kutztown with 6 cars of finished lumber. The trucks under the log cars are evidently of local manufacture. The Class A Climax is No. 179 and still bears the factory lettering.
The book credits Harbaugh's grandson, Cyril "Edgar" Ream, for providing information in the chapter on operations in Somerset County, PA. Wrote Kline: "Since a chance meeting in 1965, Edgar Ream has constantly sought the material that helped to unravel the tangled skein of affairs surrounding Confluence." The volume was part of the publication series, Logging Railroad Era of Lumbering in Pennsylvania.
Copyright © 2002 Mark A. Miner