Home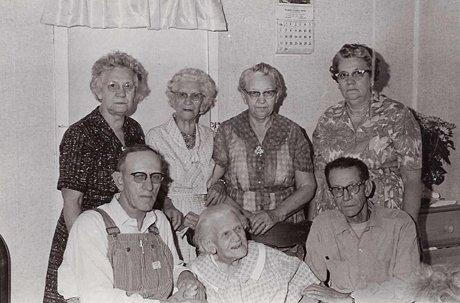 Several days before her 100th birthday in October 1966, Iowa pioneer Mary Rebecca (Knepple) Minard (seated, center) was photographed surrounded by some of her 10 children. She passed away the following year, in 1967, at age 101.
Mary Rebecca resided in Clarinda, Iowa for many years. She was the widow of Albert Everett Minard (1859-1929), seen at left, a native of Mt. Vernon, Knox County, Ohio, and the son of Solomon and Rebecca (Metzler) Minard Sr.
The Minards had 10 children, born over more than a quarter century between 1883 and 1909 -- Edwin Forest "Bob" Minard, Clarence Clyde "C.C." Minard, Eltha Maud Minard, Mabel Mae Goff, Jesse Ernest Minard, twins Ostia "Nettie" Ingersoll Burwell and Ostie Ettie Henneman, Lola Rebecca Crawford, George Harold Minard and Albert D. Minard.
Shown in the back row, left to right: Ostia (Oscie), Mabel Mae, Ostie and Lola. Bottom row, left to right: George Harold (Bibs), Mary Rebecca and Edwin Forest (Bob).
Copyright © 2004-2005 Mark A. Miner