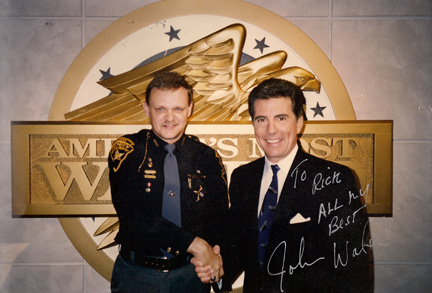 Making an early guest appearance on television's long-running hit, "America's Most Wanted," Richard Dean "Rick" Minerd (left) shakes hands with well-known show host John Walsh in Washington, DC circa October 1991 -- with Walsh's signature appearing on the photographic print. The episode featured our cousin in his role as a public affairs officer and deputy sheriff who pursued an escaped rapist in Columbus, Franklin County, Ohio.
Rick recently has authored a trio of his memoirs in book form. The first is Life Is A Jukebox: Real Stories of Triumphs and Tragedies, issued by Trafford Publishing and available on Amazon.com. The volume is described as "a police chief's look back at both sides of the police tape and the unlikely circumstances that made him step from one side to the other." He also has authored the newly released Honey, I Promise!, dealing with domestic violence and how that can destroy lives unless victims take action to pursue change. A third book, now in production, is entitled Deputy in Disguise, to be released on Xlibris Publications in late winter.
During his career, Rick frequently was quoted in the Columbus Dispatch and on local radio and television in connection with crime-fighting activities. He was named and quoted in Time Magazine for his efforts to help catch Interstate sniper Charles McCoy along I-270 in central Ohio, and has been mentioned in the New York Times, USA Today and Cleveland Plain Dealer. Prior to law enforcement, Rick was a radio news, sports and talk-show broadcaster with some of the most popular radio stations in Columbus -- WTVN, WCOL, WNCI and WMNI.
He is the son of the late Basil Alonzo and Lillian (Greenberg) Minerd Jr. and grandson ofthe late Basil Alonzo and Audrey (Lonas) Minerd Sr. of Athens County, OH.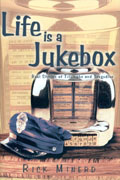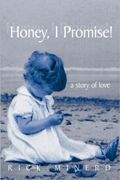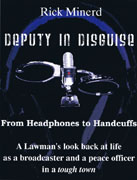 Cover artwork for Rick's trio of books
Copyright © 2009-2010 Mark A. Miner