Home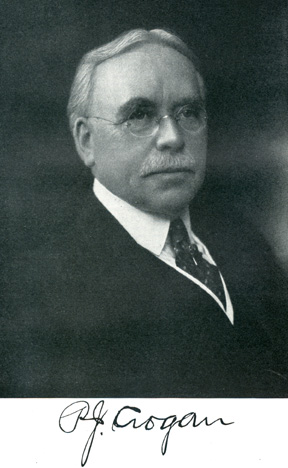 Patrick J. Crogan, a prominent lawyer in Kingwood, Preston County, WV, was widely known as the "Dean of the West Virginia Bar" who had "one of the largest law libraries in the state" in the late 1800s and early 1900s. In summarizing Patrick's life and career, the Preston County Journal once said:
In 1897 Mr. Crogan was named head of the West Virginia State Bar Association and was dean of the state bar many years prior to his death. During his legal career, he was identified with some of the most important court cases in the state. He represented a great number of large utilities. A strong Democrat, he had often been urged to run for Congress, Attorney General and the State Supreme Court, but always refused. He retired from active practice in 1944.
The 1923 book, History of West Virginia, Old and New, by James Morton Callahan, features a profile of Patrick and says that his "attainments as a lawyers, one who has watched his course for a quarter of a century estimates him as one of the strong and able men of the Preston County bar, with a high reputation in the State and Federal courts, in which he has enjoyed and still enjoys an extensive practice." It goes on to say: "Undoubtedly he is one of the ablest lawyers of the state, and has made an enviable reputation both in the criminal and civil branches and by his ability as a corporation lawyer. He is a clear, cogent and convincing debater both orally and by written brief, and his sound and thorough knowledge of the law extends to practically all its branches."
Patrick's wife, Luella (Fawcett) Crogan, represents two branches of our family. Her father was Charles Wesley Fawcett, a railroader of Preston County, and her step-mother, Julia (Hanshaw) Fawcett, was of a different branch of the same West Virginia pioneer clan who had helped her parents run the Hanshaw House hotel in Independence, Preston County.
Copyright © 2009 Mark A. Miner