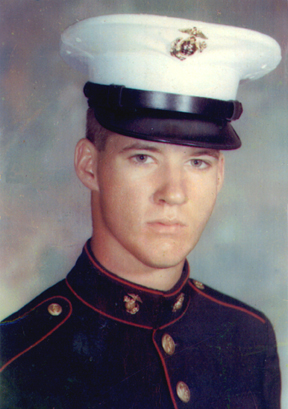 As Minerd.com celebrates its 10th anniversary in May, the image selected for our milestone "Photo of the Month" is a haunting portrait of Private First Class Lawrence Frederick Greer. A U.S. Marine, and a resident of near Canonsburg, Washington County, PA, he was killed in action during the Vietnam War, at the age of 19.
A 1968 graduate of Canon McMillan High School, Lawrence trained at Camp Pendleton, CA before being shipped out to Southeast Asia. He died in Quang Tri Province, during a defensive stand against the enemy on Feb. 2, 1969.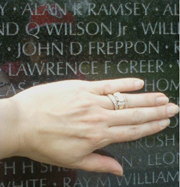 Vietnam War memorial
in Washington DC
Lawrence's remains were returned stateside and laid to rest in the Oak Spring Cemetery in Canonsburg. His name is inscribed on the Vietnam War Memorial in Washington, DC. He was honored at our 1998 family reunion, with a special bouquet placed at his grave. Over the years, he has been named and pictured in the Pittsburgh Post-Gazette and Washington Observer-Reporter.
Lawrence is one of scores of cousins known to have sacrificed his life in military service during war time, from the American Civil War to the War on Terror in Iraq. Ironically, his great grand-uncle, William Curtis McKnight, was killed in World War I while on duty in France. John Louis Morgan Jr. is the only other cousin known to have died in Vietnam. But sadly, there could well be more.
This image, showing our cousin in the prime of his young, far-too-short manhood, was a gift from his parents Lawrence and Freeda (Pratten) Greer. Minerd.com uses this image as a symbol to honor and thank our fighting men and women, past and present, most especially those who have given the fullest possible measure of service to their nation.
Copyright © 2010 Mark A. Miner