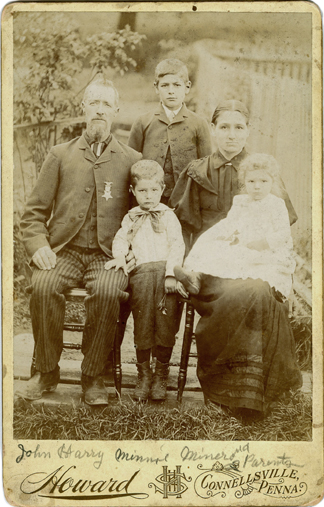 Proudly sporting his official medal signifying membership in the Grand Army of the Republic, a Civil War veterans' organization, Ephraim Miner and his wife Rosetta (Harbaugh) Miner of Kingwood, Somerset County, PA pose with their children circa 1894 in an image taken by a photographer from Howard Studio in Connellsville, Fayette County, PA.
Although not apparent in this image, some 31 years before, Ephraim was deafened by cannonfire, and his feet suffered severe frostbite, at the Civil War Battle of Fredericksburg, Virginia. In that fight, he and his fellow soldiers with the 142nd Pennsylvania Volunteer Infantry were among the few Union regiments under the command of Ambrose Burnside and George Meade to break through enemy lines, only to be savagely repulsed by Confederate units led by Stonewall Jackson and A.P. Hill.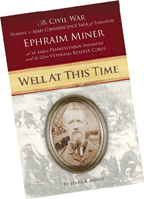 Unable to continue serving with his regiment, Ephraim was treated in a field hospital in Fredericksburg and then sent to military hospitals in Washington, DC and Philadelphia. He may well have received care from Clara Barton (founder of the American Red Cross), Louisa May Alcott (author of Little Women) and Walt Whitman (author of Leaves of Grass), who nursed Union wounded at Fredericksburg. Later, assigned to hospitals in Washington, D.C., and while sitting on Capitol Hill, he wrote in his diary and may well have laid eyes upon President Lincoln. It is entirely possible that the diary book may have been a gift from Whitman himself, who is known to have distributed inexpensive, blank diaries to convalescing soldiers at the same hospitals in Washington where Ephraim stayed. In all, Ephraim spent more than two-and-a-half years in Army hospitals and later on light duty with the 22nd Veterans Reserve Corps, until the war's end.
Ephraim's Civil War diaries for 1864 and 1865, never before published, have finally been brought to light, and will be printed in book form this year under the title Well At This Time. The book features scans of Ephraim's handwritten entries, as well as more than 100 rare Civil War engravings and family photographs. Researched, written and edited by the soldier's great-great grand nephew, the founder of this website, Well At This Time is available in three attractive, lushly designed formats. You will want to reserve a copy for your family library and to give as legacy gifts to family members and friends. More >>>
Ephraim and all 107 Civil War cousin-veterans of our Minerd-Minard-Miner-Minor family will be honored at our upcoming national family reunion on June 25-26, 2011, entitled "A Visit from a Civil War Soldier." The event will commemorate the 150th anniversary of the war, and will be held at the Indian Creek Valley Community Center near Indian Head, PA. Details.