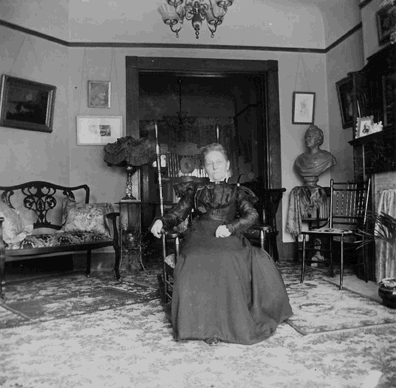 While many of our cousins of the mid-1800s were toiling on farms and railroads, and in coal mines and steel mills, one of the first to move into the city of Chicago was Amy (Minerd) Tilbury Thorne and her husband. Amy is believed to have had this remarkable photograph taken in the 1890s. She obviously enjoyed Victorian furnishings -- note the fancy chandelier, framed pictures hanging down at angles, the ornate love seat and carpet pattern as well as the bust in the corner.
One of Amy's daughters in law, Eva (Marsh) Tilbury, was certified to teach in 1879 by the City of Chicago Board of Education.
Chicago in the 1890s had come of age as a major metropolis. In his famous poem, Carl Sandburg called Chicago the "Hog butcher to the world, tool maker, stacker of wheat, player with railroads and the nation's freight handler; Stormy, husky, brawling, City of the Big Shoulders."
Over time, we hope to learn more about the role our Tilbury-Thorne branch played in the life and culture of one of our nation's largest cities.
Copyright © 2003 Mark A. Miner