Home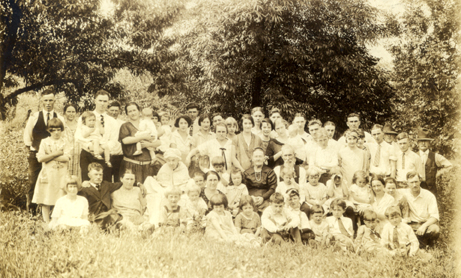 When two Minerd sisters married McKnight brothers in the mid-1800s, it set a tone for generations of closeness between the descendants of the two branches of our clan. Here, offspring gather on the Fourth (or possibly the fifth) of July in 1925 for a marvelous group photo. In fact, some descendants still renew ties today at McKnight Reunions, most recently held at Coopers Rock State Park near Morgantown, WV in June 2004. Click here to see a super-enlarged view of this image to study the faces more closely.
Pictured here are children, grandchildren, great-grandchildren and great-great grandchildren of William and Mahala (Minerd) McKnight and Henry and Barbara (Minerd) McKnight of Fayette County, PA. Both Mahala and Barbara were granddaughters of pioneer and Revolutionary War patriot Jacob and Maria (Nein) Minerd Sr. of Fayette/Somerset Counties, PA. Thanks to the diligence of William and Mahala's great-granddaughter, Sara Seddon Dynes, who wrote the identities on the back of an envelope, most of the names of this group are known. We hope to add even more identities when determined.
Children in front, left to right (starting with the girl in front of bonnet-wearing Laura Nutt Wilgus): Dora Horstman, unknown girl, Beatrice Rebecca McKnight, Laura Mae McKnight Ames, George Swaney McKnight, Arthur Horstman, the rest unknown.
First row, left to right: unknown girl, Charles McKnight, Laura McKnight Horstman, Laura Nutt Wilgus, June McKnight, unknown child, Anna McKnight Seddon, Lorraine Garrison McKnight, Martha Nutt McKnight and husband Henry McKnight holding Paul, Pauline McKnight Wilson, girl cousin from Charles McKnight family, Laura Edna Radcliffe, "Rags," Lelia Kate Cyphert, Nora Victor McKnight holding "Rags," Blanche Garrison McKnight, Frank Trevor McKnight.
Second row, left to right: unknown girl, Thomas McKnight holding Mary, wife and child of Charles McKnight clan, Dorothy McKnight, Maggie McCune McKnight, Eleanor Pratten White, Peg McKnight Garletts, Martha McKnight Bush, Annabell Horstman Smith with Kathryn, Wilbert "Bick" Horstman, Sara Sedden Dynes, family friend Betty Bayes, Ted Pratten, Bill Seddon, and photographer Will Nutt of Point Marion, PA.
Back row, left to right: Clarence "Jay" McKnight of Dawson, PA, unknown woman and man, unknown woman, Charles "Edward" McKnight of Dawson, Henry Horstman, John Pratten, Herbert Mackey, Howard Horstman, Walter Smith, Alex Mackey, James McKnight, unknown man.
Copyright © 2004, 2008 Mark A. Miner