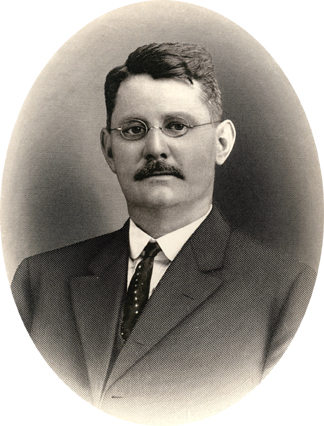 William Arthur Stone -- husband of Bertha May Ingles -- overcame serious physical and educational obstacles to become a leading entrepreneur, banker, and coal and coke industrialist of Uniontown, Fayette County, just south of Pittsburgh, PA. He was active in cultural/humanitarian circles and helped raise funds to erect the internationally-known "Braddock's Grave" granite obelisk along the National Road (U.S. Route 40), on which his name is inscribed on a plaque. This portrait is from the 1912 book, Genealogical and Personal History of Fayette and Greene Counties, authored by John W. Jordan and James Hadden.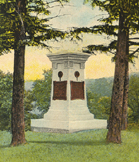 William understood the importance of history and tourism to the economic well-being of the region. The grave monument marks the final resting place of British General Edward Braddock, who was mortally wounded in battle during the French and Indian War, near present-day Pittsburgh. The dying Braddock was brought back to Chalk Hill, in the mountains above Uniontown, where he finally expired. Braddock's young aide-de-camp, George Washington, presided over the general's burial and ordered the grave to be dug in the middle of the road to hide its location and keep Indians from exhuming and scalping the corpse.
William built his own source of wealth -- a portfolio of coal and coke companies -- during the heyday of the iron and steel industries in Southwestern Pennsylvania. To ensure additional sources of capital for his ventures, he helped create Uniontown's Citizens Title & Trust Company, becoming a large stockholder, board member and vice president. He also helped establish the Union Trust Company of Uniontown, serving as president and director. And to promote his small town, in Hopwood on the outskirts of Uniontown, he and Bertha edited and managed a small monthly newspaper, The Hopwood Chronicle. Later, he launched The Daily Record to support a progressive independent political party. More.

VisitPittsburgh.com is the promotional sponsor of this page.
Copyright © 2009-2010 Mark A. Miner