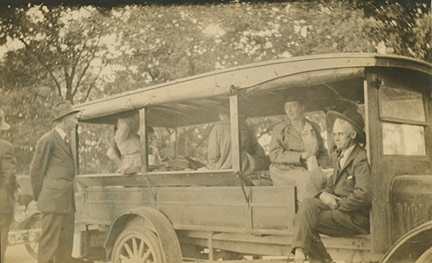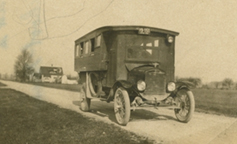 BACK TO SCHOOL! In the early 1900s, in rural Wood County, Ohio, William Samuel Jewell, son of William L. and Pera (Minerd) Jewell, operated a school bus, transporting students to and from school each day.
Apparently William was permitted to use the vehicle for occasional personal use, as the image above shows him seated on the front step at a family outing at Walbridge Park in Toledo, Ohio. His wife Rachel "Alvira" (Kring) Jewell is in the "shotgun" seat, with daughter in law Hope (Shedron) Jewell in the back and daughter Ethel "Marie" Kirian in the middle, and with daughter in law Lula "Ruth" (Creager) Jewell in the background. Son Walter R. Jewell stands beside the bus looking inward.
The rambling bus, with its side panels up, is seen at left during one of William's daily sojourns.
Copyright © 2009 Mark A. Miner