Record Reunion Crowd Honors
Our 'Pioneer-Patriot' Ancestors
More Than 140 Cousins Attend from 36 Pennsylvania
Towns and 10 States; New Officers Elected
2001 reunion crowd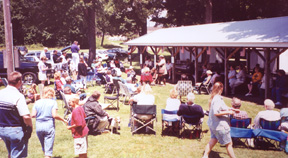 Sun-drenched picnickers
KINGWOOD and MILL RUN, PA -- Setting a new attendance record, more than 140 people came to the recent two-day national Minerd-Miner-Minor Reunion.
Together, we honored our "pioneer-patriot" ancestors who settled in Western Pennsylvania more than two centuries ago.
Pioneer ancestor, Jacob Minerd Sr., acknowledged as a Revolutionary War veteran, moved with his wife Maria to the border of Fayette-Somerset Counties in 1791. Today, the number of their descendants and spouses has mushroomed to 13,600, and counting.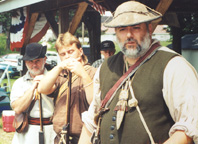 Willy Frankfort
The highlights included a presentation on frontier life by re-enactor Willy Frankfort (seen here), a walking tour of the cemetery where the pioneers are buried, and a workshop on researching Revolutionary War soldiers.
Our clan's 16th annual reunion, held in Kingwood and Mill Run, drew cousins from 36 Pennsylvania towns, and from 10 states.
At our picnic on Saturday July 14, Willy and his group focused on the dangers and joys of frontier life in the era in which the Minerd pioneers lived. They focused on hunting and protecting against Indians as well as gathering at weddings as well as other social events.
| | |
| --- | --- |
| | |
| Doris Hawker | Sid Miller |
Filling vacant committee positions, Doris (Sands) Hawker (left) of Morgantown, WV was elected Treasurer and Sid Miller (right) of Mont Alto, PA was elected Vice President. The voting was unanimous, demonstrating the dedication and commitment Doris and Sid have provided us the past several years. Sid also took a group photograph for the sixth straight year, and produced attractive, limited edition reunion shirts.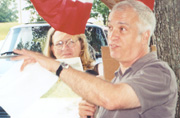 Eugene Podraza
Eugene Podraza, of Lawrenceville, N.J., seen here, gave a fascinating update on his quest to find our family's roots in the Palatine region of Germany. Mark Miner of Beaver, PA, president of the reunion committee, described the progress to expand our popular website, www.minerd.com.
Prizes were awarded to Uniontown's Mildred Z. Minerd, age 89, as the oldest family member in attendance; Mia Schweizer, age 3 months, of Harrison City, Pa., the youngest there; Bill Warrick of Bothell, WA and Rita Ramirez of Fort Worth, TX, for traveling the furthest; and Lynn (Pfeifer) Shrum of Beaver as the most recent newlywed.
Door prizes included jars of home-produced honey by Alvin and Pauline (Ream) Leslie of Fort Hill, PA, a special candle by Bonnie (Pfeifer) Morell of Rochester, PA and children's toys by Liz (Zoeller) Miner of Beaver. Wendy (King) Zeller of Stevensville, MD and her family led games for the children, and created a special keepsake favor for everyone in attendance.

Sunny afternoon
Cemetery tour
~ Sunday ~
On Sunday, July 15, the group toured the cemetery of the historic Indian Creek Baptist Church in Mill Run, and worshipped together in the sanctuary as a family.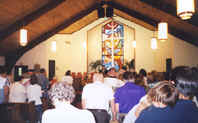 Indian Creek Baptist Church
We stopped at more than 10 sites, which featured our clan's connection with American life and culture -- journalism, the Civil War, Fallingwater, Major League Baseball, Hollywood filmmaking, coal mining, railroading and church volunteerism.
Everyone who attended received a copy of Western Pennsylvania History magazine, with a cover story about our cousin and famed "Mountain Poet" Allen Edward Harbaugh, who is buried here in an unmarked grave.
Though preparing for the service, Rev. John B. Davis not only joined our cemetery tour group but graciously provided a prayer of thanksgiving for families. After the tour concluded, the group attended worship services at the church, seen at right, led by Rev. Davis.
| | |
| --- | --- |
| | |
| Koontz | Howard |
A number of cousins who are members of the church congregation stopped to greet our group after the service.
Following the worship service, we enjoyed a picnic lunch in the historic grove of the church.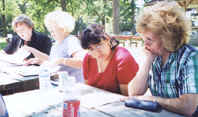 Researchers compare notes
Nancy Koontz (left), Regent of the Great Crossings Chapter of the DAR, and Duane Howard (right), President of the SAR of Somerset County, PA, led an interesting and lively panel discussion on how to join their organizations. Cousins who have already begun the application process shared their experiences and compared notes, seen here.
This year's theme was part of ongoing research to measure the long-term impact of the clan on society.
In past years, reunions have honored many hundreds of coal, coke and steel laborers; military veterans, and educators, and have envisioned what 21st century families will be like.
Next year's reunion, our 17th, will be held the weekend of July 13-14, 2002.
Copyright © 2001 Mark A. Miner