Thanks to the generosity of the late Yvonne L. (Blair) Cossell-Morgan, this photo album page shows 47 images of mainly unknown Shelkey family members and friends of the 19th century, some dating to the Civil War. The original album is known to have been in the possession of Wesley Rittenhouse and Adah P. (Shelkey) Blair, passed down to their son Jesse Washabaugh Blair and his wife Tena Louise Brown.
The Shelkeys married into our family in the branches of William Henry and Missouri (Shelkey) Minerd of Uniontown, PA and John Eli and Henrietta (Shelkey) Younkin (of the family of "Devil Jake" Younkin) of Connellsville, PA. Family friends John "Franklin" and Rebecca (Henry) Shelkey are known to have attended the 1929 Harbaugh Reunion.
Do any of the images look familiar? Can you help identify these unknown faces, otherwise lost to history? Let us know your thoughts or even your suspicions.
Shelkey unknown #01

Shelkey unknown #03

Shelkey unknown #04

Shelkey unknown #05

Shelkey unknown #06

Shelkey unknown #07

Shelkey unknown #08

Shelkey unknown #09

Shelkey unknown #10

Shelkey unknown #11

Shelkey unknown #12

Shelkey unknown #13

Shelkey unknown #14

Shelkey unknown #15

Shelkey unknown #16

Shelkey unknown #17

Shelkey unknown #18

Shelkey unknown #19

Shelkey unknown #20

Shelkey unknown #21

Shelkey unknown #22

Shelkey unknown #23

Shelkey unknown #24

Shelkey unknown #25

Shelkey unknown #26

Shelkey unknown #27 --
possibly "Bert Blair"

Shelkey unknown #28 --
believed to be Lizzie and Joe Carr

Shelkey unknown #29

Shelkey unknown #30

Shelkey #31 - marked "Eli Lynn
to Grandmother Shulkey"

Shelkey unknown #32

Shelkey unknown #33

Shelkey unknown #34

Shelkey unknown #35

Shelkey #36 - signed
" Erastus O. Blair"

Shelkey unknown #37

Shelkey unknown #38

Shelkey unknown #39

Shelkey unknown #40

Shelkey unknown #41

Shelkey unknown #43

Shelkey unknown #44

Shelkey unknown #45

Shelkey unknown #46

Shelkey unknown #47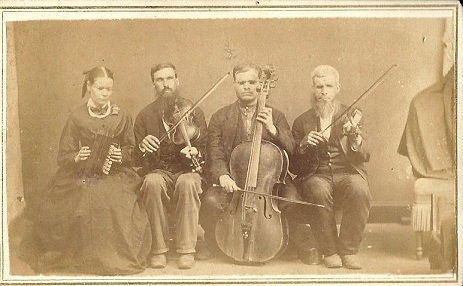 Shelkey unknown #42 - appears to be a promotional photograph
of a blind quartet of accordion, violin and cello
Page copyright © 2016 Mark A. Mine
r
Images courtesy the late Yvonne L. (Blair) Cossell-Morgan