Home

A Four Generation Saga
The Story of Phoebe (Thorpe) Workman
By Betty Jo (Workman) Canter, Lt. Col., Ret.
Lt. Col. Betty Jo (Workman) Wilson Canter, daughter of Howard and Phoebe (Thorpe) Workman of Connellsville, Fayette County, PA, has authored a trilogy of memoirs appearing on Minerd.com. The following story features her mother, Phoebe (Thorpe) Workman. Also see Betty Jo's memoirs of her own military service during World War II, Korean and Vietnam, and of her mother Clara Jane (Freed) Thorpe.

Phoebe Workman
As promised we continue the saga of the four maternal descendents of Catherine (Minerd) Barnhouse 1814-1876.The fourth generation, Esther (Barnhouse) Freed (1852-1927), the third generation Clara (Freed) Thorpe (1876-1973) and now second generation Phoebe (Thorpe) Workman (1897-1980).
When Phoebe was asked to tell us of her memories of her early years, she willingly shared her thoughts and a great collection of photos, which will tell her story better than words.This collection was a true labor of love. She remembered her parents Edwin and Clara (Freed) Thorpe, and even better of her maternal grandparents Christian Stoner and Esther (Barnhouse) Freed.It would unfold like poetry bringing back such things in vivid detail the following memories:
Firstly, at the young age of eight years (in 1905) she and her four siblings, Eva Ree, Swayze, Esther and Mary accompanied their parents to Ira, WV. There, her father Edwin worked for his maternal uncle Tilghman Mitchell at his lumber camp as a bookkeeper for the next two years. While there, Phoebe's foot was severely injured by a cross cut saw.
Secondly, she brought back the memorable struggle to fulfill her dreams to be a school teacher, following in the footsteps of her parental grandfather John Swayze Thorpe, who taught grade school at Ohiopyle (on Chestnut Ridge near Frank Lloyd Wright's Fallingwater) in Fayette County, PA in the late 1800s.Following her high school graduation in 1916 at Perryopolis, Fayette County, she went on to attend normal school at California Teachers College (today's California University of Pennsylvania) in 1917-1918.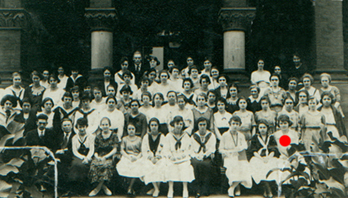 Phoebe (red dot) and her graduating class at what is now California University of Pennsylvania
Thirdly, she recounted her three promises to her father Edwin and grandfather John Swayze Thorpe to help retain her parental great grandfather Thomas Thorpe's (b. 1823) account of arriving in Colonial New England in the early 1600s carrying a sheepskin which said the Thorpe origins were of the Oglethorpe Clan of Central Britain. The sheepskin was lost when Phoebe's grandmother and namesake Phoebe (Mitchell) Thorpe died at an early age. Probably during the confusion in the household when her grandfather John remarried. Her second ancestral trail told of the promise to her maternal grandfather Christian Stoner Freed (b.1853) who could trace his Freed-Stoner Mennonite ancestors back to their homes in the Alps mountains near Bern, Switzerland in the early 1600s.
Her third ancestral promise was to grandmother Esther (Barnhouse) Freed (fourth generation of the saga) was to follow Barnhouse-Freed Miner trail of the six precious iron wedding tea spoons hand made by her great-great grandfather Jacob Minerd, Jr. for his daughter Catherine (b.1829) when she married Harrison Barnhouse on May 27, 1849.These three stories often were told by Phoebe to her children. It was only natural that her daughter Mary Jane (Workman) Budenz (1929-2006) would spend much time following these trails -- particularly when she married and moved to Doylestown, Bucks County, PA, just a few miles south of Quakertown and the Deep Run East Swamp Mennonite church and cemetery, the burial place of Jacob and Elizabeth (Heffel Trauger) Freed. Thus began the Freed-Stoner Mennonite trail from Bucks County, PA to Shenandoah County, VA in 1788-1800 and on to Bellview, Fayette County, PA in 1801.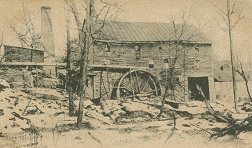 Grist mill owned and operated by George Washington, a local landmark in Perryopolis
Fourthly, she brought back memories both bad and good of her close knit family's successful survival of World War I and the historic influenza epidemic of 1918-1919.The good times-spending most school vacations with her brother Swayze and older sister Eva Ree at the country home of their beloved grandparents Chris and Esther Freed, away from the war time hustle and bustle of small town Perryopolis, situated on the main highway from Uniontown to Pittsburgh, Pa.
The bad -- Phoebe's plans for being a school teacher were put on hold after two years of teaching all eight grades in one room school houses at Wickhaven and Star Junction near her home in Perryopolis. World War I was threatening her family, cousin Harry Workman was already in France and brother Swayze was expecting active duty assignment momentarily. Encouragement from best friend and cousin Anna Katee Workman, already a registered Nurse working at Mt. Pleasant Hospital north of Connellsville, PA, Phoebe entered that nursing school just in time to care for returning soldiers and many of the people ill and dying from the flue epidemic.
Fifthly, after peace was declared and the flu epidemic abated, Phoebe returned to teaching and spending happy vacation summers at the Freed grandparents' country home. A period we will call her courting days, for here she met her friend Anna Kate's younger brother Howard Workman, who would become her husband.
~ 1908-1916: Phoebe and Siblings' Memories of Perryopolis ~
In 1908 Clara Jane and Edwin moved the family to Perryopolis, Fayette County into "the old stone house," George Washington Place (seen here), which Phoebe remembers with vividness and great fondness. There were three bedrooms, the boy's room at the top of the stairs which had a bed made of rope with a straw tick. The girl's room had two double beds as there were four girls at that time. They all loved to play in the attic and the big yard and garden area.
Phoebe told us, "At the Thorpe home, holidays were always momentous occasions. At Easter Dad and Mom would hide eggs all over the yard, (color red a couple dozen eggs with boiled onion skins) in nests which we thought were 'bunnie' nests." At Christmas we strung popcorn and cranberries for decorations and made colored paper cornucopias for tree trimmings. The younger ones always believed in Santa Clause and we furnished 'evidence' of his having been there."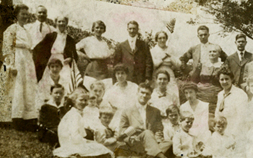 Thorpe reunion, date unknown
Although it meant a lot more work for everyone, they had large parties and picnics at their home. Mother Clara would invite all the Thorpe relatives for father Edwin's birthday each year for dinner and a "big spread." One such time was very nearly a disaster when several of father Edwin's sisters brought some playing cards and he ordered the cards out of the house saying, "I have not brought cards into my house for my children and no one else can either." He was a very strict Christian. They also had reunions with mother Clara's Freed family. Pictures were often taken making a nice record for the descendants of the Thorpe and Freed clans. A Thorpe reunion, date unknown, is seen here.
In 1912 Mary, Phoebe and their family moved into the "brick house-Bill Luce Place" on the outskirts of Perryopolis which meant they had to walk a long distance to school and church (Phoebe freshman Perryopolis High School). (The old stone house had to be torn down because it was falling into an old coal mine tunnel.) Mary said, "We were always 'poor' but never in want, always had a garden, outdoor toilet (chick sales), pigs, a cow and chickens. They butchered the pigs in the fall and Dad used some kind of curing salt on the hams and placed them in the large attic. Mom baked the sausages and pudding meat and stored it in crocks for use all winter long... We helped Mother do the washing on a hand machine (like a big churn) or scrub the clothes in a wash tub on a hand wash board. The older sisters, Evaree and Phoebe, did the house chores while they were still at home. Mary and her sister Esther would entertain them while they worked. They would get up on chairs in the kitchen while the dishes were being washed and imitate E. I. Ramsher (tell stories as he would tell them). When the older sisters left home, about 1916, Mary and Esther inherited the house chores and taking care of the smaller children. Mary said, "Esther would try to make me wash dishes, blacken the stove, scrub the kitchen, etc. to try to save her hands, but Mom saw that we took turns."
~ How Phoebe Met and Married Howard Workman ~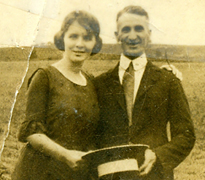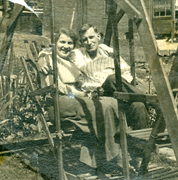 Courting days for Phoebe Thorpe and Howard Workman
I first met the Workman family when I went to Mt. Pleasant Hospital Nurses training with cousin Aunt Kate Workman.Her brother Howard would take us back in one of the Ford cars after our visit to grandfather Chris and grandmother Esther Freed's home.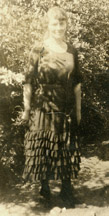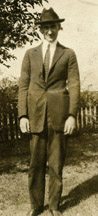 Phoebe and Howard
Phoebe said they use to kid grandpa Christian about his courting the girl (Catherine Biedler) your grandfather David Workman later married. They were all raised near where you were in Bellview. Only Mennonites first cousins must not marry. The story turns sad.Your dad Howard was a frequent visitor at the Freed farm ten years before I. We often played 500 cards and one or two of the neighbors would come in. These three families continued a very loving close relationship which could be traced back to the 1600's when they traveled together. Departing Switzerland and Germany because of religious persecution. Continuing their journey together in to the colonies in the early 1700's.Bucks County, Shenandoah County and Jacobs Creek in southwest Pennsylvania.
Phoebe's family the Freeds and Thorpes led a quiet small town life style compared to the Howard Workman city life. Especially the three bachelor Workman sons of David and Catherine Biedler, daughter of Joseph Biedler the Mennonite. Who after her early death in 1909, Joe and Harry continued their successful careers and when they took their own apartment Howard hung out with them. It was well known all three enjoyed wine, women and song, with passions for fast horses and the new invention the steam gas car. The wild life was kept separate when they visited the beautiful Freed and Thorpe women at their Liberty and Perryopolis.
World War I and father David's death in 1919 seemed to put a quick damper on the wild side, especially when brother Harry returned from France and was ill from contact with mustard gas added to that the flue epidemic and grandmother Esther ill and dying. In the midst of all this misfortune Phoebe and Howard were spending many visits together at the Freed farm. So the so called shy younger son of David Workman who dropped out of school at an early age was not letting Phoebe's education and beauty scare him. He often asked if she would like to go riding in his model T Ford. She accepted. Among other things she planned to improve him.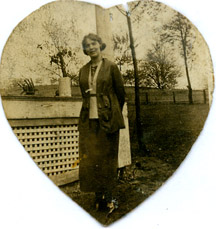 A Phoebe valentine
Her first goal was to stop his drinking and his risqué activities with his two older bachelor brothers, Harry just back from the war in Europe. As the months passed her program went awry, then there was a crisis. She was pregnant and no plans to marry. Out of wedlock pregnancies were fairly common place in that part of Pennsylvania. They occasioned mild scandal when the news spread but there was no taint or disgrace if a man did the (right thing) and marriage ensued. In either case her school teacher's career was ended. In this terrible moment when she faced ruin she was confronted by the old Mennonite rule cousins don't marry, but second cousins did when pregnancy reared its ugly head. So in January 1922 Howard and his beautiful school teacher went discretely to the local justice of the peace to be married. She was 25 years and he was 34. I was born three months later and immediately became the darling of my doting grandparents and great grandparents.
The following first three decades of her life start with her birth, 27, Dec. 1897; the number two daughter of Edwin and Clara (Freed) Thorpe, at the small village of Liberty, Fayette Co., Pa.; located on a hillside over looking the Youghiegheny River opposite the village of Dawson about four miles below Connellsville. Only a few miles from Clara's parents Christian and Esther (Barnhouse) Freed's fruit farm (Highland) on the top of a hill overlooking Chestnut Ridge Mt. 15 mile to the east where mountain village of Ohiopyle (near origins of Yough River) where lived her paternal grandparents John and Phoebe (Mitchell) Thorpe (an area now well known as Falling Water built by Frank Lloyd Wright)-on busy highway-Baltimore to Uniontown. Phoebe and her siblings lived in two entirely different worlds (1) Grandfather Thorpe a grade school teacher and son of pioneers of early South Western Pa.(2) Her father Edwin Thorpe had a small grocery store in Liberty until 1906.Their move to Ira, WV to work in Uncle Tim Mitchell's lumber camp.
After two years at the lumber camp the family returned to liberty at which time the older children Phoebe and brother Swayzee were old enough to spend summer months helping with the harvest at grand parents (Chris and Esther Freed) fruit farm which by this time had become one of the most leading apple growing specialist in Western Pennsylvania. At summer's end, it was back to school. About 1908 father Edwin went to do work for the railroad and moved his family to Perryopolis—a near by village. By this age Phoebe who had always been a petite and beautiful child (as were her four sisters and four brothers) but as she grew to young adulthood her beauty became more pronounced. (Some family even say she looked much like Mary Pickford a beautiful "movie queen" of early 20th century.
She was gifted with a good singing voice and a beautiful smile (a happy person), needless to say a very popular teen.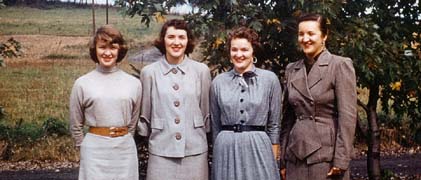 Workman sisters, l-r: Esther "Mickey," Mary Jane, Ethel Mae and Betty Jo
~ Dec. 17, 1977: Phoebe Remembers Betty Jo's Beginnings ~
This day's to start when you (Betty Jo) were born. Well that was quite a sensation as you were the first grandchild and the first great grandchild. [I think the rest of the family have been jealous ever since.] You were at your grandma Thorpe's when you arrived as your Aunt Mary sat on the bottom step of the stairs crying for fear something was wrong (as they tell me I had quite a tome which was soon forgotten) and your Uncle Edwin was on the top stair with his thumbs in his shoulders proudly saying "And now I'm an uncle." Before I should have, I hurried back to your Great Grandmother (Freed) who was seriously ill and no one could catherize her without hurting her but your mother. As we both had the same doctor -- a cousin -- he gave his consent as he would be there too, so in a few days we made Grandma Freed very happy. She told everyone who came in about her Betty Jo. At two months someone decided to have a birthday party (Grandma was expected to go (die) at any time so Aunt Sarah got her some soft white shoes and all dressed up while Howard (Grandma's favorite) carried grandma to the table where the cake was with two candles on it. So Grandma decided she had had you for two years. We didn't try to change her mind-she was so happy.
I think we went to Poplar Grove next where the street car was at the front door and Mrs. Jones landlady was (4 years old) teasing you all the time. Then we lived in town for a few months in Mr. Dull's Alley house. You were walking everywhere when we went to the farm. After that-I knew nothing but work, inside and out, fruit trees fell and just rotted on the ground, lawn was like a field and animals could go anywhere. I fixed fences, used sticks and string to keep chicks from the garden, cut up the trees , but I needed them as no money to buy coal until Mrs. Stone started to buy vegetables to pay the coal bill we already owed. I got hay and chaf from Fern's barn. Mrs. Nickelson brought me seeds, berry plants and bulbs. Minerds loaned me their old incubator. I hatched 100 chicks and made pets out of them and cried every time I had to kill one for Sunday dinner.
Lets go back to Tippie (dog). He never left your side when you were out, so when he appeared a the back door without you I was everywhere in no time flat but Tippie insisted I cross the road and sure enough you were stuck in the swamp. But when your dad was home you followed him like a shadow and when he was at work (The Poplar Grove Garage at the time) you liked a little rope swing under the grape arbor where you snag about your "old Shoe Dad" and he loved it. The day you went to visit Granny Horner and son Joe, Tippie again appeared alone but wouldn't go up the lane as they had a dangerous dog everyone but you was afraid of.I had to phone your Dad at Poplar Grove Garage and he soon found you helping Joe feed the chickens or something.
You were very happy about the new baby (Howard Jr.) if I remember and stayed close to the house. You always helped with whatever I was doing and I had the Yothers kids as well as Tom (Cowan) came here so I could watch also help build tracks under the big east (still there) from root apple tree for your kiddie cars. (given by Uncle Joe and the girls)
At right: son Howard Workman Jr., circa 1942.
~ Memories of Edwin David Workman - 1975 ~
I guess I should start with the first memories of my father, but since this is meant to be a historical rather than personal account, I find it necessary to brief most of it.Since dad would have been considered "Old" by most standards when I was born, it was only in later years that he and Uncle Joe really ever talked to me about their younger days, so it's possible that their recollections (as well as mine) may seem some what vague.
My first strong recollections were when I was recuperating from pneumonia (I guess I was about 4 at the time) and even here my only vivid memory was of the tall, silent man standing by the bed for what seemed like hours, just watching me while others were scurrying around. I guess this is where I got my first impression of quiet strength in him which was to be borne out in many future events.
Most people, including the family would have described him as a quiet plodding man, never excited or excitable with little or no sense of humor and with little interest in anything other than the farm and livestock. I must admit that I fell into this same category, probably until I was in my early teens. Earlier, I can vividly remember his skill with handling animals, and only once or twice remember him losing his temper (at least in front of me or at me, for that matter!)
I guess I was as much of, or more than, a "tagalong" and a "Why, Daddy?" as any young boy, and in most cases, his patience was, in retrospect, monumental and seemingly endless. His teaching methods could well be emulated more today, and in some respects they are, with the current emphasis on "hands on "experience adopted in current Vocational Training programs in the more progressive schools. (I would have to say at this point that, like Mark Twain – "when I was young, I didn't think my father was very smart, but as I got older I was surprised at how much the old man had learned in a few short years!"
But – (you were more interested in his younger years) it was only after dad had his stroke that he and I ever actually sat down and talked, and I think I should elaborate on this a little more, so pardon me if I digress again. I was to realize in later years that dad's reticence was due more to physical exhaustion that reluctance to talk about himself. I do recall many days when we would work together in the fields and saying no more that five or six words to each other, but it seemed at the time we each understood what needed to be done and words were unnecessary – I guess we were closer in that respect than the other kids and he. A prime example of this is that after a visit to the farm one weekend (while I was still married) Chris asked me on the way home why Dad and I weren't speaking to each other, since she had been watching us working for several hours and neither of us had said a word to each other! As I recall, we had been rushing to put a load of Alphalfa in the barn before a rainstorm – what was there to say? She never did understand that! Anyway, it was while Dad was recuperating that he told me of his earlier years, which, by patching together what I had learned from long talks with Uncle Joe and Aunt Sarah Freed gave me a fairly clear picture of what life was like in those early years.
We never pinpointed dates or ages (you should be able to estimate better than I) in his early teens, he had his first paying job off the farm driving a wagon from the mine shaft (That we called Billy Miner's Shaft down by the "far" field) to the coke ovens at Connellsville (some of these were still in existence the last time I was there) for which he was paid 25 cents a day. I discovered this when I asked about the old brick road by the edge of the property adjoining Kelly's farm. The old ruts that crossed the limestone ledge above "Kelly's Falls" were made over the years by the steel-rimmed tires of the coal wagons. I don't think he ever mentioned the name of the coal company but I believe this preceded H. C. Frick's purchase of the mineral rights, but it was several years before the P.& W.V. R.R. extended the spur line and began using that route out of Connellsville. It's my understanding that that shaft was discontinued and used only as an air vent when H. C. Frick took over. He chuckled about the last run of the day, when he would carry the daily "whiskey ration" back to the mine (*) and then drive the miners back to the company store in North Connellsville.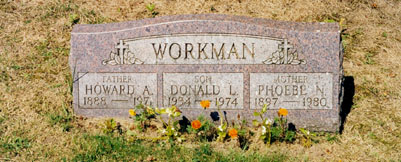 Union Cemetery, Dickerson Run, PA
*(It was customary to provide the miners with a daily whiskey ration at the end of the shift – this came in small two gallon wooden kegs, and the rides back to town sometimes got pretty exciting, to hear him tell it.)
This apparently continued for several years, alternating with work on the family farm. He then began work as an all-around helper at the company store (North Connellsville at the start of Breakneck Road – in later years this was the Hardware store bedside the Lumber Co. – that old row of coke ovens ran right behind the store). His one souvenir of this period was the small .22 caliber pistol furnished by the company – this was during the early 1900s and North Connellsville even at that time had a reputation (still did, the last time I was there), most of the early immigrant coal miners lived in this area and in a shantytown on the hill (later known as "Swaugertown Road") (as far as I know, Dave Budenz still has the pistol – he wanted to have it restored, but was in too bad shape - Jerry would know). During this period, all three brothers, Howard, Joe, and Harry had acquired considerable skill as wheelwrights and wagon repairing (this from Uncle Joe) on the family farm and were adept at repairing any type of farm equipment of the day.They managed to acquire the use of an old carriage house on the Coalbrook – Maple Grove Road (This is where the old stucco house I mentioned later stood and was almost straight across from the streetcar stop we used for school was). Automobiles were late arriving in this area, but prior to Harry's going into the army; it was a combination Blacksmith shop, wagon repair and auto repair shop. It was during this period (Per Uncle Joe and Aunt Sarah) that the brothers acquired a reputation of being "somewhat wild" to use a phrase of the period. One story Uncle Joe told was of the time the three put a rod through the steering column or a Model "T" Ford, removed the steering wheel nut, would ride down North Pittsburgh Street hill with the one driving with his left leg over the door, and slouched down in front with his right leg out the other side, and the third in the back waving nonchalantly to onlookers!
~ Memoirs by Tilghman "Tim" Thorpe -- Freed Farm ~
A few things I remember as a boy on grandpa Freeds farm:
Rode the pole train from Whittset Junction to Dickerson Run.Got street car at Liberty to the old Italy Crossing, walked up the hill to grandpa Freeds house. At age ten was quite a thrill. Grandma always had plenty of good food and lots of cookies ready for me, (she was a great cook).
To bed early 8 or 9 o'clock. About 3 a.m. next morning grandpa would awaken me with the following, "Tillman, it is time to get up. Today is Monday, tomorrow is Tuesday and the next day is Wednesday, weeks half done and nothing done."
Feed chickens, cows, horses and then milk the cows and take the milk into the cellar and then we would have breakfast (5:30 to 6am).After Breakfast (6:30 to 6:45), water the horses. Dolly & Charlie. Ride Charlie with just halter, down the lane to watering trough or they wouldn't return, they would do so but in pasture fields with the cows.Back to the barn and put harness on horses and we were ready to start the day. Plow or hoe corn till noon and back to the house for lunch. Out again till 5 or 6 pm. Feed horses, milk cows, then we would have supper.
I liked the days we had to cut hay because I only had to pull weeds that we didn't want in the hay.
Tuesday and Friday in raspberry season were berry picking days. Wednesday and Saturday morning we delivered the berries into Connellsville. If not too many berries to be delivered, Grandpa would drop me off at the Trotter slate dump and I would pick coal till he returned. Then we would hitch up the team and get the coal.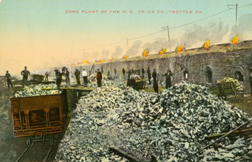 Trotter ovens of the H.C. Frick Coke Co.
(Seen here, an old postcard of piles at the coke ovens at Trotter, owned by the H.C. Frick Coke Company.]
Sunday was a day of rest, after milking and feeding and breakfast, clean surry with fringe on top. Put light harness on horses, get cleaned up and off to Vanderbilt to Presbyterian Church. (The last two years Uncle Walter took us to church in his car). Home and lunch and the rest of the day was free for we usually spent visiting neighbors and when Swayzee was there we would have good feasts at the one neighbors house.
What little home life as I saw it, we had was making cookies on Saturday night for the next week, pulling taffy or maybe as a special treat home made ice cream.
Grace was said before each meal and scripture read every night before bed. They lived by faith and it really worked. Grandpa never lost any hay or any crops that I can remember.
I might say for punishment for doing things I shouldn't have done I was sent to bed without any supper. But Aunt Sarah and Grandma would always sneak something up to my room.
This went on from week to week until summer was over. Back to Perry and get ready to start back to school.
It seemed like real hard work to me then but I can see what good training I received now I am so glad I had this experience.
Copyright © 2009 Betty Jo (Workman) Canter
Memoirs by Edwin David Workman and Tilghman Thorpe used with permission.