Home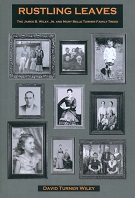 Rustling Leaves book
~ 2020 ~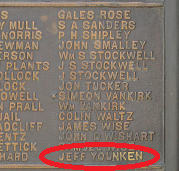 Gettysburg image in the book
November 2020 - A new, self-published 140-page book authored by David Turner Wiley, entitled Rustling Leaves: The James B. Wiley, Jr. and Mary Belle Turner Family Trees, includes a proprietary image from Minerd.com (although used without credit). The book discusses the wartime experiences of the author's ancestor, Jefferson Younken, a soldier with the 140th Pennsylvania Volunteer Infantry who was wounded in the left leg at the Battle of Gettysburg. One of the many illustrations in the volume appears on page 61, a photograph shot and edited by the founder of this website, and originally published on Jefferson's Minerd.com biography. It shows Jefferson's name circled on a plaque on the well-known Pennsylvania Monument on the battlefield of the Gettysburg National Military Park.
Sept. 1, 2020 - The Somerset (PA) Daily American prints a story about this website headlined "Award-winning Minerd.com family website marks 20th anniversary." [Subscription required.]

Somerset (PA) Daily American article, Sept. 1, 2020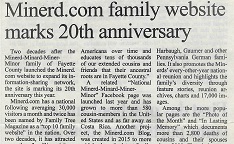 Connellsville Daily Courier, Aug. 25, 2020
Aug. 25, 2020 - The Connellsville (PA) Daily Courier publishes an article marking the two-decade anniversary of this website. The story is headlined "Minerd.com family website marks 20th anniversary." [Subscription required.]
August 2020 - The founder of this website issues a press release to local news media in southwestern Pennsylvania, announcing the 20th anniversary of the award-winning Minerd.com family website. More>>>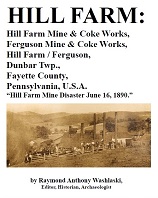 Washlaski's report

June 28, 2020 - Editor, historian and archaeologist Raymond Anthony Washlaski, of the The 20th Century Society of Western Pennsylvania Virtual Museum of Coal Mining in Western Pennsylvania, updates his online research report entitled HILL FARM: Hill Farm Mine & Coke Works, Ferguson Mine & Coke Works, Hill Farm / Ferguson, Dunbar Twp., Fayette County, Pennsylvania, U.S.A. "Hill Farm Mine Disaster June 16, 1890." The report reproduces, with credit, two vintage Minerd.com Archives images featuring pen and ink sketches of the Hill Farm Mine Disaster drawn by Allen Edward Harbaugh (1849-1916), the famed "Mountain Poet" of Mill Run, PA. Originally published in 2018, Washlaski also previously updated the report on Dec. 24, 2019. View the report>>>

June 2020 - The 2020 edition of the annual Junghen Family Newsletter, compiled and published by Linda Marker of the family of Frederick J. and Delilah (Faidley) Younkin, is published and distributed to the Younkin-Younken-Youngkin Reunion group. The issue features a number of Minerd.com photographs from the 2019 reunion in Somerset County, PA in addition to excerpts from the script of the Rockwood Odd Fellows Cemetery tour of 2019 led by the founder of this website. Among the Minerd.com bios featured in the newsletter are of John M. and Gertrude (Younkin) Weaver - Lloyd Clive and Rebecca Elizabeth (Schultz) Younkin - and Henry and Barbara Jean (Younkin) Swarner. Also re-published is the May 2020 Photo of the Month highlighting Alfred Arthur Younkin and the Casselman Cornet Band. View the entire issue>>>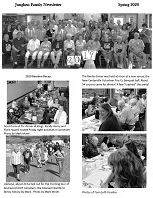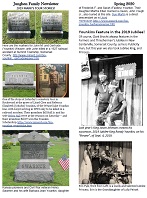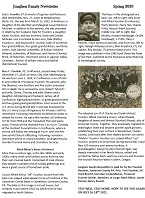 2020 Junghen Family Newsletter pages featuring Minerd.com content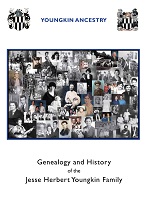 Mark Terry Youngkin's book
April 2020 - Mark Terry Youngkin, of the family of John Harrison and Eliza Jane (Coble) Youngkin, publishes an updated edition of his masterwork Youngkin Ancestry - Genealogy and History of the Jesse Herbert Youngkin Family. Minerd.com content and research are cited on 17 different pages. The 456-page work of authorship is solely distributed in Portable Document Format (PDF) from the digital library called the Internet Archive in San Francisco, CA, which contains the latest book version.
Included in the book are citations to these feature pages and biographies -- the Younkin Homecoming Reunion 1934-1940 - Charles Arthur "Charleroi Charley" and Saloma (Hall) Younkin - Younkin Family News Bulletin newspaper - John J. and Mary "Polly" (Hartzell) Younkin - and Jacob and Catherine (Younkin) Minerd Jr. View/download the web-optimized version of Youngkin Ancestry on DropBox [60MB in size] or the full, high-resolution version on the Internet Archive [360MB].
~ 2019 ~
Dec. 30, 2019 - The blog "85th Pennsylvania in Civil War," written and edited by Dan Clendaniel, includes a profile of cousin-soldier Norman Bruce Ream along with a link to Ream's bio on this website. Many of our Minerd and Younkin cousins also served in the 85th Pennsylvania regiment -- among them John Devan, Simon Firestone, James Frederick Imel, Jerome B. Jennings, Isaac F. Minerd, James Minerd Jr., William Minerd, James Rowan, Leonard H. Rowan, John Irving White, Harrison K. Younkin, Jacob M. Younkin and John X. Younkin. Clendaniel writes that his blog "is intended as a platform for information about the 85th Pennsylvania regiment. My goal is to tell the story of the soldiers so that the reader feels as if he or she was with them in camp. Where did they serve and what were the living conditions where they served? What was it like for them in battle and who were their leaders? What were the stories of the men who died and those who survived?"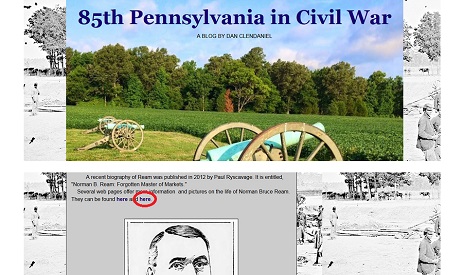 Above: Dan Clendaniel's blog linking to Minerd.com's bio of Norman B. Ream. Below: Younkin Reunion tour group at Rockwood IOOF Cemetery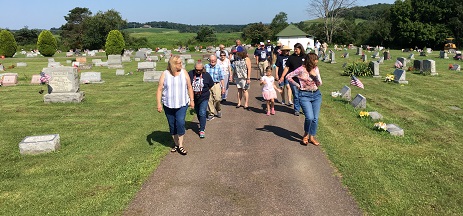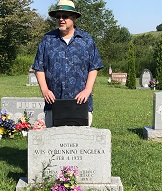 Miner at Rockwood Cemetery
Courtesy Barbara (Younkin) Jump Park
July 27, 2019 - Minerd.com's founder leads a tour of the historic International Order of Odd Fellows Cemetery at Rockwood, Somerset County, PA as part of the annual Junghen-Younkin Reunion weekend. He also conducts the afternoon auction benefitting the Younkin Scholarship, which this year raises more than $600. Among the graves the group visited were descendants of all three Younkin brothers who originally settled in the county in the late 1700s, as well as Somerset County pioneers Jacob and Catherine (Younkin) Minerd Jr. and Leonard and Martha (Minerd) Harbaugh.
The sites included the final resting places of the following -- Amos and Nora (Cramer) Harbaugh as well as these Younkin cousins who shared Minerd-Miner DNA: Carl and Edna May (Conn) Gorsuch, Jonathan and Ella (Younkin) Hauger, George A. and Susan "Edith" (Younkin) Miller, Harry and Mallzena (Younkin) Shaffer, Alton Glen Sterner, John and Martha "Ella" (Swarner) Vough Jr., Charles and Elizabeth (Younkin) Wable, John M. and Sarah "Gertrude" (Younkin) Weaver, George and Missouri (Younkin) Wingerd, Clark Melvin and Olive (Hauger) Younkin, Daniel Martin Younkin and wives, John William "Emery" Younkin and wives and Levi Grant and Alice (Pritts) Younkin. Other Younkin cousin graves on the route were for Earl and Blanche (Tedrow) Bowman, Henry and Barbara (Younkin) Swarner, John Wesley and Emma Grace (Younkin) Tedrow, Fremont and Malinda (Countryman) Younkin, Harvey Carl and Georgianna (Moon) Younkin and Milton Bruce and Minnie (Sechler) Younkin.
June 24, 2019 - In a post in his "Thomas Beck's Blog," headlined "WOW, What a Week End," cousin Thomas Beck (of the family of Raymond and Rebecca [Rugg] Miner) writes about his experience as a first-timer at the National Minerd-Minard-Miner-Minor Reunion: "I applaud all who I met and who have contributed so much over the years to keep the family ties strong. I pray that these bonds will expand and draw us closer together.'Finally brethren, farewell. Be perfect, be of good comfort, be of one mind, live in peace; and the God of love and peace be with you'. II Corinthians 13:11."

Thomas Beck's blog post about the 2019 reunion
June 21-23, 2019 - The family's biennial national reunion, held at Days Inn in Donegal, PA draws 66 cousins and friends from 12 states and 18 Pennsylvania towns. The honor of the furthest-traveled went to David Mayle and his family from Oroville, CA and the oldest member to 95-year-old Dorothy (Bender) Krieg of Otsego, MI.

Somerset Daily American
June 18, 2019 - The Somerset (PA) Daily American publishes an article about this year's annual family gathering, headlined "Pioneer Somerset County family to hold national reunion this weekend." The story mentions Minerd.com, a link to the Reunions webpage and the family's new members' only page on Facebook. The story quotes the founder of this website. [Full text - subscription required]
June 2019 - In the spring 2019 edition of the Junghen News -- the publication of the annual Younkin Reunion -- editor Linda Marker summarizes last year's gathering and "caravan to Confluence Baptist Church, led by tour guide & story teller extraordinare, cousin Mark Miner. A somewhat different 25 folks enjoyed this. The beautiful stained glass windows were truly breathtaking -- a wonder for such a small town, and an honor to at least three of our own Younkin ancestors." As well, the Minerd.com biography of Mary "Polly" (Younkin) Smith Schrock (1807-1891) is reprinted in full, spanning six-and-a-half pages.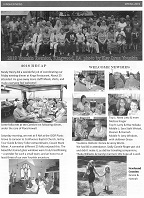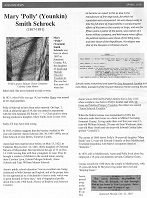 2019 Junghen News with Mary "Polly" Smith Schrock's biography
April 20, 2019 - The family launches an invitation-only website and reunion page on Facebook, which quickly grows to several hundred followers. Visit the page, and ask to join. Once in, tell us your connection to the family, and post an old family photo.
February 2019 - The newly issued edition of the Research Review Magazine of the Little Big Horn Associates -- a national organization devoted to studying the life of General George Armstrong Custer and the famed battle -- contains the article "Speckled Legacy: Tom Custer in American Pop Culture." Authored by the founder of this website, and using proprietary content originally published on Minerd.com, the piece surveys the photographs, news and magazine articles, books, stage plays, and television and movie films which have influenced Americans' limited perceptions of the general's brother Thomas Ward Custer, who twice won the Medal of Honor but who died at the battle with the general and three other Custer family members, an overlooked American tragedy. Veteran reunion-goers will remember this theme from our 2002 national reunion and that Tom produced a son out of wedlock with Rebecca Minerd of Tontogany, Ohio. Download the PDF [2.82 MB]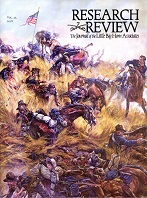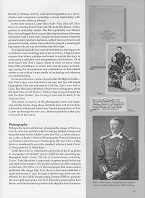 "Speckled Legacy: Tom Custer in American Pop Culture," an article published in the Research Review Magazine of the Little Big Horn Associates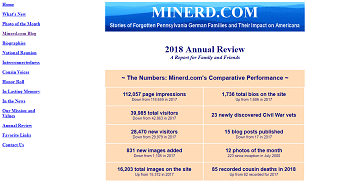 Minerd.com Annual Review 2018
Feb. 4, 2019 - The Minerd.com Annual Review 2018: A Report for Family and Friends is released to the public. Now in its 19th year online, the main objective for Minerd.com the past year was bringing to life more of the lost stories of forgotten Pennsylvania German families and their impact on Americana. The numbers bear out the incessant activity of adding new material, up in some areas, down in others but always in motion generating content. They include 112,057 page impressions for the year, down from 118,659 in 2017 -- 39,985 total visitors, down from 42,863 -- 28,470 new visitors, down from 29,979 -- 831 new images added, down from 1,105 -- 16,203 total images on the site, up from 15,372 -- 50 new biographies added, down from 76 added the previous year -- and 1,736 total bios on the site, up from 1,686.
The 2018 focus primarily was in four ways – biography research for the Pennsylvania German family of Elizabeth (Meinert) Gaumer of Berks and Lehigh Counties, Pennsylvania and Muskingum County, Ohio, and creation of the online Gaumer Archives – research of newly discovered Civil War soldiers in the family, including National Archives soldier pension research in Washington, DC and a tour of the Gettysburg Battlefield – completion of publication the Nett-Helen Letters, a project which has taken seven years to complete – and a deeper dive into the German-ness of our forbears with an examination of the remarkable endurance of the culture and values over many generations. View the report >>>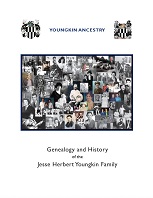 Mark T. Youngkin's book
~ 2018 ~
July 2018 - Mark Terry Youngkin of San Francisco, a cousin of the family of John Harrison Youngkin, self-publishes a new e-book, Youngkin Ancestry: Genealogy and History of the Jesse Herbert Youngkin Family. The work is created as a Portable Document Format (PDF) digital book which is archived at the World Wide Web on servers of the nonprofit internet library called the Internet Archive. In the Preface, he credits a number of researchers for helping him along the way -- Diana (Younkin) Egan, Pat Chance, Flora Howell, Jacky Glenn Youngkin, Eddy Rene (Smith) Gilbert, Sue Ann (Smith) Bugg, and Janine Susan Younkin, as well as the founder of this website. He writes:
The book investigates my Junghen-Youngkin ancestors using information collected by family genealogists over the last century. The work is an archive of data, biographies, records, stories, photographs and art. On the other hand, the book is a collection of stories concerning my family history... The book reflects on the profound experiences of my ancestors during their migration across the world. My brave forebears navigated the violent storms of settler colonialism that swept across the globe and frontier America. Some of their stories end in tragedy. Always, the next generation of stalwart young men and women conquer the obstacles confronting them. These self-reliant soldier-settlers fought their way across the globe for millennia seeking a just and profitable future for their families. My industrious pioneers helped build this great nation. The liberty and well-being that I enjoy today is due to their dreams and accomplishments.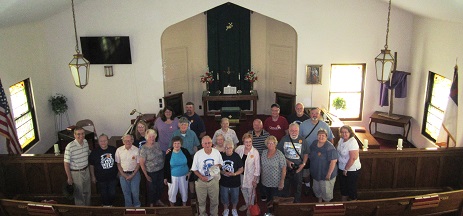 Above: Younkin reunion group tours the stained glass windows at Turkeyfoot Valley Baptist Church in Confluence. Below: the group in historic Ursina Cemetery.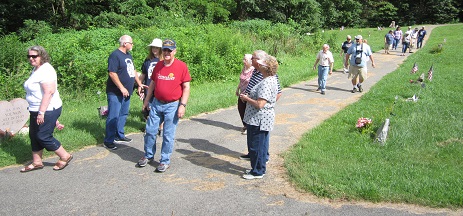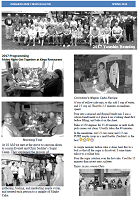 Junghen Family News Bulletin
July 28, 2018 - Minerd.com's founder again leads a tour of local historic sites and presents stories about lives of the past at the annual Junghen-Younkin Reunion in Somerset County, PA. The first stop is the Turkeyfoot Valley Baptist Church in Confluence, which features beautiful stained glass windows memorializing cousins and extended family Amanda (King) Younkin, Lucinda (Sweitzer) Younkin and Mary A. Brooks (Harned) Forquer, . The group also pays respects at the grave of Silas and Zobeida Jane (Ream) Younkin in the church's adjoining cemetery. The second stop on the tour is the historic Ursina Cemetery, where fascinating, long-lost stories are told about the lives of those cousins resting there for eternity. Among them are Ross and Emma (Rush) Younkin, Charles and Sabina (Hinzy) Burgess, Levi and Susanna Elizabeth (Rose) Durst, Christian and Amanda (Phillippi) Koontz, Benjamin Franklin and Harriet (Younkin) Romesburg, George and Elizabeth "Betsy" (Younkin) Hare and Dr. Winfield Scott and Martha Jane (Walter) Kuhlman. Other cousins mentioned in the tour are offspring of the families of "Devil Jake" and Sarah (Tannehill) Younkin, Samuel Wirsing and Edwinna Canallas (Younkin) Glotfelty, Rev. Levi and Catherine "Katie" (Younkin) Lichliter, "Weasel Jake" and Catherine (Faidley) Younkin and James and Elizabeth (Younkin) Andrews Jr. In the afternoon, Minerd.com's founder also conducts the annual auction to raise funds for the Junghen family scholarship.
GCU ad celebrating the 'Pittsburgh Agreement'
June 2018 - The latest edition of the Junghen Family News Bulletin of the Younkin Reunion, edited and published by Linda Marker, highlights last year's reunion tours and presentation involving the founder of this website.
April 2018 - The GCU -- formerly the Greek Catholic Union headquartered in Beaver, PA -- uses a rare archival image from Minerd.com's "Burgh Nation" webpage to illustrate one of its advertisements. The GCU's ad celebrates the 100th anniversary of the 1918 "Pittsburgh Agreement" in which the nation of Czechoslovakia was formed in the Steel City. The vintage image dates to 1926 and shows the leaders of the Pittsburgh district Czecho-Slovaks, standing behind Msgr. Andrew Hlinka, who in turn holds a copy of the pact. In the ad, GCU states that "We are proud of our Carpatho-Rusyn heritage and our Founders' who began our organization in 1892 with little more than a dream. Today we are the second largest fraternal insurance company domiciled in Pennsylvania with assets over one billion dollars."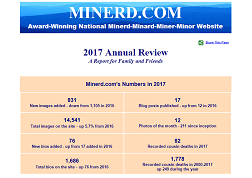 Annual Review 2017
March 17, 2018 - Minerd.com releases its Annual Review 2017, summarizing the research, writing and archiving that goes into the award-winning family website. Among the 2017 numbers are 831 new images added, down from 1,105 in 2016 -- 15,372 total images on the site, up 5.7% -- 76 new bios added, up from 17 the previous year -- and 1,686 total bios on the site, up 76 from 2016.
Every week and sometimes nearly every day during the past year, new Minerd.com material was added or new nooks and crannies were searched to bright to light new facts about lives of cousins of the past. The spigot of inbound story and image content remains turned on, full force, even after nearly 18 years of active publishing. There are just too many stories and rare images distributed in households all across the country for this website ever to be complete. Minerd.com's content is written for two different audiences. One is the readers and inquirers of today. The other has not yet been born, but may crave to know something about their ancient people 100 and 200 years from now. Afflicted with the "tyranny of the urgent," a focus on the here and now and immediate gratification, Americans do not think in these terms. Minerd.com and its archives will continue to produce content and preserve materials to keep old, forgotten lives alive in some flickering way far, far into the future. View the report >>>
~ 2017 ~
December 2017 - More than a yearlong campaign of "Bicentennial Look Back" historical images concludes on the Facebook page of Brighton Township, Beaver, PA, and several are published in the related commemorative hardcopy book, Brighton Township • Celebrating 200 Years. The township utilizes a number of Minerd.com Archives images for the series, and those making the final cut into the book depict Captain Sam Brady, the Lincoln Highway, movie star Roy Rogers and Trigger, landscapes of local farms from the 1876 Atlas of Beaver County, a Beaver County Times news clipping of the Tusca Ridge Garden Club circa 1972, and rare portraits of Col. Henry Bouquet and Gen. Lachlan McIntosh who utilized the Tuscarawas Trail as military passage in the 1760s and '70s. Minerd.com is honored to have served the public as a resource with this series.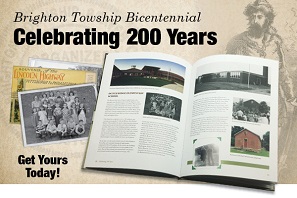 Minerd.com Archives images used in print and social media to celebrate the bicentennial of Brighton Township near Beaver, PA. Below: some of the Archives images appearing in the book, L-R: Gen. McIntosh, Col. Bouquet, Lincoln Highway.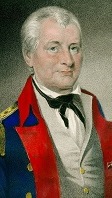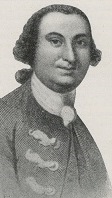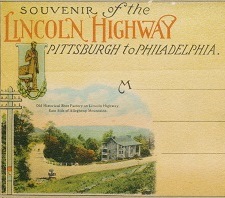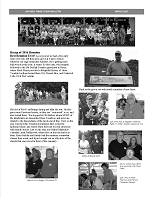 Junghen Family News Bulletin
May 2017 -
May 2017 - A special Mother's Day post by blogger Patricia J. Angus, headlined "Finding Family in Fayette County, Pennsylvania," references the Minerd.com webpage, "Unknown Shelkey Faces." Angus' post cites the work of the late Yvonne "Bonnie" (Blair) Cossell Morgan to sift "through two bins of 'unknown' people from both sides of her family tree to scan the images and get possible identification of them. If any followers have ancestry from Fayette county, Pennsylvania, you should look at some of the 'unknown' photos already posted online and try to identify the faces.""
May 27, 2017 - The Spring 2017 edition of the Junghen Family News Bulletin, edited by Linda Marker of Rockwood, PA, arrives in mailboxes nationwide to promote the upcoming Junghen-Younkin Reunion to be held July 21-23, 2017 in Somerset and Kingwood, Somerset County, PA. The newsletter includes content republished from Minerd.com -- "Old Land Transactions" and an image of the "Younkin Profiles" table of contents page. Linda is of the family of Frederick J. and Delilah (Faidley) Younkin of Kingwood. The newsletter also advertises that Minerd.com's founder, a member at large of the Junghen-Younkin reunion planning committee, will speak at the reunion on Saturday afternoon. The Junghen news bulletin is a lineal descendant of the Younkin Family News Bulletin published by the late Donna (Younkin) Logan of Hancock, MD from 1990 to 1995 and an earlier version of the News Bulletin produced from 1937 to 1941 by Charles Arthur Younkin of Charleroi, PA, secretary of the Younkin National Home-coming Reunions.
May 27, 2017 - Mark Miner releases three in a series of Minerd.com Podcasts which he recorded using his speaking script from the May 21, 2017 presentation at the Jersey Baptist Church of Ursina, Somerset County, PA. The first podcast features stories about Civil War veterans Jerome B. Jennings, Jacob J. Rush and LeRoy Forquer. The second podcast is about veterans Harrison K. Younkin, John Enos and Marcellus Andrews. The third and final podcast in the series focuses on the stories of Foster Younkin, Balaam Younkin and Charles Rose.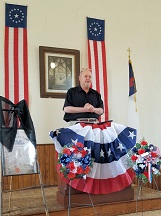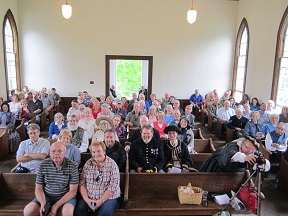 Above: Miner speaking at the historic Jersey Baptist Church, Ursina, PA, presenting stories of nine Civil War veterans who were original members of the local Ross Rush Post of the Grand Army of the Republic. Below: some of the same veterans posing in the ancient church burying ground.
View a video clip
.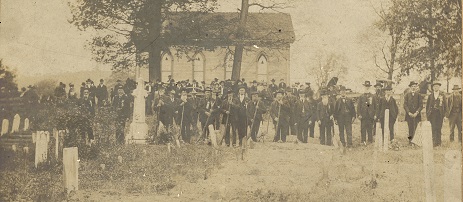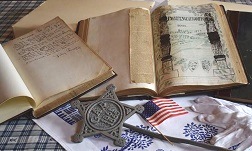 Some of the old GAR records
May 21, 2017 - At the invitation of the Sons of Union Veterans of the Civil War, Mt. Union Church Camp #502 in Somerset County, PA, Minerd.com's founder is a guest speaker at the 2017 Memorial Program held at the historic 1775 Jersey Baptist Church in Ursina, PA, presenting the stories of a number of Civil War veterans buried in the church's ancient cemetery. Among them are Balaam Younkin and Foster C. Younkin (of the family of Jacob J. and Dorcas [Hartzell] Younkin), LeRoy Forquer and Jacob J. Rush (of the family of Frederick and Margaret "Peggy" [Faidley] Dull), John H. Younkin and Charles Rose. Members of the post placed wreaths at the graves of the soldiers in the old section of the burying grounds. Other members of the GAR's Rush Post buried at other cemeteries include Marcellus "Marsh" Andrews, John Enos, Jerome B. Jennings and Harrison K. Younkin. View a video clip of the presentation.
The backstory: The SUV and Auxiliary had the unique opportunity to acquire and rescue the old GAR records before they were sold into oblivion on eBay. They were being advertised by an antique dealer in Albany, NY who completed the same with the group. The records date from 1883 to 1921, when the last member died. Cousin Barbara Bowers, of the family of Bertha (Ream) Conn, generously donated a box of the soldiers' original applications to the GAR. The books were repaired and digitized, and along with the applications will be placed on long-term loan with the Somerset Historical Center to ensure that they never leave home again. This tremendous community initiative was organized by Robert Wrigley and cousin Linda Marker of the family of Frederick J. Younkin.

Feb. 9, 2017 - Minerd.com releases its 2016 Annual Review detailing continued activity the past year to attract visits and publish the stories of thousands of forgotten lives involving a frenetic pace of research, travel and writing. Not a week went by that meaningful content of some type was not added to the site. Among the indicators are the number of biographies added or expanded during the year – the number of archival images posted – the number of cousin deaths recorded – and the number and variety of blog posts. Last year, 17 new biographies were added – many so lengthy that they will be subdivided into new ones in 2017 – and many hundreds more bios expanded with new findings – bringing the total on the site to 1,610. Some 1, 034 images were added as illustrations, bringing the overall site-wide count to 14,541. Since we began counting in earnest on July 1, 2000, the known number of deaths of cousins and spouses is 1,629, or one every 3.7 days. While many of these are related to old age or illness, some are in fact due to domestic violence and drug and alcohol addiction. In some periods of our heaviest losses, such as in the 2002-2003 timeframe, we lost a cousin/spouse once every 2.94 days.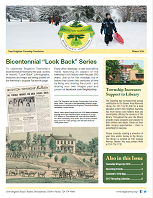 Your Brighton Township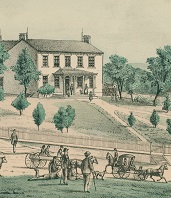 Minerd.com Archives image
January 2017 - Scanned images of old farmsteads scenes and detailed maps from the 1876 Atlas of Beaver County, Pennsylvania, courtesy of the Minerd.com Archives, are published in the Winter edition of Your Brighton Township Newsletter in Beaver County, PA in celebration of the township's bicentennial anniversary. Additional Minerd.com Archives images are being deployed as part of an ongoing "Bicentennial Look Back" series on the township's popular Facebook page.
Brighton Township is one of the Western Pennsylvania region's most affluent, beautiful and serene communities that is within minutes of the Borough of Beaver, a Pittsburgh Magazine "top 10 stable great neighborhood" and the Beaver Area School District, a Pittsburgh Business Times "top 10 percent regional district." The township features immediate access to local recreation and medical center, Pittsburgh attractions, interstate highways, an international airport and excellent shopping. With significantly lower property taxes, the township has grown steadily during the past five years as a safe, vibrant bedroom community in which to raise a family.
~ 2016 ~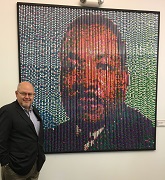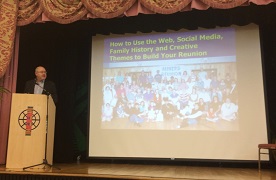 Miner with Dr. King's portrait prior to making remarks in Columbus, Ohio
Oct. 1, 2016 - At the invitation of Experience Columbus -- also known as the Greater Columbus Convention & Visitors Bureau in Ohio -- Minerd.com's founder Mark Miner serves as keynote speaker at the annual family reunion planning seminar, hosted byMiner's topic is "Reinvigorating Your Reunion" using a variety of web, social media, research and news publicity tools. The Saturday morning seminar, held at the The Martin Luther King Jr. Arts Complex, draws 100 reunion planners.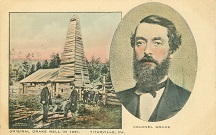 Sept. 9, 2016 - A rare historical image from the Minerd.com Archives, a vintage postcard showing the nation's first oil derrick at Titusville, PA, is used in a "This Is Your Life" powerpoint presentation at the 90th birthday celebration for legendary community leader Robert Allen Smith held at Beaver Station Cultural and Events Center in Beaver, PA. Smith, a retiree of both U.S. Steel and Michael Baker Corporation, was born in Titusville but spent most of his life in Beaver County, PA. In addition to impressive business achievement, the nonagenarian Smith is celebrated for his nine decades of renaissance accomplishment as a model builder, railroad enthusiast, self-taught keyboard player, raconteur, urban design advisor, reader, editor and publisher, pen and ink artist, watercolorist and champion of public education, foundation philanthropy and most especially local history through his beloved Beaver Area Heritage Foundation. Public landmarks in Beaver bearing Smith's touch include Beaver Station, the Beaver Area Heritage Museum and log house, Fort McIntosh monument, 1877 courthouse clock tower reconstruction and $3 million Streetscape improvements.This website's founder worked for Smith from 1985 to 1991 and served as master of ceremonies for the birthday celebration.

Minerd.com's founder, right, leading a tour of the Delilah Younkin Cemetery near Kingwood, PA, at the Younkin Reunion in July 2016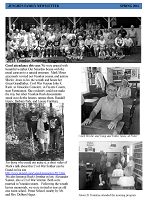 Junghen Family Newsletter
July 22-24, 2016 - Minerd.com founder Mark Miner leads a Saturday morning tour at the 2016 Junghen/Younkin Family Reunion at Kingwood, Somerset County, PA. The tour includes stops at the Delilah Younkin Cemetery in Hexebarger -- where Civil War veteran Frederick J. Younkin and his brothers "Weasel Jake" Younkin and Eli S. Younkin and their cousin Catherine (Younkin) Firestone rest for eternity, among the ashes of other ancient Younkins, and where the first unofficial Younkin National Home-coming Reunion was held by coincidence in the summer of 1934. Other tour stops include the old farm house of Jacob and Minnie (Miner) Gary in the Hexebarger valley and the Bethel Methodist Church Cemetery at Paddytown to pay respects to the grave of ill-fated Civil War soldier Albert Andrews of the family of Elizabeth (Younkin) Andrews. Following the Saturday noon picnic lunch at the Kingwood Odd Fellows Grove, Miner presents stories about the Jacob and Salome (Weimer) Younkin Jr. family, drawn from his Younkin research and biographies published on Minerd.com. View the full table of contents of Younkin content on this website.
June 2016 - Several pages from Minerd.com are excerpted and links spelled out in the Spring 2016 edition of the Junghen Family Newsletter, promoting the National Younkin Reunion East and edited by Linda Marker of Rockwood, PA. Full text>>>
May 30, 2016 - At the invitation of cousin Rhonda (Cook) Tabler -- one of the panelists from last year's national Minerd-Minard-Miner-Minor Reunion -- Minerd.com's Mark Miner is a guest speaker at a Memorial Day family gathering in Cutler, Ohio. The event is billed as a "Celebration of Life" tribute to the late family genealogist Irita (Goins) Canady, who also was a panelist at the 2015 Minerd gathering before her untimly death late last year. Among the cousins Miner meets for the first time are from the family branches of Civil War veteran Henry C. Minerd, sister Ruth Ann (Minerd) Kennedy and brother Jacob Minerd Jr. He also has the privilege of meeting Ada Woodson Adams, President of the Multicultural Genealogical Center in Chesterhill, Ohio.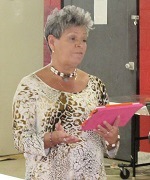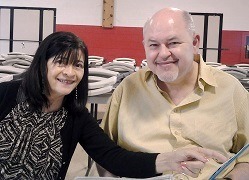 Above left: cousin Rhonda Tabler reads a tribute to late cousin Irita Canady. Right: cousins Joanne (Johnson) Smith talks about her branch. Below: conversation about "who's who" at the Mayle-Holbert Reunion, Elizabeth, WV.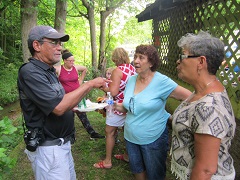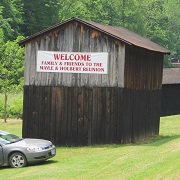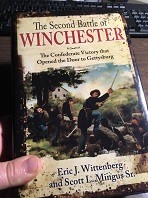 New book citing a 1990 article by Minerd.com's founder
May 28, 2016 - As an invited guest, Minerd.com's Mark Miner attends the Mayle/Holbert Reunion, Elizabeth, Wirt County, WV. This is an annual gathering of the descendants and related families of Riley Mayle and Laura Holbert), and always is held the Saturday before Memorial Day.
February 2016 - A newly published book about an obscure Civil War battle cites an article authored more than 25 years ago by Minerd.com's founder. Entitled The Second Battle of Winchester, co-authored by Eric J. Wittenberg and Scott L. Mingus, and published by Savas Beatie, the 528-page volume provides the most in-depth and comprehensive study of the fight. Today it is considered a pivotal battle in the Shenandoah Valley, where the politically charged front-page news caught President Lincoln and the War Department by surprise, forever tarnished the reputation of Union General Robert Milroy, and opened the door for the Confederate Army's invasion of Pennsylvania and the Gettysburg battle. Miner's article was published in 1990 by the Winchester-Frederick County Historical Society Journal and republished and updated in more recent years on this website under the title "First Fight, First Blood: Alexander White, the 12th West Virginia Infantry and the Second Battle of Winchester and Its Legacy on One West Virginia Family."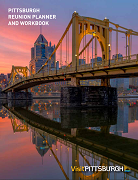 Pittsburgh Reunion Planner
January 2016 - VisitPittsburgh, the official tourism promotion agency for Pittsburgh and Allegheny County, PA. makes public the latest edition of its Pittsburgh Reunion Planner and Workbook. The 25-page publication is intended to be a handy workbook to help event organizers stay on track, no matter what type of reunion or meeting they are planning to hold in Pittsburgh. The booklet features a full page of reunion ideas from the founder of this website, headlined "Take It from a Professional." Full text>>> VisitPittsburgh and Minerd.com have been in a continuous marketing joint venture since 2010, with the tourist agency's logo appearing on the Minerd.com homepage and on each "Photo of the Month" page since 2010.
January 2016 - The Minerd.com Annual Review 2015 is released documenting the site's continuing growth the past year. In May, Minerd.com celebrated its 15th anniversary – launched a new blog – in March and May enjoyed all-time record numbers of visits – and in November reached its 3 millionth visit of all time. The number of visits in 2015 were the highest since 2007 and totaled 288,095. Over the span of 15½ years since the site was first launched, total visits stood at 3,039,129, up 9.8 percent from 2,751,034 last year at this time. During the year, 1,015 new photo images were added to the site, in comparison with 948 last year. At year-end, the site had a grand total of 13,507 archival images, up from 12,492 last year, a growth rate of 8.1 percent. Some 61 new biographies were added in 2015, up 45 percent from 42 last year, for a grand total of 1,593 bios. These bios tell tens upon tens of thousands of family stories unique to the clan. View the report>>>.