Annual Review 2022
A Look Back, a Look Ahead and a Five-Year Plan for the Minerd.com Website, Social Media Properties and Archives
~ Minerd.com Highlights in 2022 ~
77,170

Page impressions


29,551

Total visitors


28,606

New visitors


20

New biographies

1,957

Total biographies


791

Facebook page members


320

Facebook page posts


7,065

Facebook page reactions

12

Photos of the month


94

Military casualties

all-time

55

Accidental work deaths in mfg/mining/metals all-time

296

Casualties of water, fire/shock, vehicle accidents all-time

110

Known cousin/spouse deaths occurring in 2022

4,577

Known cousin deaths
occurring since July 2000

14

Minerd.com Blog
posts in 2022
Civil War soldier records copied during
my 2022 research trip to the National Archives

Our award-winning Minerd.com website, social media properties and family research archive are nearing a crossroads to determine their future. Either these assets will be retired into oblivion when I can no longer maintain them or be kept intact and endure for future generations through a bold plan of action. After much thought and prayer, my choice is to pursue the bold plan. Maybe I'm just crazy.

Thus in 2022, I began a five-year process to identify what steps are needed to make this happen. It will take a combination of factors that must function together in harmony. The solution needs to include all aspects of keeping our website and social media assets online and up-to-date and a facility to house and curate the physical archives where people can gather and mine the material for new discoveries. The solution also will require funding to assure proper stewardship and a team who can expertly curate long-term upkeep and public-facing engagement.

Save the Date

The next National M-M-M-M Reunion will be held the weekend of June 9-11, 2023 in southwestern Pennsylvania. More details to follow.

At its best, Minerd.com is a doorway to insight and enrichment of the mind, creating awareness the cultural impact of our families across the centuries of Americana and beyond. Its nearly 2,000 biographies and hundreds of feature pages are intended to inspire wanderlust to educate and enlighten. The site's intent is to appeal to like-minded cousins near and far, invite their participation through sharing and help us all feel more inter-connected.

The intellectual backbone of the website is the archive, comprised of hundreds of books, thousands of photographs and hundreds of thousands of documents, impossible to re-create. The benefit to the family at large is the permanent preservation of their family history documentation, accessible to all someday, in a way that will elude the ravages of time and disinterest. It may also heighten one's sense of satisfaction at knowing that her or his family is worthy of having its own place/museum/library.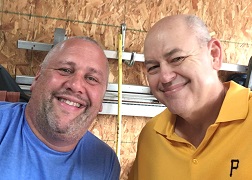 With cousin Shawn Shroyer

The first step I took last year was to begin to make sure the website is as complete as possible. In real terms, that meant identifying more than 200 biographies that were not current in chronicling the lives of descendants up to the present day. It involved an upgrade to software that dramatically has sped the editing process – the hard work of research to uncover the lives and stories of thousands of unknown cousins in the extended clan – and the writing and illustration to bring forgotten generations back to life. Out-of-date coding needed to be removed from the back end of several thousand existing pages, and each page given a proper title for optimal search engine optimization. Working nearly every day, I got about halfway through the biography updates, and am continuing full-speed now into the new year. It will take all of 2023 to get this done, if not longer.

We now live in a culture that values digital versus actual antiquities, especially true among our young people who are addicted to their smart phones but who are our future audience. Maybe three-dimensional books and manuscripts and photographs are passé – out of fashion in this era. But as many cousins have entrusted me to preserve their irreplaceable original treasures. My own life has been dedicated to accumulating the rare, otherwise unavailable research materials that provide unique content for our reunion and website. So I've made a commitment and it's what I'm planning to do, with God's help.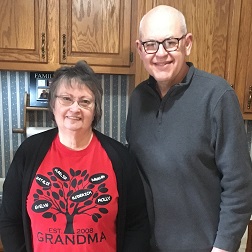 Photo-scanning visit with Debra M. Kemp

One of the most disheartening feelings is when a cousin says he or she is discarding paper research accumulations of many years' work because their children don't have an interest and no one else wants it. Sometimes they have entrusted the material to me. Sometimes they don't, or it's too late.

A burning and ongoing question is whether the traditional book, photo or document as a physical object will disappear in the future and that the 100-percent transition to electronic formats is inevitable. Google Books, for example, has scanned and posted more than 10 million old books online in searchable formats, but only if the book is out of copyright or the publisher has given permission. A burning and ongoing question is whether the traditional book, photo or document as a physical object will disappear in the future and that the 100-percent transition to electronic formats is inevitable. Google Books, for example, has scanned and posted more than 10 million old books online in searchable formats, if the book is out of copyright or the publisher has given permission, and not always including self-published books, small press runs or other more "epemeral" works of authorship.

I view our archive over a very long-term as a hedge against evolving technology, a hedge against a fragile electrical infrastructure and a hedge against copyright infringement issues. As well, I see it in terms of completeness, the tactile sensation with the patina of age and the importance of the quality of original visuals. One example is from several summers ago when I was researching in a county courthouse, I asked to see files from old lawsuits of the 1800s. I was shown digital versions on microfiche, scanned several decades ago, but was told that the originals were in cold storage and that the retrieval fee was pricey. The county's budget would not allow re-scanning using the latest and greatest technology for better legibility. So I spent several hours squinting at fuzzy and small images and in many cases could not decipher the early 19th century handwriting. I came away dissatisfied and convinced that technology had failed me. For more, see my 2016 Minerd.com Blog post, "The BBC News Asks If There's a Need to Collect Books."
~ New and Updated Minerd.com Feature Pages in 2022 ~
~ Private MMMM Facebook Page ~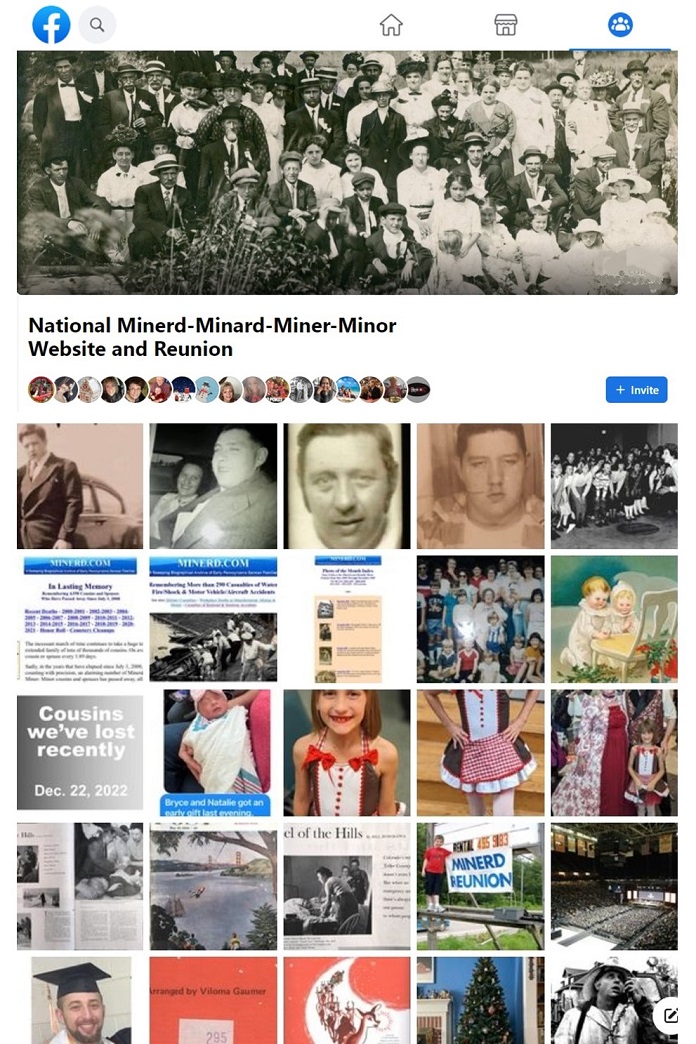 Join our private family page
Our private M-M-M-M family Facebook page added 69 net new members in the past year, a growth rate of 10 percent. At year-end, the total number of members stood at 791.
During the year, 320 posts were made on the site, receiving a total of about 7,065 reactions and 1,667 comments. Thursdays seem to be the most popular day for members to post, comment or react to content.
Cousin and essayist Tom Beck continued to one of the most prolific content generators on the page, regularly sharing his memories of his rural, growing-up years, featuring his grandparents, Raymond and Rebecca (Rugg) Miner.
If you wish to join the page, please send a private message on FB letting me know who you are and to which branch you belong.
~ Unceasing, Rigorous Research and Content Development ~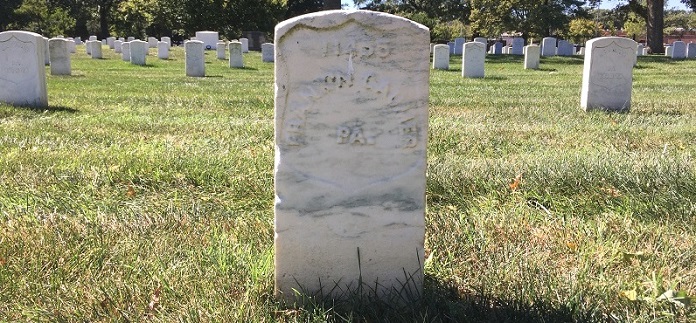 Arlington National Cemetery grave of Franklin Gaumer, killed in the Civil War in Rectortown, VA
2022 Research and Travel - In September, with the facility now full re-opened to the public following Covid-19, I revisited the National Archives in Washington, DC to examine and copy original Civil War pension files for 31 newly discovered soldiers.
During that trip, I returned to Arlington National Cemetery to photograph 16 cousins' military grave markers. We now know of 225 Civil War veterans in the MMMM family, and 169 in the Younkin-Younken-Youngkin, with six more having been found since then and needing to be researched in the future. This intensive focus on the family's interaction with the war is a singular theme of our website, and the archives behind this knowledge are voluminous.
Then in October, my wife Liz and I made a weekend fall foliage getaway to Jim Thorpe, PA, formerly known as Mauch Chunk, where some of our cousins settled in the early 1800s. Much to our surprise we found the family name in an exhibit in the Mauch Chunk Museum & Cultural Center, citing cousin Elias Miner who in 1845 co-founded the old Mauch Chunk Iron Works.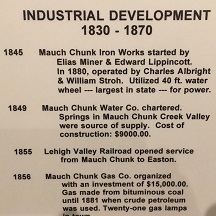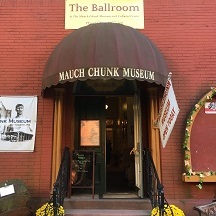 Elias Miner named in a Mauch Chunk Museum exhibit, Jim Thorpe, PA
Among other fascinating research discoveries during the year was of a cousin killed in the Great San Francisco Earthquake of 1906 – a cousin whose husband lost his business in the Great Chicago Fire of 1871 – an Younkin cousin Louis O. Kelso of the Herlinger/Wolfe branch who founded the concept of employee stock ownership plans (ESOPs), now widely accepted in our economy. So too the count increased of cousins who lost their lives in railroad and streetcar accidents and in the manufacturing mining and mineral industries.
These other Minerd.com pages also were updated with new finds -- Remembering Pearl Harbor: Honoring Known Cousins in Hawaii on Dec. 7, 1941 – Gaumer-Gomer-Garmer Biography Archives -- Younkin-Younken-Youngkin Feature Pages and Biography Archives -- and Honor Roll: 94 Military Casualties.

Telling the story of our website in public helps to reach many thousands of cousins and the public at large by sharing an encyclopedic trove of family information. An exciting opportunity to engage in 2022 was in providing historical images from the Minerd.com Archives for an award-winning, yearlong exhibit at the Beaver Area Heritage Museum and a new video documentary. The display, "Matthew Stanley Quay: Saint or Sinner? You Decide!" was a deep dive into the complicated life and career of Quay, who was a Pennsylvania State Treasurer, United States Senator, Republican National Committee Chairman and presidential kingmaker. The documentary was produced in association with Pacer Studios and features an exclusive interview with 100-year-old James A. Kehl, Ph.D., retired University of Pittsburgh professor and author of the definitive Quay biography Boss Rule in the Gilded Age. View the documentary on the Heritage Foundation's new YouTube Channel. I was privileged to help curate the exhibit and produce the documentary with a very talented team of people.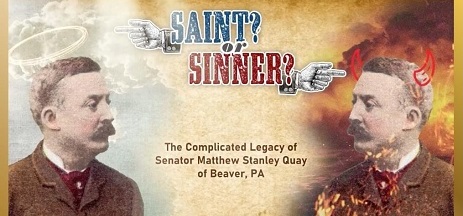 New Beaver Area Heritage Foundation video documentary features historical images from the Minerd.com Archives. View on YouTube>>>
~ 2022 Photo of the Month Recap

(click to view larger)

~
| | | | |
| --- | --- | --- | --- |
| | | | |
| January | February | March | April |
| | | | |
| | | | |
| May | June | July | August |
| | | | |
| | | | |
| September | October | November | December |
Save the Date! -- 2023 Reunion Plans – This year's National M-M-M-M Reunion will be held the weekend of June 9-11, 2023 in southwestern Pennsylvania. More details to follow. Watch our Minerd.com homepage and Facebook page for updates.
We need to fill the open elected positions of reunion treasurer and secretary. While neither job is particularly difficult or time-consuming, the roles need to be filled, and just cannot go on without dedicated team members.
Your reunion advisory committee includes Peggy Grimm Mansberry, Kristen Murphy Krieg, Jill Channing Aird, Barb Holly Minerd, Sharon Jo Sheldon Kern and Doris Sands Hawker.
In Closing - On a personal note, I was honored that Shawn Shroyer invited me to the Shroyer Reunion in Connellsville, PA on Labor Day and that Debra (Minerd) Kemp opened her home to me to scan old family photographs in January 2023.
Thank you again to everyone who has contributed your voice and your own family's trove of family heritage stories, images and paper. This site is for you, and would not be possible without you.
Sincerely,
Mark A. Miner, Founder, Minerd.com
January 19, 2023
~ New and Expanded Content on Minerd.com in 2022 ~
~ New/Expanded Features ~

~ New/Expanded Bios ~

Edward Jacob and Gertrude Sophia (Minerd) Ullery of Pennsville, PA

Walter Edgar Minerd and wives of Fairchance, PA & Cleveland, OH

Lawrence Earl and Isabelle (Coughenour) Minerd of Bullskin Twp., PA

Richard and Clarinda Mariah (Armstrong) Wells of Martinsville, MO

Henry Azariah and Emily "Alice" (Wilson) Williams of Louisburg, KS; Siloam Springs, AR; Kansas City, MO; and Stillwater, OK

Elizabeth "Libby (Minor) Wilson Armstrong and husbands of Cardington, OH; South Bend, IN; and Piqua, OH

Newton G. and Emma L. (Ardrey) Schofield of Mt. Perry, OH

Elsworth Absalom "Elza" and Hattie Law (Smith) Schofield of Mt. Perry, OH

Remulous and Mary Jane "Jennie" (Pring) McCollough of Dale and Shawnee, OK

John Alva Ream and wives Nellie (?) and Sally A. Rickabaugh of Iowa, California, Illinois and Oregon

Cleon Keys and Isabelle "Belle" (Young) Ream of Des Moines, IA and Bloomington, IL

Moses T. and Samantha (Ream) Johnson of Osceola, IA; Neligh, NE; Sheridan, WY; and Los Angeles

Austin Bruce and Marie (Ream) Garretson of Osceola, IA

Jasper "Newton" and Pernetta Augusta "Nettie" (Pring) Steward of Spencerville, IN

Reuben A. Younkin of Brush Valley, PA

Uriah and Louisa (DeArmy) Younkin of Brush Valley, Morrellville and Indiana, PA,

John A. and Catherine "Kate" (Younkin) Harmon of Brush Valley, PA

Simon and Louisa (Younkin) DeArmy of Brush Valley, PA,

Daniel J. and Lucinda (Younkin) Killen of Brush Valley & Homer City, PA

Edward Turner and Elizabeth "Lizzie" (Younkin) McNutt of Cokeville, PA

George Watson and Angeline S. "Annie" (Younkin) Esch of Brush Valley, PA

Edward E. and Martha "Effie" (Mack) Younkin of Brush Valley & Titusville, PA

John and Louisa (Herlinger) Grumbling of Brush Valley, PA

George F. and Mary Ann Julia (Herlinger) Dick of Brush Valley, PA

Francis K. "Frank" Herlinger and wives Maria Overdorff and Sarah Rhodes of Brush Valley, PA & Warren, OH

Josiah J. and Amelia (Herlinger) Wolfe of Denver & Westminster, CO

William Henry and Jemima (Adams) Herlinger of Brush Valley, PA

Frederick and Myrtilla (Robertson) Herlinger Jr. of Indiana, PA

John H. and Sarah Maria (Herlinger) Rugh of Brush Valley & Indiana, PA

William and Salina (Esch) Klinesman of LaClede, IL & Brush Valley, PA

Adam Esch and wives Julia Catherine Walters and Hannan Glass of Flinton, PA

Oliver and Rebecca (Esch) Campbell of Brush Valley, PA, Minnesota & Wisconsin

Levi and Elizabeth (Lowman) Esch of Brush Valley, PA

Joseph and Laura Ann (Shoupe) Esch of Armagh, PA and Fremont, OH

Edward and Angeline (Comfort) Esch of Indiana County, PA & Lisbon, OH

Jacob S. and Henrietta (Esch) Overdorff of Brush Valley, PA

Rev. John and Maria (Pittman) Esch of Western Pennsylvania

Michael and Maria (Esch) Overdorff of Blairsville, PA

William Esch and wives Josephine Martin and Catherine McCormickof Cambria and Somerset Counties, PA

Ira and Elizabeth (Minerd) Wilson of Cambridge Springs, PA

George B. and Arvilla (Minard) Marshall of Butler, OH

Isaiah and Eliza "Jane" (Shirer) Vensil of Dresden, OH

Rev. Daniel Gurley Shirer and wives of Ohio, Pennsylvania and West Virginia

Emanuel and Hannah A.C. (Shirer) Leydig of Greene, IA

Greenwell Reasoner "Green" and Mary Ellen (Fisher) Shirer of Greene, IA

Samuel W. and Catharine Mahala "Kate" (Shirer) Sutton of Adamsville, OH and Indianapolis, IN

Winifred Agnes "Winnie" (Shirer) Leydig Lydig and husbands of Adamsville, OH & Peabody, KS

Lydia Ellen (Shirer) Bell Kerr and husbands of Adamsville & New Concord, OH

George T. and Caroline Louise "Carrie" (Kincaid) Wilson of Trumbull County, OH

Hiram "Judson" and Clarissa E. (Miner) Barnard of Linesville, PA & Minneola, FL

Adam and Hannah (Comp) Diehl of Bedford County, PA

Adam and Nancy (Boies) Gaumer of Edgar County, IL

Clyde Benson and Margaret (Halfpenny) Nagle of Columbia County, PA

Irvin and Mary Jane (Ream) Nicklow of Somerset County, PA

Elias and Mary (Cook) Miner of Mauch Chunk and Weissport, PA

Alfred Gaumer and wives of Mauch Chunk, PA & Buffalo, NY

Nelson and Lucinda Ann (Miner) Hurd of Ohio

Adam A. Wiltrout and wives of Wisconsin

Samuel Denton Wiltrout and wives of Viola, WI; Bagley, IA; Sylvan, WI; Eubank, KY; and Current Twp., MO

Simon and Della (Sprague) Miner of Niles, OH

William Henry and Emma E. (Hurd) Miner of Delightful and Warren, OH

John Franklin and Josephine Etta (Roberts) Miner of Marion County, IL

Johann "Baltasar" and Mary Magdalene (Meinert) Bohm of Berks County, PA

John and Mary (Birch) Harrison of Washington, PA & Alexandria, VA

Ivan Raymond and Rachel (Minerd) Dean of Uniontown, PA

Joshua V. Armstrong of Cardington, OH

Philemon D. and Lucinda Jane "Jennie" (Gollada) Armstrong of Yakima, WA

Florence Harriett "Flora" (Miner) Cline Craig and husbands of Burlington, IA

Joseph and Laura Jane (Miner) Troxel Jr. of Burlington, IA & Coronado, CA

Abraham Lincoln and Sadie (Bowman) Rhoads of El Reno, OK

George W. "Lafayette" and Maria (Taylor) Johnston of Greene County, PA

Lemon Watson and Rebecca (Ferguson) Bristol of Buchanan, MI

Zenas Lafayette "Zean" and Inez Gertrude (Hayes) Crippen of Athens County, OH

Ulysses S. Grant and Mary Etta (Hilling) Turner of Mt. Braddock, PA

Dennis and Caroline (Miner) Musser of Wood County, OH

Phoebe (Younkin) Bouscher Lybarger and husbands of Jackson County, IL

James A. and Eliza Jane (Miner) Mathany of Champion and Warren, OH

Daniel and Harriet "Hattie" (Gilbert) Miner of Leavittsburg & Warren, OH

Lillian Day "Lillie" (Miner) Sheaks Little and husbands of Kalida, OH.

Frank and Sarah (Miner) Leiby of Warren, OH

Margaret Catherine "Maggie" (Miner) White Ramsell and husbands of Kalamazoo, MI

Dr. Francis Marion and Viola (Miner) Cox of East Palestine, OH

Homer W. Turner and wives of Chalk Hill, PA

William M. Miner and wives of Kalida, OH and Kalamazoo, MI

Harvey "Clinton" Conn and wives of Mill Hall, PA

Squire and Dianna (Nicklow) Shipley of Mt. Braddock, PA

Samuel and Harriet (Nicklow) Prinkey of Normalville and Mt. Pleasant, PA

James William and Eliza (Zinn) Overfield of Reedsville, WV

Marcellus Murray and wives of Pennsville, PA

William Henry Harrison and Anna Belle (Boyd) Sears of Greenfield, IN

Jesse Anderson and Susanna (Barnhouse) Stoner of Vanderbilt, PA; Ottawa, KS; and Palisade, CO

Harry M. and Marion A. "Bertie" (Rogers) Hanshaw of Grafton, WV and New York City and Mt. Kisco, NY

Minor Crick and wives Mary Ann Lentz and Elizabeth Ann "Lydia" Wright of Monroeville, IN & Piggott, AR

Daniel and Elizabeth (Korns) Gaumer of near Wellersburg, PA

David "Nesbit" and Caroline Amelia (Crumrine) Miner of Nebraska and Iowa

Cyrus and Elizabeth "Lizzie" (Miner) Lindley of Amwell Twp., PA

Minnie Elizabeth (Dillow) Wey Emenhiser and husbands of Texas and Arkansas

Sylvia (Dillow) Delamere West and husbands of Clinton, IL

Charles William Minard Sr. and wives of Philippi, WV

Henry and Anna Mariah (Overpeck) Younkin Jr. of Bucks County, PA; Loudoun County, VA; and Kunkletown & Brush Valley, PA

Isaac and Elizabeth (Younkin) Bell of Greene County, PA
Copyright © 2023 Mark A. Miner