Annual Review 2021
A Report for Family and Friends about the
Minerd.com Website, Facebook Page and Blog
~ Comparative Minerd.com Performance in 2021 vs. 2020 ~
98,963

Page impressions
Down from 105,449

33,774

Total visitors
Down from 35,959

30,879

New visitors
Up from 27,966

86

New biographies

Up from 59

1,937

Total biographies
Up from 1,851

722

Facebook page members
Up from 646

410

Facebook page posts


9,710

Facebook page reactions

12

Photos of the month
259 since inception

85

Military casualties

Up 12

56

Accidental work deaths in mining/metals - up 3

250

Casualties of water, fire/shock and vehicle accidents

125

Known cousin deaths occurring in 2021 - Down from 135

3,803

Known cousin deaths since July 1, 2000 - Up 622

13

Minerd.com Blog posts

Down from 20
In 2021, the Minerd.com website was updated nearly every single day, using a combination of proprietary research and a flood of amazing new material proactively shared by readers.
As always, the website's purpose is to be a sweeping biographical archive of early Pennsylvania German families. The biographies primarily tell the stories of forgotten generations of the Minerd-Minard-Miner-Minor – their cousins of Gaumer-Garmer-Gomer – and the closely related Younkin-Younken-Youngkin families, among 46 other clans. The site keeps growing … and growing. There seems to be no end.
More cousins than I can count or name stepped forward offering rare family photos and updated biographical details for their particular branch. You know who you are, and need to know how valuable your contributions have been in increasing our knowledge and deepening our understanding.
Some 86 new biographies and hundreds of rare images were added to the site last year. The biographies are intended to be as comprehensive and accurate as possible in documenting the span of lives from historical times to today.
In what I believe to be prudent judgment, our national M-M-M-M reunion committee voted to postpone our gathering in 2021 to another future year when Covid has subsided. The latest round of the Omicron virus, while not perhaps as potent as earlier strains, hints that it may yet be a while until we reconvene in person, and that a lingering fear persists, especially among our older cousins.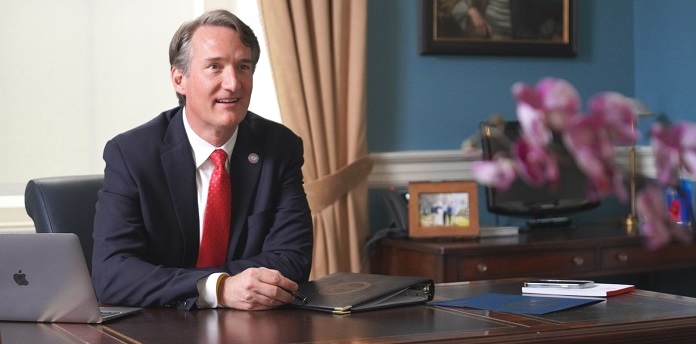 Cousin Glenn Allen Youngkin, newly elected Governor of Virginia
One of the big surprises of the year was when Virginia businessman Glenn Allen Youngkin – of the family of German immigrants Johann "Heinrich" and Catharina (Sherer) Junghen Sr. – won the election as governor of the commonwealth despite a highly polarized vote. The migration journey of Glenn's branch through Americana spans 225+ years. His personal path starts with Bucks County, PA -- Loudoun County, VA (1796) -- to Carbon, Indiana, Clearfield and Cambria Counties, PA -- to Scott and Jasper Counties, IA -- to Boca Raton, FL -- to Winston-Salem, NC -- to Baltimore, MD -- to Richmond and Virginia Beach, VA -- and now to the Governor's Mansion.
~ Select New and Updated Minerd.com Feature Pages ~
~ Private MMMM Facebook Page ~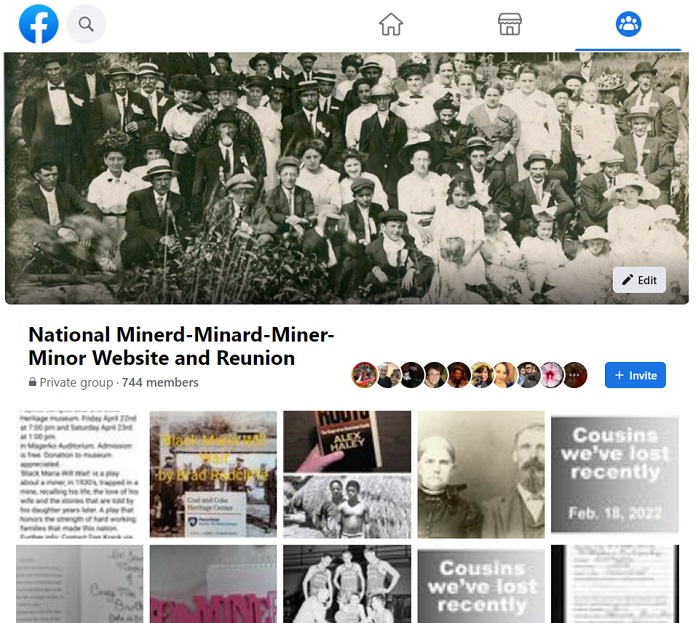 Join our private family page
Our private M-M-M-M family Facebook page added 76 new members in the past year, a growth rate of 11.8 percent. At year-end, the total stood at 722 members.
During the year, about 410 posts were made to the site, receiving a total of about 9,710 reactions and 1,990 comments. Thursdays are the most popular days for posting, with the 11 a.m. to noon slot is the most frequent time of day.
Cousin Tom Beck is one of the most prolific posters of content on the page, regularly sharing his essays about memories of his rural, growing-up years, using featuring his grandparents, Raymond and Rebecca (Rugg) Miner.
If you wish to join the page, please send a private message on FB letting me know who you are and to which branch you belong.
~ Unceasing, Rigorous Research and Content Development ~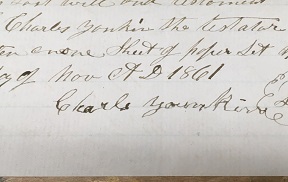 Original last will of a distant uncle who died in 1861, found in the Fayette County Courthouse, Uniontown, PA.
2021 Research Travel - Three short trips during the year generated voluminous research results, all within southwestern Pennsylvania. This included a visit to an extraordinary private collection of artifacts -- photography at cemeteries across several counties -- and paper archaeology at the Somerset Historical Center and Somerset and Fayette County Courthouses.
A trip in July yielded hundreds of photographs of old grave markers and nearly 300 copies of primary historical documents. In the Fayette courthouse in Uniontown, PA, I had the opportunity to hold in my hand and photograph the original last will and testament of a distant uncle Charles Younkin dating to the Civil War era. In a private repository in rural Somerset, I held an old tannery business ledger from the 1840s containing customer entries for scores of our distant relatives. Later, I was given permission to reproduce some of its content for this website.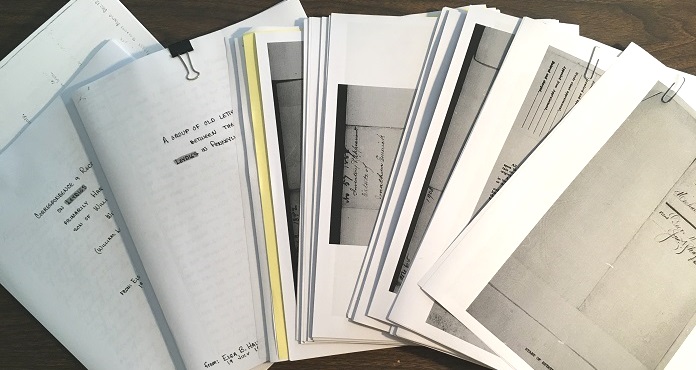 Copies of hundreds of documents brought home in July 2021 from research trips to courthouses and libraries in Somerset and Fayette Counties, PA
An extraordinary find at the Somerset Historical Center was the typescript of a travel diary kept by Josephine Whalen of Iowa in late 1881 and early 1882 during an extended visit with family along the Mason-Dixon line in Pennsylvania and Maryland. I've published the diary on our website under the title Such Times: A Diary Kept by Josephine Emerick While Visiting Relatives in Pennsylvania and Maryland in 1881.
Then in the heat of late August, cousin David Shaw and I met in Waynesburg, PA to explore the roots of my great-great grandmother Mary Louise (Johnson) Miner. Dave and I visited a number of old graveyards in and around Sycamore and Prosperity, learning that our Johnston people go back to early American and Scotch-Irish immigrant families bearing the names of Conklin, Kirkpatrick , Mills and Gaston. We subsequently learned that ancestor Andrew Kirkpatrick's pedigree goes back more than 20 generations to two Kings of England -- Alfred the Great (848-899) and his son Edward the Elder (874-924). This lineage is summarized in a 1891 book entitled Americans of Royal Descent, 2nd edition, authored by Charles H. Browning. Are we still royalty after more than a millennium?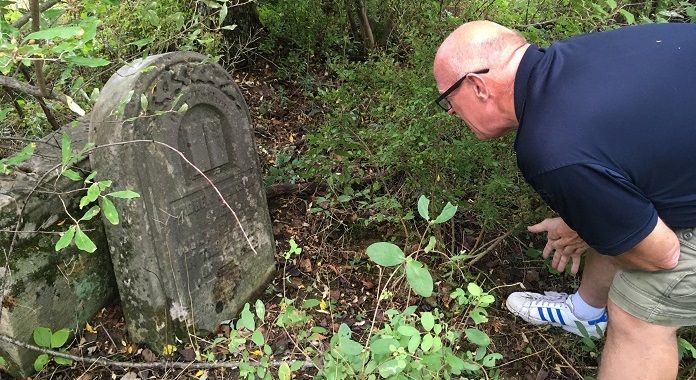 David Shaw cleaning the forgotten grave of 4x-great-grandfather Andrew Johnston, dated 1868
To my great disappointment, due to Covid-19 concerns, the federal government continued to keep closed the research room at the National Archives in Washington, DC. That kept me and many others from accessing its exhaustive holdingss of unique, original material. As of this writing, there are Civil War pension records for some 34 soldiers needing to be examined, copied and integrated into Minerd.com. The Archives website promises that "Once public health conditions improve and we are able to reopen the research room we will update our website with additional information." Meanwhile the clock ticks.
Many honored cousins sleep for eternity in Arlington National Cemetery. During my next trip to the District of Columbia, I plan to photograph a dozen newly discovered markers as illustrations for their biographies. At some point this content will be featured on its own standalone webpage.
~ Educating the Public in Popular News Media Outlets ~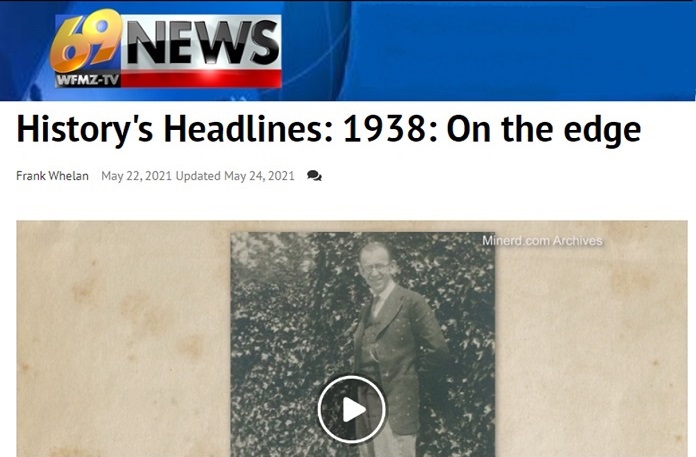 WFMZ TV segment using Minerd.com Archives images - watch>>>

Telling the story of our website in public media helps to reach many thousands of cousins and the public at large by sharing an encyclopedic trove of family information.
In May 2021, two vintage Minerd.com Archives images were used by WFMZ-TV in Allentown, PA an installment of its ongoing "History's Headlines" series. Entitled "1938: On the Edge," the segment featured cousin Dr. Preston Albert Barba, professor at Muhlenberg College in Allentown, and an expert on German history, focusing on the looming clouds of World War II in America during the late 1930s. Dr. Barba was of the family of Jesse and Elizabeth (Baer) Fegleyand was highlighted as the Minerd.com "Photo of the Month" in April 2019. View the TV clip>>>
The Minerd.com Blog featured 13 posts of content from our website.
~ 2021 Photo of the Month Recap

(click to view larger)

~
| | | | |
| --- | --- | --- | --- |
| | | | |
| January | February | March | April |
| | | | |
| | | | |
| May | June | July | August |
| | | | |
| | | | |
| September | October | November | December |
Future Reunion Plans – An M-M-M-M Reunion for 2022 is unlikely. While the reunion committee has not yet made a decision as of this writing, no one has even hinted at a suggestion that we move ahead to hold the event. Watch our Minerd.com homepage and Facebook page for updates.
If the reunion is to continue, we will need to fill the open elected positions of treasurer and secretary. While neither job is particularly difficult or time-consuming, the roles need to be filled. We cannot go on without dedicated, able-bodied assistance.
In Closing - On a personal note, Covid-19, age and the Grim Reaper took a heavy toll in 2021. To our collective grief, we lost our longtime reunion secretary Rosella (Resh) Miner of Grantsville, MD and the husband-and-wife team of Joe and Adele (Martin) McKnight, he our reunion treasurer. Joe and Adele went above and beyond in promoting our reunion and online resources in their town of Connellsville, PA, where hundreds of not thousands of distant cousins reside today. It was Joe who tracked down the only known photo in uniform of cousin Garry Robert Feniello of the Pittsburgh Steelers team of 1947. He also helped expand the research for our proprietary webpage, featuring more than 40 cousins in the 1972 Graduating Class, Connellsville Area High School and hosted informal cousin dinners at a legendary local establishment, Bud Murphy's Famous Pizza.

Our reunion leaders lost in 2021 -- Adele and Joe McKnight
(treasurer) and Rosella (Resh) Miner (secretary since inception).
On another aside, I am grateful to a hard-working group in Somerset County, PA -- among them Linda Marker, Kristi Brant and other cousins with the Rockwood Area Historical Society and family friends Jennifer Hurl of the Meyersdale Public Library and collector Michael J. Miller -- for the work they are doing. This team is working to preserve and digitize unique manuscripts and tirelessly perform all of the other behind-the scenes tasks to bring unique historical gems into the public eye. Most fortunately for all of us, they are eager to share.
Heading into Minerd.com's 23rd year this May, keeping the work going is a never-ending, fascinating voyage of adventure ino the vast, layered worlds of Americana. Thank you again to everyone who has contributed your special part from your own family's trove of family heritage. This site is for you, and would not be possible without you.
Sincerely,
Mark A. Miner, Founder, Minerd.com
February 26, 2022
~ What Was New and Expanded on Minerd.com in 2021 ~
~ New/Expanded Features ~

~ New/Expanded Bios ~

Charles Addison Dillow and wives of Clinton, IL

Daniel Benjamin and Catherine (Emerick) Troutman of Ottawa, KS

Rev. William Mullen and Violet Pearl (Johnson) Minerd of Armstrong and Somerset Counties, PA

David Monroe and Susan Clara (Dillow) West of Weldon, IL

William Watson and Caroline "Lena" (Wandschneider) Dillow of Illinois, Missouri & Arkansas

David "Alfred" and Lissie Mae (Russell) Dillow of Eureka Springs, AR and Oregon City, OR

Minnie Elizabeth (Dillow) Wey Emenhiser and husbands of Texas and Arkansas

John Edward and Carrie "Livona" (Dillow) Bothwell of Gilmore City, IA and Tacoma, WA

Sylvia (Dillow) Delamere West and husbands of Clinton, IL

Charles and Hannah (Troxell) Youngkin of Cambria County, PA

Aaron and Mary "Polly" (George) Younkin of Brush Valley, PA

Frederick and Anna Mariah (Younkin) Herlinger of Brush Valley, PA

Joseph and Sarah (Younkin) Esch of Brush Valley, PA



Charles William Minard Sr. and wives of Philippi, WV

Carroll Wayne "Yunk" and Ellis (Quinn) Youngkin of Boca Raton, Winston-Salem, Baltimore, Richmond and Virginia Beach

Glenn and Marian Pauline (Maynard) Youngkin of Boca Raton, FL & Winston-Salem, NC

Ulysses "Grant" and Clara Emmeline (Butrum) Youngkin of Jasper County, IA

Joseph and Elizabeth Jane (Smith) Youngkin of Cambria County, PA and Scott and Jasper Counties, IA.

David and Susanna "Susan" (Copp) Youngkin of Frankstown & Beaver Valley, PA

Henry and Anna Mariah (Overpeck) Younkin Jr. of Bucks County, PA; Loudoun County, VA; and Kunkletown & Brush Valley, PA

Jacob "Adam" and Christina "Teena" (Emerick) Burkett of Somerset County, PA

Alexander and Elizabeth Kirkpatrick of Dumfries, Scotland & Somerset County, NJ

Andrew and Margaret (Gaston) Kirkpatrick of Dumfries, Scotland; Belfast, Ireland; & Somerset County, NJ

Daniel and Sarah Anne (Kirkpatrick) Johnston of Prosperity, PA

James and Jennette (Gaston) Johnston of Elizabeth, NJ

Capt. John J. and Elizabeth Phoebe (Mills) Conklin of Sparta, PA

Stephen and Deborah (Dimon) Conkling of Morristown, NJ

Jedidiah and Sarah "Polly" (Roberts) Mills of Morristown, NJ

Mary Coe of Morristown, NJ

William and Louisa Ann (Ream) Wilkins of Fort Hill, PA

Andrew and Climena (Conklin) Johnston of Sycamore, PA

William and Catherine Ann "Caty" (Comp) Sarver of near Sand Patch, PA

Forest "Fay" and Kathryn (Quinlan) France of Continental, OH

Claude C. and Myrtle (Littrick) France of Continental, OH & Marion, IN

James Henry and Gladys L. (Newell) McKnight of Dawson, PA

Presley Twining and Mary Iona (Robinsin) France of Michigan Center, MI

Andrew Jackson Van Horn and wives of Monroeville, IN, Gladwin, MI and Lima & Bath, OH

Isaac and Elizabeth (Younkin) Bell of Greene County, PA

Jurdin C. and Jessie (France) Henry of Cygnet and Maumee, OH

John C. and Rhoda (Van Horn) France of Continental, OH

Austin Coleman Van Horn and wives of Grand Rapids and Deshler, OH

Henry "Ross" and Harriet A. (Jacobs) Blythe of Columbia Heights, MN

Albert and Emma A. (Blythe) Hoy of Huron, SD

Frederick and Ella Sophia (Blythe) Duffy of Napoleon, OH

Jay Orlando and Lydia Sarah (Hoy) Blythe of Antelope, SD & Ferndale, WA

David Samuel and Amelia (Koch) Van Horn of Bay City, MI

Lewis T. and Effie "Maude" (Van Horn) Harmon of Deshler, OH

Valentine and Hester "Esther" (Gaumer) Shirer Jr. of Adamsville, OH

Charles S. and Sabina "Lucretia" (Van Horn) Callan of Cygnet, OH

Austin "Frederick" and Amanda Emma (Sherman) Van Horn of Findlay, OH

Edward Jacob and Lucy Melia (Zimmerman) Van Horn of Pasadena, CA

George Clinton Gilmore and Artie (Devore) Van Horn of Deshler, OH

John Kimberlin and Ida Maud Gaston (Buchanan) Van Horn of Deshler, OH

Elias and Mary Ann (Kimberlin) Van Horn of Grand Rapids, OH

William Henry and Catherine (Cornell) Van Horn of Grand Rapids, OH

Dr. Clarence Harvey Dean and wives of Custer City, OK & Long Beach, CA

James "Andrew" and Lovena Jane (Oberman) Dean of Vigo County, IN

Joseph and Sarah (Weyand) Coleman of Somerset, PA

William Henry and Catherine (Cornell) Van Horn of Grand Rapids and Napoleon, OH

James and Catherine (Cornell) Van Horn of Grand Rapids, OH

Samuel and Sophia (Minard) Van Horn of Grand Rapids, OH

George and Susannah (Smith) Minard of Conotton, OH

John Quincy Adams and Mary Jane (Minerd) Dillon of Monroeville, IN

John and Barbara Ann (Minerd) Ball of Paulding County, OH

Daniel L. and Cora I. (Gilbert) Miner of Monroeville, IN

William E. and Catherine "Kate" (Richards) Singer of Dixon, OH

William Ellsworth and Amanda (Albaugh) Miner of Alliance, OH

John W. and Mildred Irene (Ryel) Miner of Alliance, OH

Daniel and Martha Jane (Minard) Manbeck of New Rumley, OH

Frederick W. and Elizabeth Jane (Murdock) Ehrlich of Ironton, OH

William H. and Mary Adaline (Murdock) Peters of Ironton, OH

Thomas "Ira" and Elizabeth "Lizzie" T. (Keefer) Gribble of Grindstone, PA

John W. and Lola Ann (Gribble) Jeffries of New Salem, PA

John "William" and Sue L. (Murdock) Fawcett of Wheeling, WV

Capt. Israel B. and Saline (Farley) Murdock of Ironton, OH

Bertram Philo and Marie Frances "Mollie" (Murdock) Seelye of White Plains, NY

Thomas Ira and Julia (Caywood) Murdock of Ironton, OH

Hardin Duvall and Elma (Herring) Carroll of Kingwood, WV

Oliver and Louisa F. (Carroll) Dunn of Kingwood, WV

Robert "Milroy" and Amanda (Hauger) Everly of Revere/Uniontown, PA

William Tecumseh Sherman and Hattie Ann (Calvert) Everly of Morgantown and Kingwood, WV

Enoch Gerald and Cora Alena (Everly) Calvert of Morgantown, WV

John "Amaziah" Everly and wives of Kingwood, WV

John Clark and May Elizabeth (Everly) McCreery of Morgantown, WV

Alfred Arthur and Lillian (Rhoads) Younkin of Casselman, PA & Wenatchee, WA

James W. Miller of Tunnelton, WV

Francis "Fairfax" Miller of Tunnelton, WV & Stockton, CA

Ignatius and Martha (Lionhart) Martin of Cameron, MO

John Wesley and Margaret E. (Miller) Stafford of Preston County, WV and Athens County, OH

John William and Effie (Hatfield) Miller of Athens County, OH and Preston County, WV

George L.P. and Alice Marie (Dailey) Overfield of Canada, Montana and Kansas

Nehemiah "Harvey" and Mary "Adaline" (Miller) Shaffer of Newburg, WV

Chauncey Alston and Margaret Alice (Minerd) Bailey Sr. of Clarksburg, WV & Detroit, MI

Solomon and Hannah (Sturtz) Comp of Somerset County, PA

Samuel and Lydia (Sturtz) Boyer of Somerset County, PA

Jonathan and Rachel (Sturtz) Emerick of Wellersburg, PA

Nathan Emerick of Gladdens, PA

Jacob Emerick and wives of Gladdens, PA

John and Lydia (Emerick) Beal of Mt. Savage, MD

Emanuel and Elizabeth (Boderfield) Emerick of Brooklyn & Grinnell, IA

John and Louisa (Emerick) Korns of Tama County, IA

Josiah and Indiana (Davis) Emerick of Fairhope, PA

Jonathan and Drusilla Emerick Jr. of Cook's Mills and Gladdens, PA

Solomon and Mary Ellen (Albright) Emerick of Gladdens, PA

Peter D. and Rebecca (Emerick) Knieriem of Wellersburg, PA

Lafayette Emerick and wives of Fairhope, PA & Helmer, IN

John J. and Elizabeth (Albright) Emerick of Somerset County, PA

Jesse "Bruce" and Martha "Ellen" (Brooks) Nicklow Jr. of Pennsville, PA

Harry Clay and Anna (Hoye) Bunting Sr. of Dunbar, PA

Jackson "Grant" and Rebecca (Cunningham) Rose of Ursina, PA

Adam and Elizabeth (Younkin) Wiltrout of Bullskin Twp./ Connellsville, PA

Timber "Lake" and Emma (Beerbower) Gribble of Clarksburg, WV

Jehu and Mary Ann (Ream) McMillan of Listonburg, PA

Adam and Hannah (Comp) Diehl of New Buena Vista, PA

William "Henry" and Elizabeth J. (Starkey) Younkins of Wheeling, WV and Fairchance & Waynesburg, PA

William Stephen and Ruth Ann (Minerd) Mayle of Philippi, WV

Artennis and Virgie (Minard) Mayle of Philippi, WV and Zanesville, OH

James and Ellen "Nellie" (Younkin) Wiltrout of Clinton County, IN

William M. and Jennie Belinda (Rose) Burgess of Ursina, Perryopolis & Millvale, PA

Samuel and Susanna (Korns) Gaumer of Wellersburg, PA & Victor, IA

Daniel and Elizabeth (Korns) Gaumer of Wellersburg, PA

Franklin and Celinda (Bloss Selzer) Gaumer of Mauch Chunk, PA

Alfred and Mary Gaumer of Mauch Chunk, PA & Buffalo, NY

Wilson C. and Julia A. (Nicklow) King of Normalville & Kingview, PA

Jacob and Dora B. (Nicklow) Wildey of Connellsville, PA

Thomas and Barbara (Haines) Ream Sr. of Draketown, PA

Irvin R. and Mary Jane (Ream) Nicklow of Somerset County, PA

Robert Lloyd and Rebecca Jane (Nicklow) McNeill of Confluence, PA

Samuel and Harriet Ann (Nicklow) Prinkey of Connellsville & Mt. Pleasant, PA

Squire and Dianna (Nicklow) Shipley of Ohiopyle & Mt. Braddock, PA

Forward Ream and Susan (Yowler) Nicklow of Percy, PA

William Thomas and Lucy Ann (Collins Ross) Minard of Grafton, WV

William and Ellen Frances (Williams) McKnight of Canonsburg, PA & Hinkle & East Danville, OH

Andrew Jackson and Emma Louise (Specht) Birch of Washington, PA

John D. and Esther (Ogle) Kooser of Connellsville, PA

Earl Stanley and Mary (Minerd) Eicher of Pittsburgh, PA

George W. and Ida F. (Troutman) Menefee of Potter, NE

Isabella Jane "Belle" Menefee of Newburg, WV

Charles Edward Menefee of Evansville, WV

Robert "Franklin" and Minnie May (Proudfoot) Menefee of Newburg, WV; Wellington, KS; & Denver, CO

Elmer Ellsworth and Mary Catherine "Molly" (Menefee) Rush of Winchester, VA

William "Franklin" and Arlene Grace (Menefee) Stuck of Newburg, WV

John Levi and Sarah (Menefee) Gibson of Tunnelton, WV

Charles Taylor and Cordelia "Della" (Menefee) Frazier of Newburg, WV

Jesse "Floyd" and Reatha Arcelia (McCuen Spires) Goins of Zanesville, OH and Lansing, MI

Andrew Jackson "Andy" and Harriet V. (Younkin) Moon of Confluence, PA

William "Henry" Harrison and Ida (Hyatt) Younkin of Somerset County, PA

John "Wesley" and Ada Charlotte (King) Younkin of Kingwood, PA

Lucinda Jane "Jennie" (Miner) Turner Stevenson Paolone and husbands of Connellsville, PA
Copyright © 2022 Mark A. Miner