Home

Caroline Belle (Beggs)
Perry Schurecht
(1883-1958)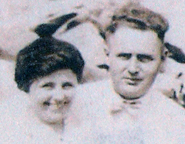 Carrie and Harry Schurecht
Caroline Belle (Beggs) Perry Schurecht was born in August 1883 in Dunbar, Fayette County, PA, the daughter of William J. and Mary Belle (Minerd) Beggs Sr. Her second husband -- seen here -- was a research engineer who specialized in ceramic clays, focusing their application for industrial usage, and was a frequently published technical author who held many patents.
On July 3, 1899, at the age of 16, "Carrie" married 22-year-old Skiles R. Perry (1877-1908). He was the son of William B. and Eliza Perry of Uniontown. The minister performing the ceremony was Carrie's uncle, the famed "Blacksmith Preacher," Rev. David Ewing Minerd.
The Perrys had three children -- Helen L. Harris, Paul E. Perry and Viola Perry. Helen (1901) and Paul (1903) were born in Pennsylvania, while Viola was born in Illinois (1907). Viola is thought to have died as a young child.
Skiles was employed in Uniontown as a "toby puller" or "roller," an unfamiliar term today that may have been related to an industrial occupation in local coal mines. When the federal census was taken in 1900, the couple lived in Uniontown on Iowa Street, where he was considered "well known."
The Perrys' marriage was troubled. They fought frequently, and Carrie accused him of "intemperate and cruel treatment, said the Connellsville Weekly Courier. He was arrested after one particularly bad "rumpus" in November 1906, and Carrie sued for divorce.
Sadly, Skiles died on May 11, 1908, at the age of 31. Details are lost to history -- but his death may have occurred in Illinois. By 1910, the widowed Carrie, age 26, lived on East Main Street in Uniontown with two of her children, Helen and Paul.
Dunbar Pa.

Nov. 99.

Dear Carrie:

I will write and let you know that I am still living I did not hear from you and thought perhaps you and Skiles were gone up Salt River. My but I do miss you and Skiles for I enjoyed myself when I was up...
Fragment of a note intended for newlyweds Carrie and Skiles from a Minerd cousin, discovered in 2019 in a tattered Bible of Carrie's uncle, Rev. David Ewing Minerd.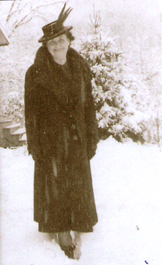 Carrie Schurecht
On Oct. 21, 1915, at New Castle, Lawrence County, PA, the 32-year-old Carrie married her second husband, Harry George Schurecht (1892-1968?). Rev. J.H. Miller, a Minister of the Gospel, performed the nuptials.
A native of Chicago, Harry was the son of Charles and Christine (Wagner) Schurecht. Carrie was nine years older than her husband. On the marriage license, Carrie listed her age as 30 and her residence at 1709 Agnew Street in Pittsburgh.
Carrie is seen here, wearing a fashionable hat and fur coat, likely when she and Harry resided in New York State in the 1930s and early '40s.
Harry obtained his high school diploma at Crane Technical High School in Chicago. In 1914, he obtained his bachelor of arts degree in ceramics from the University of Illinois. Then from 1914 to 1916, he was a ceramic chemist with Findlay Clay Pot Company in Washington, Washington County, PA. That is most likely where he would have met Carrie, as Washington and Fayette are neighboring counties.
Upon marriage, the newlyweds moved to Pittsburgh, where Harry was an associate ceramic chemist with the National Bureau of Standards, and likely took graduate courses at the University of Pittsburgh. In 1918, his work under the supervision of A.S. Watts was cited in the Annual Report of the Secretary of the Interior (page 602). Among his projects with Watts in 1916 was an "investigation of the secondary kaolins of the coastal plain of Georgia and South Carolina, with especial reference to their substitution for imported English china clay...," according to Reports of the Department of the Interior, Vol. 1, 1917.
Heartache rocked the couple just a few days before Christmas 1920. Carrie's son Paul, at age 18 a student in Pittsburgh, suffered from a disease of his heart valves. He was admitted to St. Francis Hospital in Pittsburgh, but was unable to recover. He died on Dec. 23, 1920. Burial was in Greensburg.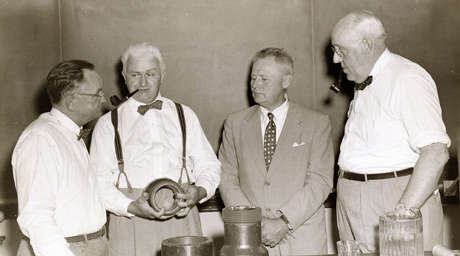 Harry Schurecht, 2nd from right, with researchers, L-R: John McMahon, Dean of the New York State College of Ceramics; J.O. Everhart of Ohio State University and W.E. Robinson of the Robinson Clay Product. Image courtesy of the Scholes Library, College Archives, NYSCC at Alfred University. Also see our "Photo of the Month" for January 2011.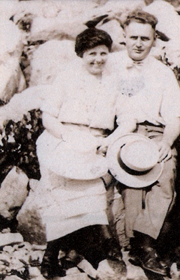 Carrie and Harry
From there, by 1920, they migrated to Columbus, Franklin County, OH, where he obtained employment with a ceramics company and continued master's level coursework at Ohio State University. They are listed in Columbus in the 1920 federal census. The Tenth Annual Report by the Director of the Bureau of Mines for 1920 lists Harry as a ceramic chemist in the Columbus Station of the bureau. The report said that the purposes of the Columbus station "are the investigation of ceramic raw materials, their mining, refining, and utilization in the manufacture of finished products, the investigation of ceramic manufacturing problems with the object of eliminating waste, of reducing the cost of production, and of improving the quality of products. The ceramic industries include a very broad field of manufacturing and the comparatively large number of different products and industries are classified under five general groups, known as clay and allied products, cements, limes and plasters, glass, enamels for metals, and abrasives."
The Schurechts moved back to Pittsburgh circa 1923, where Harry took additional classes at Pitt. While in the Steel City, he filed for and received his first known patents, all three of them approved by the U.S. Patent and Trademark Office on May 11, 1926. One was devoted to "Salt Glazing," an invention which "relates to salt or vapor-glazing of ceramic ware," while another focused on "Scum Prevention" which prevented "scumming or efflorescence on clayware and particularly on clayware which is to be salt-glazed." (See table below for more.)
By 1930, Harry had accepted employment in Washington, DC, with their home on 41st Street NW. That year, he was a chemist with the U.S. Bureau of Standards, holding the position of Senior Fellow of the National Terra Cotta Society Fellowship.
In February 1931, Carrie returned to Uniontown for one of many visits over the years with relatives. The hometown newspaper, the Uniontown Morning Herald, reported that she had arrived from Washington "to spend several weeks visiting her mother, Mrs. Samuel Walls of Hopwood." Then again in late August 1935, now living in Rahway, NJ, she went to Greensburg, Westmoreland County, PA "to spend a few days with Mrs. Schurecht's sister, Mrs. W.R. Mahoney. Mrs. Schurecht and Mrs. Harris have been visiting their mother and grandmother, Mrs. Samuel Walls of Hopwood."
Carrie and Harry moved to Alfred, Allegany County, NY in 1936, where he was named inaugural director of the Ceramic Experiment Station at the College of Ceramics at the State University of New York at Alfred University. In this role, he served for seven years as a professor of research for studies commissioned by the Pacific Coast Borax Company and other industrial firms. In a summary by S.R. Scholes some years later, in 1957, he wrote:
Work began in July, 1936, under the direction of Dr. Harry G. Schurecht, who had made a reputation in ceramic research at the Bureau of Standards. Mr. John f. McMahon, Alfred '23, was brought from the Canadian Bureau of Mines to assist Dr. Schurecht. Mr. C.Major Lampman, Jr., was the third member of the original staff.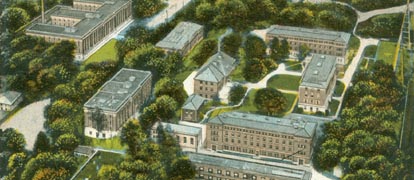 Bureau of Standards campus in Washington, DC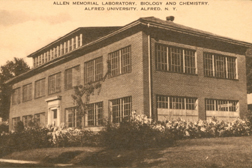 Alfred University's laboratory building
Seen at right, the building most likely where Harry and his team conducted their research -- the Allen Memorial Laboratory, Biology and Chemistry, at Alfred University.
When Caroline's sister Pearl Nabors faced marital and legal troubles back home in Uniontown circa 1939, Caroline took in her the Nabors' daughter, Anna Belle, to raise. The niece remembers the Schurechts' large rambling house in Alfred, with a fireplace in every room. Anna Belle was given the job of polishing all the hardwood floors on her hands and knees. When Anna Belle reached her 16th birthday, her aunt and uncle threw her a "fabulous party" and invited almost all of her classmates from her high school. Anna Belle later married Charles Frederick Buchanan II and spent her married life in Seattle.
Caroline is said to have been a member of the Daughters of the American Revolution (DAR). We are working to identify the background facts and identity of the relative for which she was admitted to membership.
Harry and his fellow Ceramic Experiment Station researchers published 89 technical papers summarizing their findings. In the early years of World War II, Harry and his colleagues made their facility available to the War Production Board for scientific research that might be useful for the war effort. In a special publication of the National Academy of Sciences and the National Research Council, they advertised "300 hours per week available. Equipment for spectroscopic, petrographic, X-ray, and chemical analysis; practically complete ceramic equipment."
All told, Harry had a hand in writing or editing at least 150 titles during his career. In addition to his written output at the ceramic station in New York, he reviewed technical journals and authored short synopses which were published by the American Ceramic Society. Click for a master bibliography of his known works.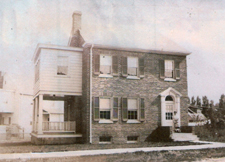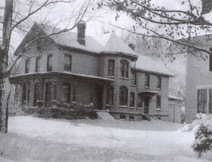 The Schurechts' homes in Washington, DC (left) and Alfred, NY
Harry George Schurecht's 15 Known Patents
May 11, 1925 - Salt Glazing - No. 1,583,901 and 1,583,902
May 11, 1925 - Scum Prevention - No. 1,583,903
Dec. 4, 1951 - Ceramic Insulator for Spark Plugs - No. 2,577,369 - assigned to Champion Spark Plug Company, Toledo, Ohio
Dec. 22, 1953 - Ornamental Crystalline Glaze - No. 2,663,658 - assigned to Champion Spark Plug Company
June 5, 1956 - Spark Plug Insulator Containing Ceric Oxide, No. 2,749,246 - assigned to Champion Spark Plug Company
Aug. 27, 1957 - Spark Plug Insulators Containing ZnO - No. 2,804,392 - assigned to Champion Spark Plug Company
May 12, 1959 - Spark Plug Insulators Containing ThO2 - No. 2,886,453 - assigned to Champion Spark Plug Company
Aug. 4, 1959 - Spark Plug Seal - No. 2,898,395 - assigned to Champion Spark Plug Company
Dec. 13, 1959 - Spark Plug Insulators Containing Stannic Oxide - No. 2,917,394 - assigned to Champion Spark Plug Company
April 19, 1960 - Composite Glass Seal - No. 2,933,552 - assigned to Champion Spark Plug Company
July 12, 1960 - Ceramic Spark Plug Insulator - No. 2,944,910 - assigned to Champion Spark Plug Company
May 29, 1962 - Electrically Semi-Conducting Ceramic Body - No. 3,037,140 - assigned to Champion Spark Plug Company
July 24, 1962 - Spark Plugs and Methods of Producing Same - No. 3,046,328 - assigned to Champion Spark Plug Company
July 24, 1962 - Electrically Semi-Conducting Engobe Coating - No. 3,046,434 - assigned to Champion Spark Plug Company
April 19, 1966 - Spark Plug Seal - No. 3,247,132 - assigned to Champion Spark Plug Company
Source: U.S. Patent and Trademark Office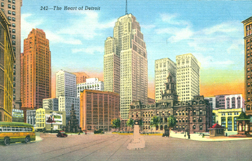 Detroit skyline
In late 1942 or January 1943, with the war raging and Harry's expertise needed for the war effort, the Schurechts moved again to Detroit, MI, where he accepted employment with the Detroit Ceramic Division of the Champion Spark Plug Company -- a Fortune 500 company headquartered in nearby Toledo, OH. This relocation was most likely in connection with the war production effort, to produce effective spark plug technology in the engines of as many motorized military vehicles and machines as possible and to mobilize them into action in as short a time as possible.
Detroit's skyline is seen at left, during the height of the city's prosperity and leadership in the automotive industry, which helped provide a major market for Harry's services.
During his career of about 15 years Champion, Harry's research was focused on developing and patenting insulating material for spark plugs. Among the materials he analyzed, and later patented, were thorianite, zinc oxide, ceric oxide and stannic oxide, which resisted deterioration caused by heat or electrical force. He secured 13 known patents while at Champion, added to two he had obtained earlier in his career.
While in Detroit, Carrie became a member of the Episcopal Church of Detroit, the Eastern Star and the White Shrine.
Sadly, Carrie passed away in the Detroit Hospital at age 74 on April 19, 1958, after 15 years in Detroit. Her remains were brought back to Uniontown for the funeral at the Minerd Funeral Home, which had founded by Carrie's first cousin, Edward E. Minerd. She was buried at Oak Grove Cemetery in Uniontown.

Obitiuary, 1958
After a long, productive career of research, publishing and inventing, Harry retired in 1959, a year after becoming a widower. Joining him in retirement was Champion research director Herbert F. Royal. This was noted in the American Ceramic Society Bulletin.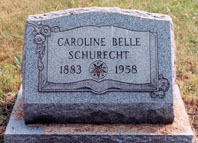 Oak Grove Cemetery
Harry outlived Carrie by about a decade, and in retirement relocated to the warmer climes of Florida's West Coast. When a grand-niece showed interest in ceramics, he wrote many letters to her in encouragement.
A number of his patents, filed while Harry was still employed at Champion in the mid- to late 1950s, were approved and patented in the 1960s, providing him with what must have been a continuing measure of satisfaction. The latest was in April 1966.
Harry is thought to have died in October 1968 in St. Petersburg, FL. Over the years, his research legacy has lived on. His writings have been cited in hundreds of other technical publications, with a comprehensive bibliography on this website.
Champion Spark Plug was purchased in 1989 by Cooper Industries and today is owned by Federal-Mogul Corporation, which maintains the Champion brand.
~ Daughter Helen L. (Perry) Harris ~
Daughter, Helen L. Perry (1901- ? ) was born in 1901 in Pennsylvania.
She married John W. Harris (1900- ? ), a native of West Virginia.
They had at least one son, Carrol Harris, born in about 1928.
In 1930, when the federal census was taken, the Harrises made their home on Baird Street in Morgantown, Monongalia County, WV. John owned a restaurant in Morgantown, and Helen assisted him as a waitress.
Circa 1935, Helen made her home in Bartow, Polk County, FL, when she and her mother are known to have visited relatives in Hopwood and Greensburg, and were mentioned in a related Uniontown newspaper article. Nothing more about her is known.
Son Carrol Harris may have married Betty Jean Barnhart in 1944 in Hillsborough County (Tampa), when he would have been age 16, but this needs to be confirmed.
~ Daughter Viola Perry ~
Likewise, the fate of daughter Viola Perry (1907- ? ) was born in 1907.
She is lost for now.
She is thought to have died as a child, before 1910, but this needs to be confirmed with precision.
Copyright © 2001, 2008, 2010-2011, 2014, 2019 Mark A. Miner
Photograph of Harry George Schurecht group courtesy of the Scholes Library, College Archives, NYSCC at Alfred University.