Frederick Arthur Behme
(1876-1940)


Fred and Myra
Frederick Arthur Behme was born in Octobere 1876 near Tontogany, Wood County, OH, the son of Nathaniel A. and Rebecca (Minerd) Behme. As a boy, Fred and his parents migrated west to Iowa.
In 1898, at the age of 22, Fred married 20-year-old Elmira Maude "Myra" Stoddard (1878-1941), a native of Humboldt County, Iowa and the daughter of Chester and Catherine (Bootz) Stoddard.
They had seven children -- Helen L. Lange, Maude M. Elliot, Thornton A. Behme, Isabelle Klassen Hyle, Mabel E. Caughell, Gordon S. Behme and Doris L. Ayers.
Fred's parents separated (and perhaps divorced) while in Iowa. His mother Rebecca soonafter moved to Washington State, leaving with Fred, in her words, her "feather bed & pillows I got from home. They have all the house things I had when I lived in Minneapolis & what I had in Iowa too. So they have two outfits & it seems that Fred wants to run it all his way." She also gave each of her children some of her "trinkets & keep sakes .. for fear I never got back again."
The first two of Fred and Myra's children (Helen and Maude) were born in LuVerne, Kossuth County, IA circa 1899-1901.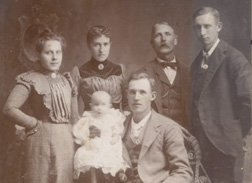 Three generations of Behmes, Britt, Iowa.
Fred is seated. Back row, L-R: sister Clara,
wife Myra, father Nate and brother Sam.
In one holiday season, perhaps 1899-1900, Fred's mother traveled from Washington to visit Fred and his family in Iowa, and later wrote:
I had a pleasant visit home Christmas time. Found them very well fixed. Fred has a sweet little girl. She puts me in mind of Clara when she was little. She is so cute you would laugh to hear her talk. She swears a little & it sounds so funny. You remember Fred used to swear so when he was small.
Another of his mother's letters of that era said that Fred was feeling "poorly. He has phthyic so bad. I am afraid he will not live long. The doctor told him a change of climate would do him good & nothing else would..."
Fred's mother must have encouraged them all to move to Washington State. Fred's in-laws were native Iowans, and Myra apparently was reluctant to relocate. However, circa 1903, Fred and his family made the migration to Washington State, settling in Custer, Whatcom County. There, the rest of their children were born.
Much of what we know of Fred's life comes from letters his mother sent to relatives back home in Ohio. In one such letter, dated Nov. 18, 1907, she wrote: "Fred & wife lives at Custer. They are all well. Also his health has been so much better since he came out west..." In early October 1908, the Lynden (WA) Tribune reported that Fred "has moved onto his ranch three miles north of Custer. Fred says no more mill work [for] him -- ranching suits him better." Yet by 1910, census records show that Fred was employed as an engineer in a shingle mill in Excelsior, Whatcom County.
During the decade of the 1910s, Fred and Myra separated, with him leaving the household and Myra having sole responsibility for their children. Myra is shown in the 1920 census was heading her household and working as a private duty nurse. The census taker marked her as "widowed" even though Fred was still living. In 1930, the 52-year-old Myra lived under the roof of Katherine and Felix Olson in Bellingham, Whatcom County, with her status correctly marked as "divorced" and with her continuing to provide private care nursing.
Myra married again to Wesley John Levitt (1876-1953), a Canadian native. He brought a daughter to the marriage, Effie Louise Mustoe. Myra died in Bellingham on April 12, 1941. [Find-a-Grave] Wesley survived her by a dozen years and passed away, also in Bellingham, on July 7, 1953.
At some point, Fred also remarried, to Theresa A. Rosin (1881-1967), an emigrant from Germany. She brought a son to the marriage, Trist William B. Stokes. They resided in Portland, Multnomah County, OR. Theresa was a member of the Peace Lutheran Church. In 1930, they lived in Portland, where Fred earned a living as a laborer in a cooperage, and provided a home for his son Gordon. Circa 1940, the Behmes dwelled at 7817 North Brandon Street in Portland.
On March 11, 1940, Fred passed away in Portland. Funeral arrangements were handled by Peninsula Funeral Home. He is entombed in the Historic Columbian Cemetery in Portland. [Find-a-Grave]
Theresa outlived her husband by more than a quarter of a century, and remained in her home for most of that time. She died in early January 1967, with funeral arrangements provided by Mikeworth's Peninsula Funeral Home.
~ Daughter Helen L. (Behme) Lange ~
Daughter Helen L. Behme (1899-1970) was born on March 24, 1899 in LuVerne, Kossuth County, IA. She migrated to Washington State with her parents when a young girl.
Helen married Michigan native William Lange ( ? - ? ). The couple produced two known children -- Marvin L. Lange and Noraine Lange.
In 1920, when she was age 20 and he 21, the newlyweds resided with her mother in Custer, Whatcom County. William was employed in 1920 as a laborer in a local shingle mill.
Helen died in Whatcom County at the age of 71 on Dec. 19, 1970. Interment was in Haynie Cemetery in Blaine, Whatcom County.
Son Marvin L. Lange (1921-2002) was born on Nov. 8, 1921 in Custer, Whatcom County. During World War II, he served in the U.S. Navy. At the age of 26, on March 20, 1948, he was married to Angela Ronzani (1916-2002), a native of New Baden, IL and the daughter of John and Marianna (Dalle Carbonari) Ronzani. Angela had worked for Boeing during the war. The couple produced one daughter, Judy Ockinga. They resided in Bellingham, WA, where Marvin earned a living in the construction trade for more than a half century. Angela enjoyed baking, real estate and collecting interesting objects. He died at the age of 80 on Aug. 24, 2002. Burial was in Bayview Cemetery in Bellingham. [Find-a-Grave] Angela only lived for a few weeks after Marvin's death and passed into eternity at age 86 on Sept. 12, 2002.
Daughter Noraine Lange (1924-1945) was born on June 25, 1924 in Washington. Sadly, her young life ended at the age of 21 years. She died on Nov. 6, 1945 in Sedro-Woolley, Skagit County, WA. Burial was in Haynie Cemetery in Blaine, Whatcom County.
~ Daughter Maude M. (Behme) Elliot ~
Daughter Maude M. Behme (1901- ? ) was born in about 1901 in Iowa.
After her parents separated, to earn badly needed income, Maude went to work as a servant in private homes in or around Custer, Whatcom County.
She was wedded to (?) Elliot.
~ Daughter Mabel E. (Behme) Caughell ~
Daughter Mabel E. Behme (1903- ? ) was born in about 1903 in Washington.
She was united in marriage with (?) Caughell.
~ Son Thornton A. Behme ~
Son Thornton A. Behme (1905- ? ) was born on June 19, 1905 (or 1904) in Washington.
He married Clara J. (1915-1998). They resided for a period of their lives in Whatcom County.
Thornton died on June 2, 1981 with burial in Ferndale Cemetery in Whatcom. [Find-a-Grave]
Clara survived her husband by 17 years. She joined him in death on Oct. 12, 1998.
~ Son Gordon S. Behme ~
Son Gordon S. Behme (1907- ? ) was born in about 1907 in Washington. Unmarried at age 24, he lived with his father and stepmother in Portland, Multnomah County, OR.
~ Daughter Doris L. (Behme) Ayers ~
Daughter Doris L. Behme (1908- ? ) was born in about 1908.
She married (?) Ayers.
~ Daughter Isabelle (Behme) Klassen Hyle ~
Daughter Isabelle K. Behme (1911- ? ) was born in about 1911.
At age 19, she resided with her divorced mother in the Bellingham, WA residence of J. Felix and Katherine P. Olson.
She was twice married, first before 1935 to Dick Klassen (1889- ? ), a native of Nebraska. Circa 1940, they lived on a farm along Old Naches Highway in Gleed, Yakima County, WA. Dick had been married before and brought at least two daughters to the marriage with Isabelle -- Beulah Klassen and Neva Klassen.
Isabelle's second husband was (?) Hyle.
Stepdaughter Beulah Klassen (1919- ? ) was born in about 1919 in Washington State.
Stepdaughter Neva Klassen (1926- ? ) was born in about 1926 in Oregon.
Copyright © 2002, 2005, 2016 Mark A. Miner