Aurelius A. 'Rily' Bowman
(1861-1914)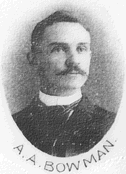 A.A. Bowman
Aurelius A. "Rily" Bowman was born during the Civil War in Mt. Perry, Perry County, OH, on June 29, 1861, the son of Jonas B. and Lucy (Danison) Bowman. He and his father and brother were prominent businessmen in Indiana, but all were cut down by death in the prime of their lives.
As a boy, Aurelius moved with his parents to nearby Somerset, Perry County, where his father learned the carriage manufacturing trade.
On Sept. 14, 1887, at Somerset, the 26-year-old Aurelius married 18-year-old Mary Catherine Russell (1869-1947). She was born on Nov. 28, 1869 at Somerset, the daughter of William and Mary Russell.
They went on to have two sons, Willard Eugene Bowman and Russell A. Bowman.
A year after their marriage, Aurelius and Mary moved with his parents to Indiana, settling in Hartford City, Blackford County. They resided at 423 North Jefferson Street.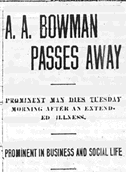 Obituary, 1914
Aurelius helped his father and brother Joseph establish and build a carriage manufacturing business, called Bowman & Co. Aurelius was a painter by training, and must have decorated the carriages they built or repaired.
The business mushroomed into prominence. In 1896, at what was probably the height of their careers, Aurelius, Jonas and Joseph were pictured in a booklet promoting the benefits of living and working in Hartford City. The booklet said that the Bowmans were manufacturers of:
...surreys, buggies; and light vehicles of all descriptions.... [The] local patronage bestowed upon the firm has increased each year as the public apparently appreciates the value of first-class work ... and especial attention is given to fine repair work.
Aurelius may have been the most business-minded of the three men, and he probably ran the firm, with his father and brother doing the hands-on work in the shop. In fact, by 1896, the business was known as "A.A. Bowman & Co." In 1906, after the death of their father, Aurelius assumed an even more prominent role, and after Joseph died unexpectedly in 1911, became sole owner. He was an active socialite, and was a member of the Blackford Club.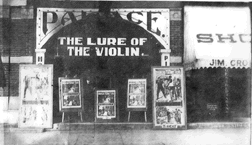 Palace Theatre in Hartford City
As the automobile evolved into more of a staple of American society, the firm's business, which depended on horse and buggy technology, declined. The firm shifted its efforts away from manufacturing and focused more on carriage and automobile paint shop operations.
In 1914, Aurelius sold the paint shop to Earl Robson, with the news reported in a national trade publication, The Modern Painter. He then purchased the Palace Theatre, seen heree in an image provided courtesy of the Blackford County Historical Society. The theatre sat on the east side of the public square in Hartford City.
Aurelius actively managed the theatre property for only a few months until his untimely death. The theatre no longer exists, but the site is across the street from the courthouse.
Aurelius suffered from diabetes and heart problems, and the illnesses must have impacted his ability to manage a small, closely held business. In November 1913, said the Hartford City Evening News, "he went to Waukesha, Wis., where he was a patient in the Still Rock Spa for eight weeks and took treatment from Dr. A.J. Hodgson, considered the greatest authority in the world on diabetes.... The first of [1914, he] returned to Hartford City, much improved in health."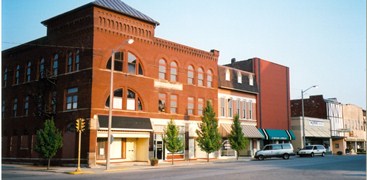 Site of the old Palace Theatre, across the street from the Blackford County Courthouse in Hartford City
IOOF Cmetery, Hartford City
In the spring of 1914, he caught a bad cold, and his health went downhill fast. At death's door, he "was baptized in the Catholic church," and the next day he passed away on April 27, 1914. The news made front-page headlines in the Evening News, and shocked his many friends.
At the funeral, "Beautiful floral tributes from sorrowing friends bore mute evidence of the esteem in which [he] was held by his associates and acquaintances.... Thirty members of the Blackford club, each wearing a white carnation, marched in the funeral procession." His remains were placed into eternal rest in the International Order of Odd Fellows (IOOF) Cemetery in Hartford City, where his grave marker, seen here, was photographed in August 2000.

Mary's obituary, 1946
Mary resided in Hartford City for many years off and on, and was a member of the St. John's Catholic Church.
In 1919, she lived in Detroit, Wayne County, MI with or near her son Russell, who worked there as an electrician. In 1922, she moved to New Jersey to be near her other son Willard, finding a new home in the Oranges suburb of Newark.
In November 1946, she went to visit her married son Willard and his family in Orange, NJ. While there, on Jan. 16, 1947, she had a heart attack in her bedroom and died instantly. Her body was brought back to Hartford City for burial.
~ Son Russell A. Bowman ~
Son Russell A. Bowman (1895- ? ) was born on Feb. 9, 1895 in Hartford City, Blackford County, IN. He was tall and slender, with grey eyes and dark hair.
Circa 1918, Russell resided in Hartford City at 423 North Jefferson Street, where he was employed as a glass worker for Johnston Glass Company.

Russell's name, local war memorial
During World War I, Russell joined the United States Army and served as a corporal with the Motor Mechanics Co. 19, 4th Regiment. After the war, he joined the American Legion Post 159 and was a member in good standing for half a century. His name is etched on an impressive war memorial at the Blackford County Courthouse.
Upon returning home from the military, on Oct. 2, 1919, the 24-year-old Russell married 21-year-old Ruth Anna Bell (1898- ? ). An Indiana native, ruth was the daughter of Thomas and Anna Viola (Smith) Bell. They immediately began living in Detroit, Wayne County, MI, where he previously had secured a job as an electrician for a "motor car company."
The Bowmans had two sons -- Dr. Thomas R. Bowman and William Bowman.
Circa 1920, when the federal census was enumerated, Russell, Ruth and Russell's widowed mother lived under one roof along Detroit's Kenilworth Avenue.
Russell and Ruth moved their family back to Hartford City during the 1920s. The census of 1930 shows them residing on East Franklin Street. Russell's occupation that year as as an electrician for Overhead Door Company.
Nothing further is known.
Son Dr. Thomas R. Bowman (1921- ? ) was born in 1921. He resided in New Britain, CT, circa 1947 and may have been superintendent of the Public Schools of New Britain in Hartford County, CT circa 1971-1973. His employment was terminated in a controversy in 1974.
Son William Bowman (1926- ? ) was born in 1926.

Willard Bowman
~ Son Willard Eugene Bowman ~
Son Willard Eugene "W.E." Bowman (1889-1962) made a name for himself in Newark, NJ in the fields of journalism, public relations and advertising, and is profiled in the 1939 edition of Who's Who in New Jersey.
He was born on Sept. 5, 1889 in Hartford City, Blackford County, IN. He was of medium height and build, with grey eyes and dark brown hair.
Willard married Mary Pauline Smith ( ? - ? ) on July 30, 1912, when he was age 23 and she (?). Their three children were Mary Elizabeth "Jane" O'Donoghue; Margaret Pauline Moore of Mamaroneck, NY; and Richard Eugene Bowman of Sea Girt, NJ.
He got his start as managing editor of his hometown newspaper, the Hartford City Times Gazette. Then he cut his political teeth as a publicity writer for the Indiana State Republican Committee.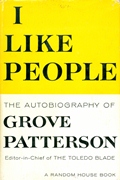 Book naming Willard
Willard moved to Detroit in 1916 to work as a copyreader, makeup man and editorial writer for the old Detroit Journal. In 1920, he became Washington DC correspondent for the Paul Block chain of newspapers, including the Journal, Toledo Blade and Newark Star-Eagle. He was part of a group of Washington beat reporters who in July 1922 traveled with Congressman Isaac Bacharach of Atlantic City to his grand lodge meeting of the Elks Club. Among his companions on the trip were representatives of some of the nation's largest and most influential newspapers -- among them Col. Henry Hall of the Pittsburgh Chronicle Telegraph, J.C. Hayden of the Detroit News, Carter Field and Mason Maguire of the New York Tribune, Robert Barry and R.W. MacAllen of the Philadelphia Public Ledger, Paul J. McGahan of the Philadelphia Inquirer, Robert B. Smith of the Chicago Tribune, Albert Fox of the Washington Post, Augus McSween of the Philadelphia North American and Donald A. Craig of the New York Herald. Details of the junket were reported in the trade journal, The Fourth Estate.
In the mid-summer of 1922, the Detroit Journal was sold to its rival, the Detroit News, and was merged into the News operations. The Fourth Estate reported that the move would not affect Willard, as he had been "notified by H.S. Talmadge, of New York, and N.C. Wright, of Detroit, who were among the former owners of the Journal, and who control the properties of the Toledo and Newark papers, that he will continue his work for the blade and Star-Eagle, thus reporting for two papers instead of three."
Willard relocated to Newark later in 1922 to become managing editor and later executive editor of the Star-Eagle, until it became what today is the state's largest paper, the Newark Star-Ledger.
One of Willard's editors was Grove Patterson, who later published autobiographical memoirs entitled I Like People. Of his responsibilities after World War I, working for publishers N.C. Wright, H.S. Talmadge, Paul Block and Clarence Vernam, Patterson writes:
Although I felt that I then had about all I could do and more than I did well, my responsibility was increased when the same four men bought the Newark, N.J., Star-Eagle, and added to my supervision the news department of that paper. In that capacity, however, I was immensely fortified by Willard Bowman, whom we moved from the Detroit Journal to be managing editor of the Star Eagle. My trips to Newark during the Wright-Talmadge-Block-Vernam ownership were not necessarily frequent... Later Messrs. Wright, Talmadge and Vernam sold their interests in the Star-Eagle to Mr. Block, who published it for a number of years. Today, merged with a morning paper, the Star-Eagle has become the Star-Ledger, owned by S.I. Newhouse, successful publisher of a string of newspapers. Willard Bowman, with whom I had the privilege of working both on the Detroit Journal and the Star-Eagle, is the associate publisher of the Star-Ledger.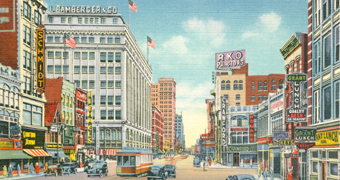 Busy Newark as Willard would have known it. The Bamberger store, where he worked in the 1930s, is the silver- grey building at left, with the store name at the top.

Willard Bowman
Willard was an avid student of journalism, and used his stature to advocate for the interests of newspapers. He penned a guest column in Editor and Publisher on April 27, 1929, lamenting the decline of independently owned local newspapers and the rise of the large national newspaper chains.
He is quoted in several books on the subject -- including The Daily Newspaper in America: The Evolution of a Social Instrument, by Alfred McClung Lee (1937), and Journalism in the United States, authored by Robert William Jones and published in 1947. He also had a pass to the U.S. Congress press gallery in Washington, DC.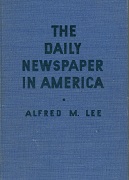 Book naming Willard
On Nov. 18, 1939, Willard presided over the last newspaper printed by the Star-Eagle before its merger with the Newark Morning Ledger, thus creating what today is known as the Star-Ledger. Among his colleagues at the time were city editor Joseph F.X. Reilly, vice president and general manager Henry J. Auth, James Kennedy, Joseph Carter, Edward Black and James Higgins. He then was named associate publisher of the Star-Ledger.
The Great Depression took a great toll on newspapers, and advertising revenues declined dramatically. Willard left the Star Ledger and the newspapering field in March 1935, after 13 years as managing editor, to become publicity director of the prominent Newark department store, L. Bamberger & Co., for several years. The position likely paid a higher salary at a time when Willard's children were entering their college years.
But unsatisfied with corporate life, Willard returned in June 1937 to the Star-Ledger and was associate publisher from 1939 until his retirement. One of the young writers Willard edited was Andrew E. Svenson, who later authored several Hardy Boys mystery books under the pen name of "Franklin W. Dixon."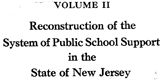 Title page from report which Willard co-authored
Active in the community and profession, said the old Newark News, Willard once "served on the state's Educational Fact Finding Commission by appointment of Gov. A. Harry Moore. He also served on the State Aviation Commission and on a special commission formed in 1933 to regulate the sale of beer with the end of Prohibition. He also served as president of the Advertising Club of Newark (1942) and the Broad Street and Merchants Association" (BSMA).
As president of the BSMA, Willard was appalled by the condition of the vacant Newark Post Office building. In his final act in the post, in mid-March 1950, he urged Attorney General McGrath or President Harry Truman to "break the 'log jam'... [of the] whole sorry mess."

New York Times, 1962
Due to ill health, Willard took a leave of absence on March 29, 1955, and was replaced as associate publisher by George P. Stockbower, former vice president and publicity director for the Bamberger Store. About that same time, he moved from Orange to the town of Brielle, near Newark.
Willard died of a heart attack at the age of 72 on March 6, 1962. His arrangements were held at the Meehan Funeral Home in Spring Lake Heights. At the time, he was survived by 11 grandchildren and one great-grandchild. He is one of only a few known cousins to earn a feature obituary in the New York Times.
Daughter Margaret Bowman ( ? - ? ) was a graduate of Orange High School and Fairmount Junior College in Washington, DC. She also attended Southern College in Petersburg, VA. Margaret married Basil T. Moore ( ? - ? ) on Oct. 14, 1938. He was the son of Dr. and Mrs. John D. Moore. The ceremony was held at the Church of the Holy Name in East Orange, NJ, followed by a reception at the Crestmont Golf Club. Margaret resided in Mamaroneck, NY in 1962.
Son Richard Bowman ( ? - ? ) attended Seton Hall College. On Jan. 25, 1947, just eight days after his grandmother Mary Bowman died, Richard wed Ann Degnan at St. Antoninus Church. Just two hours after the ceremony, the newlyweds' automobile collided with a public bus at the corner of North Broad Street and Westfield Avenue, causing minor injuries. Richard made his home in Sea Girt in 1962.
Daughter Mary "Jane" Bowman ( ? - ? ) was born in (?). She married Gerald T. O'Donoghue ( ? - ? ), son of Cornelius O'Donoghue of Orange. The nuptials were held in St. John's Roman Catholic Church in Orange on Aug. 13, 1936. Her home circa 1962 was in Belmar, NJ.
Copyright © 2000-2001, 2009, 2012 Mark A. Miner
Portrait of the younger Willard E. Bowman courtesy of Google Books