Joseph T. Bowman
(1867-1911)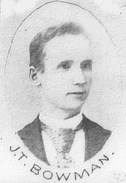 Joseph Bowman
Joseph T. Bowman was born in 1867 in Perry County, OH, the son of Jonas B. and Lucy (Danison) Bowman.
At age 21, Joseph and his parents and siblings moved to Indiana, settling in Hartford City, Blackford County. Together, he and his father and brother Aurelius founded and built Bowman & Co., a carriage-manufacturing operation.
In about 1894, at the age of 27, Joseph married 23-year-old Clara Robbins (1871-1906), a daughter of M.H. Robbins.
They had three children -- Charles H. Bowman, Ruth E. Rivers and Mary E. Gucker.
The Bowmans resided in Hartford City at 514 West Main Street, just a few blocks from the family enterprise.
As a young woman, said the Hartford City Evening News, Clara always "enjoyed almost perfect health." She was "an earnest worker in the Grace Methodist church."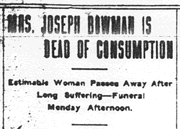 Clara's obituary, 1906
But as an adult, Clara came down with the dreaded disease of the era, "consumption," known today as tuberculosis. She suffered from its effects for many years, and, after an attack of typhoid fever, she declined quickly.
Clara passed away at the age of 35, on Sept. 1, 1906. Burial was in the Odd Fellows Cemetery in Hartford City.
Her death left her husband to care for their three children under the age of 15.
The tragedy was compounded when Joseph also caught TB during her illness. To find a remedy in a change of climate, he went to Texas in about 1907. "After a year in the southland," said the Evening News:
...he returned home greatly improved. He built an addition to his home so that he could sleep out of doors. The room was open on three sides and in it Mr. Bowman spent the coldest nights of the winter. The open air treatment benefitted his health to such an extent that the hemorrhage attacks in which he had been subject disappeared and for three years he had not suffered from them.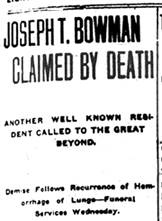 Obituary, 1911
One Saturday in July 1911, while leaving home, Joseph began hemorrhaging from the lungs, and he "almost bled to death before physicians could give him relief. Although greatly weakened by the loss of nearly a gallon of blood he seemed to be improving and barring a recurrence of the attack, was not thought to be in any great danger."
The next night, however, two more attacks struck him violently. He died the following morning, on July 24, 1911, leaving his three children as orphans. The funeral was held in the family residence, and Joseph was buried in the IOOF Cemetery west of Hartford City.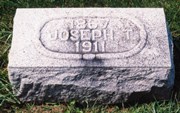 IOOF Cemetery, Hartford City
The orphans' grandmother Lucy Bowman agreed to serve as their legal guardian. Because she had no source of income, other than savings, funds were tight. One of her decisions was to sell Joseph's home to provide funds for the children's welfare, and she did so in March 1914. She also petitioned the county court for help to offset some of the costs.
A detailed report of her expenses on their behalf survives in the Probate Order Book of Blackford County. As would be expected, she spent funds for "clothing, board, schooling and doctor bills." She also took them on trips to Elwood, Kokomo, Clinton and New Castle, IN. Records also show she sent Ruth to Franklin, PA in September 1914 and Charles and Mary to her old hometown of Zanesville (Somerset, Perry County), OH, during the months of July, August and September 1915.
~ Son Charles H. Bowman ~
Son Charles H. Bowman (1896- ? ) was born in 1896.
He lived in Detroit, Wayne County, MI, where he was a tool-lathe operator in an automobile factory, as shown in the 1920 census.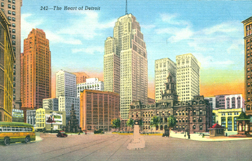 Detroit skyline
The city of Detroit is seen here in a postcard during that era.
In 1920, he was unmarried, and lodged with the family of Margaret Fruck and her son Walter.
In about 1929, Charles married Estelle (1898- ? ).
When the 1930 census was taken, the newlyweds lived in Detroit, on East Grand Boulevard, and Charles was employed as a toolmaker with a tool company.
~ Daughter Ruth (Bowman) Rivers ~
Daughter Ruth Bowman (1899 - ? ) was born in 1899.
She moved to Detroit, Wayne County, MI, where she was living when the 1930 census was taken.
She married Lloyd Rivers in Detroit and later resided on a farm near Charlotte, NC.
~ Daughter Mary (Bowman) Gucker ~
Daughter Mary Bowman (1902-1984) was born in 1902. At the age of 20, in 1923, she married Luther Virgil Gucker (1902-1987), a native of Hartford City, and the son of Martin and Viola M. Gucker. Luther had grown up as a next-door neighbor to Mary's uncle and aunt, Aurelius and Mary Bowman.
They had at least one daughter, Mary J. Gucker.
Early in their marriage, the Guckers made their home in Hartford City, in a dwelling on East Main Street. When the federal census was taken in 1930, Luther was employed as a pharmacist in a drug store.
The Guckers later moved to Phoenix, Maricopa County, AZ, where Luther is believed to have been a pharmacist for Frontier Drugs in the 1940s. Luther is mentioned in the Arizona State Board of Pharmacy's 1946 Annual Report. He also is named in the 1976 book The Harshman, Hashman, Hershman, Hersman Family: A History and Genealogy, authored by Charles William Harshman, C.C. Harshman and Mavourneen Harshman.
Mary died in Phoenix at the age of 82 in January 1984.
Luther survived her by three and a half years. He passed away in Phoenix on Sept. 27, 1987, at the age of 85.
Daughter Mary J. Gucker (1928?- ? )
Copyright © 2000-2001, 2009, 2012, 2016 Mark A. Miner