Joseph Thomas Bowman
(1867-1911)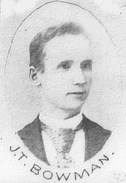 Joseph Bowman
Joseph Thomas Bowman was born in 1867 in Perry County, OH, the son of Jonas B. and Lucy (Danison) Bowman.
At age 21, Joseph and his parents and siblings moved to Indiana, settling in Hartford City, Blackford County. Together, he and his father and brother Aurelius founded and built Bowman & Co., a carriage-manufacturing operation.
In about 1894, at the age of 27, Joseph married 23-year-old Clara Robbins (1871-1906), a daughter of M.H. Robbins.
They together produced three children -- Charles Herbert Bowman, Ruth E. Rivers and Mary E. Gucker.
The Bowmans resided in Hartford City at 514 West Main Street, just a few blocks from the family enterprise.
As a young woman, said the Hartford City Evening News, Clara always "enjoyed almost perfect health." She was "an earnest worker in the Grace Methodist church."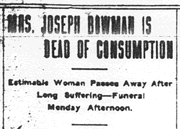 Clara's obituary, 1906
But as an adult, Clara came down with the dreaded disease of the era, "consumption," known today as tuberculosis. She suffered from its effects for many years, and, after an attack of typhoid fever, she declined quickly.
Clara passed away at the age of 35, on Sept. 1, 1906. Burial was in the Odd Fellows Cemetery in Hartford City.
Her death left her husband to care for their three children under the age of 15.
The tragedy was compounded when Joseph also caught TB during her illness. To find a remedy in a change of climate, he went to Texas in about 1907. "After a year in the southland," said the Evening News:
...he returned home greatly improved. He built an addition to his home so that he could sleep out of doors. The room was open on three sides and in it Mr. Bowman spent the coldest nights of the winter. The open air treatment benefitted his health to such an extent that the hemorrhage attacks in which he had been subject disappeared and for three years he had not suffered from them.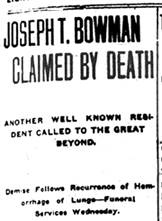 Obituary, 1911
One Saturday in July 1911, while leaving home, Joseph began hemorrhaging from the lungs. Said a newspaper, he "almost bled to death before physicians could give him relief. Although greatly weakened by the loss of nearly a gallon of blood he seemed to be improving and barring a recurrence of the attack, was not thought to be in any great danger."
The next night, however, two more attacks struck him violently He died the following morning, on July 24, 1911, leaving his three children as orphans. The funeral was held in the family residence, and the remains were lowered into eternal sleep in the IOOF Cemetery west of Hartford City.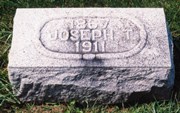 IOOF Cemetery, Hartford City
The orphans' grandmother Lucy Bowman agreed to serve as their legal guardian. Because she had no source of income, other than savings, funds were tight. One of her decisions was to sell Joseph's home to provide funds for the children's welfare, and she did so in March 1914. She also petitioned the county court for help to offset some of the costs.
A detailed report of her expenses on their behalf survives in the Probate Order Book of Blackford County. As would be expected, she spent funds for "clothing, board, schooling and doctor bills." She also took them on trips to Elwood, Kokomo, Clinton and New Castle, IN. Records also show she sent Ruth to Franklin, PA in September 1914 and Charles and Mary to her old hometown of Zanesville (Somerset, Perry County), OH, during the months of July, August and September 1915.
~ Son Charles Herbert Bowman ~
Son Charles Herbert Bowman (1896-1978) was born on June 4, 1896 in Hartford City, IN.
He was short and slender and had red hair and brown eyes. Charles relocated to Detroit, Wayne County, MI, where he worked as a tool-lathe operator in the Dodge Bros. automobile factory, as shown in his World War I draft registration and the 1920 census. His address in 1918 was 54 Zender Place.
In 1920, he was unmarried, and lodged with the family of Margaret Fruck and her son Walter.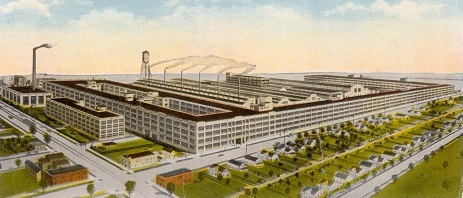 Dodge Bros. auto plant in Detroit, Charles Bowman's workplace
In about 1929, Charles married Estelle (1898- ? )
When the 1930 census was taken, the newlyweds lived in Detroit, on East Grand Boulevard, and Charles was employed as a toolmaker with a tool company.
Charles is known in the fall of 1935 to have made a 5,495-mile driving trip to the Pacific Coast with his married sister and brother-in-law, Mary and Luther Gucker, as reported in the Muncie Star Press.
Then on Sept. 30, 1939, in Indiana, he married again to Frances M. (Britt) Snell (Jan. 29, 1898-1971), daughter of James and Sarah Britt.
She had been married previously to Oscar Snell and brought a trio of stepchildren into the union -- John Francis Snell, Sally Ann Seychel and Angela E. Groleau Sheldon.
The federal census enumeration of 1940 shows the family together in Detroit, in a household including Frances' bachelor brother James T. Britt. Charles' occupation at that time was as a lathe hand for Pattern (?) Products. The family address circa 1942 was 2908 16th Street, Detroit.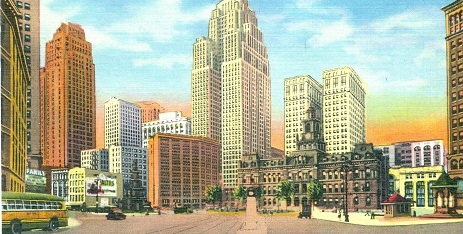 Detroit skyline
Frances died in Wyandotte, MI on Aug. 6, 1971.
Charles outlived Frances by seven years and made a home at 2645 Riverside Drive in Detroit. He passed away in nearby Trenton, MI on Sept. 8, 1978, at the age of 82. Interment was in the Bowman family plot in Hartford City, with Rev. O. Rex Lindemood officiating. An obituary was published in the Muncie Star Press.
Stepson John Francis Snell (1922- ? ) was born in about 1922 in Michigan. He stood 5 feet, 8 inches tall in young manhood and weighed 145 lbs. John's left forearm bore a tattoo of a skull. When required to register for the military draft in 1942, he was unemployed and lived at 2432 Magnolia Avenue in Detroit. He may have lived in San Jose, CA in 1978 when named in his stepfather's obituary in the Muncie Star Press.
Stepdaughter Sally Ann Snell (1925- ? ) was born on Oct. 25, 1924 in Detroit. She was joined in matrimony with Albert Seychel ( ? - ? ). Their home in 1978 was in Lincoln Park, MI. Sadly, she passed away in Wyandotte, Wayne County, MI on Nov. 25, 1979.
Stepdaughter Angela A. Snell (1931- ? ) was born in about 1931 in Detroit. On Aug. 26, 1950, in Detroit, she first tied the knot with Joseph Roland Groleau ( ? - ? ). By 1978, she had wed a second time to Richard Sheldon ( ? - ? ), with their residence in 1978 in Sterling Heights, MI.
~ Daughter Ruth Elizabeth (Bowman) Rivers ~
Daughter Ruth Elizabeth Bowman (1899-1958) was born on the next-to-last day of 1899 in Hartford City.
She moved to Detroit, Wayne County, MI, where she was living when the 1930 census was taken. At that time, single at the age of 30, she lived in an apartment and was employed as a stenographer for an investment firm
She was united in matrimony with Lloyd E. Rivers (Sept. 9, 1906-1973) in Detroit. He was seven years younger than his bride. He was the son of Miles Vernon and Mary Herskey (Gaskins) Rivers and a native of Chesterfield County, SC.
Together, they bore a son who died at birth in Charlotte, NC on Sept. 1, 1938. The pair otherwise did not reproduce.
During the latter half of the 1930s, the Riverses relocated to North Carolina. The federal census enumerations of 1940 and 1950 show them in Steele Creek near Charlotte, Mecklenburg County, NC, with Lloyd employed as a stock room clerk with Ford Motor Company.
Ruth was active with the Pleasant Hill Presbyteerian Church and was "a leader in its womens work, having served as president of the local Women of the church and as a Circle Chairman," reported the Charlotte News. "She was an active and loyal participant in political, civic and community affairs, during her 20-year residence in the lower Steele Creek Community." Lloyd belonged to the Men's Bible Class of the church.
Sadly, Ruth passed away in Pineville, NC on June 19, 1958 at the age of 58. An obituary in the Charlotte Observer noted that her survivors included her sister Mary Gucker in Phoenix and brother Charles in Detroit. Her funeral was co-officiated by her former pastor, Rev. Dr. R.A. Young, and Rev. Joe Stowe of the Central Steele Creek Presbyterian Church. Interment of the remains was in Pleasant Hill Presbyterian Church Cemetery. Pallbearers included John Thompson, B.L. Baker, C.G. Long, W.B. Wright, W.W. Robinson and O.H. Neely.
After six months as a widower, in about December 1958, Lloyd wed again to Mildred McKinney ( ? - ? ) of Charlotte. They were together for 15 years until cleaved apart by death. Their home in 1973 was in an apartment at 1300 Reece Road. He died while in Honolulu, HI at the age of 66 on June 27, 1973. The remains were transported back to Charlotte for funeral services and burial, presided over by Rev. Joe Burnette and Rev. Roy Coker. His obituary in the Observer called him "a retired motor company executive."
~ Daughter Mary (Bowman) Gucker ~
Daughter Mary Bowman (1902-1984) was born in 1902.
At the age of 20, on May 25, 1924, she married Luther Virgil Gucker (1902-1987), a native of Hartford City, and the son of Martin and Viola M. Gucker. In annoucing the marriage, the Indianapolis Star said that the ceremony had taken place at the bride's home, with Rev. Lewis Reeves officiating, and that she was the "granddaughter of Mrs. Lucy Bowman..."
Luther had grown up as a next-door neighbor to Mary's uncle and aunt, Aurelius and Mary Bowman.
They produced a family of two daughters, Mary Jeanette Gucker and Sara Fenstermaker.
Early in their marriage, the Guckers made their home in Hartford City, in a dwelling on East Main Street. There, in 1924, Mary was elected president of the Sigma Phi Gamma sorority, which had been founded a few years earlier in Hartford City to bring women together in friendship, share the ups and downs of life, support each other and make a positive difference in the world. As the organization expanded, she was elected later that same year, in September 1924, as national president, succeeding Mary Howenstine. As such, her name was printed in newspapers across the state. At the organization's fifth anniversary, in 1925, the Guckers hosted a special dinner at their home.
When the federal census was taken in 1930, Luther was employed as a pharmacist in a drug store, possibly Frontier Drugs. Also in 1930, he and his parents took over management of the Dawn Theatre in Hartford City. He was an avid tennis player and won local tournaments, and was a catcher in an indoor baseball league. The couple enjoyed playing bridge and held evening game sessions in their residence.
Luther served on the Hartford City Athletic Board until the family's relocation to Fort Wayne in 1939. Von Braner, city clerk treasurer, was tapped as his successor.
The Guckers moved in 1946 to Phoenix, Maricopa County, AZ. He first was manager of Arrow Pharmacy. He went into business for himself in 1949 in establishing Gucker & Noll Drug Store located on Indian School Road, followed by Suncrest Pharmacy and Gucker & Noll Drug in Scottsdale, AZ. In about 1949, Luther's infirm brother Charles Edward Gucker, who had suffered a stroke, came to live in their home and remained until his death three years later, on Nov. 17, 1952. In 1956, their address was 6834 North 14th Place.
Luther was active with the Arizona Pharmaceutical Association. He is mentioned in the Arizona State Board of Pharmacy's 1946 Annual Report. He also is named in the 1976 book The Harshman, Hashman, Hershman, Hersman Family: A History and Genealogy, authored by Charles William Harshman, C.C. Harshman and Mavourneen Harshman.
After 44 years in the pharmaceutical field, Luther retired in about 1969. To keep active, he began to take dancing lessons at the Fred Astaire Studios in Phoenix. He was pictured with his teacher Miss Webster in the Arizona Republic after winning a samba competition in 1969 at the Astaire Dance Olympics in San Francisco His name and image thereafter were used in Astaire Studios advertising.
Mary was named in the Muncie (IN) Star Press obituary of her brother Charles in 1978. She held a membership in the Order of Eastern Star. Their final address together was at 4526 East Marion Way. At their golden wedding anniversary, a reception was held in their honor at the Caliente Club.
She died in Phoenix at the age of 81 on Jan. 10, 1984.
Luther survived her by three and a half years. He passed away in Phoenix on Sept. 27, 1987, at the age of 85. His obituary appeared in the Republic.
Daughter Mary Jeanette Gucker (1927- ? ) was born in 1927. She was born with bowel issues, causing uncontrolled bleeding. When she was 10 days old, a blood transfusion and surgery in June 1927 saved her young life. Mary relocated with her parents to Phoenix as a young woman. She was a 1950 graduate of Arizona State College at Tempe. At the age of about 25, on Nov. 26, 1952, she entered into marriage with James Alfred Howard ( ? - ? ). The wedding was conducted at the Phoenix First Methodist Church and announced in the Muncie Evening Press. She is known to have resided in Phoenix in 1974-2018. In 2001, having found their family's entry on Minerd.com, Mary Jeanette and her sister Sara sent an email to the founder of this website with additions of content.
Daughter Sara E. Gucker (1938- ? ) was born in March 1938 in Blackford County Hospital. News of her birth was printed in the Muncie Star Press. She migrated to Phoenix as a teenager with her parents in 1946. When she was 18 years of age, on June 17, 1956, she was united in matrimony with Roy Edwin Fenstermaker (April 19, 1936-2018), son of Ralph and Cleo Fenstermaker of Findlay, OH. The vows were made in the First Methodist Church. She was pictured in a wedding announcement in the Arizona Republic, which said that she wore a "gown of nylon tulle and imported lace over satin... The dress was designed with a fitted bodice with a yoke of tulle and high neckline oflace. The skirt had a double flounce of pleated tulle topped with lace and extended into a chapel train from a butterfly back." Their union endured for an extraordinary 62 years. The trio of offspring born to the couple were Rod Fenstermaker, Susan Rice and Cathy McKnight. Roy was an alumnus of Phoenix College. As of 1974, the family made their home in Chula Vista, CA. Roy was trained as a mechanical engineer and applied his expertise in the field of aerospace. He also was the owner and operator of Sound Tax and Controllers. Upon retirement, they movedto Winlock, WA. Roy liked to garden, play cards and square dance. They were in the news in the Centralia (WA) Chronicle in 2015 when, in a case of eminent domain, the County of Lewis sought to condemn their 0.23-acre property along Route 603 so that the road could be straightened and widened. Sadly, Roy passed away at the age of 82 on Nov. 17, 2018. A memorial service was held in the United Methodist Church, by the hand of Pastor Steve Caskey.
Grandson Rod Fenstermaker ( ? - ? ) wed Karen ( ? - ? ). Their home in 2018 was in Winlock, WA. Two known son of the couple are Russ Fenstermaker and Ryan Fenstermaker.

Great-grandson Russ Fenstermaker ( ? - ? ) married Evyonne ( ? - ? ).

Great-grandson Ryan Fenstermaker ( ? - ? ) wed Lakisha ( ? - ? ).

Granddaughter Susan Fenstermaker ( ? - ? ) was joined in wedlock with (?) Rice ( ? - ? ). Their trio of sons included Mason Rice, Brad Rice and David Rice. She resided in Olympia, WA in 2018.

Great-grandson Mason Rice ( ? - ? )

Great-grandson Brad Rice ( ? - ? ) was joined in wedlock with Sydni ( ? - ? ).

Great-grandson David Rice ( ? - ? ) was united in matrimony with Cassie ( ? - ? ).

Granddaughter Cathy Fenstermaker ( ? - ? ) entered into marriage with Mitch McKnight ( ? - ? ), son of Dorothy McKnight. They have dwelled in Winlock, WA and are the parents of Matt McKnight, Michael McKnight, Mark McKnight and A.J. McKnight.

Great-grandson Matt McKnight ( ? - ? ) entered into marriage with Amber ( ? - ? ).

Great-grandson Michael McKnight ( ? - ? ) married Sara ( ? - ? ).

Great-grandson Mark McKnight ( ? - ? ) wed Marissa ( ? - ? ).

Great-grandson A.J. McKnight ( ? - ? ).
Copyright © 2000-2001, 2009, 2012, 2016, 2023 Mark A. Miner