Ida Platt (Boyd) Stipp
(1857-1891)
Ida Platt (Boyd) Stipp was born in 1857 in Lewistown, Fulton County, IL, the daughter of William and Sarah (Miner) Boyd.
At the age of 23, Ida married Dr. Henry Peter Stipp (Sept. 1852-1932) on Oct. 7, 1880, by the hand of Rev. J.F. Magill at Lewistown. Henry was a native of Canton, IL, and the son of James H. and Maria L. (Bass) Stipp.
The Stipps together produced a brood of five children, of whom four daughters are known, the latter three born in California -- Ruth Stipp, Mary Howard, Lois Eiseman and Adah Stipp.
When the History of Fulton County, Illinois was published in 1879, Henry was profiled in a paragraph, stating that he was "brought up on a farm; [and] commenced medical studies at the age of 20." He obtained his medical degree from the Homeopathic Medical College in Kansas City in 1876 and in 1878 is known to have moved from Wichita, KS to Canton, Fulton County, IL. Said the History, " since [graduation] he has practiced here in Lewistown, enjoying a large patronage." In August 1881, when Ida's young cousin William H. Stillman died of diphtheria, Henry was the attending physician.

From the History of Fulton County, Illinois, 1879
Henry was deeply interested in the sanitary aspects of medicine. In 1882, he attended the 27th annual meeting of the Illinois Homeopathis Medical Association, and presented "a brief paper on his experience of the use of lithium carbonicum in urinary diseases," reported The Weekly Medical Counselor. He also read a paper on sanitary education and "said that the sanitary science offered the widest field, the deepest problems, and the greatest difficulties for the physician to overcome," said the Medical Counselor. "Among the obstacles to its advancement were ignorance, prejudice, and dishonesty. People needed careful education in sanitary matters... A discussion followed, during which Dr. A.E. Small expressed emphatically his want of faith in vaccination as a preventive measure against small-pox."
Circa 1883, he served on the Bureau of Sanitary Science and Hygiene of the Illinois Homeopathic Medical Association, and was mentioned in that year's proceedings of its 28th annual session, held at Rock Island. The proceedings were published in The United States Medical Investigator, Vol. XVII (1883). He also is mentioned in a related list in the monthly journal of medicine, The Medical Era (Vol. III, No. 1, covering July 1885 to June 1886).
In 1884, the Stipps pulled up stakes and migrated to the California Coast. They are known to have resided in Vacaville, Solano County in 1889 at the birth of their daughter Adah. They finally settled in Sonora, Tuolomne County, CA. In 1890, while in Sonora, Ida received funds from the estate of her late step-grandmother, Ann (Thompson) Miner Walder.
Sadly, at the age of 33 or 34, Ida died in Sonora on June 16, 1891. Her remains were laid to rest in Sonora City Cemetery. A marker stands at the grave but is badly faded.
On April 14, 1891, Henry married his second wife, Elsie Cornelia Cady (1859-1927). Elsie was the daughter of Dr. Selden Daniel and Hannah Ann (Warner) Cady of Wisconsin, and an 1884 graduate of the State Normal School in Whitewater, WI. Starting at age 19, she is known to have taught school for two years prior to her certification, and for three years afterward.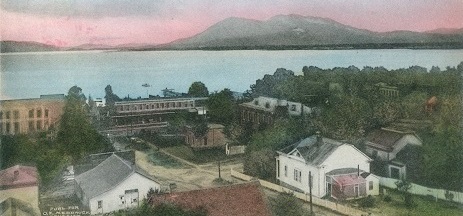 Lakeport, CA with Clear Lake and Mt. Konocti in the background
Henry and Elsie moved to Winters, CA and then in 1889 relocated by wagon to Lakeport, CA. The county seat of Lake County, the town sits on the western short of Clear Lake. Henry is considered to have been the first physician of the community and a leader in the local Methodist church congregation.
By the year 1900, when the federal census was taken of Lakeport residents, Henry and Elsie had been married for nine years. Also in the household in 1900 were the four daughters.

Elsie Stipp
Courtesy Renee M. Ellestad

In 1902, Henry signed a petition asking the California legislature to reject a bill that would have placed a license tax on the business of selling liquor because it would have placed too much political power in the hands of a single tax collector in each taxing community.

Henry served as secretary of the Lake County unit of the State Board of Health in 1905, with Dr. H.O. Brink as president. Henry was admitted as a member of the California State Homoeopathic Medical Society in 1916. When the United States entered World War I, Henry served as a medical examiner for military draftees in the Lake County Division No. 1 of California. His name appears in the state's Adjutant General's Office Circular No. 350 for the year 1918. Continuing his active professional service, he applied for membership to the board of censors of the American Institute of Homeopathy, for the purpose of reviewing the credentials of potential member applicants.

The Stipps appear in the 1910 census of Lake County, with daughters Lois and Adah in the home. In 1920, Henry was age 67 and still practicing general medicine in Lakeport, and their nest was empty. His most favorite cause in the decades of the 1910s, 1920s and early 1930s was his candidacy for Congress representing the Prohibition Party, which was opposed to the sale or consumption of alcoholic beverages in the nation's temperance movement. He received scant public support, and in May 1920's election only polled six-tenths of one percent of the total votes cast. He also is known to have been a delegate to the party's national convention three times.

Henry and Elsie are mentioned in the 1910 book, Descendants of Nicholas Cady of Watertown, Mass., 1645-1910, authored by Orrin Peer Allen.

Sadly, Elsie surrendered to the angel of death in Lakeport at the age of 68 on July 23, 1927. The funeral was held in the Methodist Church, and burial was in Hartley Cemetery. Her obituary was printed in the Woodland Daily Democrat.

The twice-widowed Henry wed a third time to Sylvia S. ( ? -1938).

Henry's final years in Upper Lake, CA were active. In 1932, at age 80, he was "elected this year's delegate from here to the national convention of the Prohibitionist Party," said the Sacramento Bee. In July of that year, he provided medical care for a dying friend, Professor John Overholser."

But on July 27, 1932, after an illness of just four days, Henry passed away. An obituary in the Bee said "During the thirty-four years Stipp had practiced in Lakeport and Lake County he made a host of friends... He took up the medical profession when a youth and practiced it until his death." The Associated Press distributed an obituary which was printed in the San Francisco Examiner. An obituary in the Petaluma (CA) Argus-Courier noted that "His career was marked by devotion to his calling. Only four days before his death he cross the lake on a stormy night to attend a sick Indian child."

The widowed Sylvia outlived her spouse by six years. She suffered two strokes and became paralyzed. She went to Boone, IA to live out her final years in the Order of Eastern Star Home. She died there at the age of 86 two days before Christmas 1938. Word was sent to her stepdaughters Mary Howard and Adah Stipp, and a notice of her death printed in the Santa Rosa Press Democrat.

~ Daughter Ruth Stipp ~

Daughter Ruth Stipp (1881-1902) was born on Aug. 23, 1881 in Illinois.

Ruth was young in the early 1880s when she accompanied her parents on a move to the West Coast, settling in Sonora, Tuolomne County, CA. She was age 10 at her mother's death.

She never married.
Mills College, Oakland, where Ruth attended at the time of her death
Ruth enrolled in Mills College in Alameda County, CA and was one of 17 members in the 1899 freshman class.
The 1900 federal census enumeration of Lakeport, Lake County, CA shows her as a 19-year-old under her parents' roof and marked as "at school."
Grief descended upon the family when, at age 20, Ruth passed away on Aug. 22, 1902. A brief notice of her death, in the Woodland Daily Democrat, said she was "formerly of Winters" and had "died at the home of her parents." Her remains were lowered into the soil of Hartley Cemetery in Lakeport, Lake County, CA.
~ Daughter Mary (Stipp) Howard ~
Daughter Mary Stipp (1885-1973) was born on Dec. 17, 1885 in Sonora, CA.
As a young woman of 13, she relocated with her parents from Winters to Lake County, CA in 1898. She was a 1904 graduate of Lakeport High School as a member of its very first graduating class.
In about 1907, she was united in matrimony with Texas native Elmo Faber Howard (June 27, 1880-1949).
Together, they bore a foursome of offspring -- Dorothy L. Howard, Ruth M. Stoughton, Elsie Mary Lucas and Uhland S. Howard.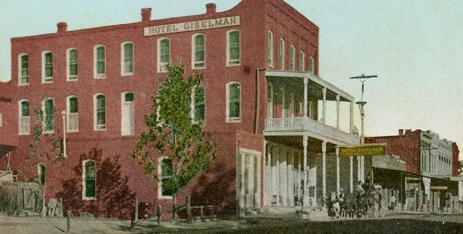 Lakeport's business section, early 1900s
They spent their lives in Lakeport, Lake County. Circa 1910, Elmo was employed as a drug store clerk and in 1920 as a delivery wagon driver.
Mary taught piano for decades. Active with the Lakeport Presbyterian Church, she was a Sunday School teacher, organist and elder of the congregation. She also was elected vice president of the Women's Presbyterial Society in March 1928.
Mary suffered a heart attack in mid-February 1934 and was confined to bed, but recovered.
Elmo made news in August 1938 when, reported the Santa Rosa Press Democrat, he "escaped injuries ... when his delivery truck and a car driven by [a] salesman of San Francisco, collided on the Lekeport-Upper Lake highway near the Harry Hazell home. Both car and truck were damaged but the drivers escaped unhurt."
Elmo died in Lakeport on Oct. 30, 1949. The Sacramento Bee printed an obituary.
Mary outlived her husband by 23 years. She passed away on Jan. 11, 1973 in a hospital in Lakeport. Her remains were interred in Hartley Cemetery in Lakeport. In an obituary, the Santa Rosa Press Democrat noted that she was a "member of a pioneer Lake County family..." and was survived by four grandchildren and eight great-grandchildren. Co-officiating her funeral were Rev. Leonard Clark and Rev. Franklin Ritchie.
Daughter Dorothy L. Howard (1907-2002) was born on April 28, 1907 in Lakeport. She appears not have married. The 22-year-old Dorothy was a school teacher in Bakersfield, Kern County in 1930, boarding in the household of 24-year-old fellow teacher Juell E. Miller. In 1934, she taught school in San Anselmo, and when she made visits to her parents in Lakeport in January and April that year, she was mentioned in the gossip columns of the Santa Rosa Republican and Santa Rosa Press Democrat. She was in San Francisco in 1949 and in Lakeport in the early 1970s-early 2000s. Death enveloped her on June 29, 2002.
Daughter Ruth Miriam Howard (1909-1991) was born on Aug. 24, 1908 in Lake County, CA. In what the Ukiah Daily Journal called "a quiet wedding ... at the home of the bride's parents in Lakeport," Ruth entered into marriage on Sept. 30, 1931 with Maxwell Henry "Max" Stoughton (Sept. 24, 1906-1987), son of Wilbur B. Stoughton of Ukiah. "The ceremony took place in the same home in which the bride's parents were married, and the bridal bouquet of the bride of 1931 was a duplicate of the mother's bouquet... The bride wore a gown of white crepe satin with hat and accessories to match." Maxwell ws a native of North Dakota. At the time of marriage, Maxwell was considered among the substantial young men of the community and was employed by the Frank LaPorteLumber Company, where he spent 10 years of his early career. One daughter born into this family was Miriam Klingler. Ruth was a member of the local Sewing Club and the Women's Christian Temperance Union, while Maxwell was elected president of the local chapter of the Baptist Young Peoples Union. Circa 1933, during the heart of the Great Depression, Maxwell obtained work as a secretary at the Civilian Conservation Corps (CCC) camp at Willits, CA. He was a college football fan and, in October 1935, attended the Stanford University game in company with his brother James Stoughton. Their home in 1932-1934 was in Ukiah, CA -- in 1942-1949 in San Francisco -- in 1973 in Hayward, CA -- and in 1987 in Concord, CA. Maxwell in 1949 is known to have sung in a quartet at the First Baptist Church at Market and Octavia Streets in San Francisco, and to have continued providing vocal music for the church for years. After a move to Hayward, they transferred their membership to the Melrose Baptist Church. In 1968, he was employed as passenger sales representative for the Western Pacific Railroad, and eventually retired from the company. Maxwell died in Concord, CA following a long illness on July 16, 1987. Burial of his ashes was in Ukiah Cemetery, following a funeral led by Rev. William Duncan. The Daily Journal carried an obituary. Ruth outlived her spouse by four years. She passed away on Sept. 19, 1991.
Granddaughter Miriam Ruth Stoughton (1932- ? ) was born on Aug. 19, 1932 in Ukiah, with Dr. L.K. VanAllen assisting in the birth, and the news announced in the Ukiah Daily Journal. When she was 19 years of age, on May 17, 1952, Miriam wed Paul Richard Klingler (Feb. 26, 1926-2013), a native of Coplay, PA. Their marriage held fast over an extraordinary 61 years. They became the parents of five -- Christine Klingler, Gary Klingler, Suzanne Klingler, Brian Klingler and Richard Klingler. Paul was employed in the U.S. Armed Forces from 1947 to 1968. He then became Assistant Division Chief of the Criminal Division of the Superior Court in the County of Alameda, working there from 1969 to 1987. The family lived in Concord, CA for years. In his spare time, Paul liked to study astronomy, travel and enjoy a good conversation. Sadly, Paul died on Oct. 3, 2013 in Walnut Creek, CA. An obituary in the Contra Costa Times said that he would be "remembered for his fierce sense of ethics and wicked sense of humor." Miriam outlived him by almost four years. Said an obituary, she "was a domestic goddess who perfected the arts of cooking, home care, and creating a welcoming environment. She will be remembered for her kindness, wit, bee-charming, and the grace with which she saw and appreciated all who crossed her path." The angel of death spirited Miriam away in Concord at age 84 on July 2, 2017. Burial was in Sacramento Valley National Cemetery in Dixon, CA.

Great-granddaughter Christine Klingler ( ? - ? ) married Donald ( ? - ? ).

Great-grandson Gary Klingler ( ? - ? ) wed Jean ( ? - ? ).

Great-granddaughter Suzanne Klingler ( ? - ? ) was joined in wedlock with Aaron ( ? - ? ).

Great-grandson Brian Klingler ( ? - ? )

Great-grandson Richard Klingler ( ? - ? ) was united in matrimony with Pam ( ? - ? ).
Daughter Elsie Mary Howard (1910-1961) was born on Dec. 6, 1910 in Lakeport, Lake County, CA. In girlhood she attended the Lakeport Presbyterian Church. Then as a young woman, she was employed at the Maple in Ukiah, CA. On June 21, 1936, in nuptials held at the family church, she became the bride of co-worker Maxwell Scott Lucas (1914-1967), son of Hazel Waite of Seattle. Reported the Ukkah Daily Journal, it was "a charming ceremony," and the bride "was gowned in a lovely white jacket dress, with white accessories and a corsage of gardenias." The pair's one daughter was Carol Rae Lucas. They relocated to Seattle, and in 1940 Maxwell earned a living there as a cook in a restaurant. But the marriage was troubled and ended in divorce. By 1947, she had married again to World War II veteran Edmond Robert Holms (June 22, 1912-1964), a native of Spokane, WA, and the son of August E. and Abbie (Greenburg) Holms. Two more children she bore were Michael Robert Hooms and (?) Holms. The Holmses put down roots in Renton, King County, WA. Elsie passed away in Renton at the age of 50 on Dec. 1, 1961. Edmond survived for another three years and succumbed to the spectre of death in Seattle on May 17, 1964. He was laid to rest next to his wife in Renton's Greenwood Memorial Park. Their deaths left their son Michael an orphan at the age of 17. Former husband Maxwell died in Wenatchee, WA on Nov. 7, 1967.
Granddaughter Carol Rae Lucas (1937-2000) was born on Sept. 24, 1937 in Seattle. She wed James Rance DeMonbrun (Nov. 18, 1931-2015), originally from Everett, Snohomish County, WA and the son of Ross and Eleanor (Blunt) DeMonbrun Sr. and stepson of Lenora Turner James was a 1949 graduate of Everett High School where he had been drum major of the marching band. He served in the U.S. Navy during the Korean War and was posted aboard the escort carrier USS Badoeng Strait and USS Princeton. After the war, James received a bachelor of arts degree in education with a major in music from Western Washington University. He then earned a living for 29 years as a music teacher. The couple bore a family of children -- Jamime Burtis, Judith Morgan, Janet DeMonbrun and Jacquelyn Burch. Their marriage ended in divorce. Carol made her home in Everett and is believed to have raised a grandson, Cory DeMonbrun. She was quoted in the March 16, 1992 edition of the Seattle Times in a story about her grandson being paired with a high school football player as a mentor at Cascade High School. She died in Everett, WA on Jan. 3, 2000, at the age of 62. A brief notice of her passing appeared in the Everett Herald. Her ashes were scattered by the family. James married again in 1971 to Dolores Janet Deane ( ? - ? ). He spent the last decade of his career working as a production supervisor for Boeing, retiring in 2001. He passed into eternity, also in Everett, on March 6, 2015. The headcount of his survivors was 16 grandchildren and 18 great-grandchildren.

Great-granddaughter Jamime DeMonbrun wed Richard Burtis.

Great-granddaughter Judith DeMonbrun married Thomas Morgan.

Great-granddaughter Janet DeMonbrun

Great-granddaughter Jacquelyn DeMonbrun entered into marriage with Darren Burch.

Grandson Michael Robert Holms (1947-2010) was born on Feb. 15, 1947 in Renton, WA. He grew up in Renton and then relocated to Everett, WA after becoming orphaned in 1964. He was a 1965 graduate of Everett High School. In young manhood, he delivered newspapers, worked at a drive-in theater and as a records salesman in a department store. Michael married Rhea ( ? - ? ). Theye did not reproduce. He became employed by General Telephone/GTE and Verizon Telephone Company, where he spent 36 years before retirement in 2005. In his free time, Michael enjoyed music, telling stories, sharing trivia, model railroading, hydroplanes, the Washington Huskies football team, crossword puzzles and cribbage. He and Rhea were railroad travelers. Stricken with incurable leukemia, he was gathered away by the angel of death at age 63, in Lynnwood, WA, on Dec. 6, 2010. Interment of the remains was in Mount Vernon, Slagit County, WA.
Son Uhland Stipp Howard (1912-1983) was born on Sept. 23, 1912 in Lakeport, CA. In adulthood he stood 6 feet, 1 inch tall and weighed 160 lbs. Uhland dwelled in Modesto, Stanislaus County, CA in 1931 and in Richmond, Contra Costa County in 1935. He is known to have been inducted in February 1932 as a member of the Young People's Christian Endeavor Society of the First Presbyterian Church, Modesto. That same year, he was president of the YMCA Chapter at Modesto Junior College. He went on to attend Stanford University. Federal census records for 1940 list him as a lodger in Berkeley, Alameda County, working as an operator for a waxing paper company, with his employer known to be Crown Zellerbach Corporation. He is known to have held an office in the Oakland Local 382 of the Corrugated Fibre Products and Wax Paper Works Union of the American Federation of Labor. Circa 1939, he served on the board of directors of the Pacific Philharmonic Chrorus. On May 16, 1942, he entered into marriage with Audrey Hope Sanchez ( ? - ? ), daughter of Joseph P. Sanchez of Berkeley. She was an alumna of Berkeley High School and had attended San Francisco State College. The Oakland Tribune once said that she was "gifted along dramatic lines and has devoted much time to the study of the drama." Uhland ws in Berkeley in 1949 and later established his residence in Clearlake Highlands, CA. Little more about his life is known, although in June 1960, living at 302 Magnolia Avenue in Modesto, he was imprisoned for cursing mocking birds as he pedaled his bicycle along Magnolia Street. His final work was with Greyhound Bus Lines. At the age of 70, he died in a Ukiah hospital on May 22, 1983. His sisters Dorothy and Ruth were the only survivors listed in his Santa Rosa Press Democrat obituary. His cremains were placed into eternal repose in the Chapel of the Lakes at Hartley Cemetery.
~ Daughter Lois (Stipp) Eiseman ~
Daughter Lois Stipp (1887-1967) was born on July 6, 1887 in Solano County, CA.
In young womanhood, circa 1905, she received a teaching certificate, and in January 1906 was assigned to Orr's School near Ukiah, Mendocino County, CA. The school year began in March 1906.
She was single and dwelled with her father, stepmother and sister Adah in Lake County in 1910, employed that year as a grammar teacher.
Circa 1912, she was joined in wedlockk with Arthur Cleveland "Art" Eiseman (Dec. 7, 1885-1952) of Talmage, CA but originally from Brooklyn, NY. News of their marriage license was printed in the Ukiah Republican Press.
Their only son was Henry Peter Eiseman.
During World War I, Arthur served in a hospital corps with the U.S. Army.
The Eisemans settled in Petaluma, Sonoma County, CA, considered part of the San Francisco Bay area, where they made a home in 1925-1930. Henry worked as a storekeeper for an ironworks in 1920 at the time of the United States Census.
Lois was active with the Native Daughters of the Golden West, an organization of California-born women interested in preserving the state's history, and in 1928 was elected president of its Petaluma Parlor. Then in the early 1930s, they relocated to Eureka, Humboldt County, CA and lived at the address of 2805 J Street.
Arthur earned a living as a wholesale grain and hay salesman for the M. Vonsen Company. Then in the early 1950s he was named deputy county sheriff in Humboldt. Lois also generated income circa 1950 as a nurse's aide in a Eureka hospital. Their address in the early 1950s was 2805 J Street.
On the fateful day of Jan. 3, 1952, while talking with fellow police officers, Arthur collapsed and died of a heart attack at the age of 66. His obituary appeared in the Eureka (CA) Times Standard.
Lois outlived her husband by 15-plus years. She resided at the end in Oakland. She passed away on Sept. 7, 1967. An obituary was published in the Oakland Tribune.
Son Henry P. Eiseman (1918-2002) was born on June 26, 1918 in San Francisco. In adulthood he stood 6 feet, 1½ inches tall and weighed 185 lbs. He was required to register for the military draft during World War II, and at the time lived with his mother at 2306 E Street in Eureka, Humboldt County, CA. His employer at that time was William Williams of Eureka. Henry first entered into marriage with Betty J. (1922- ? ). Together, they bore a son, Danny O. Eiseman. They are is known to have dwelled in Oakland, CA in 1950-1952, with Henry employed as an engineer in "store designing." Henry and their son were pictured in the Oakland Tribune on Aug. 13, 1948, attending a potluck dinner at the Burbank Play Center. Then in 1967 they made a home in Berkeley. His second spouse was Janet ( ? - ? ). Their final residence in the early 2000s was in Florence, Lane County, OR. Death claimed him on May 1, 2002.
Grandson Danny O. Eiseman (1946- ? ) was born in about 1946 in California.
~ Daughter Adah Stipp ~
Daughter Adah Stipp (1889-1976) was born on April 5, 1889 in Vacaville, Solano County, CA.
She was but a girl of two when her mother died.
Adah in 1910 dwelled with her father, stepmother and sister Lois in Lake County, CA, working as a grammar school teacher at that time. She remained unmarried over the span of her long life. She devoted her working career to the field of education.
Said the Santa Rosa (CA) Press Democrat, she "was a teacher in southern California and also taught in several Lake County schools. She was a member of St. John's Episcopal Church, Lakeport, where she also served as organist many years."
At the age of 87, in June 1976, she died in a hospital in Lake County. An obituary in the Santa Rosa (CA) Press Democrat said she was a "member of a pioneer Lake County family..." Funeral services were conducted in her church, with interment following in Hartley Cemetery.
Copyright © 2007-2009, 2023 Mark A. Miner