Francis Miner
(1808-1864)
Francis "Frank" Miner was born in 1808 most likely near the mountainous border of Fayette/ Somerset County, PA, the son of Daniel and Mary Minor Sr. He was a carpenter who helped build an important church near Ohio's capitol of Columbus, is mentioned in a history of the city, and later was a pioneer settler of Central Illinois who dropped dead on the streets of Chicago during the Civil War.
As a boy, Francis moved with his parents to Sego, Perry County, OH.
Tragically, Francis' mother died when he was five. His father later remarried, to Margaret "Peggy" Fluckey, and moved to Cardington, Morrow County, OH. It's not known whether Francis went with his father and stepmother to Cardington.

Original signature
Francis must have received some elementary education during his growing up years, because he is known to have been able to write and to sign his own name. His signature is seen here.
Francis was married twice. His first wife was Myra Jordan (1809-1855), a native of Maine, and the daughter of Joseph and Abigail Lowe (Brown) Jordan.
Myra's great-grandfather, James Jordan (1746-1813) served in the American Revolution in Falmouth, Maine, in Capt. Abner Lowell's company. Many years later, one of Myra's grandsons was accepted to the Sons of the American Revolution for that soldier.
The Miners' six daughters were Sarah Boyd, Abigail Harriet Miner, Alta Alma Miner, Lucinda Maria Davidson, Salina Myra "Lina" Morris and Ellen Amaret Stillman Holt Morris.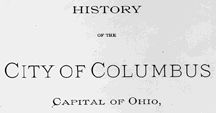 book naming Francis
Francis and Myra resided in a variety of places, including Perry County, OH; Elmwood, IL; Licking County, OH and Columbus, Franklin County, OH. Records show that in 1835, they were living in Licking County at the birth of their daughter Abigail. (Francis' brothers Jacob and Solomon also are known to have lived in Licking County.)
While in Licking County, Francis and his father in law were co-executors of the estate of Samuel Brown (relationship unknown).
By 1837, Francis and Myra had moved to Columbus, where daughter Alta was born. There, as recorded in the 1850 census, they made their home in the city's Fourth Ward. Also living in their household that year were Mercy C. Conner (age 20), Ann Goldsmith (age 21) and Elmira Buhurd (age 18), but their relationship to the Miners is unknown.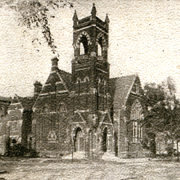 Wesley Chapel, Columbus
Francis' brother Daniel Minor Jr., a carriage maker, lived in Columbus at the same time, and it's thought the two brothers worked together on building projects. In the mid-1840s, Francis and Daniel's business partner, Ezra Booth, were involved in the construction of Wesley Chapel in Columbus. It was located along High Street, north of the intersection of Gay Street. The impressive chapel is seen here in a rare old postcard view, although this needs to be confirmed.
According to the 1892 book, History of the City of Columbus:
Wesley Chapel was organized as a society, and its first church edifice was built, in 1845-6, while Granville Moody was pastor of Town Street. The cost of the church was from seven to eight thousand dollars. Robert Raridan, William Armstrong and Ezra Booth were the building committee. Francis Minor was the contractor. The lot was given by William and Hannah Neil... When first completed the church was dedicated by Bishop E.S. Janes, in September, 1847.
Triple tragedy struck the family in 1854 and 1855, when daughters Abigail (age 20, tuberculosis) and Alta (age 17, inflammatory rheumatism) died. Later in 1855, on Oct. 11, Myra herself passed away, also a victim of TB, then known as "consumption." All three women were buried at Columbus' large Greenlawn Cemetery.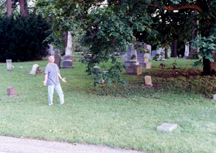 Seeking Francis' grave in the
wrong place, Columbus, OH
The cemetery today has records of the Miner burials, but the graves are not marked, and there are no markers on the plot at all. A 1996 visit to the cemetery confirmed this fact -- researcher Eugene Podraza, seen here, stands within the vacant plot. However, directly across the road from the plot is the tall, prominent grave marker of Francis' brother Daniel Minor Jr.
Following Myra's death, Francis and his daughters migrated west in about 1857and settled in the town of Lewistown, Fulton County. When the federal census was taken in 1860, the 53-year-old Francis was living there, with his youngest daughter 15-year-old Salina also a member of the household. He was employed as a carpenter at the time.
Francis and his son in law William Boyd jointly purchased six town lots in Lewistown on Feb. 24, 1858. For the record, they numbered lots 189, 190, 191, 222, 223 and 224.

Receipt signed by Francis, 1858
Francis visited back home in Ohio at Christmas 1858. On Dec. 27, 1858, while in Cardington, he received a payment of $20.29, and $1.47 in interest, as his equal share of his father's estate. He signed a receipt (seen here) acknowledging the payment. As his brothers and sisters had received payments more than a year earlier, added to the fact the he received interest on the amount due, he must have been unavailable to return from Illinois to collect his funds, until late 1858.
On Sept. 26, 1861, Francis married Ann Thompson (1836-1888) in Fulton County. She was of English birth, but when she came to this country has not yet been learned. At age 53, Francis was twice the age of his 25-year-old bride. In fact, Ann would have been about the same age as Francis' older daughters.
A local landmark that would have been familiar to the Miners was the Dickson's mound builders tombs, where skeletons of neolithic age Native American burials were found. More than 225 sets of remains were found, and left in place, just a few miles from Lewistown. Today the site is known as the Dickson Mounds Museum.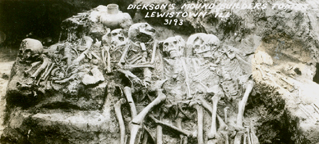 Ancient native American skeletons at Dickson Mound Builders Tombs near Lewistown
At some point, Ann gave birth to their baby, but the child died in infancy, and the name is not recorded in Fulton County records.
Tragedy struck again in 1860, when Francis' married daughter, Sarah Boyd, died at age "after a protracted and painful illness of consumption," said the Fulton County Ledger.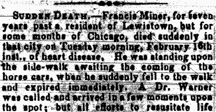 Francis' obituary, 1864
In August 1863, possibly suffering from poor health, Francis wrote his will, leaving everything to Ann, except in the event that she would remarry, when all of his assets would transfer to his daughters and their families. About that time, Francis and Ann and the youngest daughter Ella moved to Chicago, Cook County, for reasons unknown, but perhaps for construction work opportunities.
Tragedy struck again during the winter of 1864. On Feb. 16, 1864, while "standing upon the side-walk awaiting the coming of the horse cars," said the Fulton County Ledger, "he suddenly fell to the walk and expired immediately." Added the Fulton County Democrat, later reprinted by the Canton (IL) Weekly: "A Dr. Warner was called and arrived in a few moments upon the sport; but all efforts to resuscitate life proved fruitless."
The particulars of Francis's funeral and burial are unknown, except that his remains were returned to Lewistown for burial in a local "graveyard."
Ann and Ella returned to Lewistown to rebuild their lives. Francis and Ann had only been married for two-and-a-half years at the time of his death. In November of that year, she bought another town lot from Erasmus D. Rice, guardian of Emma and Cora Phelps. In January 1886, Ann purchased a town lot in nearby Bernadotte, Fulton County, where she apparently established a millinery shop. The census of 1870 shows her residing alone in Bernadotte with the occupation of "milliner."

Gentle Spoon River coursing through Bernadotte, Illinois, where widow Ann (Thompson) Miner established a millinery shop
In about 1875, Ann moved her millinery shop back to Lewistown, purchasing a town lot. he was residing alone there when the federal census was enumerated in 1880.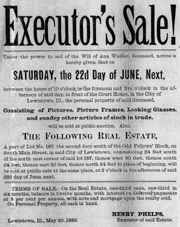 Executor's sale notice, 1889
Knowing the sudden fate that had befallen her husband, Ann wrote her own will, dated May 10, 1878. In it, she bequeathed equal shares to her stepdaughters Lina Morris and Ella Stillman; to her step-granddaughters Carrie and Ida Boyd; and to her Thompson nieces Josephine, Nancy, Eliza, Lucinda and Agnes (daughters of her brother Charles). She bequeathed her stock of merchandise and IOUs to the same group; and her music box to stepdaughter Ella Stillman. She also directed that her executor "have me burried and to have my husband Francis Miner and my infant child, both now burried in the graveyard in Lewistown, disinterred and burried by my side and also to have slabs of cheap sandstone procured large enough to cover the graves and also to have cheap tombstones or headstones put to each grave with a short and appropriate epitaph on each. I also direct my executor to put an iron fence around said burrial lot..." Finally, she stated that her executor should take control of her affairs following her death, and that "none of my kinsman of the Thompson family shall be sent for or apprised of my death or in any way interfere with any of my affairs or property after my death." She appointed Henry Phelps of Lewistown as the executor.
On July 13, 1880, after more than six years as a widow, Ann married her second husband, William H. Walder (1827- ? ). The Fulton County Ledger mentioned the event in a one-sentence brief: "On Tuesday evening, by the Rev. John Tuit, Mr. Wm. Walder to Miss Ann Miner."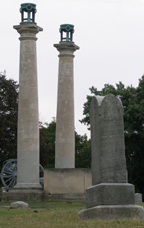 Ann's grave, foreground
A fellow native of England, William also resided in Lewistown where he was a "tobacconist." In June 1882, she modified her will, naming William as the executor, and stating that he would inherit her property.
Both John and Ann passed away just a few weeks apart in the spring of 1888. He died on May 24, and she died in June 1888, at the age of 52. Local undertaker E.T. Moore prepared the "coffin box" and trimmings for her burial in the Lewistown Cemetery. J.C. Wagy & Co. installed the monument over her grave, and installed the iron fence, per the terms of her will.
As the contents of Ann's millinery shop were extensive, and apparently unclaimed a year after her death, a sheriff's sale was held in June 1889 to dispose of them -- "pictures, picture frames, looking glasses and sundry other articles of stock in trade," stated a flyer that was posted about town.
Ann's grave, an upright shaft listing to one side -- seen here -- was discovered by the founder of this website and researcher Eugene F. Podraza during a visit to Lewistown in October 2007. The lettering is badly faded. The marker stands a short distance from the "Lincoln Columns" which originally were part of the county courthouse, but relocated to the cemetery following a disastrous fire.
Copyright © 2000-2002, 2005-2008, 2015 Mark A. Miner