Robert L. Burgoyne
(1841-1915)
Robert L. Burgoyne was born on Aug. 30, 1840 (or 1841 or 1844) near Zanesville, Muskingum County, OH, the son of James and Mary (Miner) Burgoyne.
Unmarried at the age of 20, in 1860, he boarded with his married brother Evan in Catlin, Vermilion County, IL and provided farm labor. Among his friends during that time was Milton Lee of Rossville, Vermilion County. He stood 5 feet, 10 inches tall and weighed 145 lbs. to 155 lbs. over the years. His complexion was fair, his hair light and eyes blue.
After the eruption of the Civil War, Robert went to the town of Catlin on July 3, 1861 to join the Union Army. He was placed within the 35th Illinois Infantry, Company I. While on duty at Otterville in Missouri, in September 1861, Robert contracted typhoid fever and severe diarrhea. When the regiment was ordered to move elsewhere, he stayed behind, receiving medical treatment in a private home. Fellow soldier Alvin A. Taylor was ordered to remain with Robert, and provided nursing care. After about a month, one of Robert's brothers arrived on the scene and took Robert back home on a furlough.
Reported Taylor: "He was very bad off, a mere skeleton when his brother started home with him." Once home, on or about Nov. 29, 1861, he was examined by Dr. John J. McElroy, and the care continued for several months.
Robert rejoined the 35th Illinois on April 1, 1862, with the regiment now posted at Corinth, MS. His diarrhea returned, and his health was still so poor that summer that he received a disability discharge from the Army. Arriving back at home once more, he was observed by friend Jesse Davis as "totaly incapacitated for the performance of manual labor and for several weeks after his return he was confined to his bed."
Robert's condition began to improve in the fall of 1863, getting strong enough to work from time to time. In the spring of 1864, he rented a tract of land and in July planted corn with the help of the owner's son Thomas A. Hughes. But in such poor physical condition, Robert knew he could not make a living as a farmer.
Instead, he accepted a position with Ethan C. Frost of Chicago as superintendent of a farm, working for Frost from Nov. 1, 1865 to 1877. The first assignment was in Richmond and Lafayette, IN, light duty that he could withstand given his still-emaciated frame. Then on Sept. 1, 1866, when Frost moved to Buffalo, NY, he invited Robert to join him there in the operation of a distillery, known as Buffalo Distillery Company. Robert first was taught how to make yeast and stayed with the company in Erie County, NY for the balance of his long life.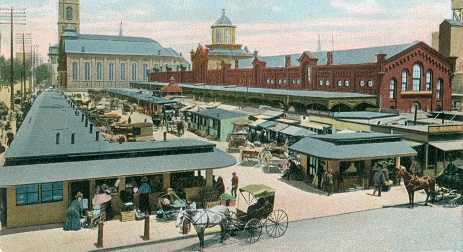 Buffalo's popular Washington Market
The light duty was manageable. Even so, recalled distillery bookkeeper Charles H. Frost, he experienced "loss of flesh and strength" and that "During the Summer his attacks would be most frequent."
He married Katherine Mallon (1850- ? ), daughter of Daniel Mallon of Buffalo.
Robert and Katherine bore three daughters -- May "Margaret" Diller, Genevieve Smith and Letitia G. Sweeney.
When the federal census enumeration was made in 1880, the family was in Buffalo with Robert's occupation given as "Distiller."
At the death of Katherine's father Daniel Mallon in April 1891, funeral services were held in the Burgoyne home.
Robert's nephew John L. Burgoyne -- son of his brother Evan -- also came to Buffalo at some point and stayed, possibly circa 1901.
Robert was awarded a Civil War soldier's pension in May 1885 and received monthly checks for the rest of his life. [Invalid App. #538.946 - Cert. #321.047] He is named in the 1883 book by Luther B. Hill, A History of the State of Oklahoma, Vol. 1.
Robert was a member of the C.M.B.A., William Richardson Post of the Grand Army of the Republic and Holy Name Society. Their address for many years was 502 West Avenue, and they were members of the Church of the Holy Angels Roman Catholic Church.
Sadness blanketed this family when Katherine passed away sometime before 1900.
The widowed Robert lived with his daughters Genevieve and Letitia in Buffalo's 23rd Ward in 1900. His occupation that year was listed as "compounder." His mailing address circa 1904 was 502 West Avenue in Buffalo.
Sometime in the early 1900s, Robert married again to Mary E. Reynolds ( ? -1904). The marriage was short lived, as she was cut away by the Grim Reaper on June 23, 1904. Funeral services were held in the Church of the Holy Angels, and an obituary was printed in the Buffalo Courier.
Robert survived his bride by 11 years. By 1910, he was named superintendent of the distillery, with an address in 1910 of 86 Main Street. Socially he was a member of the Catholic Mutual Benefit Association, Holy Name Society and Richardson Post, Grand Army of the Republic
He died in Buffalo on May 10, 1915. An obituary in the Buffalo Enquirer reported that funeral services were held in his home and later in Holy Angels Church. The services were led by Rev. C.W. Webb, deacon Rev. J.C. Duffy and subdeacon Rev. C.J. Sloan. Interment was in Holy Cross Cemetery in Lackawanna, Erie County. Reported the Buffalo Catholic Union and Times, "There was a large attendance at the funeral service. [Find-a-Grave]
~ Daughter May "Margaret" (Burgoyne) Diller ~
Daughter May "Margaret" Burgoyne (1876- ? ) was born on June 21, 1876 in Buffalo.
On Sept. 13, 1899, in nuptials held at the Chapel of Holy Angels Church, the 23-year-old Margaret married Andrew Bailey Diller (March 1869- ? ) of New York City. The only attendants were her sister Genevieve and his friend George C. Knight. Reported the Buffalo Courier, "The bride wore a tailor-made gown of tan cloth, with a hat of the same shade."
The couple's first home was at 689 East 136th Street in New York City and thence on St. Anne Avenue in the Bronx.
The couple bore one known son, Robert F. Diller.
Evidence suggests that the marriage dissolved within a few years, and their son went to live with Margaret's father.
In about 1906, Bailey wedded again to Katharine V. (1878- ? ) and circa 1910 lived in Manhattan and worked as a real estate broker. Margaret was named in the 1915 obituary of her father in the Buffalo Catholic Union and Times.
Son Robert F. Diller (1900- ? ) was born on or about Nov. 22, 1900 in New York. At the age of nine, in 1910, after the dissolution of his parents' marriage, he lived with his grandfather Robert Burgoyne and unmarried aunt Genevieve Burgoyne in Buffalo but is known to have visited his mother's home in New York circa 1911. After the death of his grandfather and marriage of Aunt Genevieve in 1915, he moved into the Buffalo residence of his married aunt and uncle, Letitia and Valentine Sweeney. Circa 1920, at the age of 19, he earned income as a factory machinist. He is believed to have married and was the father of a daughter, Mrs. Robert Oliver. The Dillers spent winter vacations in Florida in the early 1960s, and eventually moved to Seminole County. Evidence hints that Robert died there on Aug. 14, 1976.
~ Daughter Genevieve (Burgoyne) Smith ~
Daughter Genevieve Burgoyne (1878- ? ) was born on March , 1878.
She chose to remain single for many years as long as her father was alive.
Two months after he died, she tied the knot on July 7, 1915 with Frank Smith ( ? - ? ). Rev. W.J. Kirwin officiated, and Genevieve's married sister Letitia served as her maid of honor. News of the wedding was published in the Buffalo Catholic Union and Times.
~ Daughter Letitia Gertrude (Burgoyne) Sweeney ~
Daughter Letitia Gertrude Burgoyne (1883- ? ) was born on Nov. 9, 1881 (or 1883) in Buffalo.
In about 1909, she wedded Buffalo native Valentine V. Sweeney (1887- ? ), son of John L. and Mary Jane (Smith) Sweeney.
The two known children born to this union were Robert Sweeney, John F. "Jack" Sweeney and Kathryn D. Sweeney. They also helped raised Letitia's nephew, Robert F. Diller.
Prior to marriage, Valentine attended St. Joseph's College and then, in December 1904, with approval from President Theodore Roosevelt, was appointed to the U.S. Marine Corps as a lieutenant. He was assigned to the battleship New Jersey and was stationed in Cuba in March 1906. Reported the Buffalo Morning Express, Valentine "was among the five officers in charge of the detail that occupied Pinar del rio, the same station that was occupied by the 202d Regiment, part of which was mustered in in this city during the Spanish-American War. The lieutenant was present when General Pino Guerro marched in with his army and surrendered."
He then was transferred to Oklahoma City circa 1908 when he and Letitia petitioned their church to be married. The church then published a "banns of marriage" -- an old Catholic custom where one's minister made a public declaration of a couple'sintention to marry, announced both in the local parish church and in the church where the wedding was to occur. Letitia is known to have traveled to Oklahoma City to wed Velantine on Jan. 6, 1909, with the news printed in the Buffalo Catholic Union and Times.
After the completion of his military duty, the couple dwelled with Letitia's parents in Buffalo. Then in November 1911, they moved to 668 Humboldt Parkway and then by 1913 to 14 Auchinvole Place. He served circa 1913 as a Democratic committee man in Buffalo's Fifth District in Buffalo's 22nd Ward in 1913-1920, with Valentine earning a living as a Health Department inspector. He often was mentioned in news stories about tenement inspections involving difficult tenants.
Valentine was dismissed from his inspector job at the end of 1924 but was re-instated in March 1925 at a salary of $1,950. Clues hint that as she was older than her husband, Letitia fibbed about her age when disclosing it to government census-takers.
Sadly, Valentine is believed to have died between 1925 and 1930. The widowed Letitia remained in Buffalo and took in lodgers to help make ends meet. Her lodgers in 1930, as shown in census records, were Edwin Short, James Fey and Alfred Guarniere.
Son Robert Sweeney (1909- ? ) was born in Dec. 1909, with the news published in the Buffalo Times.
Son John F. "Jack" Sweeney (1910- ? ) was born in about 1910, likely in Buffalo. In 1930, unmarried at age 19, he worked as a laborer for the City of Buffalo.
Daughter Kathryn D. Sweeney (1913- ? ) was born in about 1930, presumably in Buffalo.
Copyright © 2006, 2019 Mark A. Miner
Cindy Mitchell has researched this family and generously shared her findings.