Minor Bush was born near Zanesville, OH, the son of Christopher and Elizabeth (Miner) Bush. He was one of 5 brothers to serve in the Civil War from Indiana.
Minor was a farmer, and stood six feet tall, with hazel eyes and dark hair.
As a boy, he moved to Indiana with his parents. Before the Civil War broke out, Minor married his first wife, Hannah (last name not known).
They produced one son, William Bush (born in the early 1860s).
Hannah's fate is unknown, but she apparently died young.
During the immediate outbreak of the Civil War, Minor joined the Union Army in April 1861. He was placed within the 6th Indiana Infantry, Company D, under the command of Capt. John D. Evans. Said a newspaper, he "served with his regiment in the campaign in West Virginia under McClellan, and took part in the battles of Phillippi, Cheat Mountain, Grafton, etc."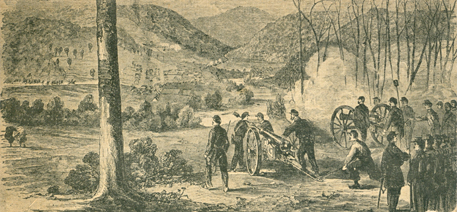 Civil War fighting in Philippi, WV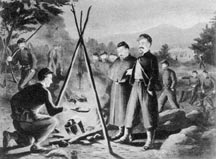 Civil War soldier camp life

Then after his term of service ended, he re-enlisted in the 5th Indiana Cavalry, Company A, led by Capt. J.A. Stretch. He enrolled Aug. 4, 1862, and mustered out nearly three years later, after the close of the conflict, on June 15, 1865. He was with the regiment continuously except in April 1863, when he was scouting; from May through August 1864 when he was detached to serve as an orderly for Major Gen. Howard, and from Oct. 31 to Nov. 10, 1864, when he was on an extended furlough by order of the Secretary of War. Said a newspaper, "He was never absent from his post but once during the long and bloody war, at which time he spent a few days on furlough with friends at home."

After the war, Minor came back to Indiana.

On Oct. 13, 1867 he married 22-year-old Nettie Caroline Forsee (1845-1927). She was born near Noblesville, IN on Sept. 21, 1845.

They produced at least two children -- Clara Copper and Lydia Fish.

The Bushes lived in or near Pendleton, Green Township, Madison County, IN. Nettie was a member of the Christian Church, having joined at age 18.

Their married life lasted a relatively short 13 years.

Stricken with tuberculosis, then known as "consumption," Minor faced an extended demise. "During all his long and painful illness he was ever cheerful and patient, always thoughtful of other's comfort before his own," reported a newspaper. He died at the age of 40, on July 17, 1880, in Pendleton. The remains were lowered into eternal repose in Hurlock Cemetery in Noblesville, IN, but no marker is known to stand at the grave.

A search in 2000 for his obituary in the Anderson Democrat proved futile, and there are no Madison or Hancock County court records documenting his existence. Yet one obituary has been posted on Find-a-Grave circa 2022.

After Minor's death, Nettie married farmer, Civil War veteran and twice-widowed Henry P. Michael (Dec. 31, 1842-1916). They were married at Anderson, Madison County, IN on Feb. 16, 1882 by the hand of Rev. Enoch Frey. Henry was a native of Middletown, Frederick County, MD. During the Civil War, he served with the 75th Indiana Volunteer Infantry, Company I. His first wife, Lucinda F. Michael, had died on Sept. 4, 1865, and his second wife, Martha Jane (Shetterly) Michael, had passed in Madison County on Feb. 5, 1879.

Nettie and Henry went on to bear three more children of their own -- Gertrude V. Freeman, Arthur Dale Michael and Ruby Ratliff. Nettie thus had a grand total of nine children -- a stepson from her first marriage, two daughters from her first marriage, three children from her second marriage, and four stepchildren from Henry's previous marriages -- Laura E. Michael, Charles N. Michael and Calvin Henry Michael. (One of Henry's children from a previous marriage, Cora Michael, had died at age 2.)

The Michaels dwelled in Pendleton. In about 1889 they moved to Concordia, Cloud County, KS. Later, they settled in Barnett and Versailles, Morgan County, MO.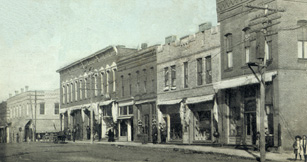 Versailles' north side square, circa 1915
Henry passed away at home, three miles east of Versailles, on March 5, 1916.
Nettie published a notice in the Versailles Statesman, saying: "We wish to thank all of our neighbors and friends for their many deeds of kindness in our last sad days of our husband and father. --Nettie Michael and Children."
Nettie outlived her husband by 11 years. She died at the home of her daughter Ruby on March 4, 1927. Like Henry, her obituary was printed in the Versailles Statesman. They are buried together at the Hopewell Union Church Cemetery in Versailles.
~ Son William Bush ~
The fate of son William Bush ( ? - ? ) is unknown.
~ Daughter Clara (Bush) Copper ~

Okmulgee (OK) Cemetery -
courtesy Barbara Carter, Find-a-Grave
Daughter Clara Bush (1868-1952) was born on July 8, 1868 in or near Noblesville, IN.
She married farmer Frank M. Copper (June 9, 1866-1953) of Lamar, Barton County, MO.
They together produced three daughters -- Edith L. Smith, Mrs. W.M. Halpin and Gertrude Stanrock.
Circa 1936, the Coppers relocated to Oklahoma and settled in Okmulgee. Their address there was 1004 South Seminole. Clara held memberships in the Rebekah Lodge and local First Presbyterian Church.
Sadly, after what an Okmulgee newspaper called "a long illness," Clara was swept away by the angels at home at the age of 84 on Sept. 12, 1952. She was survived by three grandchildren and five great-grandchildren. Her funeral was officiated by Rev. Richard Archibald of the family church. Honorary pallbearers were Lillie Sanders, Ella Roberson, Mrs. A.L. Wolley, Mrs. Ed Beise, Maud Hunter, Mrs. R.G. Sieminskie, Augusta Kepley and Mrs. Jim Bodine.
Daughter Edith L. Copper ( ? - ? ) wed (?) Smith ( ? - ? ). She is known to have dwelled in Enid, OK in 1952.
Daughter (?) Copper ( ? - ? ) was joined in wedlock with W.M. Halpin. The couple relocated to Los Angeles.
Daughter Gertrude Copper ( ? - ? ) entered into marriage with (?) Stanrock ( ? - ? ). Her home in the early 1950s was in Los Angeles.
~ Daughter Lydia (Bush) Fish ~
Daughter Lydia Bush (1874- ? ) was born in 1874.
She married Edgar C. Fish (1863- ? ) of White House, FL.
In 1920, when the federal census was taken, the Fishes were living in Columbus, Bartholomew County, IN. That year, James C. Fish (born 1899), Lucile Fish (born 1900) and Ray Warner (born 1894) resided in the household.
~ Children of Nettie and Henry Michael ~
Of the three children born to Nettie and Henry Michael, Gertrude Freeman lived in Mahaska, KS; Arthur Dale Michael lived in Sedalia, MO; and Ruby Ratliff lived in Versailles, MO.
Of the stepchildren, most of their fates are unknown. Charles Michael lived in Catlin, IL and attended his father's funeral in 1916.
Copyright © 2000, 2005, 2007 Mark A. Miner. Civil War sketch by Currier & Ives.