Home

Minor Bush was born on Sept. 12, 1840 near Zanesville, OH, or perhaps Hamilton County, IN, the son of Christopher and Elizabeth (Miner) Bush.
He was one of five brothers to serve in the Civil War from Indiana.
Minor was a farmer, and stood 6 feet tall, with hazel eyes and dark hair.
As a boy, he moved to Indiana with his parents. Before the Civil War broke out, in the late 1850s, Minor married his first wife, Hannah (1841- ? ).
They produced one son, William Bush (born circa 1859).
The federal census enumeration of 1860 shows the young family on a farm near Greenfield, Hancock County, IN. At that time, they lived among a cluster of family homes includng his parents, brother James and married sister Maria Jane Boyd.
Hannah's fate is unknown, but she apparently died young.
During the immediate outbreak of the Civil War, Minor joined the Union Army in April 1861. He was placed within the 6th Indiana Infantry, Company D, under the command of Capt. John D. Evans. Said a newspaper, he "served with his regiment in the campaign in West Virginia under McClellan, and took part in the battles of Phillippi, Cheat Mountain, Grafton, etc."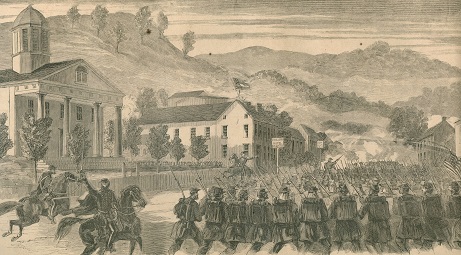 Civil War soldiers in battle at Philippi, West Virginia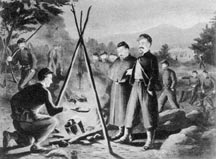 Civil War soldier camp life
Currier & Ives

Then after his term of service ended, he rejoined the army and was placed in the 5th Indiana Cavalry, Company A, led by Capt. J.A. Stretch. He enrolled Aug. 4, 1862, and mustered out nearly three years later, after the close of the conflict, on June 15, 1865. He was with the regiment continuously except in April 1863, when he was scouting; from May through August 1864 when he was detached to serve as an orderly for Major Gen. Howard, and from Oct. 31 to Nov. 10, 1864, when he was on an extended furlough by order of the Secretary of War. Said a newspaper, "He was never absent from his post but once during the long and bloody war, at which time he spent a few days on furlough with friends at home."

He mustered out of service in Pulaski, TN on June 15, 1865 and came back to Indiana.

On Oct. 13, 1867, at the age of 27, he was united in matrimony with his second spouse, 22-year-old Nettie Caroline Forsee (Sept. 21, 1845-1927), a native of Noblesville, IN. John Trissal officiated the ceremony, held in Hamilton County. Her maiden name has been misspelled as "Fossee."

Together, the couple produced at two known daughters -- Clara Copper and Lydia Fish.

The Bushes lived in or near Noblesville and Pendleton, Green Township, Madison County, IN. Nettie was a member of the Christian Church, having joined at age 18.

Their married life lasted a relatively short 13 years.

Stricken with tuberculosis, then known as "consumption," Minor faced an extended demise. "During all his long and painful illness he was ever cheerful and patient, always thoughtful of other's comfort before his own," reported a newspaper. He succumbed at the age of 40, on July 17, 1880, in Pendleton. The remains were lowered into eternal repose in Hurlock Cemetery in Noblesville, IN, but no marker stands at the grave.

His obituary was printed in the Noblesville Ledger. A search in 2000 for his obituary in the Anderson Democrat proved futile, and are no Madison or Hancock County court records were found.

Two years after Minor's death, Nettie married farmer, Civil War veteran and twice-widowed Henry P. Michael (Dec. 31, 1842-1916). They were wed at Anderson, Madison County, IN on Feb. 16, 1882 by the hand of Rev. Enoch Frey.

Henry was a native of Middletown, Frederick County, MD. During the Civil War, he served with the 75th Indiana Volunteer Infantry, Company I. His first wife, Lucinda F. Michael, had died on Sept. 4, 1865, and his second wife, Martha Jane (Shetterly) Michael, had passed in Madison County on Feb. 5, 1879.

Nettie and Henry went on to bear three more children of their own -- Gertrude V. Freeman, Arthur Dale Michael and Ruby Ratliff. Nettie thus had a grand total of nine children -- a stepson from her first marriage, two daughters from her first marriage, three children from her second marriage, and four stepchildren from Henry's previous marriages -- Laura E. Michael, Charles N. Michael and Calvin Henry Michael. (One of Henry's children from a previous marriage, Cora Michael, had died at age 2.)

The Michaels dwelled in Pendleton. In about 1889 they moved to Concordia, Cloud County, KS. Later, they settled in Barnett and Versailles, Morgan County, MO.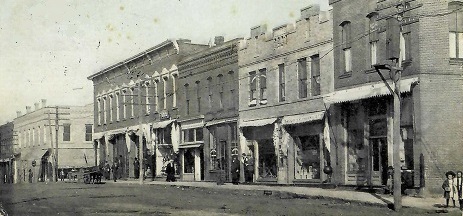 Versailles' north side square, circa 1915
Henry passed away at home, three miles east of Versailles, on March 5, 1916.
Nettie published a notice in the Versailles Statesman, saying: "We wish to thank all of our neighbors and friends for their many deeds of kindness in our last sad days of our husband and father. --Nettie Michael and Children."
Nettie outlived her husband by 11 years. She died at the home of her daughter Ruby on March 4, 1927. Like Henry, her obituary was printed in the Versailles Statesman. They are buried together at the Hopewell Union Church Cemetery in Versailles.
~ Son William Bush ~
Son William Bush (1859- ? ) was born in about 1858 in Greenfield, Hancock County, IN.
His fate is unknown.
~ Daughter Clara (Bush) Copper ~

Okmulgee (OK) Cemetery -
courtesy Barbara Carter, Find-a-Grave
Daughter Clara Bush (1868-1952) was born on July 8, 1868 in or near Noblesville, IN.
On Oct. 15, 1890, in Concordia, KS, when she was 22 years of age, she married 24-year-old farmer and Iowa native Franklin Marion "Frank" Copper (June 9, 1866-1953), a resident at the time of Lamar, Barton County, MO. Officiating the wedding was Probate Judge Martin Van Burean Shacfer.
They together produced three daughters and a son -- Edith Louise Smith, Nola Bell Randolph Halpin, Russell Copper and Gertrude Estelle Santrock.
In 1895, the Coppers moved from Kansas to Oklahoma, hometeading a farm located five miles southwest of Okeene, Blaine County. The federal census enumerations of 1900 and 1910 show the Coppers on a farm in Homestead, Blaine County, and they remained on this tract nearly a quarter of a century before moving for a brief time to Missouri.
The family returned to Oklahoma and put down permanent roots in Okemah, Okfuskee County. Then in 1936, the Coppers relocated to a farm in Okmulgee. Their address there was 1004 South Seminole. Clara held memberships in the Rebekah Lodge and local First Presbyterian Church.
For reasons not known, there appears to have been a break in the relationship between the parents and their son. As he later told his son, at the age of about 14, "he went with a wheat harvesting crew north and into Canada," recalled John F. Copper, Ph.D. "He did not return home for a number of months, and when he did there was nothing there including his family. He inquired with anyone around, but learned nothing. He thought that land grabbers killed a lot of people to get their land and the army had intervened and there was a small war."
The Coppers quietly marked their 60th wedding anniversary on Oct. 15, 1950, entertaining visitors at their home. The Okmulgee Daily Times said that the pair had been residents of town for the past 14 years and that both "are very active. She still does her own housework." Their son, still living, was not mentioned in the newspaper coverage of the otherwise happy event.
Sadly, after what an Okmulgee newspaper called "a long illness," Clara was swept away by the angels at home at the age of 84 on Sept. 12, 1952. She was survived by three grandchildren and five great-grandchildren. Her funeral was officiated by Rev. Richard Archibald of the family church. Honorary pallbearers were Lillie Sanders, Ella Roberson, Mrs. A.L. Wolley, Mrs. Ed Beise, Maud Hunter, Mrs. R.G. Sieminskie, Augusta Kepley and Mrs. Jim Bodine.
Frank outlived his bride by a year. At the age of 87, he surrendered to the angel of death on March 30, 1953. An obituary in the Okmulgee Daily Times said that he had "been a resident of Okmulgee for about 19 years."
Daughter Edith Louise Copper (1892-1962) was born on May 17, 1892 in Concordia, KS. She made her home in young womanhood in Darrow, OK. At the age of 24, on Christmas Eve 1916, she wed 24-year-old Lotus E. Smith ( ? - ? ) of Blaine County, who originally was from Kansas. Rev. G.W. Johnson officiated the ceremony, held at the Follower Church in Homestead. The Okeene Democrat announced the marriage, saying the bride "was dressed in a lovely gown of white satin draped in white satin and forget-me-nots and carried a bouquet of white roses." The next day, a dinner was held at Lotus' home for 71 relatives and church friends. Added the Democrat, "The house was decorated for the occasion with bells and garlands of red and green and from the center of the room was suspended a bunch of poinsettas and mistletoe for the benefit of the little folks. These young people are too well known to need any introduction and the Democrat joins their many friends in wishing them a long, happy and prosperous voyage over the matrimonial sea." One known son borne by the pair was Essel LeMoyne "Smitty" Smith. Federal census enumeration records for 1920 show the young family in Cantonment, Blaine County, with Lotis laboring as a farmer. By 1930, the Smiths had relocated within the county to Longdale, and Lotus now working as a bank cashier. The couple divorced during the 1930s.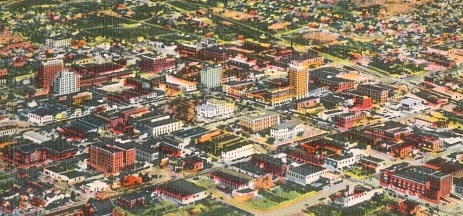 Enid, Oklahoma, Edith Smith's residence in the 1930s - 1950s.
Edith and their son dwelled in Enid, Garfield County, OK in 1935-1940, Edith having become employed as a supervisor of a recreation center for the Works Progress Administration. The WPA was one of the ways President Franklin Delano Roosevelt and the federal government tried to overcome unemployment during the Great Depression. It's widely considered one of the Roosevelt's largest and most ambitious undertakings of his "New Deal" to get the nation back on sound economic footing. Over the years, the WPA hired millions of out-of-work individuals to build public works projects, such as roads, bridges, retaining walls and buildings. She also was a member of the Rebekah lodge in Enid. Edith's address in the mid-1940s was 1217 East Park, and she stayed in Enid into the 1950s. With her health in decline, she moved in about September 1962 to Washington State where her son and his family were residing. Edith's stay was short. Just two months after arriving, she died in the Hawthorne House in Kennewick, WA at the age of 70 on Nov. 9, 1962. Funeral services were led by Rev. Ronald Yates, and the remains were placed into eternal repose in Desert Lawn Memorial Park in Kennewick. An obituary was published in the Pasco (WA) Tri-City Herald.
Grandson Essel LeMoyne "Smitty" Smith (1919-1984) was born in 1919 in Homestead, OK. A bachelor at the age of 21, in 1940, he worked in a machine shop in Enid, OK as a welder's helper and by 1942 relocated to Portland, OR. In June 1942, he entered into marriage with his girlfriend from Enid, Opal Ruth Davis (1923- ? ), daughter of Homer "Ted" and Florence Tedford. Their marriage endured for 43 years. Essel joined the U.S. Armed Forces during World War II, and as of January 1946 was stationed in Manila in the Philippines. Four offspring in this family were Gerald K. "Jerry" Smith, Essel Lee Smith Jr., William E. Smith and Sue Harris. They pulled up stakes in 1948 and moved to the Tri-Cities area of Washington State. The United States Census of 1950 lists the family in Kennewick, Benton County, WA, with Essel earning a living operating a novelty products company. They remained in Kennewick for the remainder of their years together. In 1954, he founded Smitty's TV which he ran until the end.. During the Vietnam War, when two of their sons joined the U.S. Army and completed certain milestones, they were pictured in the Pasco (WA) Tri-City Herald. Essel passed away at the age of 65 on June 16, 1984. In an obituary, the family asked that any memorial donations be made to the American Heart Association.

Great-grandson Gerald K. "Jerry" Smith (1944- ? ) was born in about 1944 in Oregon. He dwelled in Durango, CO in 1984. Gerald wed Terri. As of 2021, they were in Gig Harbor, WA.

Great-grandson Essel Lee Smith Jr. (1948-2021) was born on Jan. 16, 1948 in Vanport, OR. He grew up in Finley, OR and was an alumnus of River View High School. Essel joined the U.S. Army during the Vietnam War in October 1966 and trained at Fort Polk, LA and then in electronics at Army Signal School at Fort Monmouth, NJ. Later in 1967, he was deployed by Bangkok, Thailand. He received his honorable discharge in September 1969. At the age of 28, on Dec. 30, 1970, he was joined in the bonds of wedlock with Beverly Anne "Bev" Mitchel ( ? - ? ). The nuptials were held in Kennewick, and their marriage endured for half-a-century. The two offspring of this union were Nicholas Smith and Shona Smith-Sailor. For more than 42 years, they lived in the same house in Finley, with their farm located on South Haney Road east of Kennewick. After his return from military service, Essel received an associate's degree in electronics from Columbia Basin College. He spent 57 years of his working career as an electronics technician, including with the family-owned Smitty's TV and then with UniWest, retiring in 2014. In his free time he liked to tinker and repair, buy scrap, spend time at the family cabin, hunt, fish and follow motor sports. He also provided daily care for his daughter Shona after she contracted muscular dystrophy. At the age of 72, on Jan. 12, 2021, Essel was tragically killed when a steer he was tending in an enclosed pen attacked and mauled him. Said the Lewiston Tribune, "It was the second time the steer had turned violent since he got it two years earlier... The animal weighed several hundred pounds and was killed after the attack." The family requested in an obituary that any memorial contributions be made to the Muscular Dystrophy Association.

Great-grandson William E. "Bill" Smith (1950-1984) was born in about 1950 in Oregon. At age 17, during the Vietnam War, he joined the U.S. Army, training at Fort Lewis, WA and then at signal school at Fort Monmouth, NJ. Sadly, he died in May 1984.

Great-granddaughter Sue Smith ( ? - ? ) married Hugh Harris ( ? - ? ). Her residence in 1984 was in Finley, WA and in 2021 in Henderson, NV.
Daughter Nola Bell Copper (1901-1981) was born on June 17, 1901 in Homestead, OK. She moved to Tulsa as a young woman. Nola was twice-wed. On Dec. 21, 1921, she entered into marriage with 24-year-old Sidney T. Randolph ( ? - ? ) of Tulsa. It was "a simple wedding ceremony," reported the Tulsa Tribune, held in the parsonage of the First Christian Church, by the hand of Rev. Meade W. Dutt. The newlyweds' first home was at 217 South Denver Avenue in Tulsa. The marriage was troubled, and, citing neglect, Sidney sued for divorce in February 1927, with the news printed in the Tribune. The outcome was still pending as of August 1931. Later she joined in wedlock with Walter M. Halpin (1897- ? ). The couple settled in Arcadia, Los Angeles County, where they lived in 1950-1953, but in 1967 were back in Oklahoma. Walter earned a living as a building contractor. She passed away in Santa Barbara County on June 24, 1981.
Son Russell B. Copper (1902-1980) was born on July 25, 1902 in Darrow, OK. He recalled growing up with indigenous peoples in Oklahoma and as a wild place and where gangs of thugs roamed at the time. He bore a scar on his arm, said to have been from the bite of a rattlesnake. In adulthood he stood 6 feet, 1 inch tall and weighed 160 lbs. He migrated to Missouri, where he studied at the University of Missouri. He then went to Nebraska where he met his future wife, Ina Belle Townsend (Aug. 16, 1903-2006), a native of Boone County, NE. Russell migrated to Southern California, where started several businesses in Los Angeles, financing new ones from the capital in the earlier ones. On Jan. 30, 1936, in nuptials held in Orange County, CA, he and Ina Belle tied the knot. Two offspring of the family were Ina Mae Allen Seaich and John F. Copper. Unfortunately, the crush of the Great Depression forced Russell to declare bankruptcy. In time, they moved to Nebraska and in 1935-1937 were in Omaha where their daughter was born. In Omaha, Ina Belle graduated from medical school and in October 1940 gave birth to their second child. After a move to Iowa, circa 1941, they were on farms in Independence and Rhodes, Jasper County, IA. The Coppers continued to move frequently during World War II as he was transferred by his employer. When the federal census enumeration was made in 1950, Russell was employedin Burwell as a depot agent for the Chicago, Burlington and Quincy Railroad. Sadly, at the age of 78, Russell died in Phoenix on Aug. 12, 1980. The remains were transported to Nebraska to sleep for the ages in Rose Hill Cemetery, Albion, Boone County, NE. Ina Belle continued on for more than a quarter of a century. Circa 1997, she moved to Memphis where her son was living at the time. She endured the untimely death of her daughter Ina Mae in 1998. She helped teach her grandson Royce how to speak in English while his parents conversed with him in Mandarin. At the age of 103, never sick a day in her life,the angel of death swept her away in Memphis on Nov. 19, 2006.
Granddaughter Ina Mae Copper (1937-1998) was born on June 21, 1937 in Omaha. She grew up in Nebraska and in 1958 received a bachelor of arts from the College of Nursing at the University of Nebraska. She then was employed for a decade as a registered nurse at the University of Nebraska and the Veterans Administration Hospital in Oma. She was twice-married. In 1949, she wed her first spouse, August Allen ( ? - ? ). One son of this couple was John R. Allen. Their marriage lasted for seven years, ending in divorce in 1966. Two years later, in 1968, she entered into wedlock with John "Laird" Seaich, FACP ( ? - ? ). The second union endured for three decades and likewise ended in divorce, in July 1998. Three more children came along, including Joseph L. Seaich, Jennifer L. Seaich and Jessica L. Seaich. Their initial years as newlyweds were spent in Omaha, as he completed his medical education, and then for four years in Riverside, CA, with him in his internship. They moved to Portland, OR for his residency and then in 1975 to Twins Falls, ID. There, he launched his own practice in board-certified endocrinology. Reported the Twin Falls Times-News, "After her youngest daughter developed diabetes, she became active in diabetes care. In 1986, she became a certified diabetes educator at the Twin Falls Clinic, where she worked for 10 years and created the Diabetes Center Foundation. She became an expert in the clinical management of diabetes and in teaching people with diabetes how to manage their disease. She also organized a local diabetes education and support group." To accomplish all of this, she enrolled in Idaho State University and in 1990 earned her master's degree in health education. She volunteered with a number of community groups, among them the League of Women Voters, Toastmistress and the Medical Auxiliary. She helped develop a plan for school finance reform, ran for the school board and worked on a local school curriculum committee. She also became involved with children's guardianship issues. In recognition, she was nominated as Person of the Year by the Twin Falls Area Chamber of Commerce in 1992. Stricken with lung cancer, Ina Mae underwent radiation, but there was no hope. She died surrendered to death at the age of 61 in Twin Falls Clinic and Hospital on Dec. 3, 1998. Burial was in Twin Falls Cemetery. She was pictured in her obituary in the Twin Falls Times-News.

Great-grandson John R. Allen (1963- ? ) was born in about 1963. His home in 1998 was in Bainbridge Island, WA.

Great-grandson Joseph L. Seaich (1969- ? ) was born in about 1969. He put down roots in Twin Falls, ID.

Great-granddaughter Jennifer L. Seaich (1972- ? ) was born in about 1972. She made her home in 1998 in Missoula, MT.

Great-granddaughter Jessica L. Seaich (1975- ? ) was born in about 1975. She resided in Twin Falls in 1998.

Dr. John F. Copper, prolific author and college professor

John and Lei Copper

Grandson John F. Copper, Ph.D. (1940-living) was born in Oct. 1940 in the University of Nebraska Medical School Hospital. He was a valedictorian of his Nebraska high school. John then attended the University of Nebraska on a Regents Scholarship and obtained his bachelor of arts in 1961. He then joined the U.S. Air Force Reserve during the Vietnam War. He underwent military training and attended the University of Hawaii on an East-West Center grant. The grant included language study in Chinese in Taiwan. John was awarded his master of arts in Asian studies in 1964 from the University of Honolulu. Continuing his education, he studied at Taiwan Normal University in Tapiei in 1964. He jokes that he had taken an around-the-world trip the opposite way, spending four months in Southeast Asia, South Asia, Africa and Europe. He then worked for the Peace Corps for five months before taking a government job in San Francisco. In 1968, he was bestowed a master's degree in political science from the University of California at Berkeley. At that time, he was joined in wedlock with a girl he had met in Taiwan. Together they bore a family of three -- Harrison B. Copper, Elizabeth A. Copper and Anne D. Copper, the first two in San Francisco and the third in Japan. John taught in Japan for five years with the University of Maryland, Far East Division before returning to the U.S. From there he spent a year in research at the Hoover Institute at Stanford Univerity, where he finished writing his book China's Global Role, which later won an award. John then accepted a position at Rhodes College in Memphis. He received his doctorate in international studies in 1975 from the University of South Carolina. In 1975, he wrote,

...the governments of Vietnam, Laos and Cambodia fell; communists regimes took power. The results were different in each. In Laos the transition was relatively smooth. I even swam across the Mekong River from Thailand to visit friends I had met there. No one felt in danger. I visited Cambodia, but only a border town across a bridge from Thailand; almost everyone I saw warned me to go back to Thailand -- or I would die. In Vietnam many of those with ties to the old regime or the U.S. were killed or put in reeducation camps, though the situation was not as bad as Cambodia.
John and his first wife divorced in 1992, and four years later, in 1996, he wed Lei ( ? -living), a Chinese student who was pursuing her master's and doctorate degrees in the United States. They went on to produce a son, Royce Copper. The family moved to San Antonio for seven years. They taught their son Royce to be bilingual, speaking to him in Mandarin while John's mother conversed to the boy in English. John was employed for decades as the Stanley J. Buckman Distinguished Professor of International Studies at Rhodes College. He authored guest columns on China/Taiwan relations and was quoted on related stories in the Memphis Commercial Appeal, San Francisco Examiner and Nashville Tennessean among many other major U.S. newspapers. He is the author of nearly 40 books, contributed content for another 40 books and published articles in over 70 scholarly journals. During his career, he has testified before the Senate Foreign Relations Committee and House Foreign Affairs Committee on Asia/Pacific issues. He has served on the boards of the East West Center and American Association for Chinese Studies and the editorial board of Asian Affairs. In 2019, the John Franklin Copper Student Award was established at Rhodes to recognize the work of top students specializing in Asia. Recipients of Copper Award have to embrace the challenging and rigorous curriculum and show promise for translating their education into meaningful action, with a deep personal concern for their community and the world, especially Asia. All the while, John has continued to write, publishing books almost every year, for a total nearing 40 titles. In 2016, Palgrave Macmillan published his three-volume China's Foreign Aid and Investment Diplomacy, and in 2020, Routledge produced the 7th edition of Taiwan: Nation-State or Province?

Royce Copper

When Lei was offered a vice presidency at Tallahassee Community College in Florda, the Coppers relocated in about 2012, and remain today. She and John collaborated on her autobiography, Dog's Daughter: My Life in Communist China and Liberal America. She was born in one of China's concentration camps, where her sister had starved to death. When it was feared that the newborn Lei would also starve of malnutrition, a friend took her to Shanghai to live with her grandparents. "Life was hard there as she carried the label of having counterrevolutionary parents." John said. "Her father was an intellectual and her mother was from a landlord family. Mao hated both." Banned from attending school, Lei learned at home, and then was able to attend high school following Mao's death. She received her higher education at a Beijing University before emigrating to America.
Great-grandson Harrison B. Copper ( ? -living) was born in San Francisco.

Great-granddaughter Elizabeth A. Copper ( ? -living) was born in San Francisco.

Great-granddaughter Anne D. Copper ( ? -living) was born in Japan.

Great-grandson Royce Copper (1997-living) was born in 1997. He graduate from high school in Tallahassee, attended Emory University and received his law degree from Tulane University.
Daughter Gertrude Estelle Copper (1904-1987) was born on Sept. 6, 1904 in Homestead/Okeene, OK. She entered into marriage with P.J. Santrock (1906- ? ). Together they produced a daughter, Barbara Santrock. In 1940, the family dwelled in Konawa, Seminole County, OK, with P.J. working as an oilfield pumper. She relocated to Southern California. Her home in the early 1950s was in Pasadena and Arcadia, Los Angeles County. When the federal census enumeration was made in 1950, she at age 46 was a live-in housekeeper in the home of Dr. Max and Stella Lomas in Pasadena. When named in the obituary of her sister Edith Smith in 1962, Gertrude remained in the Los Angeles area. She then dwelled in Newport, OR until about 1985, when she relocated to Redding, Shasta County, CA. Death enveloped her in Redding Medical Center at the age of 82 on Aug. 30, 1987. An obituary was printed in the Redding Record Searchlight, naming her only survivor as niece Betty Hamilton of Redding. Her remains were cremated.
Granddaughter Barbara Santrock (1933- ? ) was born in about 1933 in Oklahoma.
~ Daughter Lydia Eliza "Lyda" (Bush) Fish ~
Daughter Lydia Eliza "Lyda" Bush (1874- ? ) was born on Aug. 5, 1874. Her father, a Civil War veteran, died when she was age six.
Evidence strongly suggests that she was raised by Hiram A. and Elizabeth (Jarvis/Jarns) Hulen, was considered as their daughter and used their surname. But this is not yet proven.
When she was 19 years of age, on Jan. 26, 1894, she married Edgar C. Fish (Aug. 3, 1860-1945), son of Edgar and Alta (Roberts) Fish of Evansville, IN. Thenuptials were held in Knox County, IN.
An only son borne of this union was James Calvin Fish.
Edgar was employed as a Columbus, IN police officer and inspector of weights and measures in the city. He issued a ruling in 1917 that "Columbus consumers must purchase all grain, seeds, nuts, vegetables, fruits and many miscellaneous articles by weight," reported the Columbus Republic. "Onions, tomatoes, beets, cucumbers and other vegetables along with corn meal, salt, walnuts and hickory nuts and other edibles, will no longer be sold by the number as heretofore, but must be sold by weight."
Then in September 1917, he was appointed as deputy state food administrator.
In 1920, when the federal census was taken, the Fishes were living in Columbus, Bartholomew County, IN. Edgar earned a living that year as a city policeman. Their son James and his wife Lucile and roomer Ray Warner (born 1894) resided in the household. He later also generated income as a carpenter.
Having contracted cancer of the uterus, bladder and rectum, Lydia underwent a hysterectomy in Daviess County Hospital in Washington, IN in June 1925. Sadly, there was no cure. She died two weeks later at the age of 54 on June 30, 1925. Burial of the remains was in the Odd Fellows Cemetery in Plainville, IN.
Edgar is believed to have outlived his wife by more than 20 years. His final years were spent at 1236 Lincoln Avenue in Evansville, IN. Suffering from chronic heart disease and senility, he died on his 85th birthday Aug. 3, 1945, with burial in Plainville.
Son James Calvin Fish (1898-1957) was born on Nov. 27, 1898 in Washington, IN. He stood 5 feet, 9¼ inches tall and weighed 130 lbs. James joined the U.S. Army during World War I and was assigned by Battery D of the 150th Field Artillery. He is known to have been deployed to Europe and to have sailed there in 1917 aboard the SS President Lincoln. (In an unusual twist, four years earlier,, the Lincoln had brought the grandfather of the founder of this website to America. Owned by the Hamburg-America Line, the ship had been seized by the U.S. government as a troop transport during the war, and was torpedoed and sunk by a German U-boat on May 31, 1918.) After the war's end, James moved to Columbus, IN, where he was employed in 1919 as a furniture sander for the U.S. Army. On May 6, 1919, he wed Cathryn "Lucile" Smith (Dec. 14, 1899- ? ), an Indianapolis native and the daughter of Harry S. and Emma (Warner) Smith. The wedding was held in Bartholomew County, IN, by the hand of Charles P. Martin. On the marriage license application, James wrote his mother's name as "Lyda Hulen." During World War I, he served in the U.S. Army as a member of the 150th Indiana, Battery D of the Rainbow Division. Circa 1920, James was engaged as a painter by the railroad in Columbus, IN. The first marriage ended, but the details are not yet known. By 1935, he was married to or cohabitating with Mary Lee (1916- ? ), who was 17 years younger. The federal census enumeration shows that this couple was in Cumberland Gap, Clayborne County, TN in 1935 and then in Noblesville, IN in 1940. As of 1940, James continued his trade as a self-employed house painter. James and Mary Lee officially were joined in wedlock in New Orleans on June 29, 1941. They moved to Little Rock, AR as of 1942, with him working as a merchant. The couple did not reproduce. Their marriage was troubled, and five years later, in Rawlings, WY, Mary Lee filed for divorce, citing "indignities." He is known to have been in Rawlings in 1945, the year he signed his father's death certificate. Sadly, James passed away in Plainville, IN on March 9, 1957. His remains sleep in eteral peace in the Masonic Cemetery in Trinidad, CO. Former wife Mary Lee remained in Rawlins and wed on Christmas Day 1947 to Louis L. Moore ( ? - ? ).
~ Children of Nettie and Henry Michael ~
Of the three children born to Nettie and Henry Michael, Gertrude Freeman lived in Mahaska, KS; Arthur Dale Michael lived in Sedalia, MO; and Ruby Ratliff lived in Versailles, MO.
Of the stepchildren, most of their fates are unknown. Charles Michael lived in Catlin, IL and attended his father's funeral in 1916.
Copyright © 2000, 2005, 2007, 2023 Mark A. Miner